The moment you catch sight of historic downtown Grapevine, TX you get caught up in the old-timey flavor and charm. It's a one-of-a-kind, friendly and walkable little town, and the heart of it all lies on Main Street.
Although I only had about a half day to spend there, I managed to see quite a bit, so here are some fun ideas on what to see, do and eat there if you only have a few hours like I did.
How to Spend a Half Day in Historic Downtown Grapevine TX
Grapevine Convention & Visitors Bureau
Start your visit here. Not only is it an absolutely beautiful building with indoor galleries, but it's a great place to pick up the historic downtown walking tour booklet and begin your explorations.
Glockenspiel Clock Tower
At the top of the visitors center, there's a 127-foot-high clock tower featuring would-be train robbers, Nat Barrett and Willy Majors. Just after the clock strikes noon, 3pm, 6pm and 9pm, you'll see the cowboys appear as they attempt the perfect heist in this entertaining bit of Western lore.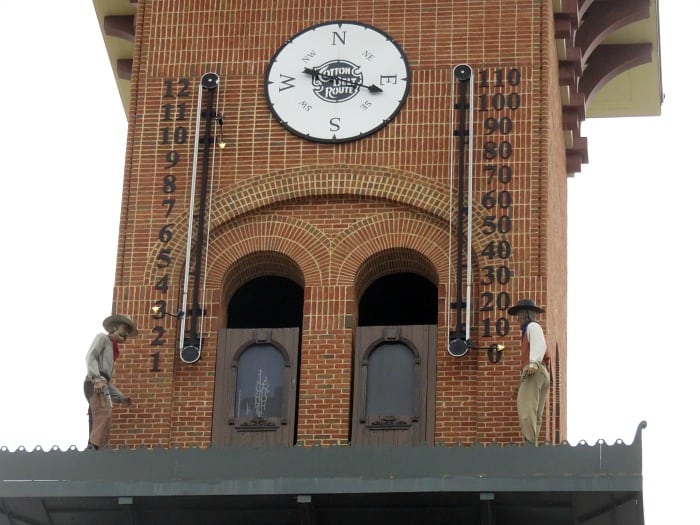 Grapevine Calaboose
This well preserved relic of frontier justice once served as the town's first jail, and the name "calaboose" comes from the Spanish word for dungeon. Originally built in 1909, this one room concrete block house held outlaws overnight until 1957, including members of the nefarious Barrow Gang.
Public Art (Sunday Skaters)
"Sunday Skaters" is just one of the many examples of unique public art you'll find while strolling. This particular installation is on College Street which was the only street with sidewalks in Grapevine's early days. Once home to a boarding school called Grapevine College, its sidewalks were full of kids learning how to roller skate.
Settlement to City Museums
Wander through the four historical museums located at Ted R. Ware Plaza. The city's timeline from prairie settlement to city is depicted through artifacts, photos and stories in the Keeling House Museum, Donald Schoolhouse, Cotton Ginners Museum and Grapevine Historical Museum.
You can also get a good look at the "Prairie Water" public art feature which pays homage to water, a life sustaining resource for early settlers.
Try a "Bowl of Red" at Tolbert's
You can't visit Texas without having true Texas Red chili (chili con carne). It's made with just meat and sauce, no beans, and I admit I was skeptical. But then I tried it and loved it, especially since it's spicy. I love me some spicy!
Willhoites Restaurant
Willhoites started as a general store, but when cars were invented it became an automotive service center. When it turned into a restaurant in the 80's, they preserved the automotive theme. The original night watchman's office (who checked all the doors on Main Street every evening) was in Willhoite's garage. You can view the commemorative statue on top of city hall, and you'll notice that his lantern is lit up at night.

Grapevine Vintage Railroad
I enjoyed an evening ride with a wine and jazz theme, but check the train schedule for specific prices and excursions. I've heard the North Pole Express trip is absolutely incredible!
Along with the above mentioned attractions in historic downtown Grapevine, Texas, there are lots of unique shops, tasting rooms, art galleries and restaurants. Contact the Grapevine, TX visitor's bureau for more info!
Explore More