There are so many things to do in the small town of Salisbury MD (along with all of Wicomico County) on Maryland's Eastern Shore! The area has a uniquely relaxed and laid-back vibe and will leave you refreshed and happy after a visit. It's the perfect weekend escape from some of the larger metropolitan areas surrounding it.
Salisbury is 2 ½ hours from Washington, DC, and Philadelphia, 2 hours from Baltimore, and 3 hours from Norfolk.
I spent a few days enjoying all that the area has to offer, and this list of things to do in Salisbury, MD, and Wicomico County is sure to help you enjoy this memorable part of the Delmarva Peninsula.
Festivals and Seasonal Events
Good Beer Festival – Sample the best microbrews from Maryland and beyond along with music, games, and plenty of food and craft vendors. If you attend on Friday, you'll be at the only nighttime beer festival on the Eastern Shore.
DelMarva Bike Week – This Eastern shore bike rally brings in the rumble.
Autumn Wine Festival – With the gorgeous backdrop of Pemberton Historical Park, this two day wine festival allows guests to sample Maryland wines, stroll the nature trails and tour the grand historic home itself.
Wicomico County Fair – The fair takes place the third weekend of August at WinterPlace Park with livestock exhibits, food competitions, music, rides, local vendors, home arts, rodeo, a car show, a five-foot frying pan and more. Admission and parking are free.
Seagull Century Bike Ride – Starting and ending on the Salisbury University campus, this annual ride takes cyclists through Maryland's picturesque Eastern Shore.
Things to Do in Salisbury MD
Explore the Public Art
Downtown Salisbury is awash in murals, steel sculptures, and painted electrical boxes. I'm especially fond of Bloom, the cast glass sculpture above. You can download the public art walking tour brochure and map here.
Take a Downtown Salisbury Walking Tour
Not only does Salisbury have great public art, but it also has some beautiful late 19th and early 20th century buildings clustered within a few blocks of each other. You can find an architectural tour map here: http://downtownsby.com/
Pop into the SU Art Gallery
212 W Main St, Salisbury, MD 21801
Experience world-class contemporary visual art at this downtown gallery. Exhibits rotate frequently so there's always something to see here. Free 2-hour parking is available in the lot behind the gallery.
Tour Parsons Cemetery
912 N. Division St. Salisbury, MD 21801
Not only does Parsons Cemetery have interesting gravestones and stories that go along with them, but it also offers a relaxing green space along the waterfront for people to enjoy.
If you have time, set up a guided tour in advance, but there are also self-guided tour options on the website.
Take Yourself Out to a Ball Game
Enjoy a fun night out at the ballpark with the Delmarva Shorebirds, a low-A affiliate of the Baltimore Orioles. Minor league ball games are more relaxed and fun than major league games, and they cost less too!
Go Duck Hunting at the Ward Museum of Wildfowl Art

909 South Schumaker Drive, Salisbury, MD 21804
(Website)
The best museums are the ones you never expect to enjoy, so set aside any preconceived notions you may have about visiting the world's most extensive collection of duck decoys. The Ward Museum of Wildfowl Art is a delight for all ages.
Although you're free to walk through the museum galleries on your own, I highly recommend a docent-guided tour (available Wed-Sun) for the best experience, and you'll start with a walk through the Decoy in Time Gallery where you'll learn about the earliest use of decoys and how that has changed through the years.
Before the Migratory Bird Treaty Act of 1918 was enacted, market hunters would often use sinkbox hunting blinds, which were partially submerged. They would spread decoys around their floating enclosures and when ducks neared, they would shoot them. That's a no-no these days.
Head into the Ward Brothers Workshop where you'll learn about the museum's namesakes Steve and Lem Ward.
The brothers made a living as barbers, but they also carved and painted duck decoys using any wood available, including telephone poles.
Steve did most of the carving, and Len did most of the painting. In hunting season, neighboring watermen would purchase their decoys for $1.40 each.
They created more than 25,000 duck decoys over the years.
If you're lucky, there will be a decorative duck carving demonstration taking place, so be sure to spend some time watching a master at work. It's fascinating!
Designs are drawn onto blocks of wood, roughly cut with a band saw and then hand-carved. The feather details are either burned into the wood or painted on.
When you wander through the Decoy Study Gallery and the World Championship Gallery, everything comes together. What were once working tools for watermen have become stunning works of art.
The museum sits on the edge of Schumaker Pond and the nature trails offer superb wildlife viewing, so if weather permits, spend some time outdoors before you leave.
Tour the Oldest Home in Salisbury – Poplar Hill Mansion
117 Elizabeth St. Salisbury, MD 21801
http://www.poplarhillmansion.org/
Poplar Hill Mansion, the city's oldest house, once belonged to Salisbury's first surgeon, Dr. Huston, and his surgery room is a fascinating part of the historic home tour. In this room, you'll find out where the phrase "blowing smoke up one's arse" originated.
The tour takes visitors through the house's first floor and upstairs to the nursery. If you like haunted tales, be sure to ask about Sarah's tragic death in the nursery. The live-in museum curator (also named Sarah) may share a few of her haunted experiences with you if you're interested in ghost stories.
Tours are offered twice weekly (currently Fridays and Sundays 12-4 PM) or can be scheduled in advance.
Stroll through Newtown Historic District
If you're visiting Poplar Hill, you're already in Newtown, Salisbury's first historic district, so take a walk around the neighborhood and admire the eclectic mix of architectural home styles.
Visit Pemberton Historical Park
5561 Plantation Lane, Salisbury, Maryland 21801
(Website)
This 1749 brick gambrel-roofed plantation home was built as a display of wealth by one of Salisbury's founders, Isaac Handy, and is the only original 18th-century house open to the public on Maryland's lower Eastern Shore.
Along with the main house, visitors can explore the kitchen, milk house, well and well sweep. Plans to recreate additional outbuildings are in the works.
Also at the site are several forest, wetlands and waterfront trails visitors can explore by foot or bicycle.
Visit the Harriet Tubman Statue
This beautiful statue is located in front of Conway Hall on the campus of Salisbury University.
The animals surrounding Harriet Tubman (nee Araminta Ross) hold special significance in her story. The rabbit symbolizes her quick movement, and the owl represents her acute senses in the dark of night.
Also consider visiting the Harriet Tubman Underground Railroad Visitor Center in Church Creek— about 45 minutes from Salisbury.
Stop by the Frank Perdue Mini Museum
Salisbury, Maryland, is Perdue chicken country, so it stands to reason there'd be a museum here to pay homage to the late poultry proprietor. It's a small museum in Salisbury University's Perdue Hall—Frank attended the college—and it's free to visitors.
You'll find Perdue collectibles and promotional items, snippets of vintage national commercials, and fun finds like the head of the Perdue chicken mascot costume inside the museum.
Peek at the Vintage Placemats at NABB Center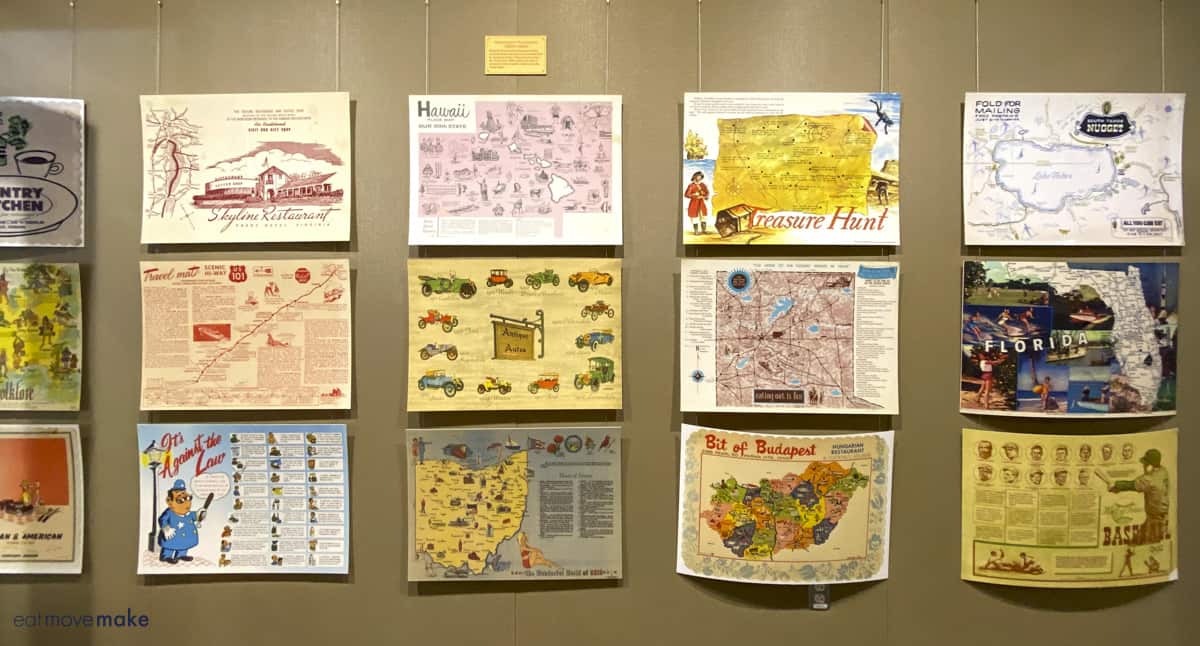 Once upon a time, paper placemats provided the ultimate entertainment in restaurants, and this display of 50s and 60s placemats evokes a bit of warm nostalgia for the pre-cell phone years.
When I visited, a Delmarva exhibit (now online) showcased the region's history, including fun facts about Maryland's beaten biscuits and Smith Island cake traditions.
Shop at the Country House
805 East Main Street, Salisbury, MD 21804
Website
Visitors come from all over to visit the largest country store in the east. The 21,000 square feet of retail space is filled with everything you could possibly want to spruce up your home — wall decor, accessories, linens, florals, candles, seasonal items and more.
Other Fun Things to Do in Wicomico County MD
Take a peek at the Perdue Family Farmhouse
31050 Old Ocean City Rd, Salisbury, MD 21804
Even though you can't go inside, this century farm is as cute as cute can be. If you visited the Frank Perdue Mini-Museum, it's especially fun to tie it all together with a visit to the old homestead.
Stop at the Trans-Peninsular Midpoint Marker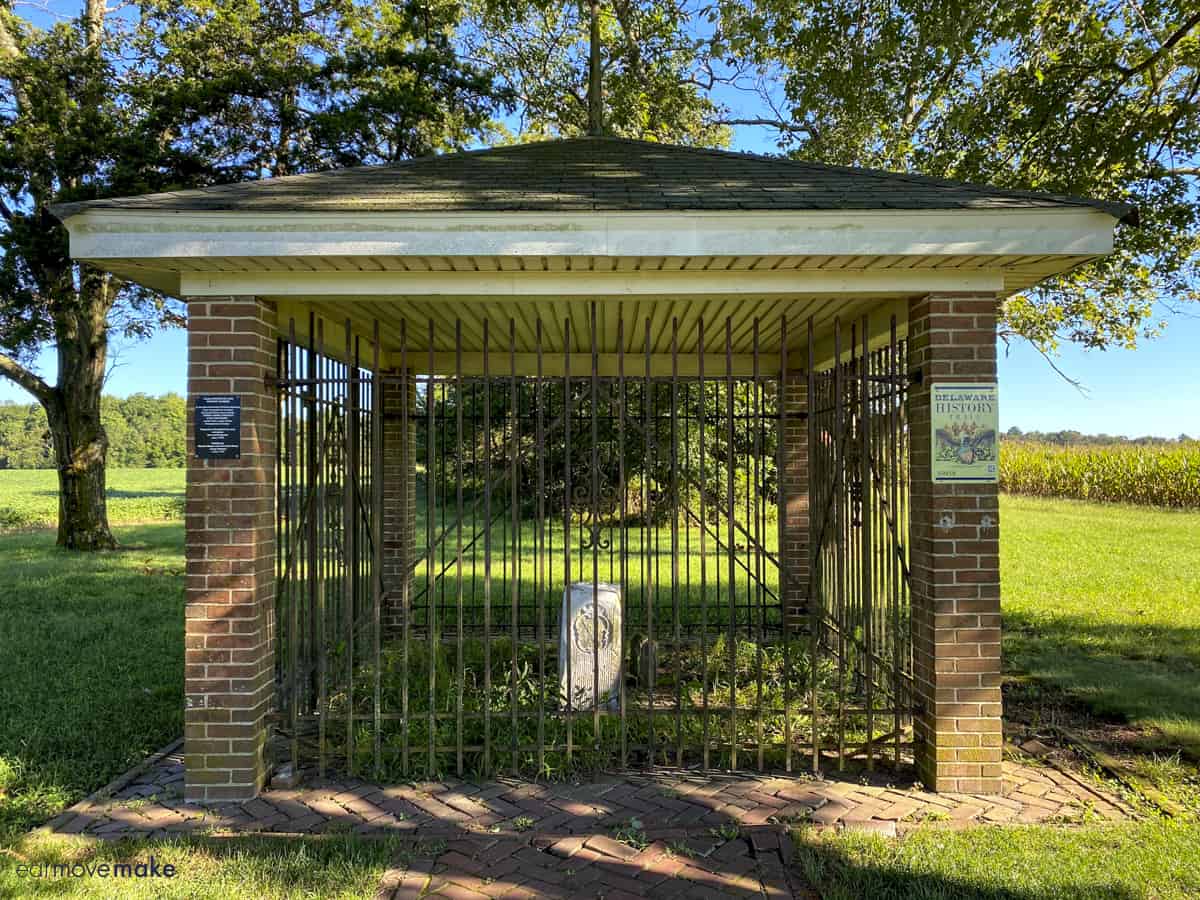 The southernmost point of the Maryland-Delaware border also marks the eastern end of the Mason Dixon line. The smaller stones were early survey attempts and the largest marker is the one Mason and Dixon placed.
The marker is on the north side of Rt. 54 between Delmar and Mardela Springs. It's easy to miss as it's not signed, so keep an eye out. There is a small area to pull off and park, though.
Sip the Afternoon Away at Bordeleau Vineyards & Winery
3155 Noble Farm Road Eden, Maryland 21822
Website
The Bordeleau Vineyards & Winery (Bordeleau means edge of the water) lies on the banks of the Wicomico Creek, and the enchanting view captivates upon arrival. However, the wine and slushies make the visit complete.
See the Stained Glass Windows of St. Phillips Church
6457 Quantico Road, Quantico, MD 21856
Stained glass windows in churches typically portray narratives from religion, history, and literature, but at St. Philips Episcopal Church, there are more than traditional windows. You'll find something you won't find anywhere else in the world — a stained glass window with a muskrat. Yes, a muskrat.
About 35 years ago, muskrat pelts were used to make gloves, and the church had an annual muskrat dinner to cook up the leftover carcasses. According to Senior Warden Phil Tilghman, they were stewed down for hours to tenderize them and then served with chicken and dumplings and "everything else under the sun."
Although muskrat dinners are a thing of the past, the furry varmint will be forever immortalized in stained glass.
Along with the muskrat, the church also has a transom window featuring a plump white chicken. Oh yes. It's a chicken window. The chicken window also features live crabs, the state bird and a variety of produce associated with Maryland's eastern shore.
If you ever needed a good reason to go to church, there it is.
Stop at Historic Green Hill Church
aka St. Bartholomew's Episcopal Church
4025 Green Hill Church Rd, Quantico, MD 21856

This historic church is one of the oldest structures in Wicomico County and is worth a look-see. It's just minutes from St. Phillips Church (and also depicted in one of their stained glass windows), so take the time to see them both.
The church is tucked back in the trees around a bend and can be tricky to find. There's a gated dirt path to the left of a residential property. This is where you'll park and walk up to the building. It sits right on the waterfront with lovely views.
Ride the Whitehaven Ferry
The oldest continuously operating ferry in the U.S. crosses the Wicomico River from Whitehaven to Upper Ferry. It can carry three vehicles and six people, and although the crossing takes just minutes, it saves about 45 minutes of driving time.
Stroll Through Historic Whitehaven
Go for a walk through historic Whitehaven. In just a 1/4-mile loop, you'll pass the Whitehaven Church, Whitehaven Schoolhouse, historic homes, and the old marine railway.
Stay at the Whitehaven Hotel
2685 Whitehaven Road – Whitehaven, MD 21856
Website
This historic Bed & Breakfast, which once offered lodging for steamship passengers and horse and buggy travelers, has been beautifully restored.
There are eight guest rooms with outstanding views of the river and marshes. Breakfast is served daily in the dining room overlooking the water, and wine, cheese, and crackers are served in the late afternoon. A must-stay!
For more information on things to do in Wicomico County, visit wicomicotourism.org
More Maryland Travel