If you've ever been to Solomons Island, Maryland, you know it's unplugged, unhurried, and off the grid. That's what makes it so special. But there are also some entertaining Solomons Island events and festivals throughout the year that can add a whole new vibe to your visit. Keep reading to see what you've been missing, and mark your calendars for next year when it all kicks off again!
Solomons Maritime Festival
SAVE THE DATE: May 4, 2024
10 am to 4 pm.
Calvert Marine Museum
14200 Solomons Island Road
Free event parking across the street
This annual Solomons Island event at the Calvert Marine Museum celebrates the rich maritime heritage of Solomons. The festival is full of things to do, making it perfect for all ages.
The 2023 festival opened at 10 am, but I arrived an hour early to wander around and decide what I wanted to do. Here are some of this year's highlights so you can plan for next year! By the way, it's FREE!
Set Sail on a Sightseeing Cruise
The Wm. B. Tennison takes passengers on a narrated cruise around Solomons Harbor and the Patuxent River. The tours are slightly abbreviated during the festival but are still leisurely and scenic.
Pro Tip: If possible, aim to arrive when the festival opens for the day. This way, you can take advantage of the first sailing before the crowds show up and lines become lengthy.
Climb the Drum Point Lighthouse
Drum Point Lighthouse is a screw-pile cottage-type light. It was initially located along the western shore of the Chesapeake Bay at the northern side of the mouth of the Patuxent River. Visitors may climb inside the lighthouse to see the Fresnel lens and keeper's quarters.
Get Hands-on with Sea Creatures in The Touch Tanks
Touch (if you dare) and discover fascinating facts about fishy favorites.
Watch RC Sailboats, Model Boats, and Build A Toy Boat
Dive into the family fun as you explore model boats on display, watch remote-controlled sailboats gracefully maneuver through the water, and even get hands-on by building your own toy boat.
See Labrador Retrievers in Action During Retrieval Demos
Although the demonstration is with labrador retrievers (more mellow, less protective, but still highly trainable), the tie-in to the maritime festival is with the history of the Chesapeake Bay Retriever (Maryland's state dog). When waterfowl was a vast industry, they were bred to retrieve what was hunted and to guard the waterfowl in the boat.
There were several demonstrations throughout the day with a few dogs. Seeing the difference between the well-trained adults and the puppy in training was a lot of fun.
Go Inside the Calvert Marine Museum
During the Solomons Maritime Festival, admission to the museum is free as part of the event, so be sure to take advantage and check it out.
Look for the North American river otters, giant megalodon skeleton, touch tank, interactive exhibits, and more!
Solomons Maritime Festival Activities
Free Wm. B. Tennison Cruises
Antique Boat and Marine Engine Show
Food Demos
Labrador Retriever Demos
Quilts of Valor display
Knot Tying
Spinning/Weaving
Nautical Flea Market
Food Vendors
Toy Boat Building
RC Model Boat Demos
Rowing
Live Music
Demonstrating harvesting techniques for crabs, oysters, and fish
Touch tanks to include crabs, fish, and oysters
Calvert County Watermen—Crab & Eel Pot Making
Annmarie Sculpture Garden & Arts Center After Hours
13470 Dowell Road, Solomons
Free parking in the lot
Annmarie Sculpture Garden & Arts Center hosts several special events and limited-run exhibitions throughout the year. I visited during one of their memorable After Hours events.
After Hours Event (Wild Muse: Animals in Art)
This year's Wild Muse: Animals in Art in the Kay Daugherty Gallery is full of the familiar and the exotic! The mysteries of the animal kingdom come to life through captivating works of art.
I loved the entire exhibit, but the following award winners were something else! (Taking photos of indoor art without glare and lighting issues is challenging, but you can still see what makes the artwork stand out.)
The horse sculpture and the bear were my favorites.
Tip: Look for the annual Fairies in the Garden too!
Every year a new collection of fairy houses magically appear at Annmarie Sculpture Garden & Arts Center. More than 100 handcrafted homes are on exhibit, adding a new fun element to your visit.
Take a stroll on the walking path in the sculpture garden, and you'll find these enchanting homes scattered throughout the park.
No Thyme to Cook Wine Festival
No Thyme to Cook – 14624 Solomons Island Road South, Solomons
Street and lot parking. (I recommend arriving early to get a parking spot.)
You might be familiar with No Thyme To Cook primarily for its exceptional cooking classes. (Check the schedule.)The wide selection of hands-on and demonstration classes lets foodies explore new flavors and culinary techniques under the expert guidance of talented chefs. If you've never been to a cooking school, you must do it; it's a lot of fun!
Read Next: A Foodie Road Trip through Door County, WI
But No Thyme To Cook also hosts an annual ticketed event that shines the spotlight on the vino! Admission includes a souvenir tasting glass and tasting tickets so guests can sip wine from local vineyards and beyond.
I popped in to check it out this year and loved it. The smaller, intimate size removed the overwhelm and made for a cozy, friendly afternoon.
Many wine vendors, craft vendors, and a food truck were on site. I bought a Buffalo Chicken Salad from the food truck and took that and a glass of wine to the patio dining area overlooking Solomons Harbor. I could have stayed by the water all day, but the live music drew me back to the tent area, and I spent a leisurely afternoon enjoying the bands and tasting new varietals.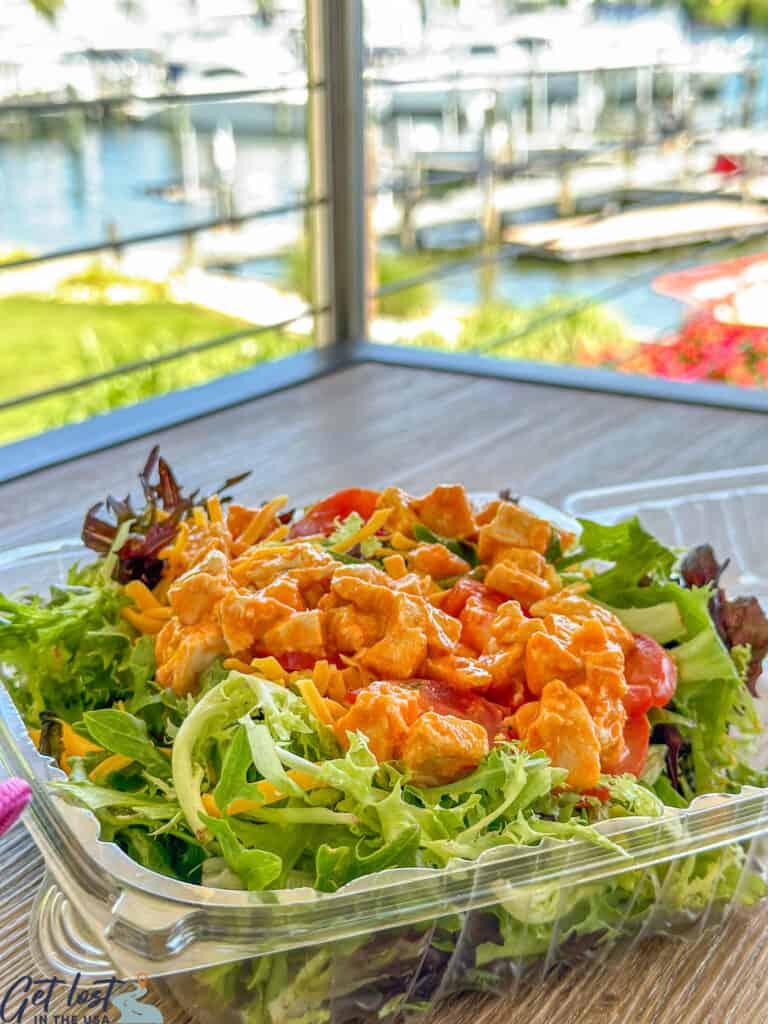 Where to Stay
I stayed at the Hilton Garden Inn Solomons. (Check rates and dates.) It was just down the road from Annmarie Sculpture Garden & Arts Center and a short drive from the festivals (and away from the traffic congestion!)
Explore More of Maryland