Thank you to Wicomico County Tourism for hosting my stay. Opinions are my own.
There's no shortage of great restaurants in Salisbury, MD to satisfy your every craving. This list of must-try eateries in the heart of downtown, on the waterfront, and beyond will keep you fueled as you explore all the fun things to do in Salisbury and Wicomico County.
Evolution Craft Brewing Company
201 E. Vine St. Salisbury, MD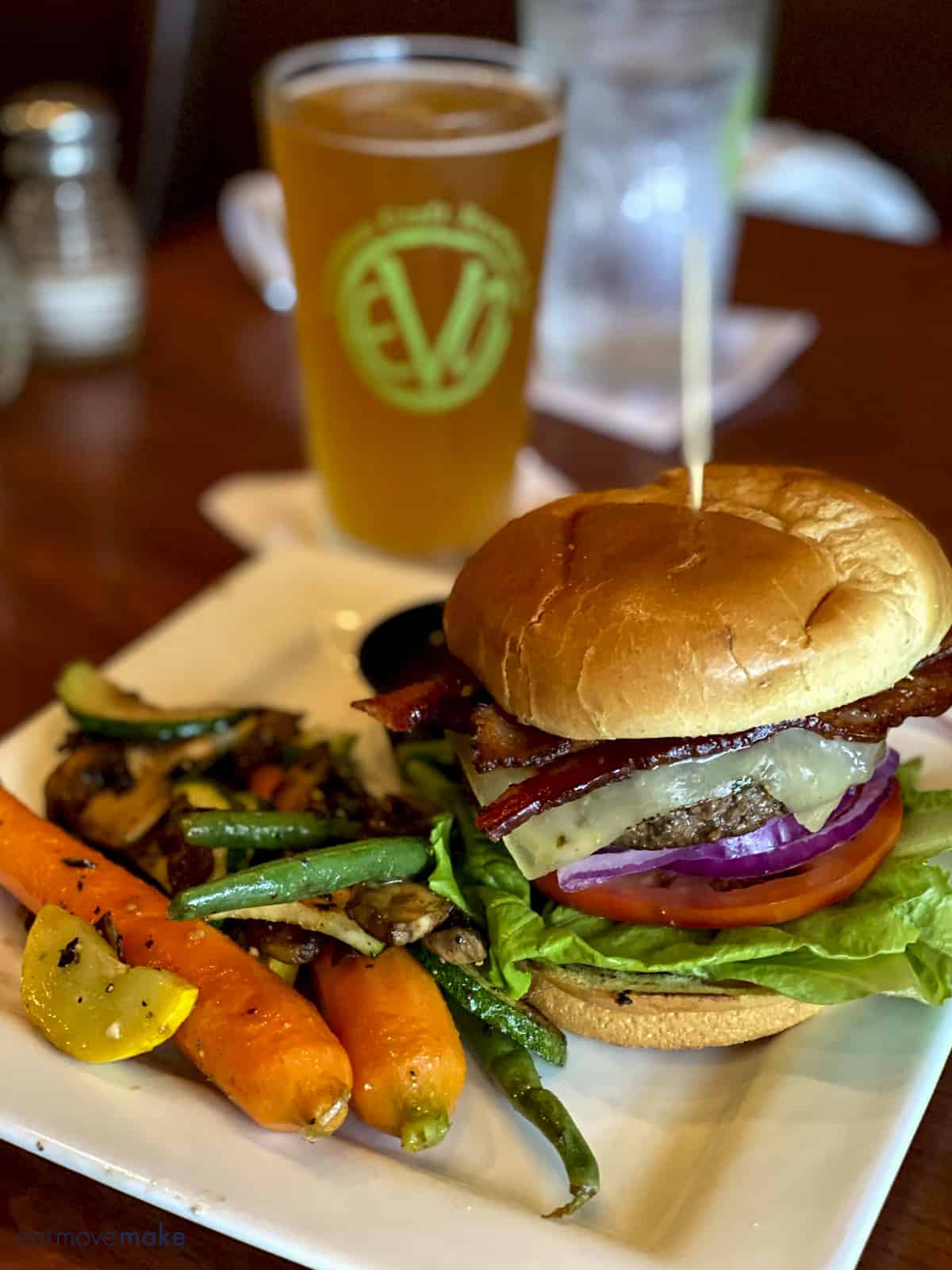 Located in what was once the Salisbury Ice Plant, this microbrewery has a tasting room and restaurant with a modern industrial vibe. The craft brews are created to pair well with food so having a beer with dinner tastes better than ever.
The restaurant uses locally sourced fresh ingredients for a farm-to-table experience. I ordered a burger and skipped the fries in favor of a garden vegetable medley (fantastic!), and I paired that with a beer flight. Top-notch all the way around.
Brew River Seafood House & Dock Bar
502 W. Main St., Salisbury, MD
Although the seafood is a big draw, Brew River also has a terrific selection of sandwiches and salads, making it an ideal lunch spot.
Its Wicomico River waterfront location and its light and airy ambiance make it a wonderful, relaxing place to meet up with friends. Indoor and outdoor dining available.
Roadie Joe's Bar & Grill
213 W. Main St., Salisbury, MD
This vibrant Main Street eatery dishes up sophisticated versions of pub classics like burgers, wings, and sammies, and you can't go wrong with those. But Roadie Joe's is famous for its Rice Bowls, so that's what I tried.
Fluffy jasmine rice is topped with fresh veggies and toasted sesame seeds and then a flavorful stir fry sauce. It was surprisingly fresh and delicious and an excellent alternative to my typical salad.
Mogan's Oyster House
100 E. Main St., Suite 111, Salisbury, MD
Seafood is the obvious choice at Mogan's Oyster House, but don't be afraid to explore the menu beyond the sea.
I tried the homemade gnocchi, and it was melt-in-your-mouth delicious. It's the best gnocchi I've ever had in a restaurant – pillowy soft, and tender. And for dessert, don't miss the bread pudding—phenomenal!
MoJo's Urban Eatery
213-215 E. Main St., Salisbury, MD
The fun and colorful pub-style atmosphere in MoJo's is inviting and cozy. Try one of the creative daily specials, a brick oven pizza, or dig into a big bowl of risotto, as I did.
I couldn't resist the Creamy Parmesan risotto garnished with house-made roasted tomatoes and pesto. Good Lord, it was delicious.
Island Creamery
306 Dogwood Dr., Salisbury, MD
If you love ice cream, make it a point to swing into Island Creamery for their delectable small-batch ice cream and fresh fruit sorbets. The ultra-fresh and creamy homemade frozen desserts are made with milk and cream from local cows.
I couldn't resist trying the popular Bourbon Caramel Crunch flavor—bourbon ice cream with caramel swirls and Heath Bar toffee pieces.
Other favorites include Pony Tracks (vanilla ice cream with homemade hot fudge, peanut butter cups, and peanut butter), Marsh Mud (double chocolate ice cream), and Java Jolt (rich coffee ice cream with homemade brownie chunks and chocolate-covered coffee beans.)
The Red Roost
2670 Clara Rd., Quantico, MD
The pounding of wooden mallets is background music for happy patrons as they get down and dirty with heaping piles of freshly steamed Maryland blue crab, fried chicken, and hush puppies at this long-standing local restaurant favorite.
The Red Roost is located inside a former chicken barn (hence the name) and out in what feels like the middle of nowhere, but nearly every family-style picnic table was full on the day I visited.
On certain nights, you may be lucky enough to enjoy live music. (And they take requests.) A delightful restaurant and worth the drive.
Have you tried any of these restaurants in Salisbury, MD? If you have other favorites, let us know in the comments!
For more info on the Wicomico County area, visit wicomicotourism.org