I'm Michigan born and raised (right on the lake), so I know firsthand the beauty of the state. There's nothing like a summer in Petoskey! I remember carrying colorful plastic pails out to the water's edge with my siblings and spending hours beachcombing for Petoskey stones, the ultimate Michigan souvenir.
If you've been to the Petoskey area, you know exactly what kind of treat it is to find Petoskey stones, but if not, you have to go and experience the treasure hunt for yourself. Put it on your travel bucket list!
Petoskey stones aren't actually stones, but rather the fossilized remains of an ancient colony coral in existence over 350 million years ago. The Petoskey stone with its signature gray color and honeycomb circle pattern is actually a collection of tubes where individual animals lived. The circles were their mouths, and the lines surrounding the circles were tentacles.
In more recent ancient history when glaciers covered the land, the ice broke off chunks of the coral and scattered them throughout Michigan. And now beachcombing for Petoskey stones is a favorite "Pure Michigan" activity.
The best places to hunt for Petoskey stones are on the beaches of Lake Michigan in the Petoskey area, so try Petoskey State Park, Magnus City Park Beach and the Petoskey Breakwall. Look along the Bear River and on the Little Traverse Wheelway too.
Another tip is to dig around a little bit in the shallows and in the sand at the surf's edge. Not everyone thinks to do that, so you may find a few there.
Two especially good times to find Petoskey stones are in early spring after the ice melts on the lake and right after a storm when the waves have kicked things up. You can still find Petoskey stones from spring through early winter though, so don't give up. They're just a bit easier to spot at certain times.
Speaking of spotting them, when Petoskey stones are dry, the distinctive hexagon design is hard to see, and the stones appear a solid gray color. If you're unsure of your find, dip the stone into water to see if any circles appear. It's a fun treasure hunt!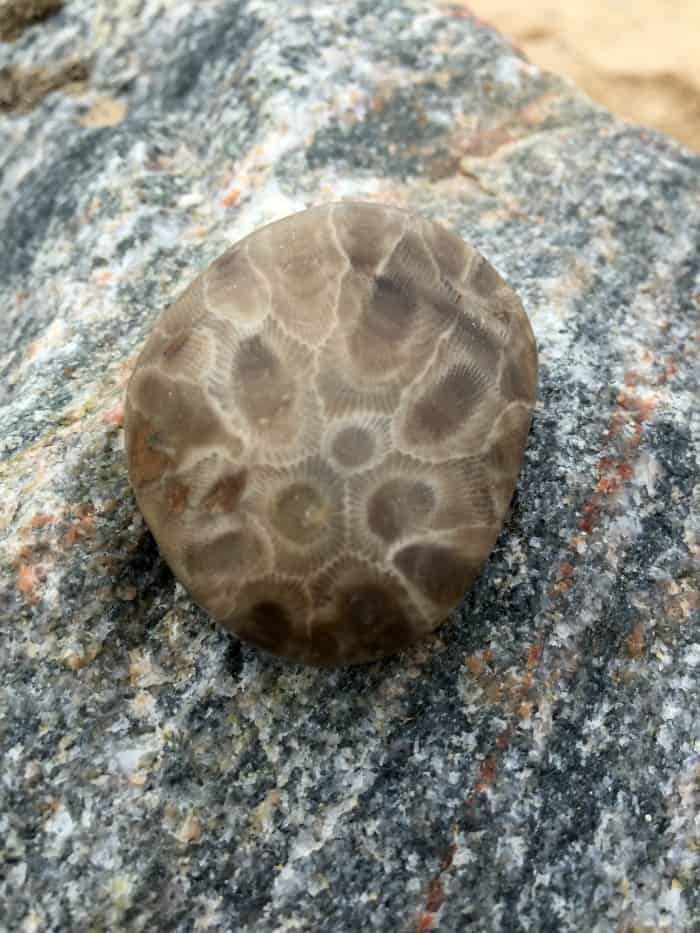 For more outdoor fun in the Petoskey area, you'll find everything you need at the Petoskey area visitor center website and if you're looking for a uniquely Petoskey place to stay, look no further than the Elvyn Lea Lodge near Walloon Lake.
More Places to Get Lost