If you love the outdoors but want to do something unusual, you must visit Bilger's Rocks in Pennsylvania! This massive 300 million-year-old sandstone "rock city" is full of cool things to see, and visitors can climb all over the massive boulders as much as they want.
The park is located in Clearfield County, PA, southwest of Grampian in Bloom Township, and admission is FREE.
If I had to choose the most striking feature about Bilger's Rocks—from cliffs towering up to 50 feet overhead, caves, narrow passageways, cracks, crevices, and arches found throughout the outcrop—it would be how the tree roots wind and snake their way through the rock formations. It's fascinating! But there's so much more… keep reading!
Where is Bilger's Rocks?
From the official website: Bilger's Rocks is a private recreation park in Clearfield County, Pennsylvania, USA, near the town of Grampian in Bloom Township. The surrounding area is intricately laced with hills, mountains, and river valleys that generally follow the Appalachian mountain range in a northwest-to-southeast direction. The area of the park is located along the Allegheny section of the mountains, approximately 8 miles southwest of the highest point on Interstate 80, east of the Mississippi River.
How to Explore Bilger's Rocks: Parking and Entrance Tips
Parking for Bilger's Rocks is located near the top of the rock outcropping. You can pick up a trail map at the Education Center across the street with ten marked locations.
Pro Tip: The trail markers are hard to spot and follow, so I suggest you skip the map and wander anywhere you'd like. (It might seem like you'll get lost, but if you keep walking, you'll eventually come out.)
To enter from the top: Walk through the field and into the woods.
To enter from the bottom: (My favorite place to start.) Walk along the main road downhill and around the curve. Use caution as it's a trafficked roadway. When you see the 'Bilger's Rocks Walking Tour' sign and a cave-like opening, you've arrived at the entrance.
Exploring Bilger's Rocks from the Bottom
One of the first things you'll see is a giant 1921 carving etched into the rock face with the words "The World is Looking to Us."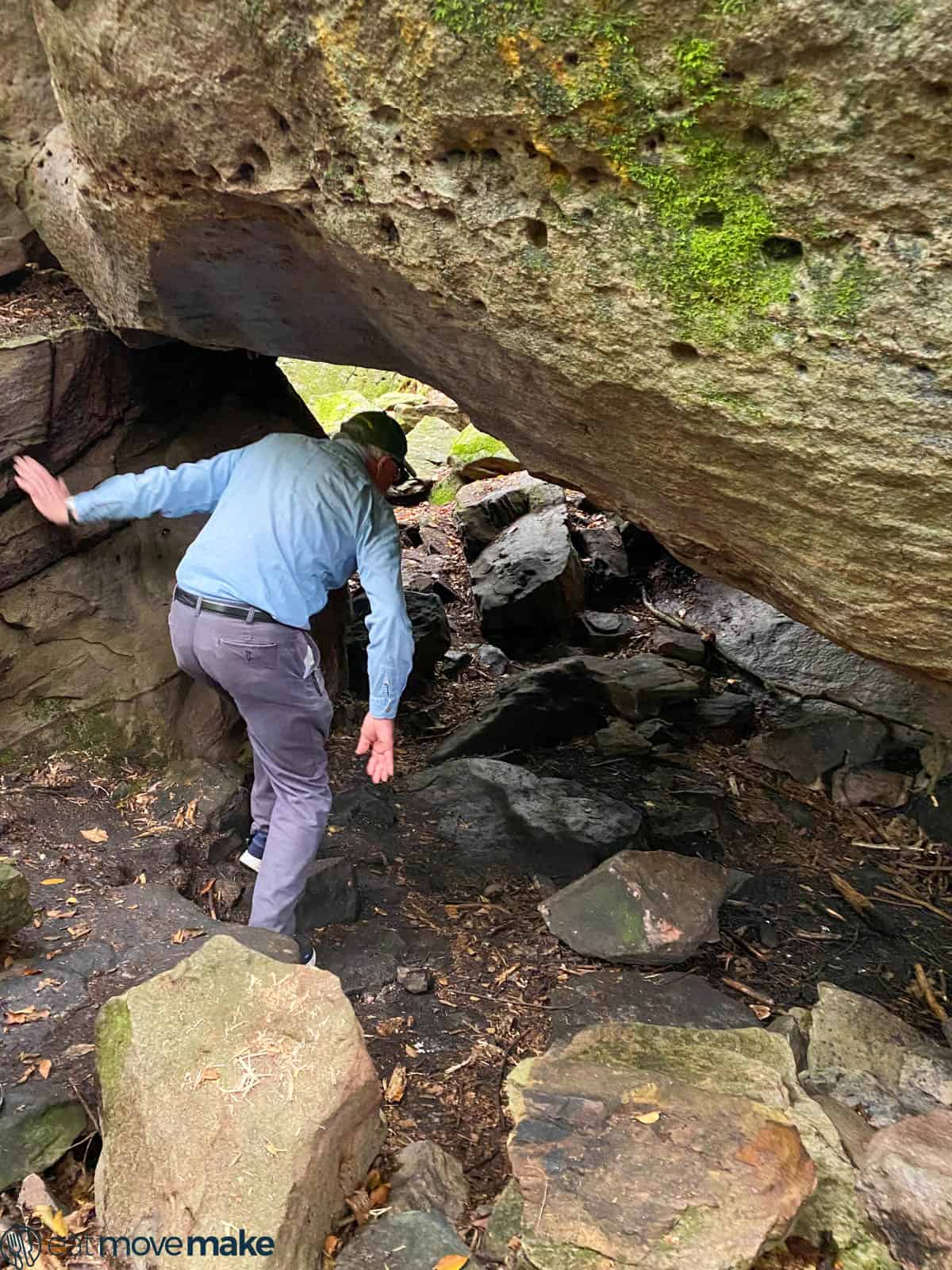 As you explore, you'll be climbing, ducking, squeezing, and even crawling (if you're adventurous).
Some of the nooks and crannies lead to hidden chambers with names like "Devil's Dining Room," "Devil's Kitchen," and "Devil's Dungeon."
There's also an ice cave where the cool temperatures allow ice formation long after winter. It's a narrow passageway underground that requires some crawling, and it's totally dark inside—perfect for the most adventurous.
Anyone can crawl or climb anywhere they'd like. Nothing's off-limits if you're up for it.
Trees grow out of the rocks everywhere and anywhere. Many roots twist themselves around and through the boulders and make fun photo ops.
Exploring Bilger's Rocks from the Top
Once you've climbed to your heart's content in and among the boulders, start climbing up, and you'll find yourself looking down into many of the passageways and rooms you explored below.
Seeing it all from a different perspective is a lot of fun. The numerous cracks and fissures are picturesque. But be sure to watch your footing; steep drop-offs and holes are everywhere.
I hopped over several cracks to keep exploring, but some are for daredevils only (or no one).
Visit the Roland Welker Rock House Replica
If you've ever seen the survivor series, Alone, you've probably heard of Roland Welker. He survived 100 days alone in a remote area of Canada's Northwest Territories and won $1 million on the show.
Roland grew up in Clearfield County, so Bilger's Rocks created a trail and constructed a replica of his famous rock house at the park in his honor. It's a short walk from the parking area and fun to see.
Tips for Visiting Bilger's Rocks
Wear layers. It can be chillier on the rocks, but you may warm up from moving around.
The rocks can be very slippery from dew, rain, or moss, so wear comfortable hiking boots or other closed-toe shoes with good traction.
Bring your phone. The photo possibilities are endless!
Always watch where you're walking. The boulders are uneven, with roots, holes, and crevices all over the place.
To find your way back after exploring the boulders, climb higher. Eventually, you'll return to the top and the parking lot.
The ruins of an 1851 sawmill can be found along the banks of Bilger Run.
There are 10 miles of hiking trails in the park as well.
It's a dog-friendly park, so bring the whole family.
Pick up a self-guided tour pamphlet, or if you prefer, two-hour guided tours can be arranged in advance. Check the website for details.
Bilger's Rocks
1921 Bilgers Rocks Rd, Grampian, PA 16838
(Clearfield County, Pennsylvania, USA – about 20 minutes off interstate 80)
Website
Hours: Daily from dawn to dusk
Admission: Free