If you're looking for some lip-smacking delights in the enchanting town of Blue Ridge, Georgia, you're in for a treat. We've done the food sampling to bring you a list of top-notch dining spots that'll have your taste buds doing a happy dance. From cozy cafes to upscale experiences, Blue Ridge has a culinary scene to please the whole gang. So, kick back, relax, and get ready to embark on a delicious journey through the best Blue Ridge, GA restaurants.
Chester Brunnenmeyer's Bar & Grill
I started my Blue Ridge dining adventure at Chester Brunnenmeyer's. Located on the first floor of the old Gartrell Hotel on E. Main Street (across from the depot), this cozy and rustic restaurant serves a crowd-pleasing American menu.
Their popular sticky ribs and wings tempted me, but I went with the four cheese grilled cheese sandwich with tomato bisque soup, and I did not regret it! Grilled cheese is my happy place, and they make a darn good one. This was definitely one of my favorite places to eat in Blue Ridge, GA!
The crispy parmesan buttered bread was perfectly toasted with a medley of gooey melted cheeses (yum!), and the herb-seasoned tomato soup was scrumptious by the spoonful and when used as a dunking sauce for the sandwich.
Service was exceptional, especially since they were dealing with the aftermath of a storm that prevented them from using city water. They had to use bottled water and disposable all.the.things. It was a great intro to the Blue Ridge food scene!
Address: 733 E. Main St., Blue Ridge, GA
Price Range: $$
Southern Charm
Next up on my Blue Ridge restaurants list was Southern Charm, where they dish up feel-good southern cooking. They also bring fresh-made biscuits and apple butter to every table—that apple butter, y'all—SO good!
With a salad in mind, I popped in for a late lunch and chose the Apple Pecan Grilled Chicken Salad. It was so generously sized that I couldn't even finish it…maybe because I had scarfed down the apple butter biscuit! My friend ordered the Pimento Fried Green BLT and loved that too.
POPULAR SPECIALS: Chicken and Dumplings on Mondays and Thursdays, and all-you-can-eat popcorn shrimp or catfish on Fridays at 4:30 pm.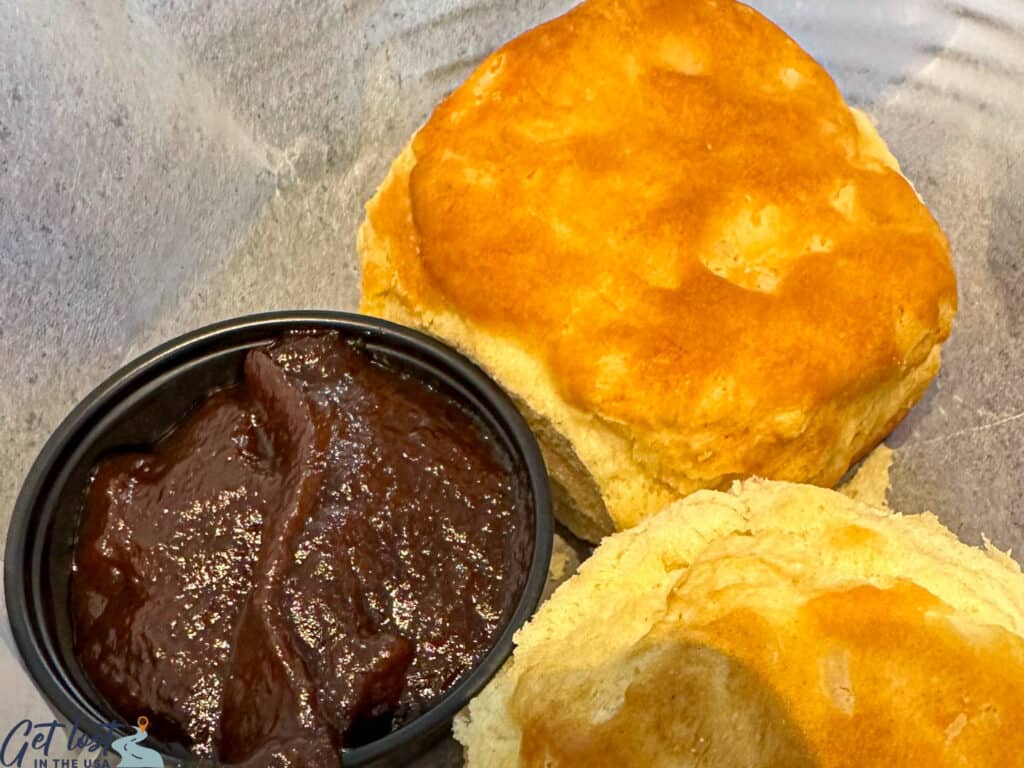 Address: 224 W. Main St., Blue Ridge, GA
Price Range – $$-$$$
Black Sheep
If you're looking for upscale dining in Blue Ridge, the creative chef-driven dishes at The Black Sheep may be just what you're looking for. Sourced with fresh, local ingredients, the unique menu items are, in their words, "comfortably unfamiliar."
Outside dining is available on the patio under the canopy of a 200-year-old oak tree overlooking Blue Ridge. It's a beautiful place to enjoy the cooler evening temperatures.
For those who prefer air conditioning (or heat, depending on the season), the rooms inside the historic Butt House have been turned into cozy dining areas. Our party sat at a table smack dab in the middle of the foyer—a little odd and certainly a first, but somehow it worked.
Fun Fact: Margaret Mitchell, author of Gone With The Wind, visited the house several times. Fanny Butt even hosted a tea in her honor, and guests dressed up in Gone With the Wind costumes.
I ordered the Black Sheep Meatloaf, which definitely fell into the comfortably unfamiliar category. It had meatloaf's traditional comfort food vibe but with such a unique twist of flavors.
It was made with beef, pork, four cheeses, and fresh herbs and smothered in a tomato ragout with a side of Parmesan au gratin and collards—I substituted broccolini for the collards. The portion size was enormous! I couldn't even finish one thick-cut slice, and there were TWO. It was super tasty, though, and I'd order it again.
Address: 480 W. Main St., Blue Ridge, GA
Price Range: $$$
The General Ledger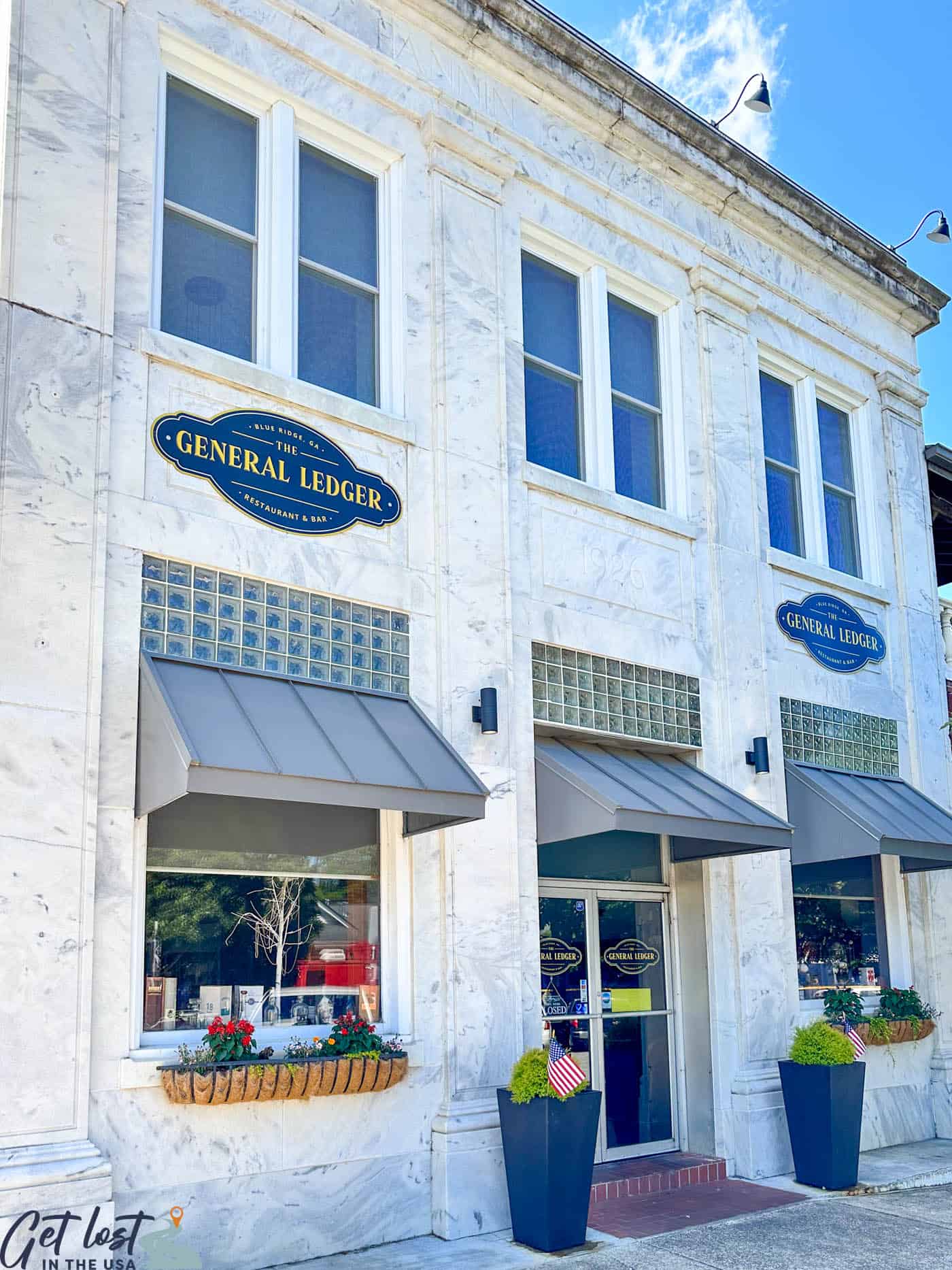 The General Ledger Restaurant in Blue Ridge is located in a historic 1920s bank building with the original vault.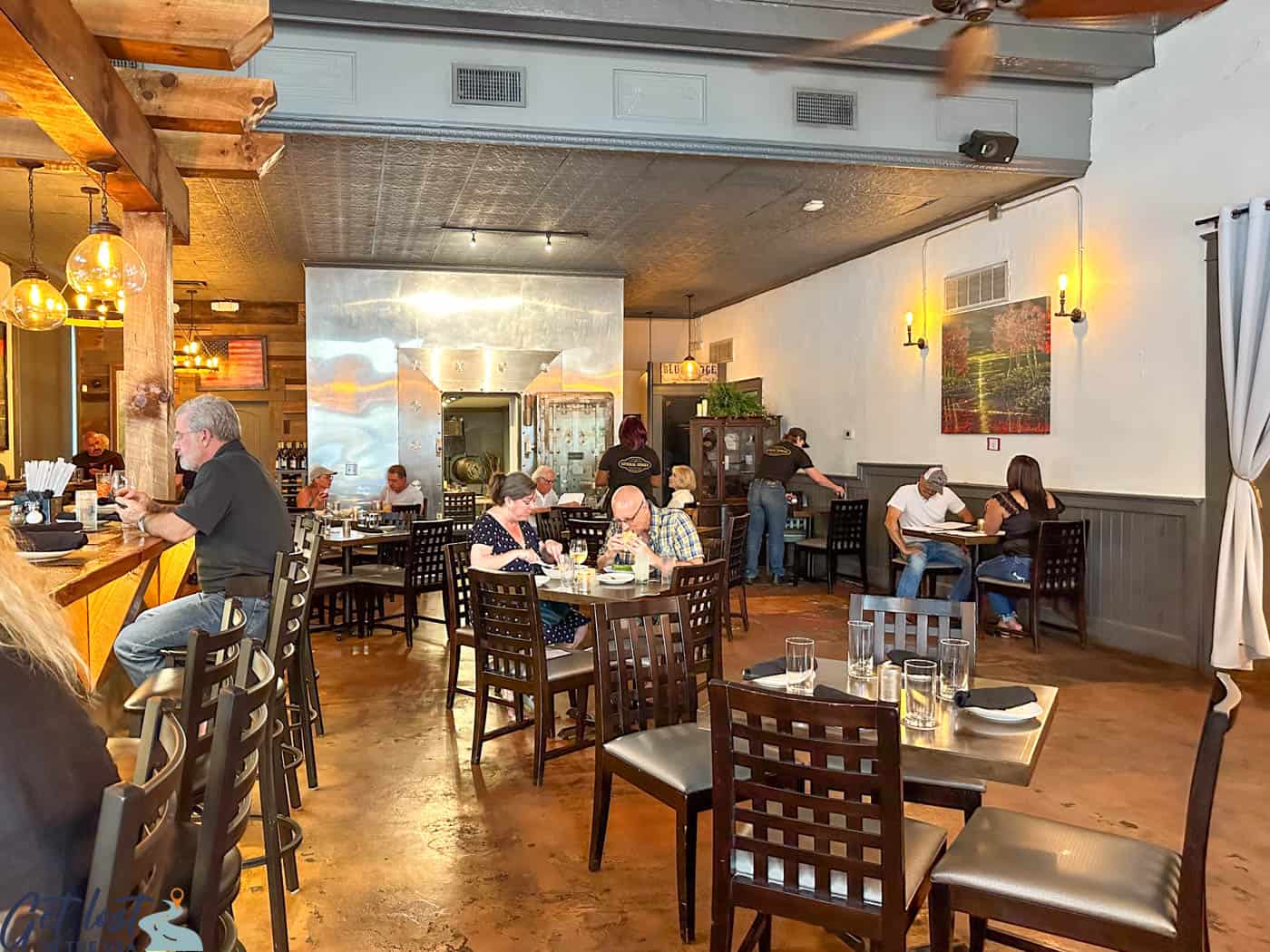 The vault serves as a private dining room for larger groups, and the intimate and exclusive dining experience adds an extra layer of intrigue and fascination to your meal. I was lucky enough to sit in the vault on my press trip!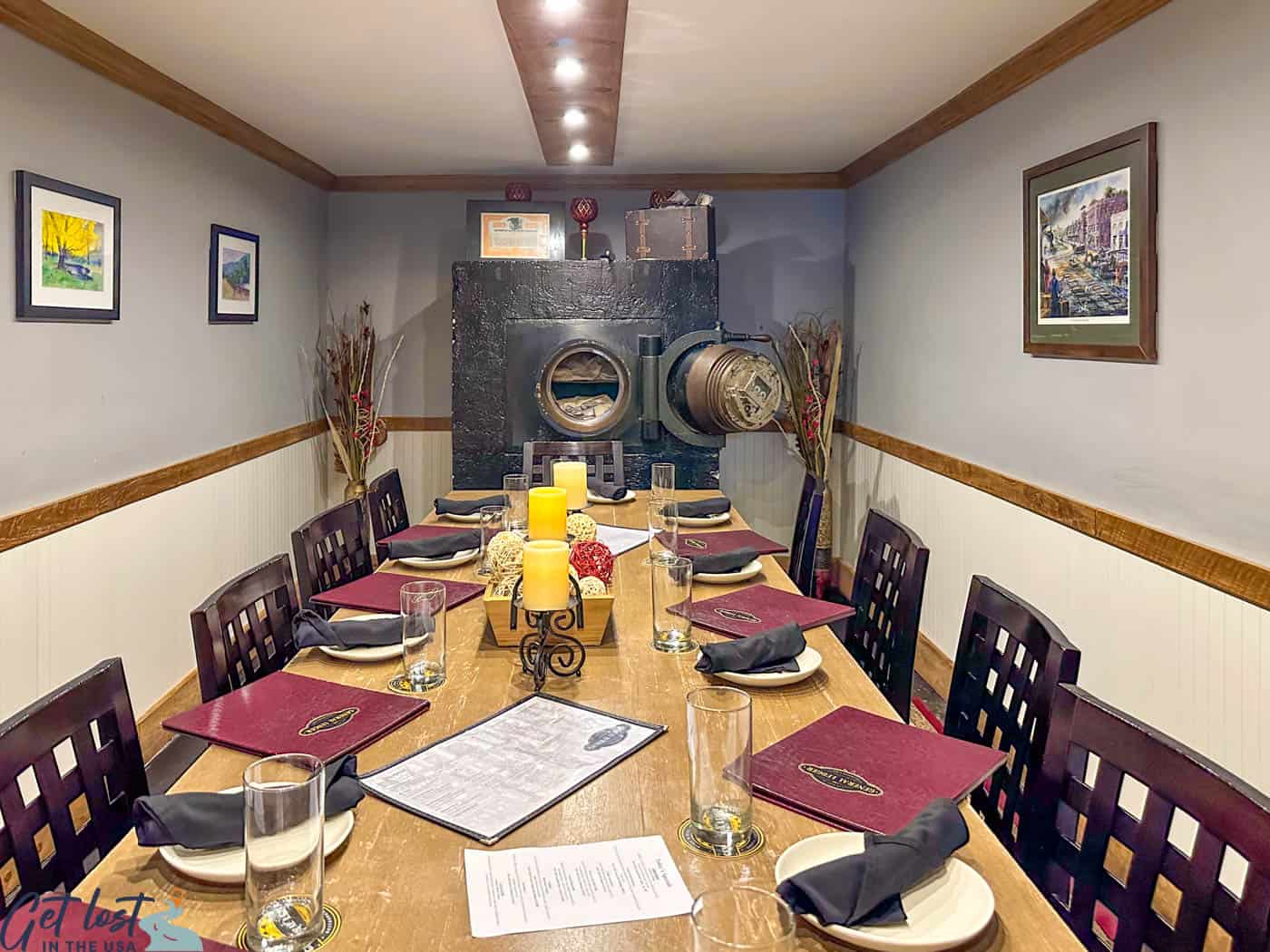 Tip: Start with a pan of cast iron cornbread—it's incredible!
I'm not sure you can go wrong with any of their delectable entrees, but I couldn't resist trying the Fried Chicken Paillard, and I loved it!
HOUSE SPECIALTY: Blackened Duroc pork chop.
Address: 260 W. Main St., Blue Ridge
Price Range: $$$
Grace Prime Steakhouse
The newest upscale Blue Ridge restaurant is Grace Prime Steakhouse, and it's unlike anything else in town or even in all of North Georgia. It's a special occasion restaurant and wildly impressive.
Check this out: Grace has an in-house butcher shop, and they dry-age their own steaks.
The showstopper is the Tomahawk steak. Executive Chef Daniel Barron ages the steak for two weeks, then wraps it in cheesecloth soaked in Four Roses bourbon for another 45 days. The steak is served hanging from a swinging hook and is lit on fire and carved tableside. It's a jaw-dropping experience!
Even the cocktails are an experience. If you love bourbon and a good tableside show, order the Smokeshow Old Fashioned. It's double-smoked right in front of you!
It might be the best old-fashioned I've ever had—smoky with the perfect orange essence and not too sweet—I HATE sweet cocktails. I highly recommend it.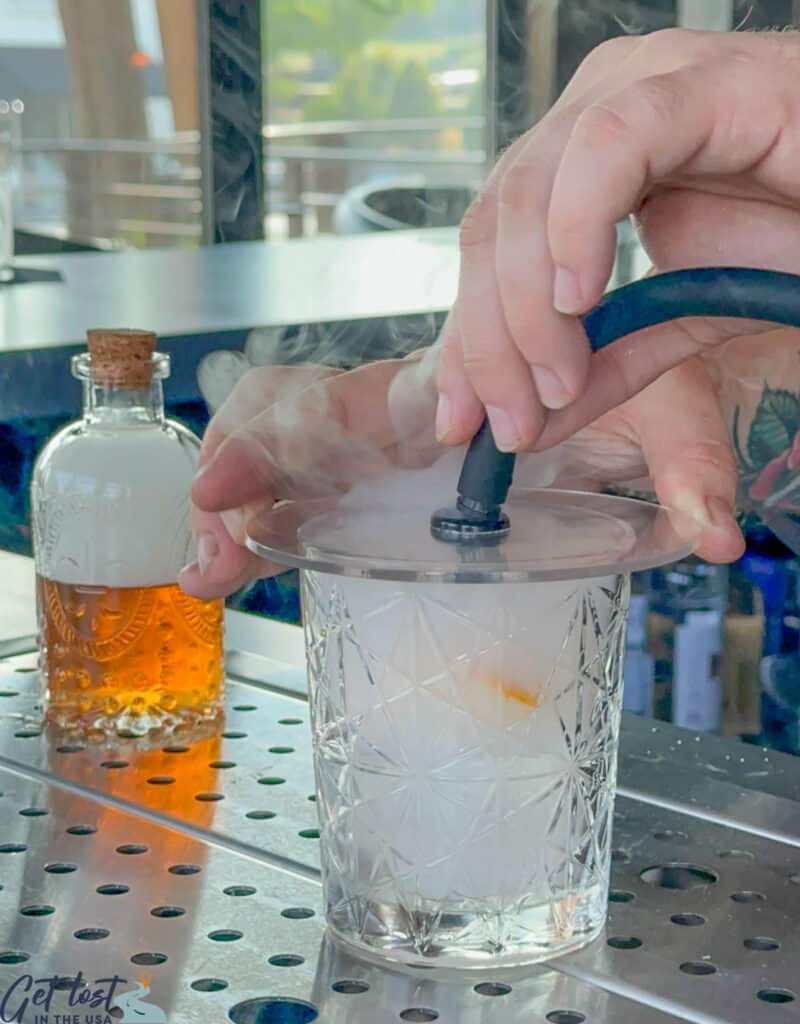 Address: 55 Mountain St. Suite 6, Blue Ridge
Price Range: $$$$
Mountain Mama's Coffee Lounge
This adorable coffee shop adjacent to the Blue Ridge Inn is the perfect way to start a morning. The walls are painted with a soothing Blue Ridge mountain mural that flows peacefully through the cafe.
Owner Morgan Stephens, a 10-year-trained global barista, puts staff through an in-depth coffee barista training program before they can even touch the beans. This ensures every cup of coffee is created mindfully.
The entire menu is locally made from scratch with whole fresh ingredients by Folk Collaborative—no preservatives, no stabilizers, no artificial sweeteners.
I ordered a bagel and iced tea, both of which were delicious. If you love English muffins, the bagels have that texture rather than the standard New York-style chewiness. And the iced tea options are fun—I had the Ginger Orange Peach, and my friend had the Passion Berry.
Address: 477 W. First St., Blue Ridge (adjacent to Blue Ridge Inn)
Price Range: $
Mystic Mountain Pizza
This fun, eclectic pizza shop is where you'll find the only wood-fired brick oven pizza in Blue Ridge, and it's delicious! But, the quirky and peculiar decorations are what give Mystic Mountain Pizza its "mystique."
The walls are covered with whimsical murals and artwork for an overall peace, love, and goodwill hippie vibe.
But, back to the menu… along with crazy good pizza, they have hot dogs, sandwiches, salads, and appetizers. I ordered a pineapple pizza—I know that's a polarizing topping, but hey, I love it—and the crust was magnifique!
Address: 4118 E. 1st St., Blue Ridge
Price Range: $-$$
Toccoa Riverside Restaurant
Toccoa Riverside Restaurant has what must be the BEST riverfront location of all the restaurants in Blue Ridge, GA. The setting is absolutely idyllic!
Along with the outdoor patio, there's a screened-in porch section and an indoor dining room, so no matter your preference, you'll be happy. There's also a Pooch Porch if your eating companions happen to be furry.
Along with the stunning views, the restaurant is known for its fresh trout; try the pecan-crusted trout! They also have great burgers and salads.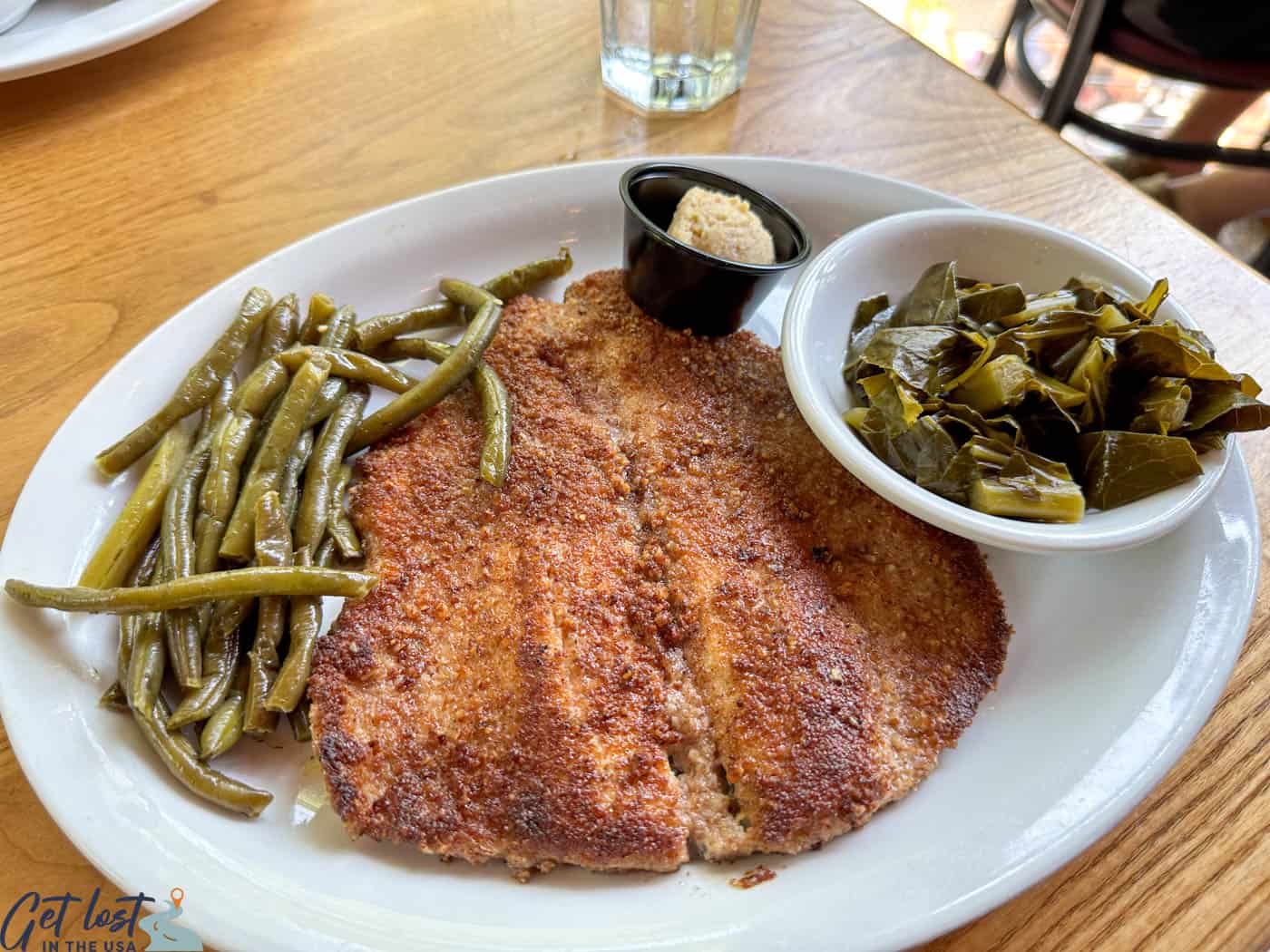 Address: 8055 Aska Road, Blue Ridge
Price Range: $$-$$$
Burra Burra on the River
If you're planning a ride on the Blue Ridge Scenic Railway—and why wouldn't you?—the train stops in McCaysville, Georgia for a 2-hour lunch excursion, and Burra Burra On The River is part of a newly renovated and lively space right alongside the Toccoa River where the train lets off.
Three restaurants with one large adjoining deck sit riverside: Burra Burra, Twisted Tomato, and Happy Bear Ice Creams & Treats. All three restaurants offer both patio and indoor dining.
We opted to sit on the riverside patio, where a gaggle of geese put on quite a splashy show for us!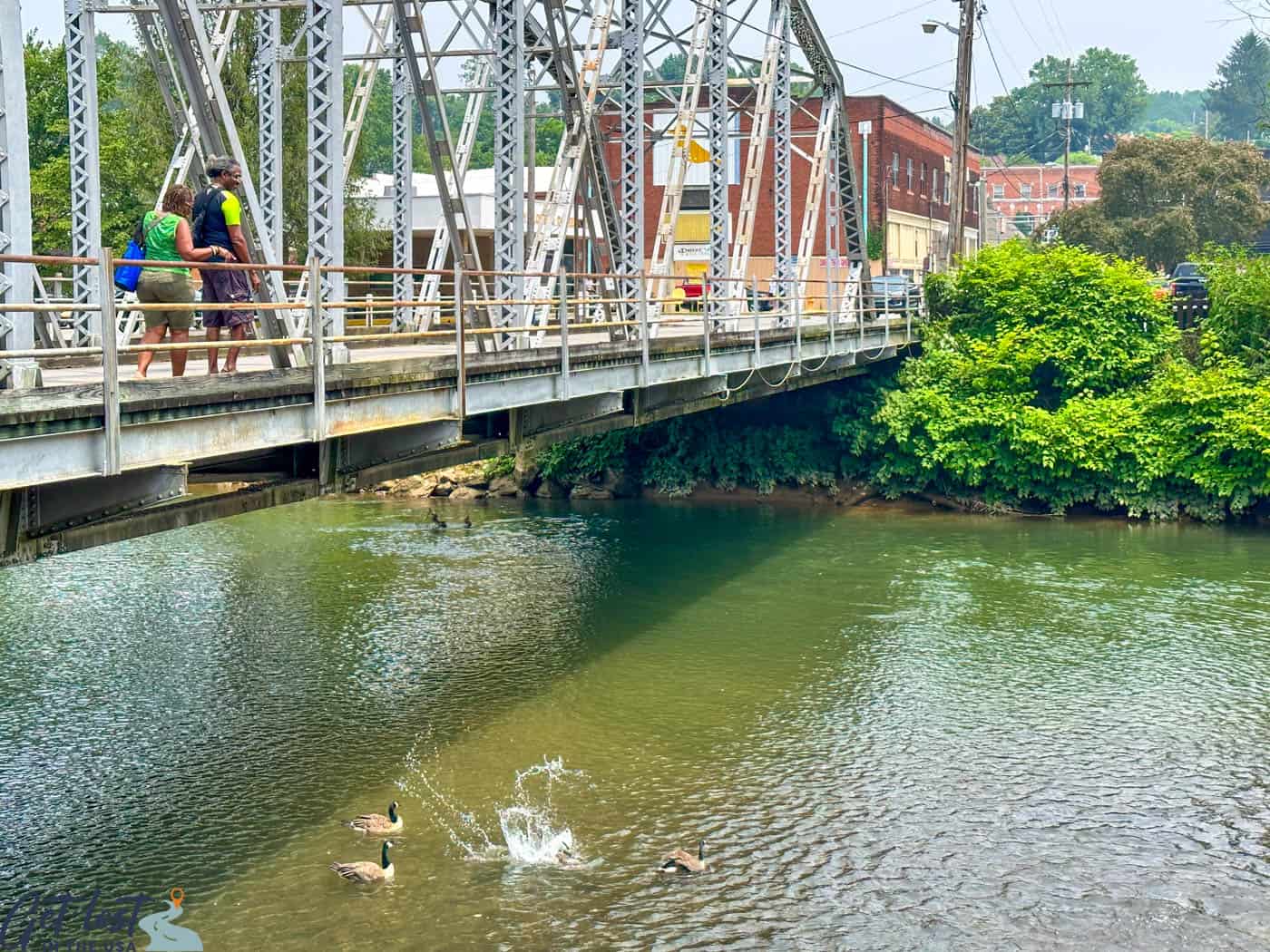 Tip: If you have extra time after lunch, wander into the Riverwalk Shops behind the restaurants, where you'll find lots of fun shops to explore. If you're there in the evening, check out Tooney's, the live music venue!
Address: 100 Blue Ridge Dr., McCaysville, GA
Price Range: $$-$$$
You can't go wrong with any of these Blue Ridge GA restaurants (or the one in McCaysville), and I hope you give one or two a try when you visit the Blue Ridge area. I know there are others worth a bite too, but I haven't tried them yet! I only like to recommend the ones I have personally experienced and enjoyed.
But wait, there's another option too!
Go Beyond Blue Ridge GA Restaurants
Hire a Private Chef to Cook at Your Cabin!
One of my favorite places to eat in Blue Ridge, GA was right in my own cabin, believe it or not. It was a nice change of pace from eating out and so relaxing!
Our in-home private chef prepared a five-course gourmet meal for us while we sat around sipping wine and not helping. What could be better than that?!
I highly recommend Fine Dining Chefs. Every meal is custom created and caters to specific dietary restrictions, but as an example, our amazing five-course meal included:
Charcuterie
Roasted Roma and fresh garlic bisque
Mixed green salad with shaved onions, apples, cranberries, crushed walnuts, and goat cheese.
Grilled sous vide beef tenderloin with demi-glaze, russet potatoes, and asparagus.
New York-style cheesecake with fresh berry coulis and caramel drizzle (made by Messy Baking Company)
Everything was exceptional, and the chef did all the prep and all the clean-up. By the time we had finished our dessert, he was packing up and ready to go. If you're staying in a cabin in Blue Ridge or nearby, you need to do this at least once!
If you have other Blue Ridge, GA restaurants you'd recommend, let me know so I can try them on my next visit!
More Georgia Travels