You'll love the beautiful Airlie Hotel in Warrenton, Virginia! Airlie offers an enchanting blend of breathtaking landscapes, luxurious accommodations, delectable dining, and an atmosphere of tranquility.
Whether you're seeking a romantic getaway, a wellness retreat, or a memorable event venue, the Airlie Hotel is the ideal place to unwind, recharge and escape from the hustle and bustle of everyday life. (It's just an hour from Washington DC!)
Read Next: Escape to Fauquier County Virginia: Things to Do in Warrenton VA and Beyond
Book a Stay – Check Rates and Dates
Airlie History
Read Next: Small Town Explorations: Things to Do in Culpeper, VA (Downtown and Beyond)
A member of Historic Hotels of America, Airlie's history goes back to 1899 when the Georgian Revival manor home was built by Harry Connelly Groome and named after a Scottish castle.
When Dr. Murdoch Head purchased the estate in 1959, he turned Airlie into a conference center for people to meet and discuss important issues of the day. It was dubbed an "Island of Thought" by LIFE Magazine and became a safe meeting place for Civil Rights activists, including Dr. Martin Luther King, Jr.
Fun Fact: The idea for an official Earth Day was introduced at an Airlie conference by Senator G. Nelson in 1969. Earth Day received its official designation the following year.
Serene Natural Surroundings
From the moment you drive through the gates, the lush Virginia countryside envelops you; Airlie is so picturesque! (I see why it's one of the most beautiful wedding venues in Virginia.)
There are lots of winding pathways to stroll throughout the property. You'll want to wander through the meticulously manicured gardens, around the reflecting ponds, and under the shade of the towering trees. It's absolutely beautiful.
One of my favorite photo spots was just across the road from the manor house at the butterfly garden. The garden entrance looked so pretty, with the golden fall leaves shining through the window.
Airlie Accommodations
Luxury guest rooms and cottages are sprinkled throughout the property, creating a countryside village feel. My guest room was in the Carriage House, and parking spots were right outside.
Guests enter through a main door and sitting area before locating their respective rooms in the hallway.
My room was sumptuous! It may be a historic hotel, but the furnishings are modern and designed for comfort. Both the bedroom and the bathroom were bright and airy, with plenty of natural light.
Amenities include free parking, high-speed WiFi, flat-screen cable TV, desk/workspace, iPod/iPad docking station, telephone, coffeemaker, iron and ironing board, hair dryer, and eco-friendly bath products. There's also a Quench machine in the common entrance area and a fitness room, fitness trail, swimming pool, and complimentary bikes on the property.
Read Next: Martha Washington Inn & Spa
Harry's at Airlie Farm-to-Table Dining
Harry's, named after Harry Connelly Groome, who built Airlie House, is well known for its farm-to-table and culinary excellence. The restaurant highlights locally sourced ingredients to create fresh and flavorful dishes with seasonal twists.
Activities at Airlie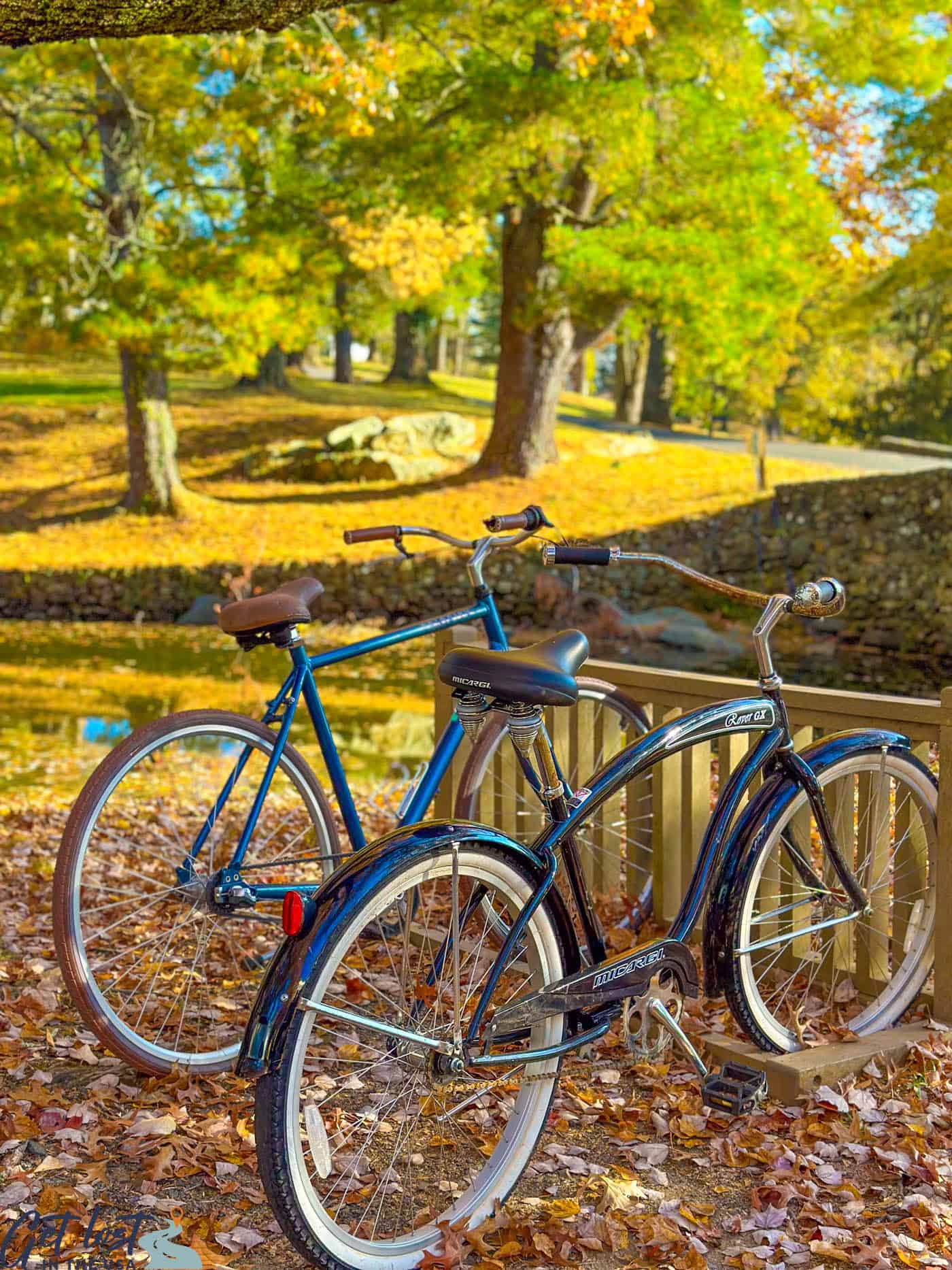 Airlie's expansive property provides ample opportunities for outdoor recreation. Guests can explore the scenic walking trails, go hiking or biking, enjoy a game of tennis or volleyball, take aim with a bow and arrow on the archery range, or have a relaxing picnic amidst the beautiful gardens and natural surroundings.
There's also a swimming pool, open seasonally, where guests can cool off and unwind. Whether you want to take a refreshing dip or simply lounge by the poolside, it's a great way to enjoy the outdoors.
For those seeking relaxation and rejuvenation, Airlie provides opportunities for wellness activities. Guests can indulge in spa treatments, practice yoga in serene settings, or simply unwind with a book in tranquil outdoor spaces.
On cooler evenings, check out the board games, foosball, or cue up for some billiards action in the indoor game room.
You can also cozy up around the fire pit with friends and enjoy the nighttime stillness.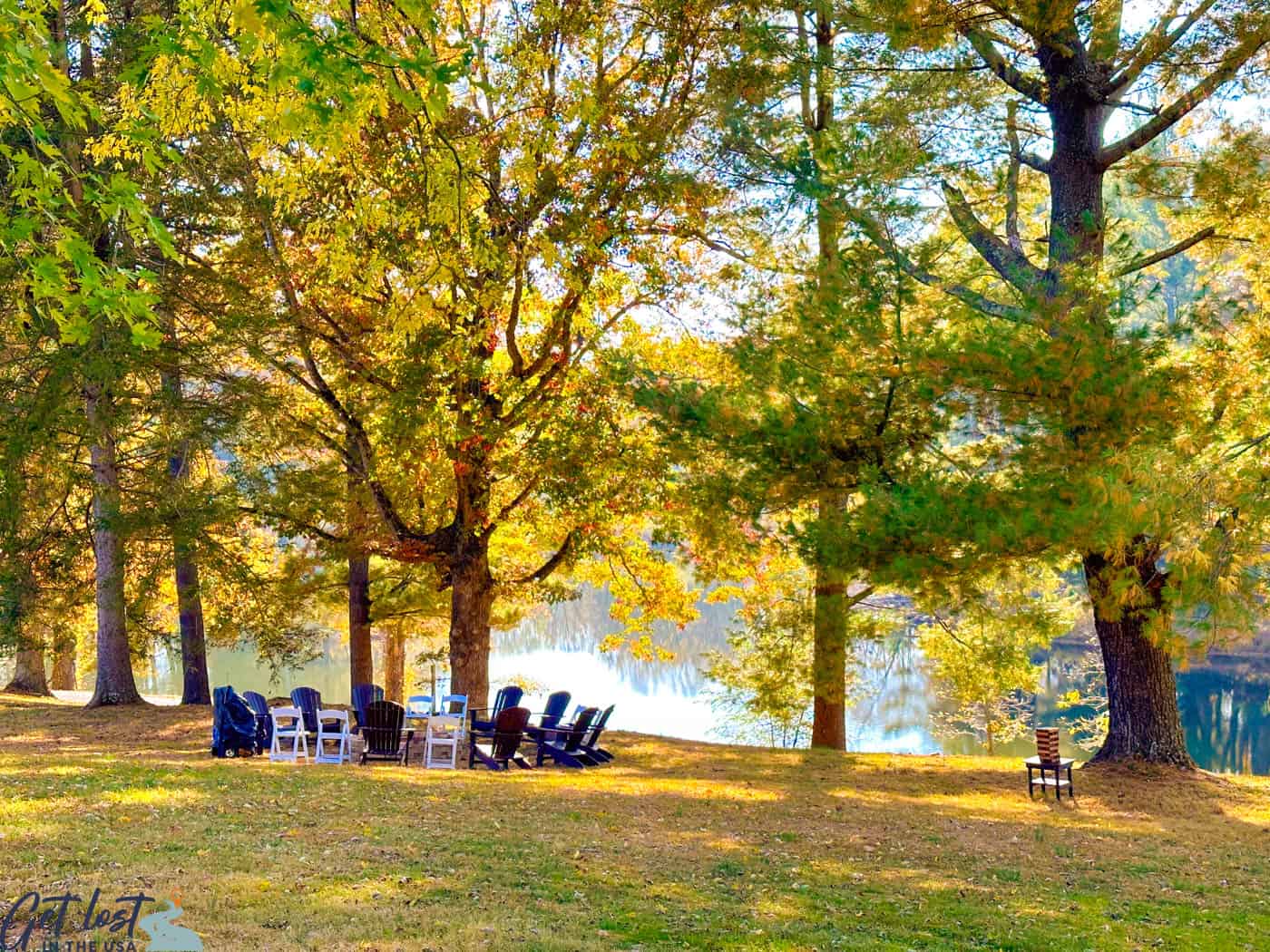 Helpful Suggestion
The property is very dark at night, so if you'd like to stroll during the evening, take one of the lanterns available in the manor house to light your way (or use your phone flashlight). There are lantern returns in the guest quarters, so you can drop them off when you come back to your accommodations.
Airlie Hotel – Warrenton, Virginia
6809 Airlie Rd, Warrenton, VA 20187
Book a Stay – Check Rates and Dates
Explore More Travel