Columbus, Georgia, is a lively, vibrant city and an outdoor lover's paradise. Its waterfront location along the Chattahoochee River makes Georgia's second-largest city an exceptionally scenic and exciting getaway.
This list of thrilling outdoor activities in Columbus, GA, will keep you busy for an entire weekend and leave you with lasting memories for years to come.
Read Next: Unforgettable Columbus GA Restaurants (+ The Perfect Picnic Idea)
Whitewater Rafting
Whitewater Express
1000 Bay Avenue, Columbus, GA 31901
Whether you're a first-timer, a casual enthusiast, or a hard-core thrill-seeker, there's a perfect rafting experience for you on the world's longest urban whitewater rafting course.
Classic Trip (2 hours) – Class 1-3 rapids for beginners and families (includes the popular Lazy River)
Challenge Trip (2.5 hours) – A wild adventure on up to Class V rapids
Carnage Trip (2.5 hours) – The wildest experience on up to Class V rapids
Typically, the raft experiences in the morning are tamer than those in the late afternoon. Georgia Power releases a daily water release schedule to the public with expected river flow rates from the North Highlands dam.
Mark Your Calendar for these Columbus White Water Course Events
Blue Heron Zipline Adventure
Whitewater Express
1000 Bay Avenue, Columbus, GA 31901
Take a one-of-a-kind adventure as you zipline from Georgia to Alabama and back again—Columbus is the only place in the US with a dual zipline crossing state borders.
Riders climb to the top of the tower, where guides securely attach them to cables. Then they sail across the river at speeds up to 40 mph. The panoramic view along the way is stunning!
The Blue Heron Adventure includes a 1200′ zip line from Georgia to Alabama, a 500′ zip line, a treetop canopy tour with ten elements, and an 1100′ zipline return to Georgia.
I've been on many ziplines, including the fastest, steepest zipline in the US, and I still had a heck of a lot of fun on my ride. It's a perfect intro to ziplining if you've never done it before, and you can't beat the view!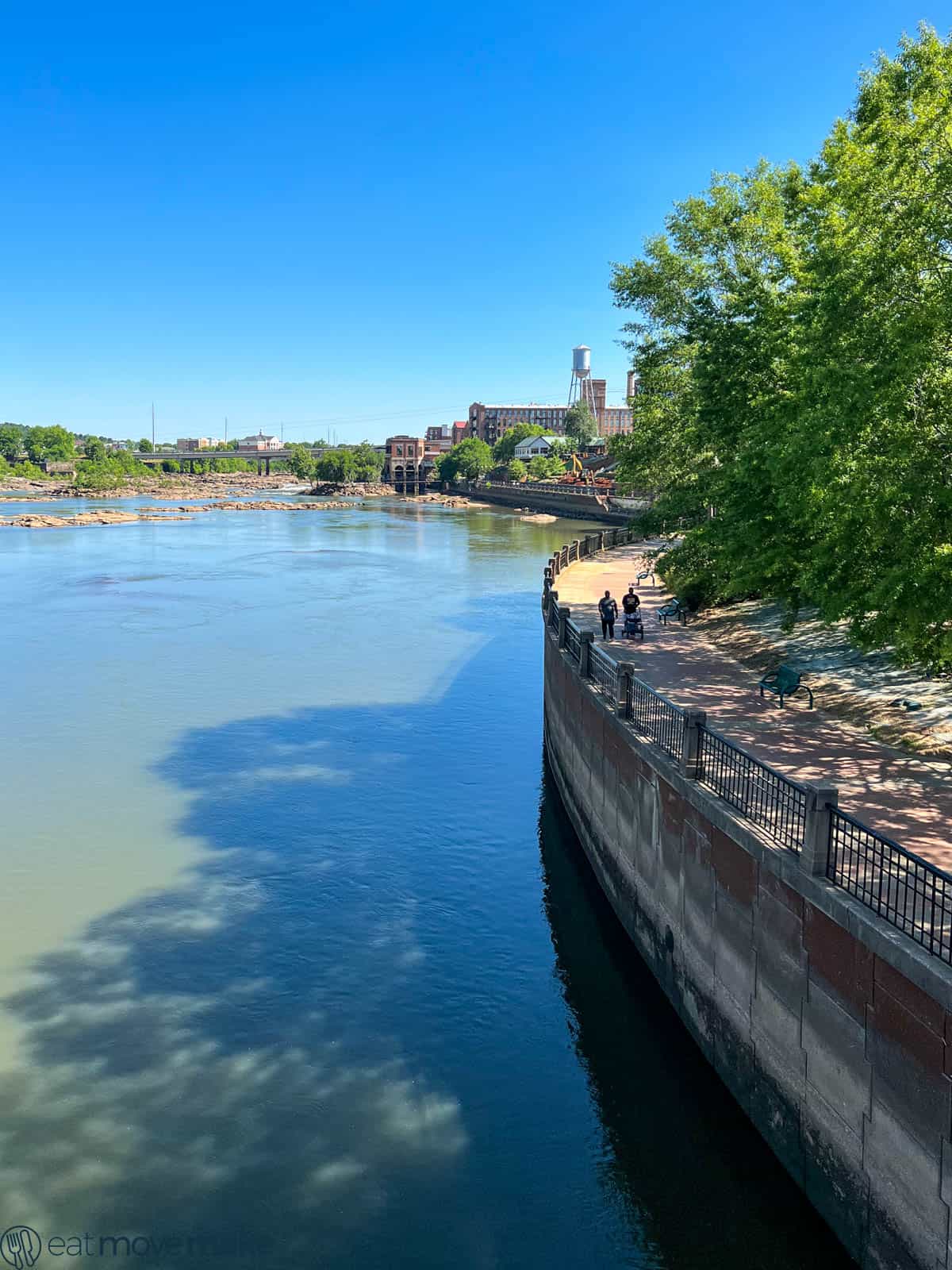 Biking the Chattahoochee RiverWalk
Bring your bike or rent one from Ride On Bikes (less than 5 minutes from the RiverWalk) and cruise the paved walking trail for beautiful views of the Chattahoochee River.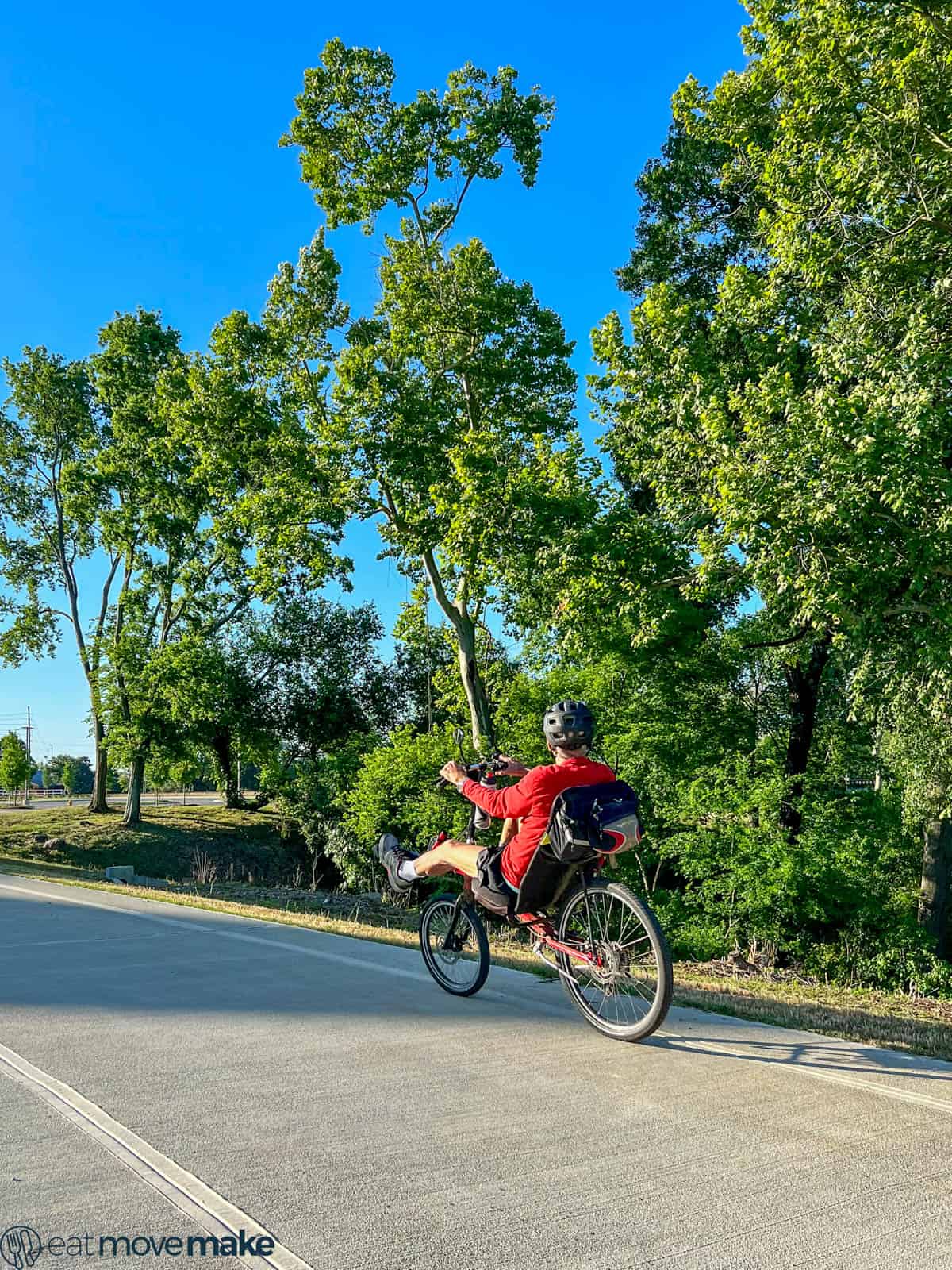 The linear park extends 15 miles, so there's a lot to enjoy: roaring rapids, historic mills, and lush green spaces. You can even cross the pedestrian bridge over the river for a quick trip to Phenix City, Alabama.
After your stroll, relax and enjoy a delicious meal at one of the many uptown Columbus GA restaurants.
Columbus RiverWalk Geo Tour
Family fun is just a geocache away in Columbus. With 32 hidden treasure points along the 15-mile Chattahoochee RiverWalk, geocache enthusiasts can spend a day or an entire weekend searching for caches, logging their findings, and potentially "cache-ing" in for limited-edition geo cards or custom geocoins.
To get started, sign up at geocaching.com, download the app and tracking grid, and head for the RiverWalk to begin your adventure. When you find a cache, sign and date the logbook and replace the cache for the next treasure hunter. Find as many as you can and earn your way to prizes. It's addictive!
Columbus Botanical Garden
3603 Weems Rd., Columbus, GA 31909
Relax in the tranquil green spaces of this urban oasis in North Columbus. Wander through peaceful gardens bursting with roses, daylilies, herbs, veggies, pollinators, and lush greenery.
There's also a lovely walking trail through the forest that leads to a camellia garden awash in color during its blooming season.
The public may sign up for classes on gardening, flower arranging, herbs, wildlife rehabilitation, yoga, and more, and there are special events taking place throughout the year.
Have you tried any of these outdoor adventures in Columbus GA?
For a travel guide and more information on the area, connect with Visit Columbus at https://visitcolumbusga.com/