Right in the heart of the Village West area of Kansas City, Kansas (where you'll find tons of shopping, dining and sporting events) lies Chateau Avalon, a luxury boutique hotel you'll never forget.
Inside the French-style mansion, there are 61 rooms and suites with 23 uniquely themed romantic escapes to just about any exotic destination you can imagine.
There are no cookie cutter experiences here; Chateau Avalon is one-of-a-kind.
The hotel interior is beautifully designed and full of details, some of which hint at the room concepts. Take a look at the photos on the walls for instance, and you'll get a peek at what lies behind some of the guest room doors.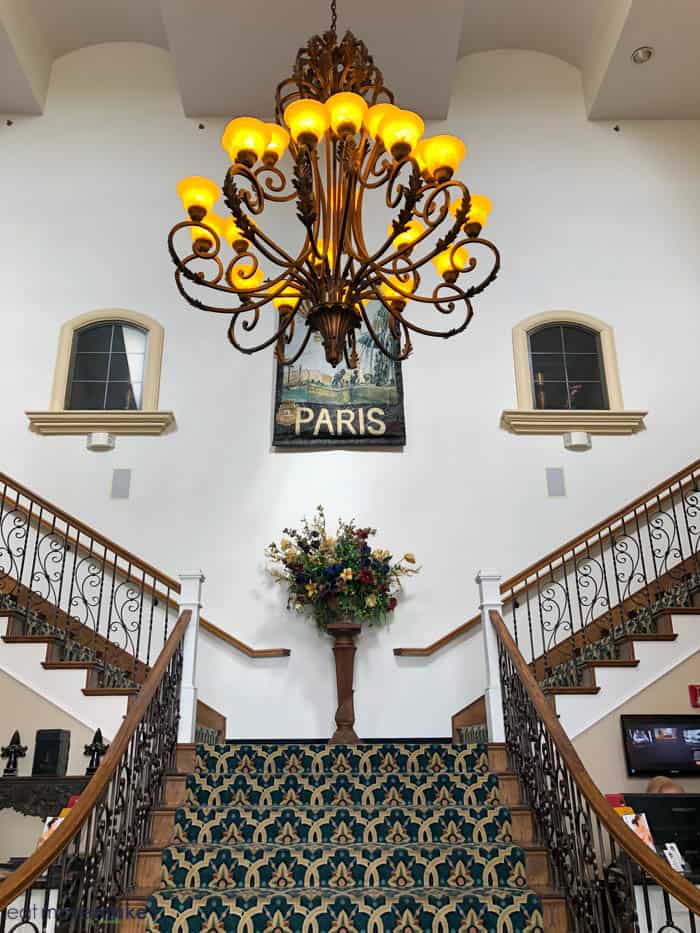 You can view the available room themes (and book a favorite) on the website or let yourself be surprised when you arrive. In my case, I had no clue and when I say I had no clue, I mean it. Here's what happened:
I was checked in by a super sweet hotel clerk and given my room key, so I walked down the hall and around the corner to what was called the Buckingham room. Upon opening the door I could see the restroom, sink and a fabulous library full of books. I was transported to England!
But where was my bed? And where was the shower? I knew they had to be there somewhere, but I could not for the life of me figure out where the secret opening was… because surely there was a secret opening. The struggle was real.
Finally, I pulled on a fleur de lis statue and the bookcase swung open to reveal a bedchamber with queen iron bed and a jetted tub/shower big enough for two people.
The corner tub and shower are hidden behind English columns, so it would be quite romantic for a couple. Since I was on my own, I just took a shower but I did take advantage of the cozy bathrobe (there are 2) afterward while I lounged in my bed watching the big screen TV.
Breakfast can be ordered the evening before (via a door hang card) and delivered to your room in the morning, so I ordered a smoothie, some steel-cut oatmeal (and a mimosa because I deserved one). Breakfast in bed!
Curious about some of the other rooms? I took a sneak peek at a few of them via a really fun scavenger hunt (available to groups) and I absolutely loved the Camelot Luxury Suite (probably because it reminds me so much of Game of Thrones), the Tuscany suite and the Monte Cristo which had three levels!
If you can bear to tear yourself away from your cozy room, Chateau Avalon sits on some beautiful property so it's worth a little stroll to check it all out.
There's always time for a spa treatment later… oh, did I not tell you that yet? Chateau Avalon has a spa, and you can enjoy it in the comfort of your own guest suite.
You can also sip cocktails at the cozy D'Nile wine bar with outdoor patio, and if you're not sure what you'd like, let the bartender surprise you.
Chateau Avalon is really a unique place to stay for couples. With such close proximity to the most happening part of Kansas City, it's an ideal hotel and you can choose the perfect theme for a special weekend or romantic getaway.
Visit the Chateau Avalon website for more information and reach out to the Kansas City Convention and Visitors Bureau for help in planning a trip to the area.
Have you stayed at Chateau Avalon? Which room theme did you have?
Explore More