I fell in love with Wichita, Kansas when I was hosted for a visit last summer, and I'm convinced it's one of the best-kept secrets of the Midwest. You'd think word would have gotten out because Wichitans love their city like nothing else, and they're not shy about it!
You'll see Wichita flags and icons on clothing, buildings, menus… everywhere. I've never seen such a fierce love and pride for hometown before, and believe me when I tell you it's contagious. I bought more Wichita souvenirs than I've ever bought anywhere else (except DisneyWorld).
I can't figure out why people aren't shouting the ICT secret from the rooftops, but I refuse to keep it a secret. Wichita needs to be on everyone's travel bucket list, and here are a few reasons why.
Wichita has the best public art.
Wichita Murals
Hometown pride and the famous Wichita murals go hand in hand, and I spent hours wandering Old Town, downtown and the Douglas Design District searching for and finding them. It was like a self-imposed scavenger hunt, and I was determined to find as many murals as I could in the time I had. (Get your own Wichita murals scavenger hunt started with this list and this list.)
"Streetscape" Statues
Along the sidewalks of East Douglas Avenue and inside Lewis Reflection Square Park, you'll find nearly two dozen fanciful bronze sculptures. The life-size statues created by artist Georgia Gerber beg to be talked about, touched and photographed.
Car Bumper Sculptures
As I was enjoying my downtown stroll, I spotted a sculpted horse made out of steel auto bumpers in front of the Bank of America building. Naturally, that begged for closer inspection! I found out later the animal menagerie continues inside the lobby, and there are a few more sculptures scattered throughout the city, so be sure to peek at a few of them while in Wichita. The master welder behind the animals was a Chicago artist by the name of John Kearney.
 Pop-Up Urban Park and ICT #ChalkTalks
What was once an under-utilized space along Douglas Avenue is now filled with seating, tables, lights and "Keepers on Parade" statues. The park regularly plays host to a variety of food trucks and has become a favorite community gathering spot. When I was in town, the park was decked out in a beach theme — sand included!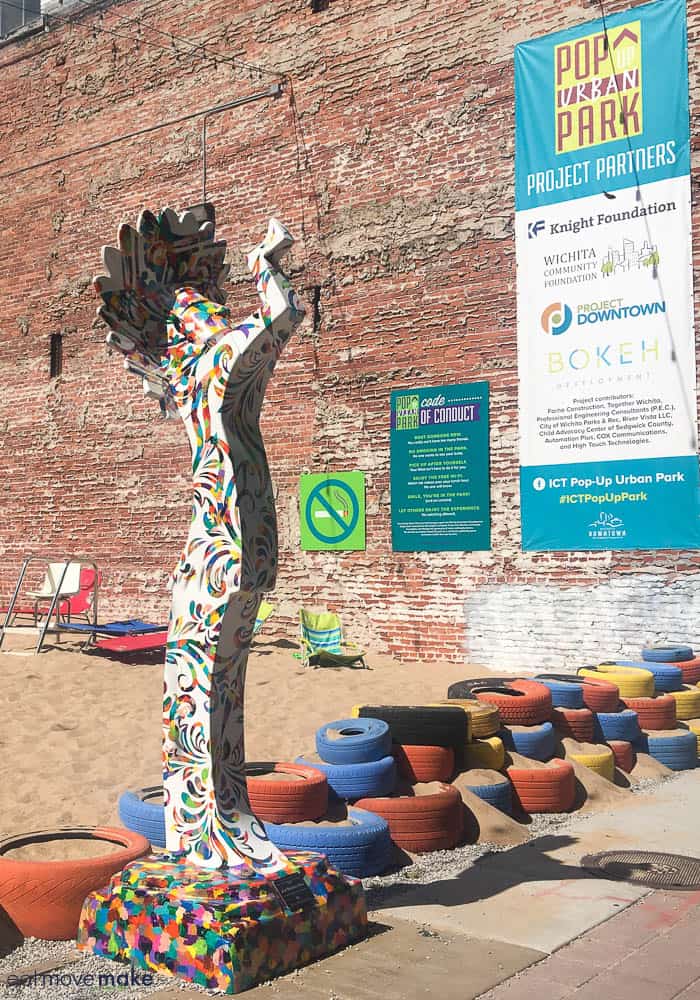 The chalk wall installation is just outside the pop-up park and invites conversation surrounding a frequently changing question. Stop by and leave your two cents.
chalk art


2. Old Town is an entertainment hot spot.
This part of Wichita is home to some of the city's best restaurants, shops, live music and nightlife, and the brick-lined streets and buildings are full of old-time charm. There's a fabulous farmer's market on Saturday mornings, and on weekend evenings, many restaurants and bars offer live music on the patio.
3. Restaurants in Wichita (and breweries) are serving up great eats and drinks!
Egg Cetera (Old Town) – This casual and cozy breakfast eatery in Old Town has a great selection of American and Mexican-inspired dishes. I tried the breakfast burrito which was new to the menu and it was excellent!
Mead's Corner Coffeehouse (Downtown) – This warm and cozy fair trade coffeehouse is open all day. Staffed completely by volunteers, Mead's Corner is a non-profit business with a mission of community outreach. So when you order a cup of coffee or a scoop of gelato, you can feel good about where your money is going.
Old Mill Tasty Shop (Downtown) – Along with peanut butter and banana sandwiches, the Old Mill Tasty Shop has been serving up old-fashioned sodas from its marble-topped soda fountain since 1932, and it's a very popular spot so get there early!
The Monarch (Historic Delano) – This fun hipster eatery smokes their meat in-house and has an incredibly delicious selection of sandwiches. I had the turkey and cranberry on ciabatta with house-made chips and devoured it. If you're in the mood for bourbon, enjoy a tasting. They have 225 varieties!

Larkspur Bistro & Bar (Old Town) – I visited Larkspur for dinner, and though the patio looked mighty inviting, 100-degree temperatures had me opting for the cool A/C indoors. My filet mignon was delicious and the relaxed vibe with background piano music was a great way to end my evening.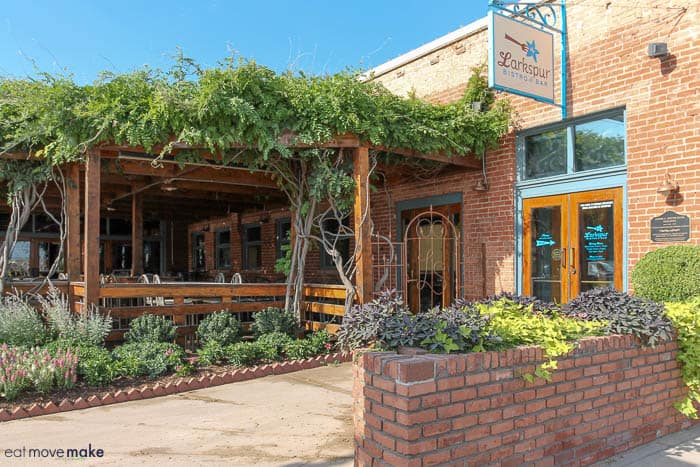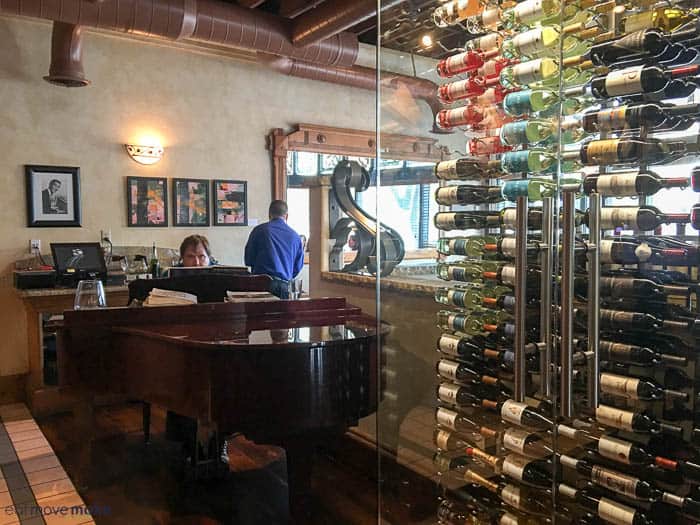 Aero Plains Brewing (Historic Delano) – Don't be surprised if you spend several hours at this themed neighborhood microbrewery which honors Wichita's rich aviation history. The bar counter was built from a Beech Model 18, and the beer comes in names like Friendly Aviator German Pilsner, Jet Set Brunette and Skycap's Pound Cake Porter.
Founder Lance Minor likes to refer to Aero Plains as a community center rather than a bar. His business leader (rather than business owner) mentality drives him to continue making a difference in the community, and Aero Plains has quickly become a favorite gathering spot in Delano.
Hangar One Steakhouse (West Wichita) – One of the first things you'll notice when you arrive at this aviation-themed steakhouse is "Amelia", a 1945 Beech C-45 cargo plane jutting out of the building and named for Amelia Earhart. More memorabilia can be found inside, including tables made from airplane engines. It's a very cool place celebrating Wichita's aviation fame. Oh, and the food is pretty darn good too.
Wichita Brewing Co. & Pizzeria – (2 locations) There's nothing to fear with pizza and beer, especially when it's wood-fired pizza like it is at Wichita Brewing. I ordered the capicola sunshine pizza with cilantro and it was fantastic, and although I would have loved to try one of their craft beers, I'm more of an evening sipper so I'll just have to go back for dinner sometime.
4. You can stay in a luxury hotel in the heart of Old Town.
I was charmed the moment I walked into the Hotel at Old Town and heard 1920's music playing in the background. I love a hotel with a sense of history, but even more… I love a hotel that showcases history while making sure guests have every modern amenity they could ever want or need. Hotel at Old Town does this perfectly!
You'll feel spoiled beyond belief in the luxurious guest rooms, and if you have a city view like I did, you can throw open the curtains to feel the pulse of Old Town's energy or close it off and enjoy a quiet escape in your own personal sanctuary.
5. The Q-Line Trolley offers free transportation around Wichita's hot spots.
Pro tip: The best way to see a lot of public art in the shortest amount of time is to hop the Q-Line trolley. I hopped on and off from downtown to the Douglas Design District and Clifton Square before heading back towards Old Town. (There's a special extension on Saturdays along that whole route.) Trolleys roll by pickup spots about every 10 minutes, and stops are just a couple blocks apart. It's a fantastic free transportation system!
6. Wichita shopping is FUN.
In Delano, pick up one of the popular neighborhood candles at Bungalow 26, snack on a homemade pastry at Milkfloat or visit Hatman Jack's for the custom hat of your dreams. Looking for Wichita gear? Trust me, you want some! You'll find the cutest things at Lucinda's and The Workroom. And don't leave town before stopping in Nifty Nut House. It's one of the places you have to see for yourself to believe.
7. Wichita's landmark icon and its Old West history are legendary.
I dedicated a whole post to Wichita's Old West Kansas fun, so you'll want to check it out!
Wichita has the best of old and new, and I couldn't have loved the city more. I can't wait to go back! Contact VisitWichita.com for help in planning a trip.
Related Posts