The Dollywood Harvest Festival takes the best of Fall and celebrates it with a month-long family fun festival. During the event, the park is filled with festive decorations, magical lights, delectable treats, and more fun than ever. 
DOLLYWOOD HARVEST FESTIVAL CARVES OUT FUN
Dollywood is a beautiful place all year long, but there's no denying that it comes alive in an extra magical way when the park is filled with autumn colors during the Harvest Festival.
Stroll through the park and you'll encounter traditional, whimsical and spooky decorations for all ages. Photographing and taking selfies with the gourds, scarecrows, and intricately carved pumpkins is half the fun!
Keep an eye out for pumpkin carving demos throughout the day for a chance to watch pumpkin masters at work creating their wildly unique masterpieces.
DOLLYWOOD HARVEST FESTIVAL FALL FLAVORS
Going home hungry is very nearly impossible during the Dollywood Harvest Festival, but you may have a tough time deciding which of fall's decadent treats you need to try first.
During my hosted visit last year, we went straight for Dollywood's 25-pound apple pie because why wouldn't we?! It takes 40-60 apples to make one pie and a single slice (weighing three pounds) can feed six adults.
It's a Dollywood must-eat, even if you have a forkful! 
You'll find this and a mouthwatering array of other confectionery treats at the Spotlight Bakery, and if you're lucky, you'll catch them in the act of decorating. What talent!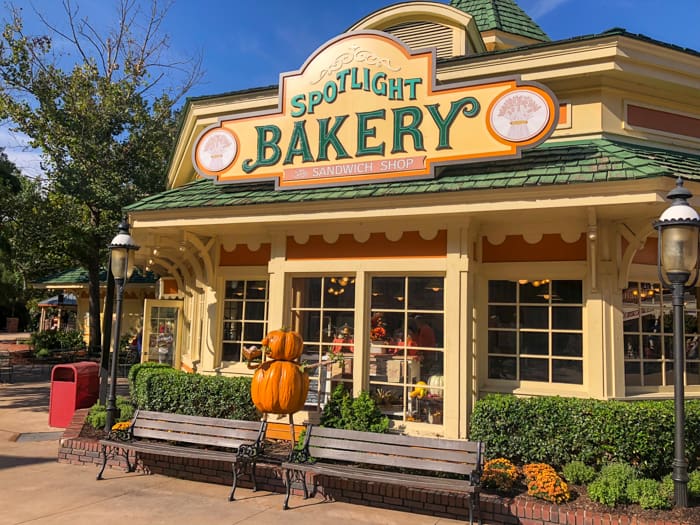 For kettle corn fans, they're always mixing up new flavors of this sweet and salty treat at Kettle Cookers so stop by and taste it!
When you're ready for lunch, you can't go wrong with the fried green tomato BLTs and skillet potatoes cooked with peppers and onions. You can only get skillet potatoes in the fall at Dollywood so get them while you can at Market Square Sausage.
Another delicious option is the white chicken chili and low country boil on the harvest buffet at Aunt Granny's.  
My favorite Dollywood treat is, thankfully, available all year round, so stop by the Grist Mill for a loaf of the impossibly delicious cinnamon bread.
It takes them mere seconds to coat a loaf of bread with a butter and sugar combination you'll never forget. I highly recommend digging into it while it's warm and extra decadent.
It's Dollywood's most popular food item so don't miss it!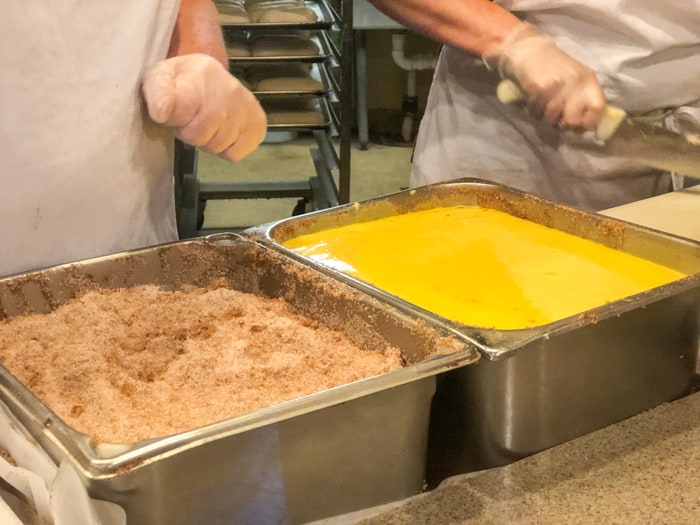 For dinner, head to the Front Porch Cafe for hearty fall specialties like cabbage rolls stuffed with seasoned beef and rice and topped with tomato sauce, Reuben wontons and a light and airy pumpkin fluff for dessert.
We also tried the meatloaf stacker, turkey dinner and pumpkin crème brule. The Front Porch Cafe is one of Dolly's favorite stops when she's in town!
The perfect way to end our day was with a deep-fried pumpkin spice funnel cake and candy apple cider at Splinter's. The batter is made with pumpkin pie filling, pumpkin pie spice and cinnamon and then topped with maple pecan glaze and lots of whipped cream! 
You can also get this dessert at Crossroads Funnel Cakes.
For more information on Dollywood Harvest Festival dining, click here.
HARVEST FESTIVAL ARTISANS
Dollywood has talented craftspeople all year round, but during the Harvest Festival, there are dozens of visiting artisans from all over the country displaying and selling their unique wares as well.
Guests can watch master craftsmen at work on glass, leather, wood, fiddle-making and even chainsaw carving while shopping for jewelry, ornaments, pottery, old-fashioned games and more!
SOUTHERN GOSPEL JUBILEE
During the Dollywood Harvest Festival, there's no shortage of music throughout the park. It's the largest Southern gospel event in the U.S. with over 500 performances throughout the event.
You'll probably catch a small stage pop-up or two throughout the day, but you can also check the theater schedule to see when and where your favorites harmonize. 
GREAT PUMPKIN LUMINIGHTS
The fun doesn't stop after sundown, so make sure to stay until dusk and beyond when the Great Pumpkin Luminights display is all aglow, including the iconic 40-foot tall pumpkin tree, the centerpiece display in the Plaza at Wilderness Pass.
Kids can also visit with Halloween meet-and-greet characters or get their faces painted with glow paint!
As you can imagine, the popularity of Great Pumpkin Luminights can lead to congestion on some of the walkways so follow these Dollywood-provided navigation tips for the best experience.
WHEN IS THE DOLLYWOOD HARVEST FESTIVAL?
Celebrate Halloween at Dollywood! The next Harvest Festival is September 23 – November 4, 2023. Ticket info here.
Pin this post to Pinterest!