There are so many things to do in Fayetteville NC, patriotic and otherwise, so I spent a couple of days on a press trip exploring the area. I found this All American City does indeed have quite a lot to offer its visitors.
AIRBORNE AND SPECIAL OPERATIONS MUSEUM
Since Fayetteville is home to Fort Bragg, the largest military base in the world, it was only fitting that I made my first stop at a military site.
This beautifully designed museum honors the legacy and achievements of airborne and special ops troops and it's well worth a visit, even if you don't have a military connection.
Before even entering the museum, you'll want to get a good look at Iron Mike, a 16-foot-high paratrooper standing watch.
Across from Iron Mike is Constant Vigilance, a lifesize statue of a Belgian Malinois outfitted in full combat gear. The statue memorializes the K9s who have been killed in the line of duty and their names surround the statue.
The museum's main gallery takes you on a walk through time from the first U.S. Army Parachute Test Platoon through today's airborne and special ops units.
A series of immersive exhibits, artifacts, photos, and wall panels bring it all to life as you make your way through the museum.
NORTH CAROLINA VETERANS PARK
Just down the walkway from the museum is Veterans Park filled with sculptures, fountains, monuments and a visitor center.
This art gallery-like collection of memorials is a poignant yet uplifting place for reflection, and it has the distinction of being North Carolina's first state park honoring all branches of service.
As a North Carolinian, I really enjoyed seeing the topographical elevation map representing all 100 counties in NC from the mountains to the sea.
Look up when you enter the visitor center and you'll see a chandelier made up of 33,500 dog tags.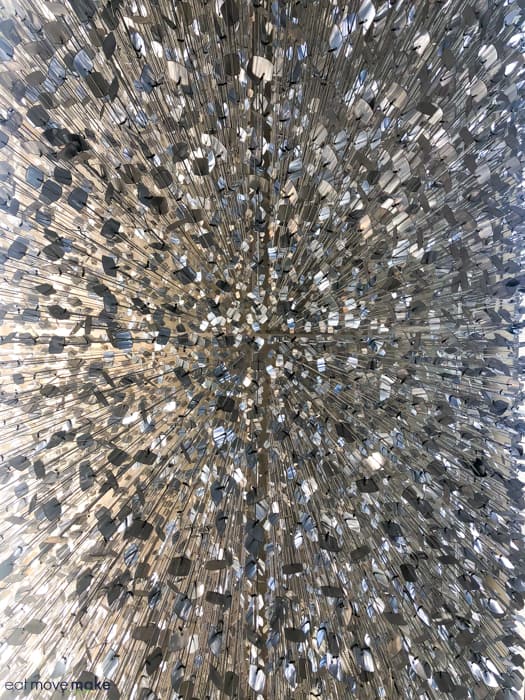 Though there are no names on those tags, there are names on each of the dog tags representing casualties of war beginning with World War I and continuing to the present.
Don't miss the Service Ribbon Wall made of fused glass, representing every service medal awarded since the Civil War.
It's right next to the "Missing Man" table which has an interesting Hurricane Matthew story. Flooding caused 4 feet of water to enter the visitor center and caused immense damage. The water's force was so strong that it moved a granite countertop across the room.
But the Missing Man table floated in the water with everything on the table remaining dry, upright and intact. When the floodwaters receded, the table settled back down in its original position on the floor.
Isn't that wild?
CAPE FEAR BOTANICAL GARDEN
You'll find something to delight you no matter which way you wander the pathways through the specialty gardens.
I visited shortly after Hurricane Michael so I was worried the gardens would be badly beaten up. Although trees were down and some pathways were blocked for clean-up, I still saw lots of blooming flowers!
I was thrilled to see an enormous camellia garden just starting to bloom.
Camellias bloom through the fall and winter, so if you thought cold weather wasn't botanical garden season… think again!
Many of the pathways wander near or around the cypress pond with a fountain and a funny fishing frog.
You can sit right next to him on the dock if you'd like. Great photo op!
Another fun photo op is in the children's garden with these giant spectacles.
There's also a heritage garden, an 1886 homestead, and a general store.
No matter what time of year you visit Cape Fear Botanical Gardens, you'll find something blooming. It's a quiet, relaxing place to walk through the gardens and river-view trails.
MUSEUM OF THE CAPE FEAR HISTORICAL COMPLEX
There are three components to the Cape Fear Historical Complex and you can visit just one or all three of them: the museum galleries, 1897 Poe House and Arsenal Park.
If you plan on visiting the EA Poe House, sign up for a tour time when you arrive at the museum. You can enjoy the museum galleries while you wait for your tour to start.
There are two floors of exhibits outlining the history of southeastern North Carolina from its beginnings through today. Since I live in Blackbeard country, I beelined to the pirate exhibit.
I also found the history of naval stores (tar, pitch, turpentine, rosin) completely fascinating.
Also on display was a grist mill stone, general store filled with vintage products, a river steamboat, the last steam whistle ever to and a place where kids (or adults) can suit up as early soldiers did.
But my favorite exhibit at the museum was about a Burmese python named George who was rescued by a U.S. Special Forces soldier in Vietnam. In danger of being eaten by Cambodian mercenaries, the snake was taken back to the U.S. camp and ultimately back to North Carolina.
George was given a purple heart for her time in Vietnam. (Yep, George was a girl… they found out later.)
George became the star attraction at the North Carolina Museum of Natural Sciences in Raleigh for 25 years and this traveling exhibit was inspired by "An Unlikely Refugee: The Story of a Python Named George" and the exhibit includes art from the novel as well as info panels about George.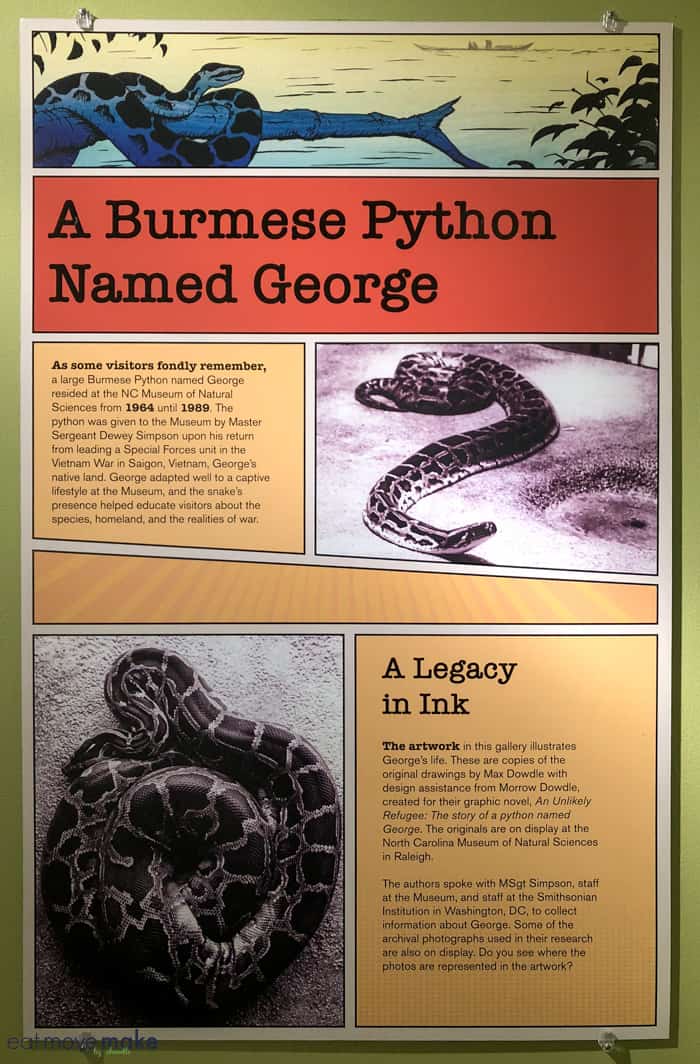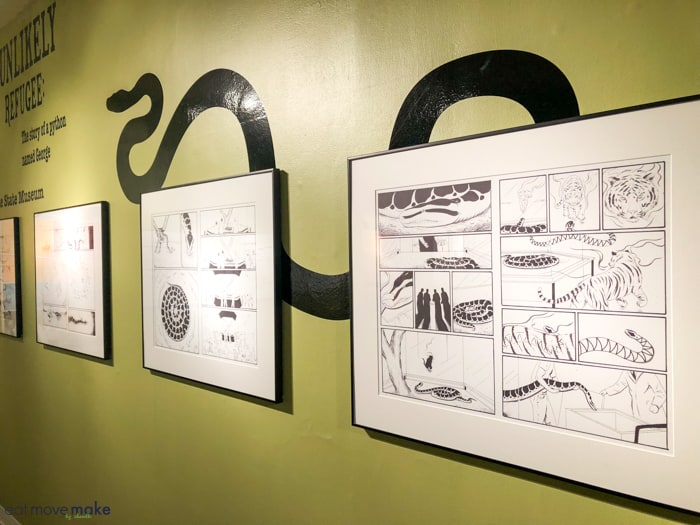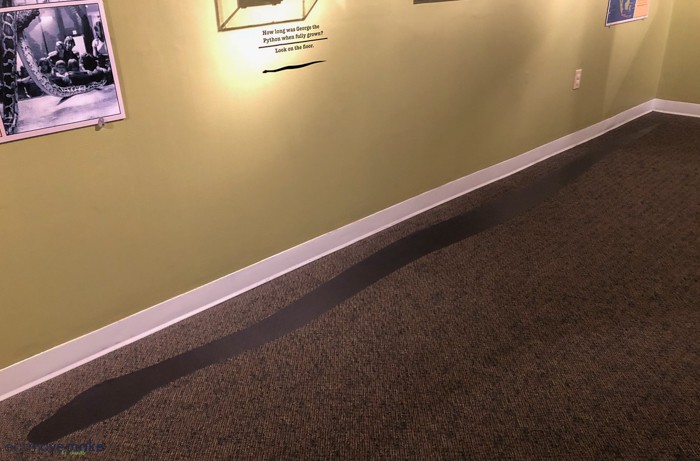 Next, I took the tour of the EA Poe House built for the family of Edgar Allen Poe (not the macabre poet, darn.)
In fact, the confusion is frequent enough that there's a funny little sign right in the entrance with social media hashtags denoting the difference.
This EA Poe owned a brick company in Fayetteville and amassed enough of a fortune to build this grand home (ironically, a wooden Victorian).
Here's Edgar Allen Poe, brickmaker.
The home is absolutely beautiful with 12-foot ceilings and heart pine woodwork. Lily Poe, the last remaining daughter (she was one of eight children), lived there until the age of 95 when she sold it to the state of North Carolina.
The master bedroom, nursery and the nurse's room were all on the first floor. Thanks to Lily's diary, they've learned that the nurse's name was Jenny and the housemaid was Ada.
There are two staircases – one for the family and one for the servants, and yes, the servants were black. It was post-Civil War but still the Jim Crow era. It stinks, but I'm glad the interpretation states the facts.
The upstairs hall was enormous and could have been used as a room itself. There were also four large bedrooms, two of which have been restored as part of the tour.
Although many of the furnishings are Poe pieces, some of them are period pieces and the home is interpreted to show how an upper-class family would have lived at that time.
Before you leave, make sure to peek into the backyard playhouse. With eight children, I imagine it got a lot of use!
The tour lasted about 45 minutes and endedat the playhouse, so I just crossed the footbridge over the freeway to view the remains of the U.S. Arsenal at Arsenal Park.
The arsenal was built in 1836 but destroyed in the Civil War and all that's left are the foundations of the back wall and two of the towers.
The principal armament was the Fayetteville Rifle, examples of which you can see inside the museum.
ZIPQUEST WATERFALL AND TREETOP ADVENTURE
After gearing up and attending "ground school," we headed up into the trees for our waterfall expedition with 8 ziplines and 3 suspension bridges.
As we moved from platform to platform, our guides pointed out things to us like an old mill house and a dam and gave us fun facts about the trees.
They were great about reminding us to look around while we were zipping so that we could enjoy the beauty of the area.
The highlight of the zipping experience was seeing the beautiful Carver's Falls.
Then we crossed our first suspension bridge to view the falls from the other side.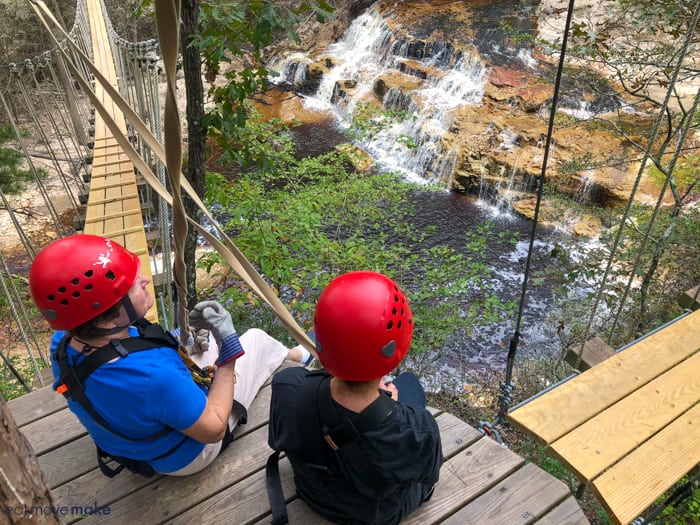 The next zipline took us out over Carver's Falls. It was definitely the most scenic zip and it's what earned them the #4 spot on USA Today's Top 10 Great Ziplines.

VISIT DOWNTOWN FAYETTEVILLE
Anytime I find a thriving and shoppable downtown, you'll find me there checking out the unique boutiques, galleries and street art, and the street sculptures in Fayetteville are such a delight!
Tea Tasting at Winterbloom Tea
One of the best surprises in downtown Fayetteville is Winterbloom Tea. If you're a tea lover, this will be your happy place. The owner knows all the things!
He made me a Papaya Paradise unsweet tea with papaya, peach, pineapple, peach, pear, mango, rosehip and lemongrass; it was out of this world!
He also shared a few tea tips:
Good tea starts with good water. Winterbloom double filters their water.
Use the right amount of tea. (1 tablespoon of loose-leaf tea per 8 ounces of water.)
Store tea away from the light. Oxygen and humidity degrade it.
Tea bags are convenient, portable, and steep quickly, but the tea inside has little to no health benefits. Use loose-leaf tea to receive benefits, but it should be used within a year. (Winterbloom uses all-natural, organic tea with chunks of fruit.)
For quick cold brew tea, steep 8 ounces of hot water with 3 tablespoons of tea to make a concentrate. Cold brew the concentrate for 12-14 hours; pour it over ice. With black tea, make 6 oz concentrate, then add room temperature water, then ice. This helps prevent the tannins from releasing and causing bitterness.
Pressed
This super fun store specializes in curated gifts, local and regional items and those that tell a story. They design and print their own t-shirts in-house and they have online shopping!
Cape Fear Studios and Gallery
Stop into this gallery for unique gifts from about 40 different artists, including painters, jewelers and potters. There are two working studios in the back and you're welcome to pop in and see what the artists are working on.
Restaurants in Fayetteville NC (Worth Getting Off 1-95 For)
Blue Moon Cafe
This cute little cafe with indoor/outdoor seating on Hay Street has a small but inventive menu. I ordered the cranberry apple brie salad (greens, dried cranberries, Granny Smith apples, brie cheese, candied pecans, balsamic reduction and balsamic vinaigrette) and was thrilled with it. We sat indoors to keep cool but dining is also available on the patio.
The Coffee Scene
This is a really cute coffee shop with lots of cozy nooks for conversation. I curled up in a cozy chair and fueled up with a croissant and some hot tea before my late morning ZipQuest adventure.
Luigi's Italian Restaurant
The atmosphere in this fabulous Italian restaurant is so cozy and warm. I ordered a plate of linguine with pesto and it was everything I needed it to be and more.
Mash House Brewing Company
Come for the award-winning craft beer and stay for the impossibly delicious steaks, chops and burgers. Serving up gourmet fusion and casual pub fare, it's a restaurant to please every palate and it prides itself on using as many locally sourced ingredients as possible.
We started by sharing a plate of beer pretzels with beer cheese and mustard, and since I'm never afraid of a little heat, I devoured the Ghost Burger for dinner. It was a fabulous meal!
Ready to eat and play in Fayetteville? Here's more info on the restaurants and things to do in Fayetteville NC that I've mentioned in this post.
With Fayetteville's ideal location halfway between New York and Florida (and right off 1-95), it would be silly not to stop and explore the next time you're traveling through.
Airborne and Special Operations Museum
Website
Address: 100 Bragg Blvd., Fayetteville, NC
Hours: Tuesday – Saturday 10 a.m. – 4:45 p.m. Sunday 12 p.m. – 4:45 p.m.
Closed Mondays & Federal Holidays (Open Memorial Day, 4th of July, & Veteran's Day)
North Carolina Veterans Park
Website
300 Bragg Boulevard, Fayetteville, NC
Hours: 8 am-Dusk
Visitor Center Hours: March-Oct.: Tues.-Sat. 10 am-4 pm, Sun. noon-4pm
Nov.-Feb.: Tues.-Sun. noon-4 pm
Closed Mon., except open on Federal Holidays
Closed Thanksgiving Day, Christmas Day, New Years Day and Easter
Cape Fear Botanical Garden
Website
536 N. Eastern Blvd. Fayetteville, NC 28301
Museum of the Cape Fear Historical Complex
Check website for hours and admission fees.
ZipQuest Adventure Park
Website
533 Carver Falls Rd. Fayetteville, NC
Check website for hours and to make reservations.
Winterbloom Tea
Website
238 Hay St. Fayetteville, NC
Pressed
Website
Address: 120 Hay Street Fayetteville, NC
Cape Fear Studios & Gallery
Website
Blue Moon Cafe
Address: 310 Hay St, Fayetteville, NC
Luigi's Italian Restaurant
Website
Address: 528 N. Mcpherson Church Road, Fayetteville NC
The Coffee Scene
Website
Address: 3818 Morganton Rd. Fayetteville, NC
Mash House Brewing Company
Website
Address: 4150 Sycamore Dairy Rd. Fayetteville, NC
And if you're looking for hotels in Fayetteville, NC, I stayed at the TownePlace Suites and had a great experience. It's in a great location, offers free breakfast, is pet-friendly and is within walking distance of Walmart, Logan's Roadhouse, Memphis BBQ & Cracker Barrel.
Visit Fayetteville Area Convention & Visitors Bureau for a destination guide and more info on the area.
---
More Travel Ideas
If you enjoy military heritage, you'll also enjoy visiting these memorial gardens in Jacksonville near Camp Lejeune.