Once you've decided where to vacation in the Outer Banks, you'll need to decide on accommodations. Where you stay will vibe your whole vacation, so consider it carefully:
If you're looking for beachy, lazy and homey, you'll want a beach house rental.
If you don't want to lift a finger and want access to convenient amenities, go with the luxury resort.
A bed & breakfast is probably your cup of tea if you want some local flavor and unique character.
You may have an initial idea of which of the options is for you, but if you don't, or you want to see some tried and true examples of the above, take a look at the four beautiful Outer Banks properties I spent time in recently. If you choose any of these four, you'll be happy.
Outer Banks Lodging Options
Outer Banks Beach House Rentals
I stayed in an ocean front beach house in Avon called 'Walkin' on Sunshine, and I loved it, I mean loooooooved it! It had eight bedrooms, six of which had their own private baths. There's nothing better than having your own home with a driveway and parking, separate bedrooms and bathrooms, a full-size kitchen, laundry facilities and decks, a swimming pool, balconies and rocking chairs that face the ocean. (Beach houses that face the sound are also available.)
Not only is it a beautiful thing to have the privacy and space, it's very often the most economical way to stay at the beach for a week. I'm a luxury and boutique hotel girl, I can't lie, so I never would have figured myself to be a beach house girl… but, I've discovered that I've got "beach house girl" in me too. It's the absolute ideal set-up when you're traveling with a large family or a bunch of friends or couples.
Bed and Breakfast – Advice 5¢
If you're looking for a quiet, adults only getaway, you'll find it at Advice 5¢, a cozy B&B in Duck with just four available guest rooms. The B&B is within walking distance to pretty much everything: a pool, tennis courts, restaurants, shopping and of course, the beach.
Each of the double occupancy rooms have a deck and private bath, and all guests are served an expanded continental breakfast made from scratch daily. The owner, Nancy is more than happy to offer suggestions on things to do, see and eat during your visit to Duck, so be sure you throw a nickel into the advice jar while you're there.
Bed & Breakfast (European Boutique-Style Hotel) – Inn on Pamlico Sound
At the risk of being yelled at by innkeeper, Steve Nelson, I used the term Bed & Breakfast to categorize this, but only because it will help non-Europeans sorta kinda visualize the type of accommodations to expect. In reality it's a European boutique-style hotel, so let's be clear on that. Are we good, Steve?
While I didn't actually stay here, we took a nice tour of the property and some guest rooms, and it's no wonder the ratings of the inn are sky high. In fact, the inn doesn't do any sort of paid advertising. Its bookings are based completely on word of mouth marketing.
Special touches include green efforts like including refillable sports bottles in every room instead of plastic, and guests can take their coffee cups home with them. There are chocolates and fruit for the taking on pretty much every surface, fresh baked goods in the afternoon, beverage-filled refrigerators and a state of the art home theater where guests can choose the featured movie. Oh, and there are bicycles with automatic transmissions available to ride! No sign-ups for any of this stuff either; it's just there for guests to enjoy.
The inn's philosophy: bring yourself and we'll take care of the rest. It's a totally cool place, and it's quite unlike anything else you'll experience on the island. There's also the adjoining Cafe Pamlico, an incredibly delicious restaurant. (Look for a dining post on that yet to come.)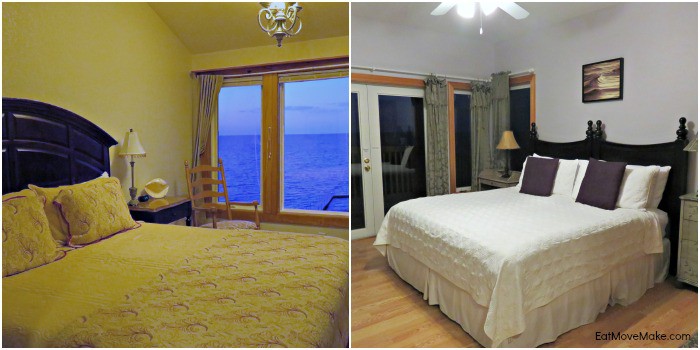 Luxury Resort – The Sanderling Resort
This inviting four diamond beachfront resort in Duck, NC is a seaside escape you'll never forget. Sunrises over the ocean, sunsets over the sound, beach, pools, tennis, restaurants and spa… there's everything a luxury resort should include minus the pretentiousness.
The hotel rooms are located in three separate wings, and each has a particular vibe. The north inn tends to have more families and the south inn is a bit quieter and is nice for couples traveling without children. The central wing, called the Beach House, has balconies on both sides providing guests a sweeping view of the ocean on one side and Currituck Sound sunsets on the other.
Whether you choose to take in a spa treatment, relax in the hot tub, take a dip in one of the pools or just lounge in beach chairs at the ocean, it's blissful and idyllic. Hungry? Just grab a bite to eat at one of the three on-site restaurants, and be sure to end your perfect day by roasting marshmallows and making S'mores at one of the two fire pits.
Where to stay in the Outer Banks is a big decision, so I hope this helps you figure out what style of accommodations is best for you and your family. And be sure to visit OuterBanks.org for more information.
Are you a beach house, luxury resort or bed and breakfast vacationer?
More on the Outer Banks