TownePlace Suites sponsored this post. Opinions are my own.
Looking for hotels near Disney World can be overwhelming, right? If proximity and convenience is important to you, and I suspect it is, you definitely want to consider a hotel in Disney's new development at Flamingo Crossings.
The first two hotels in Flamingo Crossings have already opened: TownePlace Suites and SpringHill Suites, and there will be additional hotels, restaurants and retail space to come. I had the chance to enjoy a complimentary stay at the TownePlace Suites when I visited Disney World last fall, and the property adjoins with SpringHill Suites into one big campus with a chill, tropical vibe and amazing amenities. The only thing missing was traffic (and nobody would ever miss that).
Flamingo Crossings is located a mile from Disney's west gate entrance with easy access to highways and the Florida turnpike, and since it's still relatively unknown (none of my Uber drivers knew it was there yet), there's no traffic congestion at all.
It's a hotel hidden gem for the Disney World traveler!
If you've ever stayed at TownePlace Suites before, you probably know that it's designed to make extended stays as homey and comfortable as possible. It's all about unpacking, settling in and enjoying your home away from home, and this particular location does it better than ever.
Get oriented.
It seems simple, but the TowneMap is one of my favorite things about TownePlace Suites. It immediately acquaints you with the local area by pointing out nearby attractions and places to eat. Stickers show places that the hotel endorses, and the chalkboard displays pertinent information of the day. Look for it near the front desk.
Disney Planning Center
(This is the only Good Neighbor hotel to have a Disney Planning Center on site, so it's a huge convenience and time saver for Disney travelers.) Guests can ask questions, purchase Disney theme park tickets, make Disney restaurant reservations and more– all right there on the hotel campus. I was having trouble getting my Fast Passes to show up on my magic band account, and the Disney cast member fixed me right up in no time.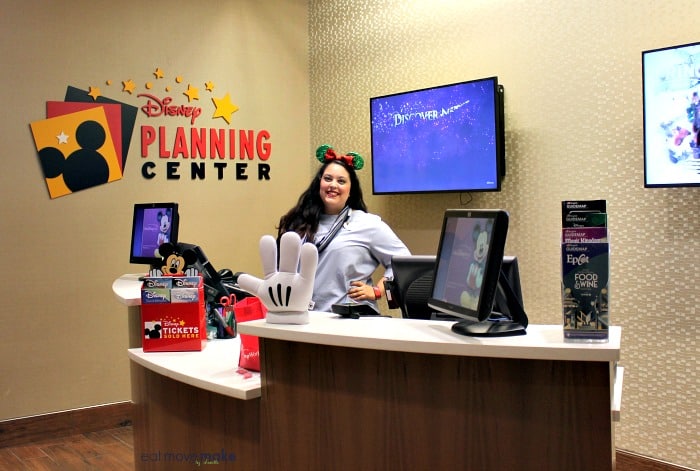 Unpack and stay a while.
A partnership with the Container Store means the built-in closet system is set up to make you feel at home. The shelves and drawers can be adjusted and moved, and there are extra pieces at the front desk if you need them. I loved sorting, hanging, folding and separating everything, and the on-site laundry room made it easy to go home with clean clothes for a change.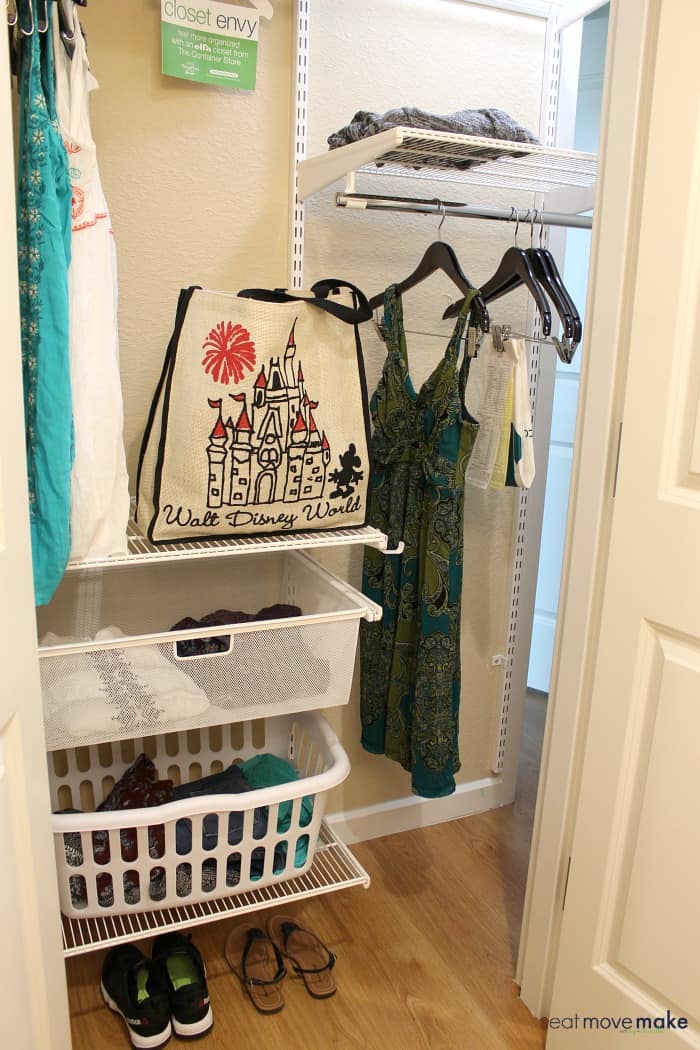 Have fur babies? Bring 'em along.
Did you know that TownePlace Suites is a pet-friendly hotel? There are dog treats at the front desk all the time, but even cats are welcome! (As a cat mommy, I love that.) Pets are allowed on specific floors only, so don't worry if you have allergies.
What's for dinner?
That's actually a trick question because the answer is up to you!
All suites come with fully stocked kitchens, and 2-bedroom suites even have a range/oven combo. Whether you're preparing something in your room or reheating leftovers from the day before, you have everything you need to put dinner on the table. And if you're missing anything, the "Something Borrowed" program might have it. (Rumor has it there will be slow cookers when the program launches this spring!)
Another option is to head outside to the Weber Grills and cook up some steaks, burgers or whatever else suits your fancy.
And if you're not in the mood to cook, let someone else do it for you. There's a full restaurant on site (Flamingos Bar & Grille). I had dinner there one evening, and really enjoyed both the food and the vibe.
As for breakfast, head to the dining room (not the restaurant) and let TownePlace Suites handle that for you with their complimentary hot breakfast. It includes favorites like the signature fried eggs with cracked black pepper.
Relax.
In between all that eating, you're bound to be hanging out in your super cozy hotel room. And I say super cozy because of things like this "lofa" with a lumbar pillow and head rest. It's a cross between a lounge and a sofa and incredibly comfortable! Plus the moving coffee table can be extended over the lofa.
Get some sleep!
Oh the plush, delicious bed with fresh and crisp linens. It's glorious, I tell ya.
But you might be working even if you're not sleeping in bed. Comfortably.
Be productive.
Even though I loooove working in bed, to be honest, I'm more productive at a desk, and the work center in TownePlace Suites is thoughtfully designed with organization in mind. I love the movable table under the desk, and the home office extension accommodates things like files, making it easy to set up and be organized for long stays.
If you need anything else, you'll likely find it in the fully equipped business center off the lobby, and if you need a snack, there's a 24-hr 'In a Pinch Market' by the front desk.
Exercise!
After work, it's time for a trip to the pool or the gym. Or both. Disney doesn't mess around with their landscaping, do they? The beautiful tropical decor is fabulous!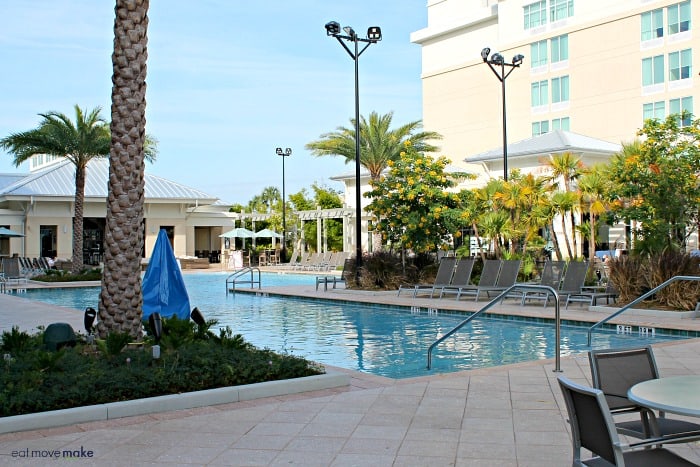 It's a pretty incredible home away from home. Between the amenities and the fact it's so close to Disney World with minimal traffic, TownePlace Suites at Flamingo Crossings is a total win-win for a comfortable, enjoyable vacation or extended stay in the Orlando area. You may also want to check out these other kid friendly hotels in Orlando.
Oh, and did I mention there's no resort fee and free parking? Seriously. Check availability and book a stay.
Happy Travels!
Related Posts