One of the best parts of traveling is eating, right? Absolutely! While visiting the area on a press trip, I found some of the best restaurants in Mooresville, NC, and I can't keep them to myself.
So, here are some of my top picks. You'll find a new favorite in Race City USA, whether you're craving a big breakfast, light lunch, or a fancy dinner.
Note: All of the following Mooresville restaurants are independent eateries and offer some outdoor seating so you can enjoy the beautiful North Carolina skies.
Read more: Best Things to Do in Shelby NC: Uptown (Where to Play, Where to Stay) | How to Spend a Day in Downtown Kannapolis, NC | Things to Do in Downtown Concord NC
Lancaster's BBQ
515 Rinehardt Rd., Mooresville
This Eastern NC-style barbeque restaurant in Mooresville (aka Race City, USA) is as famous for its NASCAR-themed decor as it is for its 'cue. It's a tasty addition to a race weekend itinerary and a fun place to take kids (there's a bus to dine in and a game room).
I took a seat on the bus, and my server brought a basket of freshly made hushpuppies to munch on while I decided what to order. I usually don't like hushpuppies, but theirs are pretty good!
The pulled pork and ribs are solid bets at Lancaster's, but I opted for the BBQ Chicken Salad in a fried flour tortilla shell. The salad was drizzled with a sweet and smoky BBQ sauce, and I devoured the entire thing. They also have salads with BBQ pork, fried chicken, and even teriyaki chicken.
Table 31
130 Landings Dr., Suite 103, Mooresville (LangTree Village)
This casual American eatery is in Lake Norman's hottest mixed-use waterfront development, and it's a lovely respite from traffic and noise.
I started with one of the signature cocktails – the Basil Gimlet, a perfect summer sip. Next, I chose the Parmesan Crusted Chicken with lemon butter, capers, & tomatoes with garlic sauteed broccolini for my entree.
The lacy cheese crust was golden and crisp, the chicken was deliciously tender, and the lemony tang of the capers and butter sauce enhanced each bite perfectly. An excellent dish!
Save room for dessert because the Oreo Ice Cream Sandwich is to die for. Cookies and cream ice cream rounds, topped with a bittersweet chocolate crust and then doused in a fudgy Belgian dark chocolate sauce. Lord, have mercy.
After dinner, take a walk back into the development for a serene and lovely view of the upper and lower ponds.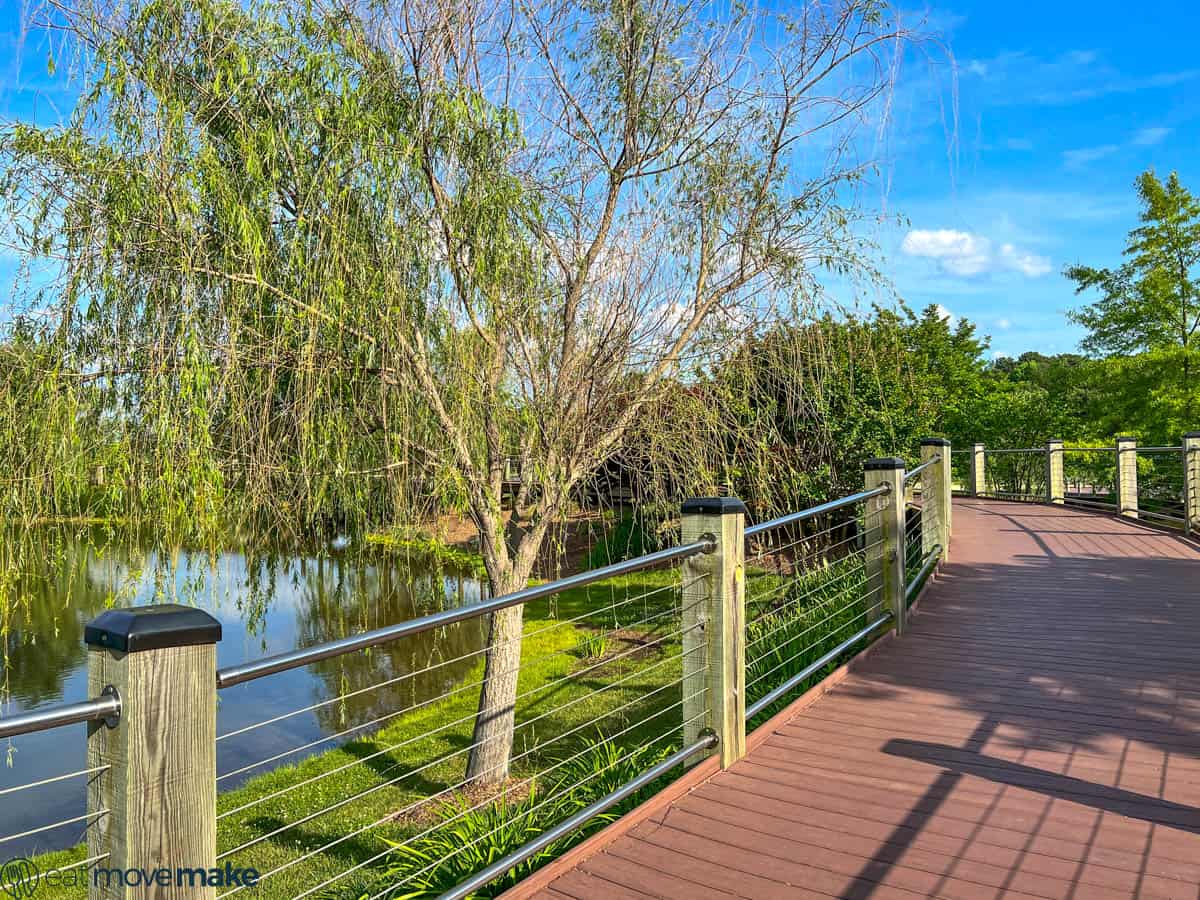 Patisserie Cafe
Newest location: 631 Brawley School Rd. Suite 406 Mooresville
Original location: 627 North Main Street Mooresville
If you're a salad junkie like I am, try the Santa Fe Grilled Chicken Salad with grilled chicken, Romaine lettuce, black beans, corns, tomatoes, red onions, tortilla strips, Monterey-Jack Cheddar cheese, and cilantro-lime dressing. It was far and away one of the best salads I've had in a long time. (Comes with or without toasties.)
They also have sandwiches, and breakfast is available all day. Take a peek in their bakery case and see if you can resist one of their macarons, cakes, or pastries.
Jeffrey's
117 Trade Court, Mooresville
Jeffrey's is known for timeless, delicious New American food with a Southern twist. The indoor ambiance is lovely, but a covered patio is also available for outdoor dining.
Popular dishes include steak, shrimp and grits, fish and chips, chicken Caprese and blackened chicken pasta.
After hearing how popular, the blackened chicken pasta is—it's been on the menu since day one—I couldn't resist ordering that for my entree. The blackened seasoning is mixed in-house and has a unique mild (not spicy) flavor—absolutely delicious—and the creamy, cheesy fettuccine with spinach, tomato, and bacon was divine.
SunUp Cafe
120 LangTree Village Dr., Mooresville
This popular, cheery breakfast and lunch cafe is in the same mixed-use development as Table 31. The inside is light, bright, and airy, and there are several outdoor tables as well. It happens to be across the street from the Aloft Mooresville where I stayed, so it was super convenient.
I walked in at 8 am when they opened and was the first customer, but it was nearly half full by the time I left!
Whether you're a coffee, tea (me!), or mimosa sipper, they've got you covered, and the breakfast and sandwich options are plentiful.
I ordered an omelet with bacon, spinach, peppers, and cheddar, and it was both beautiful and incredibly delicious!
It came with a choice of sides—fried potatoes, hash browns, or grits—and I chose grits. I didn't love the grits but boy, did I ever love that omelet! So if you're an omelet person, you won't be disappointed.
Food Halls in Charlotte
For a foodie adventure of another kind, jump in the car for the short 30-minute ride to Charlotte. Food halls are the hottest thing going right now, and Charlotte's got a lot. (See how I used their slogan?)
There are some really innovative eats to please every palate, and each food hall has its own vibe, so try more than one!
Optimist Hall
1115 N. Brevard St. Charlotte
There isn't enough room in my belly for everything I want to try at Optimist Hall's food stalls.
The diverse collection of food and beverage options is seemingly endless, and the space itself is light, bright, and welcoming. There are many cozy spots to gather with your friends indoors and out.
If you're looking for global or vegan cuisine, you'll be thrilled with the food finds here—everything from dumplings, empanadas, and bao buns to fried chicken, tacos, and pizza.
I couldn't resist trying one of the gooey grilled cheese sandwiches from Papi Queso—featured on Diners, Drive-ins, and Dives. I chose the Mac Melt with Bacon, and it was phenomenal!
If you're in the mood for a cocktail or a beer, stop at Spindle Bar or Fonta Flora Brewery. And don't miss Archer Paper Goods for a festive collection of all things pencil and paper.
Atherton Mill and Market
2000-2140 South Blvd. Charlotte
Atherton Mill is a premier retail and restaurant development in a re-purposed textile mill located in Charlotte's buzzing South End area.
The history and architecture are worth the visit alone—interesting historical tidbits are posted throughout the hallways—but bring your wallet because the shops, i.e., Lululemon, Free People, Anthropologie, etc., and the eateries are oh so tempting.
For more suggestions on other great Mooresville NC restaurants to try along with "Race City USA" itinerary assistance, connect with VisitMooresville.com