Now that I've shared my list of fun things to do in Henry County, GA, I have to expand on a few of my favorites. A Huey helicopter ride with the Army Aviation Heritage Foundation tops the list!
I'm very motion sensitive, but riding in a Huey helicopter—the Army's workhouse during the Vietnam War—how could I pass that up?
I couldn't.
About the Army Aviation Heritage Foundation and Museum
This 501 (c)(3) non-profit foundation aims to preserve military legacy by connecting Veterans with the public through stories, education, and flight.
The AAHF obtains, restores and maintains historic aircraft from the Vietnam era forward in flyable condition.
Rides are available through the chapters and at air shows. The "Legacy Chapter" in Hampton, Georgia, offers group rides (up to 9 passengers) on UH-1H Huey helicopters or single-passenger rides on AH-1F Cobra attack helicopters.
Tour the Hangar
Tours of the hangar are completely free; you'll learn where the helicopters flew and may have the chance to sit inside one. Some of them are dual warbirds, having served in both Vietnam and Desert Storm.
There's also a Bird Dog observation plane from the Korean War and Vietnam era.
They have thirteen Cobras, six of which are currently flyable, and if you take a Cobra ride with AAHF, you'll be sitting in the front seat with the pilot behind you. You can't do that anywhere else!
Buckle Up. It's Time to Fly!
After a thorough safety briefing, the flight crew buckled us into our seats. The pilots ran through their own safety checks and then I felt the helicopter gently lift off. Up, up and away we went.
What a view!
The pilots kept things interesting with gentle side rolls and a few stomach tickling-swoops. I couldn't stop smiling. It was exhilarating!
There are no doors on the Huey so it's really windy up there, but I think the cool, fresh air really helped keep my motion sickness at bay.
The ride was brief (6-8 minutes) but it covered a lot of ground and was SO much fun. I had the best time!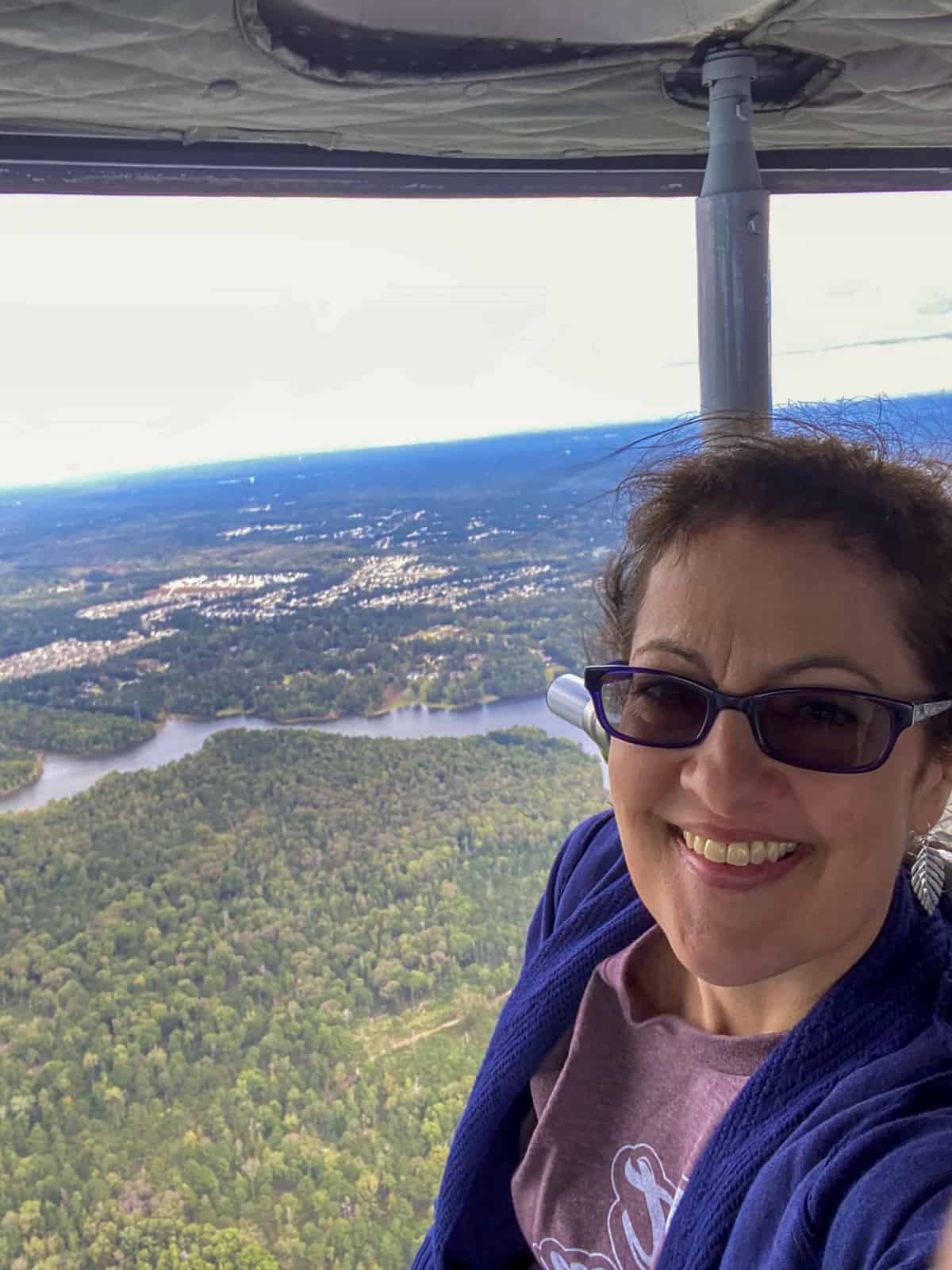 Fun Fact: The Huey helicopter we rode in was in The Walking Dead (Season 3) and will be in the first episode of Stranger Things. (Season 4 in 2022.)
Tips for Your Huey Helicopter Ride
Depending on the weather, it can get quite chilly during the ride. There are no doors! You may want to wear a sweater or jacket.
If you have long hair, it's best to pull it back, but expect to be windblown regardless.
If you bring a phone, hold it TIGHTLY and try not to hold it outside the helicopter. The wind currents can act like a vacuum for loose items.
If you're prone to motion sickness, I recommend taking Bonine, or something similar, about an hour before flying, just in case…
If you're adventurous, sit in one of the gunner seats. That's where you'll really experience a bird's eye view as the helicopter tilts.
Army Aviation Heritage Foundation and Museum
506 Speedway Blvd.
Hampton, GA 30228
(770) 897-0444
Website
Related Posts