I recently visited Lincoln Caverns in PA where there are TWO cave systems to explore with your admission, not just one. The two-fer is reason enough to visit, but Lincoln Caverns also has a really cool history and I saw things I'd never seen anywhere else!
Lincoln Caverns
As you can see from the Lincoln Caverns sign, it's located right next to a highway, and that's exactly how it was discovered back in May of 1930. They were working on the road and unknowingly drilled an opening right into a cavern. The landowners opened it as a show cave in 1931 and dubbed it Hi-Way-May Caverns.
Within a year they put it up for sale, and that's when Myron Dunlavy, Sr. and his wife (who were looking to buy caverns) stumbled across it and entered into a five-year lease-purchase agreement. The name changed to William Penn Caverns and once he owned the property outright, it was renamed Lincoln Caverns (after his favorite president).
Today everyone goes in through a safer man-made entrance away from the road.
Lincoln Caverns places a huge emphasis on education, so you'll hear lots of interesting facts during your tour. (Ask questions!) The owner, Ann Dunlavy, is less interested in Lincoln Caverns being a "show cave" than she is in preserving it and ensuring it remains an educational resource for generations to come.
I took about 100 photos inside the caverns and exactly none of them came out how I would have liked, but I'm sharing them with you anyhow so you can get a sense of what it's like and see the cool things I told you I'd never seen before.
For instance, these tree roots… have you ever seen roots growing into a cavern before. Isn't it nuts?
FYI: Lincoln Caverns puts on an annual Ghosts & Goblins event each year, so the webbing and Halloween decor you see in my photos are because they were setting up for that. I found the decorations distracting, but hey, if it's only once a year and if it gets people in the caverns for some education, it's all good.
Since Lincoln Caverns is a limestone cave, we were able to see some great examples of cave popcorn. The nuggets are nodes of calcite that form on cave walls and to the delight of visitors, cave popcorn glows under UV lights.
We also saw a very active flowstone (one of the biggest in the northern U.S. at 90 feet long) with a naturally formed wishing well underneath it. (All the money is donated to charity.)
To show how old these cave formations are, our guide told us that in one of their earliest tours, this stalactite was chipped and that tiny little drippy tip is all that has grown in the 85 years since.
The Purity Room, my favorite spot on the tour, showcases a milky white calcite formation called the "purity cascade". It's about 85-90% pure calcite. It's pretty incredible!
And just before leaving Lincoln Caverns to head to Whisper Rocks, we saw a cave cricket which I've never seen before either!
Fun Fact: In the early days of Lincoln Caverns, extremely rare cave pearls were discovered in a pool of water. However, while on display in a museum, they somehow came up missing. Sad!
Whisper Rocks at Lincoln Caverns
The second cave system at Lincoln Caverns is called Whisper Rocks, and though they suspect the two cave systems must meet up somewhere, they've yet to find where that is.
Fun Fact: The reason for the name 'Whisper Rocks' is that on really windy days, wind rushes through the tunnels and sounds really creepy.
Whisper Rocks was discovered by Myron Dunlavy Jr. in 1938 who noticed a respiration hole in the middle of a snowy landscape, so he knew something was down there. With his dad's permission, he dug for three years (sometimes when he wasn't supposed to) until it got big enough for him to fall in (or crawl in). Twenty years later, it was opened as a show cave.
Whisper Rocks is a completely different experience than Lincoln Caverns. For one thing, it's smaller so it doesn't take much more than 20 minutes or so, but it also lets you get really close to the various formations. (As always, cave etiquette means no touching!)
The flowstone formations in this cave are fascinating too. I think the one below looks like a monster's mouth or a row of ghosts.
Whisper Rocks also gives a unique perspective into the intricacies of a cave system because you can see through so many hollows and tunnels into other rooms.
Of course, you'll also find good examples of cave popcorn, cave bacon and soda straws too.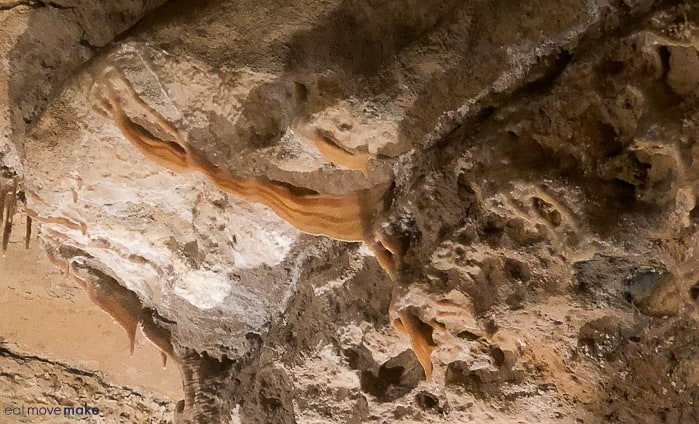 When the tour ends, be sure to visit the gift shop. I'm not usually tempted by trinkets, but the jewelry section, in particular, is well worth a look-see.
TIP: If you're a fan of cave tours, this cave in Ohio's Hocking Hills State Park is a definite must-see!
Lincoln Caverns – Caverns in PA You HAVE to See
Website
7703 William Penn Highway – U.S. Route 22
Huntingdon, Pa. 16652

Tours leave every half hour, more frequently during the summer months.
Allow about an hour to tour both caverns.
Wear sturdy shoes with good treads and a jacket or sweatshirt to stay warm.
Bring a camera or your cell phone!
Pin and share my Lincoln Caverns post!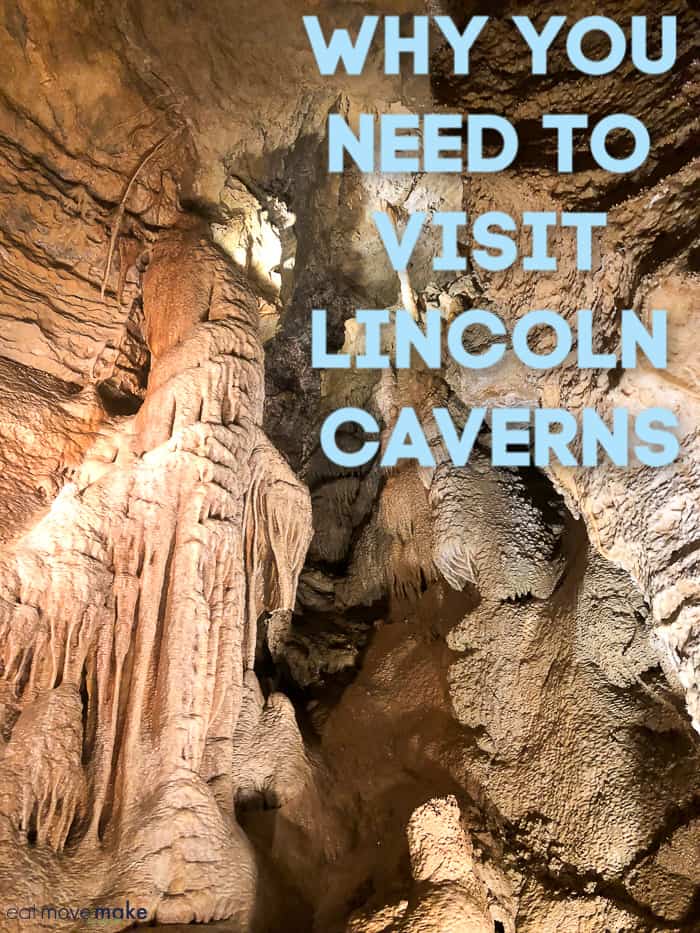 Headed to State College, PA next? The beautiful Carnegie Inn & Spa was one of my favorite places to stay.
Related Posts