In October of 1884, two teenage boys playing in the quarry near their farm saw cold air coming out of a hole in the ground and got curious. Using ropes and candles, they descended 270 feet and discovered the amazing underground world we now know as Shenandoah Caverns, one of the few Virginia caverns created both by water and by fault line.
The show cave itself is the most well-known reason to visit Shenandoah Caverns, but there are several other quirky and kooky attractions on the property (and included in the admission fee) making it an even better value and distinctly unique from other Virginia caves.

Guided Cavern Tour
Visitors can take a one-mile guided tour through a subterranean wonderland of 17 rooms filled with stalactites, stalagmites, columns, flowstone and the most realistic-looking cave bacon you may ever see.
The tour begins with an elevator descent (it's the only cavern in Virginia with elevator service) then follows a mostly level gravel walkway. If you've ever slipped in wet caverns before, you'll feel much more comfortable and sure-footed at Shenandoah Caverns.
You'll see such marvels as Bacon Hall, the Wishing Well, the Tea Garden, Drapery Hall and the Rainbow Lake. Lighting is strategically placed to accentuate the formations, so feel free snap away on your cameras and capture it all.
Tip: Be sure to look for the cavern's bishop when your guide points him out!
Temperatures are consistently about 56 degrees F year-round so be sure to bring a jacket or sweater, and if you get dripped on inside the cave, it's supposed to bring good luck!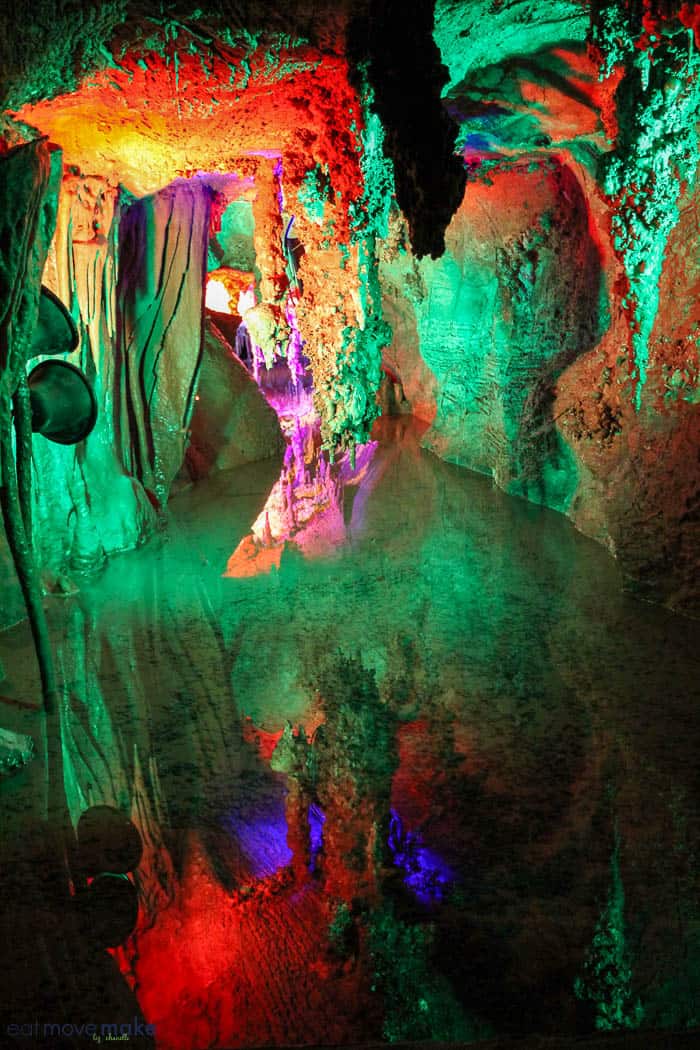 Hungry? Stop by the Caverns Cafe before you go. This original 1957 soda fountain serves a full menu from Memorial Day to Labor Day each year. Grab a soda or a sandwich or simply snap a photo!
Main Street of Yesteryear
While waiting for your cavern tour to start, take 10-15 minutes and walk through this vintage department store window display collection, but I'll warn you… you'll either love it or hate it. If you're nostalgic, the elaborate and animated figurines from stores like Woodward & Lothrop will bring back warm feelings of a simpler time when families would gather in excitement in front of holiday window showcases.
Otherwise, you'll simply find these creepy – very creepy. I loved it because it gave a glimpse into half-century old traditions, but there was a definite eerie quality to it as well. Regardless, it's free with cavern admission so why not pop through the exhibit? Besides, there are buttons for kids to push to set the animation in motion, and we all know kids love pushing buttons.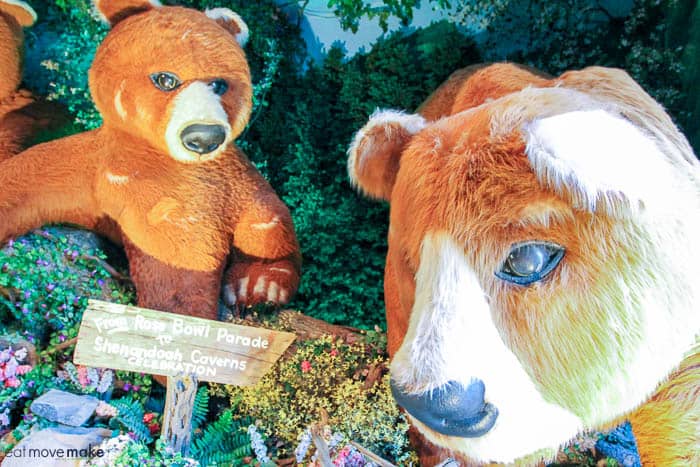 American Celebration on Parade
The giant cootie bug and faux Statue of Liberty outside the building are a dead giveaway you're heading into a bizarre attraction, but there's no way you can be prepared for the moment when you find yourself staring into the open beak of a giant dancing duck or up at the top half of a 30-foot genie with outstretched arms who would spin in circles if she only had the space. There simply are no words.
This graveyard of parade floats and props is home to the personal collection of owner Earl Hargrove Jr. who designed many of them himself for use in the Rose Parade, Miss America Parade, Thanksgiving Day Parades and presidential inaugurals.
Now visitors to Shenandoah Caverns can get up close and personal with the float remains to see how they were made and how they moved. There's one float with its underside exposed so guests can see the inner workings — quite complicated! Of course, the floats are no longer adorned with fresh flowers. Those have all been replaced with paper, fabric, fur and other long-lasting materials.
American Celebration on Parade is open seasonally, so call before you visit.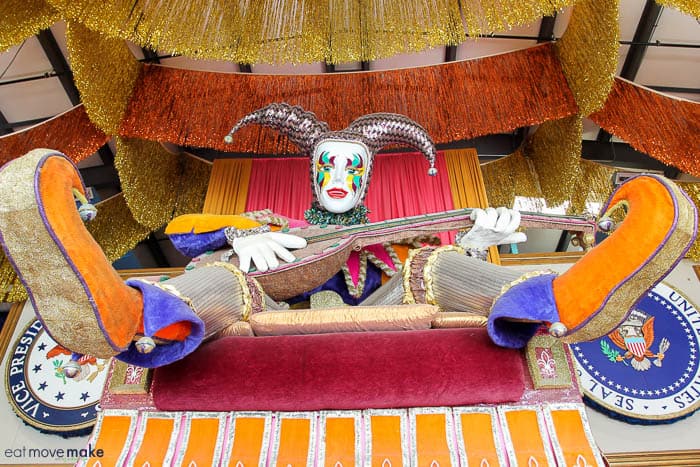 Yellow Barn
This is the only part of the family of attractions I didn't have time to visit when I was in Shenandoah County. Visitors can see restored antique carriages, farm equipment and historical displays, a live beehive, country home decor gift shops and a wine shop, all with the uniquely quirky twist found only at Shenandoah Caverns. The building also serves as an event venue so it may be closed from time to time.
For more information on Shenandoah Caverns, visit the website, find a hotel in the area and contact Shenandoah County Tourism for help planning a trip.
More Adventures