Shenandoah County Virginia lies in the heart of the Shenandoah Valley, an area known for stunning scenic vistas and drives, limestone caverns, historic and cultural sites and an abundance of outdoor recreational opportunities.
Whether you're visiting Shenandoah National Park, cruising Skyline Drive or looking for a weekend getaway out of the Washington D.C. area, make a point of stopping to visit the attractions in Shenandoah County.
Thank you Shenandoah County Tourism for arranging my press trip.
I drove into Shenandoah County from Winchester and although the quickest route is to hop on 81-South, I opted to take the slightly longer but far more picturesque Route 11. It was well worth the extra 15 minutes, so if you have the time to spare, I recommend it (even on a cloudy day).
Go spelunking in Shenandoah Caverns.
Take a one-mile guided walking tour through seventeen chambers of natural geological formations. Pass through such wonders as Diamond Cascade, Capitol Dome, Rainbow Lake and the most realistic bacon slabs you may ever see. Shenandoah Caverns is the only Virginia cavern with elevator access and the walkway is mostly level. Be sure to bring a jacket or sweater as the temperature stays at a cool 56 degrees year round.
Also included in the price of admission are two satellite attractions "Main Street of Yesteryear" and "American Celebration, the latter of which is open seasonally. (Website)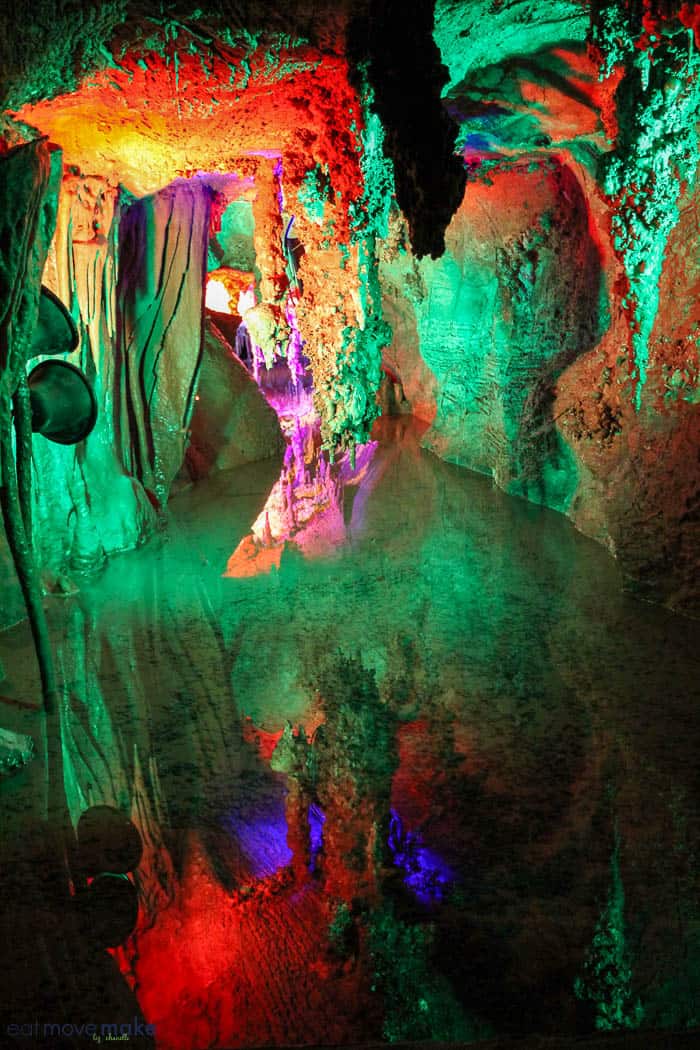 Watch potato chips being made at Route 11 Potato Chips.
Have you ever tasted a freshly cooked WARM potato chip? I hadn't either until I visited Route 11 Potato Chips. They happened to be cooking a batch of Lighted Salted chips (their best seller), so we watched the potatoes get peeled, fried, inspected, seasoned and dropped into bags — 12 minutes from start to finish! (Call for fry hours.)
No matter when you visit, there are samples aplenty of all the available flavors. I know I found a few new favorites: Mama Zuma's Revenge (VERY spicy), Chesapeake Crab (old Bay seasoning) and Yukon Gold. Be sure to pick up a bag or three and watch the daily specials table for really good deals. I found a bundle of three full-size bags of Mama Zuma's for a really low price.
Drive through Meems Bottom Covered Bridge.
At 204 feet, this is the longest covered bridge in Virginia and cars can still pass through. Unfortunately, it was under repair when I visited but I did peek inside!
Saddle up or take a mule-driven covered wagon ride at Fort Valley Ranch.
Take a guided Fort Valley Ranch trail ride or sit back and take in the view from a covered wagon along the miles of ranch and National Forest trails. The scenery is unforgettable! Ranch guests are also welcome to bring their own horses. (Website)
Take a walking tour of Strasburg to visit the Staufferstadt Arts murals.
This curated gallery of contemporary mural art breathes life into unused space and brings street art by world-renowned artists to what many would consider an unlikely place. The artists are encouraged to do something that reflects the town and speaks to the community. As of my visit, there were five completed murals each with a distinctly different style. There are plans to add an additional three murals a year.
The first mural was created by Gilf! and if you look carefully, you'll see a word spelled out in the maze.
Artist Alice Mizrachi's mural symbolizes town as being a shelter for families to thrive. It also indicates a growing level of diversity in the area.
This unique split portrait art style by NDA features the father as a young man in 1932 (bottom) and his son as an old man in present day (top).
Using two different techniques artist Erik Burke painted this stunning mural. With house paint he created a river breaking off into tributaries, and with spray paint he created an image of a baby and her grandparents. The overall message shows how a family grows and spreads.
The most recent mural was created by husband and wife, David and Desiree Guinn. She painted the fawn and he did the remainder, and it's the first time they've worked together on an art project. The arches represent the bends of the Shenandoah River and the fawn symbolizes new life.
Climb to the top of Woodstock Tower.
It's quite a winding drive up the mountain to get to the parking area, but once there, it's a quick footpath to the tower for the climb. The sweeping view of the Shenandoah Valley and the seven bends of the Shenandoah River is breathtaking! (Website)
Experience harness racing at Shenandoah Downs.
On weekend afternoons mid-September through mid-October, you can watch the pacers and trotters take to the 1/2-mile track for 10 whirlwind races pulling cart and driver. Whether you choose to place wagers or not, it's guaranteed fun for the whole family. (Website)
Enjoy wine with a view at Muse Vineyards.
Situated near a fork in the Shenandoah River amidst acres of vineyards, you can't get much better than this idyllic location. Wine is created based on time-honored French and Italian winemaking traditions, and with fifteen different grape varietals growing on the estate there is always something new in the works. My pick: the award-winning Clio. (Website)
Walk through history in Woodbridge.
Start at the Shenandoah County Historic Courthouse, the oldest working court house west of the Blue Ridge Mountains. Constructed in 1795 of native limestone, it's now a visitor center and historical museum. Look for wall graffiti on the upstairs walls left by Civil War soldiers.
Also within walking distance are the 18th century Wickham House and Marshall House, both part of the Woodstock Museum. They're filled with fascinating artifacts which preserve the local and regional history and ways of life.
Hungry? Thirsty? Grab a bite and a brew.
Except for Thursday nights, the Woodstock Cafe closes for the day right about dinnertime, so plan on lunch or an early dinner if you want to visit. And you do! Not only is the food delicious, but the shop is full of irresistible gift ideas. If you get a chance after dinner, walk out back to see the gardening mural.
Woodstock Brewhouse once housed the Casey Jones work clothes factory and is a shining example of adaptive reuse. It retains the factory's structural integrity through its aged hardwood floors, windows and 14-foot high ceilings while serving up thoroughly modern craft brews and delicious bites. Guests can peer down at the brew-making equipment while sipping on any of the Shenandoah-ishly-named (yes, that's a made-up word) beers. And don't miss Live Music Thursdays.
Also worth stopping at for a bite in Woodstock: Joe's Steakhouse and Woodstock Garden Cafe.
For more information on Shenandoah County Virginia visit the Shenandoah County Tourism website.
Related Posts