My Mandalay Bay entertainment post was inspired by a press trip experience. All opinions are my own.
When I go to Las Vegas, it's all about entertainment, tastes and experiences, and I recently spent an amazing weekend at the Mandalay Bay Resort complex (home to Mandalay Bay, Four Seasons and Delano Las Vegas) where I ate all the things, sipped world-class cocktails and enjoyed some really fabulous entertainment.
It was my third straight visit to Las Vegas without playing a single game of chance. (Not that there's anything wrong with that.) I was just too busy having non-casino fun! In fact, I never even had to step outside the resort — there's that much to do at Mandalay Bay.
Nashville Unplugged
Not only is this the only songwriter in the round-style show on the Vegas strip, but it's FREE – no cover. Every Friday night in the "Rhythm and Riffs" lounge, creator Aaron Benward joins two other Nashville hit songwriters for a two-hour story behind the song experience. Every performance is off-the-cuff and has an entirely different energy, often fueled by the audience du jour. The musicians take turns leading into their performance by telling the story behind the lyrics of their song choice and it's often fascinating.
Aaron is the glue so he performs at every show, and he plays off what everyone else is doing, picking most of his song choices in the moment. There are no rehearsals; it's totally impromptu, but he does try to repeat a couple audience favorites each week, like "Raining in Vegas".
Full disclosure: I am NOT a country music fan. At all. But I LOVED Nashville Unplugged, and I would go back again and again.
Shark Reef Aquarium
Wander at your own pace through this aquarium featuring more than 2,000 animals including 15 species of sharks. Some of the highlights you'll see are a rare golden saltwater crocodile, Komodo dragon, piranhas, a stingray touch tank (fun to watch them eating at feed time), jellyfish, sea turtles and of course all those sharks.
The aquarium offers what feels like an underwater immersive experience as you're surrounded by aquatic creatures on all sides. Great Las Vegas family activity!
Tip: Thrill seekers with dive certification can sign up for shark diving experiences.
Minus 5 Ice Bar
Cozy up in the provided parka and gloves and step inside a world of ice where the walls, chairs, chandeliers, sculptures and even the drinking glasses are all made of ice. The temperature holds at a chilly -5 degrees Celsius (23 degrees Fahrenheit), but there's no wind or humidity, so it's not all that uncomfortable (or my Michigan years boosted my immunity).
Cocktails are served at the bar (alcoholic and non-alcoholic) and a huge part of the experience is drinking from a glass made of ice, but hold on tightly with your gloves… the ice is slippery!
Cirque du Soleil Michael Jackson ONE
As far as I'm concerned, you can never go wrong with a Cirque du Soleil show and when you combine the theatrical artistry of Cirque with Michael Jackson's creative genius, agility and energy… WOW.
Bathhouse Spa Treatment
Housed in the Delano, the Bathhouse Spa is a perfectly zen way to spend the morning or afternoon and day passes are very affordable. The relaxation lounge offers fruit-infused water, tea, coffee (yes, COFFEE at a spa) and snacks. Sink into one of the two whirlpools (hot and warm) or refresh in the cold plunge and there's also a dry sauna and eucalyptus steam room. (Bathhouse is a clothing optional spa.)
If you take advantage of one of the many treatments available, I can vouch for Verona's custom 50-minute massage. It was the best massage I've ever had in my life.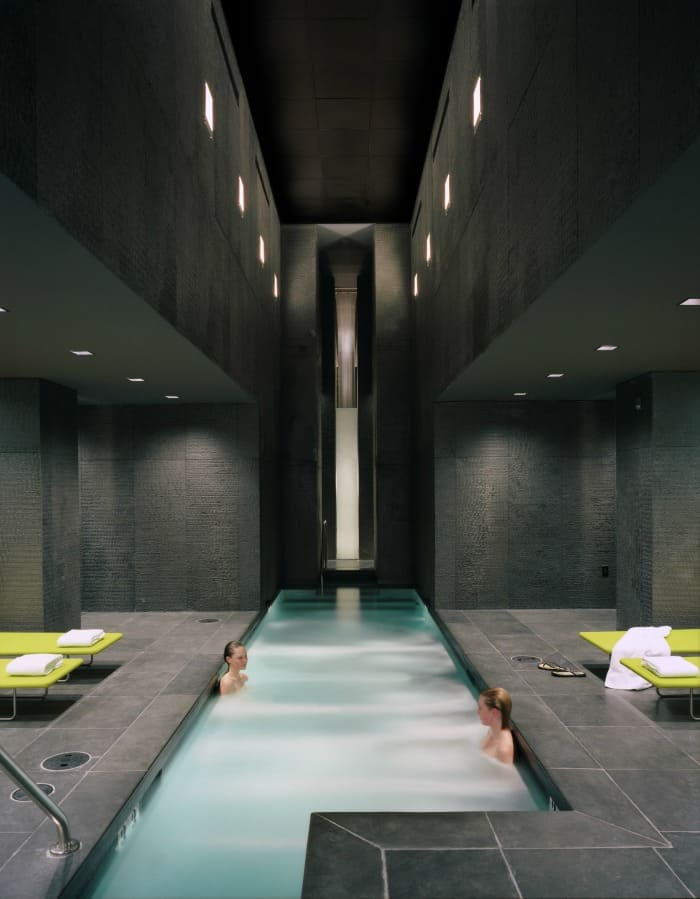 If you're looking for non-casino ways to spend your time, all this Mandalay Bay entertainment is yours for the taking. And here's a fun tip for one of the other resorts: Check out the Bellagio chocolate fountain!
Related Posts