One of my favorite hidden gems of the Outer Banks is the Pea Island National Wildlife Refuge on Hatteras Island. 
This tiny stretch of island is blessed with a certain stillness and peace that's quite unlike anything else on the coast, and if you've ever seen Nights in Rodanthe, which was filmed there, you know exactly what I mean.
It's the kind of place where you can breathe and leave the world behind.
Pea Island Wildlife Refuge encompasses a visitors center, beach access, three ponds and walking trails, so whether you're into wildlife viewing and photography, fishing, beaching, shelling, kayaking or just enjoying nature, you'll find a little bit of it all here.
Since 1938, Pea Island NC has remained a natural and untouched resting spot for water fowl and other North Carolina wildlife, so start your visit at the visitors center where the knowledgeable staff will give you tips on which birds to look for at the current time. Take a look at some of them through the pre-aimed Carl Zeiss scopes. There are nearly 400 bird species that visit the refuge.
Outside the visitors center, you'll find two walking trails: The North Pond Wildlife Trail and the Salt Flats Trail. The North Pond trail starts immediately behind the building and includes a boardwalk over a turtle pond (kids will love this), three observation decks and a tower. Both the North and Salt Flat trails are wonderful for wildlife observation and photography: birds, river otters, white-tailed deer and even the nuisance species of coyote and nutria.
Tip: Bring bug spray! The mosquitoes are hungry here.
Wildlife First!
I found it interesting to hear how much consideration is given to the refuge's wildlife visitors. They control the water levels for the type of birds that are visiting in the moment, ensuring ideal conditions for resting or nesting, and every few years, the pond goes through some maintenance to ensure there are new food sources available when they're refilled.
After you leave the visitors center and wildlife trails, make sure you (carefully) walk across Highway 12 to the beach with its nearly 13 miles of unspoiled and secluded beaches and dunes. They don't do beach replenishment so everything is constantly changing and shifting.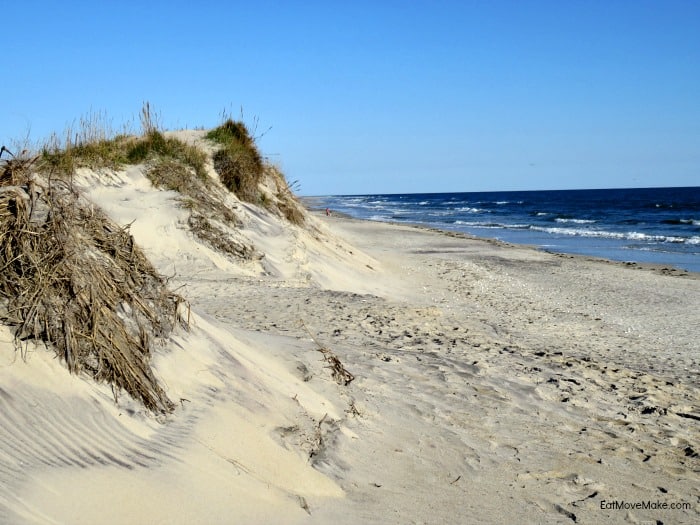 Be sure to go shelling while you're there! The sandy shores are carpeted with beachcombing treasures. It's unusual for a refuge to allow visitors to take anything, but as long as the shells are uninhabited by sea creatures, they're free for the taking.
If you happen to be visiting the Outer Banks from late spring to summer, you can volunteer to be part of the Sea Turtle Patrol or Sea Turtle Watch program.
Once a nest is spotted, it's roped off for protection and volunteers sit by the nests from 7pm-midnight nightly to watch for hatching. There are usually 100-150 babies per nest. Totally a bucket list item!
Shipwrecks!
Just offshore during low tide, you can catch sight of the shipwrecked "Oriental". The boiler is visible above the water line, and it's an excellent fishing spot out there as you can imagine.
Other Pea Island National Wildlife Refuge activities include kayaking, canoeing, and both surf and sound fishing. Nighttime surf fishing does require a permit. There are also tours and scheduled programs for both adults and children, many of them free and repeating weekly.
It's an absolutely wonderful place to stop while in the Outer Banks, so I hope you do!
For more information visit the Pea Island website and OuterBanks.org for info on the entire region.
More Travel Fun