With an abundance of scenic outdoor adventures, impressive museums, and a mouthwatering food and drink scene, this list of things to do in Monroe, LA, and its sister city West Monroe will keep you happily exploring for days.
Louisiana's Monroe and West Monroe lie on opposite sides of the beautiful Ouachita River, with a quick bridge ride between them. You'll want to spend time in both cities as you enjoy all the attractions here.
Things to Do in Monroe LA
Biedenharn Museum
2006 Riverside Dr., Monroe
Website
Visiting the Biedenharn Museum is one of the top things to do in Monroe, LA, without a doubt. It was a definite highlight for me.
The museum complex has a historic mansion, formal English gardens, a Coca-Cola Museum with fun memorabilia, a rare bible museum, and a gift shop. There's also a Coca-Cola machine where visitors can purchase a Coke for 5 cents!
I'll be writing an entire post about my experience, so stay tuned for that.
Explore Black Bayou Lake National Wildlife Refuge
480 Richland Pl., Monroe
Website
Explore Northern Louisiana's tranquil outdoors at this 5300-acre wildlife refuge. Whether you hike, fish or kayak, the captivating panorama will relax and restore you.
Start with a short walk on the demonstration prairie loop trail (near the visitor center) to look at native flowers and grasses.
Then take the Nature Trail (to the right of the visitor center). This easy (and accessible) 1-mile boardwalk loop winds you through a bottomland hardwood forest and cypress swamp.
The trail connects to the wildlife pier, extending over Black Bayou Lake.
If you spend some time on the pier, you're bound to spot turtles, alligators, herons, and egrets. It's a popular vantage point for wildlife viewing.
I visited in February, and the landscape was stunning. I can only imagine how gorgeous it is when the foliage is in bloom.
Tour the Chennault Aviation and Military Museum
701 Kansas Ln., Monroe
Website
The story of General Claire Chennault and his legendary Flying Tigers of WWII is the highlight of this museum. If you've never heard the story, prepare to be wowed.
There are many artifacts to explore, including the emperor's robe gifted to Chennault for his service to China during the war.
Be sure to walk outside by the hangar where you can see a P-40 Warhawk with the iconic shark nose art.
Another interesting gallery showcases the history of Delta Airlines. Founded as Huff Daland Dusters in Macon, Georgia, the company soon moved to Monroe to become the first commercial crop-dusting company.
It was renamed Delta Air Service (for the Mississippi Delta Region) and began passenger service four years later. The rest, as they say, is history.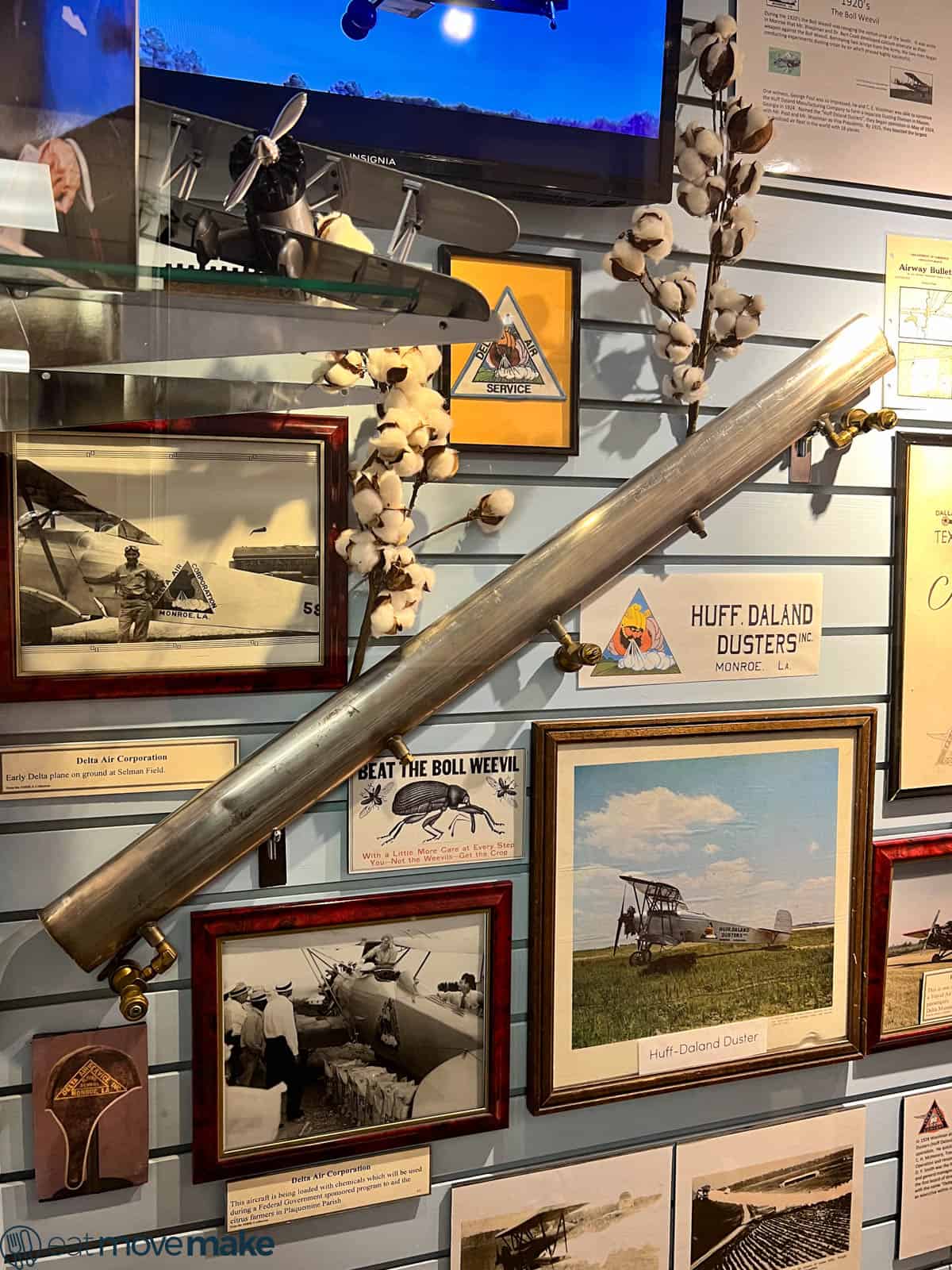 For space flight fans, there's an area dedicated to James Halsell, Jr., who has been a part of five space shuttle flights. There's also a collection of space rocks in the museum.
G.B. Cooley House
1400 S. Grand St., Monroe
Facebook
The Cooley House in Monroe was the last of Walter Burley Griffin's structures to be built in the United States, and it has special historical significance. It's very rare to find prairie-style architecture in the south, though it was pretty standard in the north.
This surviving architectural example was listed on the National Register of Historic Places in 2010 and is undergoing extensive restoration. Tours will resume once the repairs are complete. In the meantime, you can drive by for a peek.
Layton Castle (Mulberry Grove)
1133 S. Grand St., Monroe
Website
Originally named Mulberry Grove, this stunning red brick castle began as a simple two-story raised Creole cottage built in 1814 for Henry Bry. In 1910, his heirs turned it into the rambling 60-room structure it is today. The restored carriage house is available for overnight stays, and there will be monthly tours for the public.
Visit the Grave of a Married Man
Old City Cemetery, Elysian Fields Rd., Monroe
If you like quirky and weird attractions, make a quick stop at the Old City Cemetery to see this statue. Resting atop the burial vault of Sidney Saunders is a statue of his likeness holding a marriage certificate. His "wife" Annie Livingston installed the figure to quell the rumors that they were never married.
RiverMarket
316 South Grand St., Monroe
Enjoy the view from the observation deck or find a cozy spot to sit overlooking the Ouachita River.
In the spring and fall, there's a French-style market with food and craft vendors on Saturdays. But any time of year, people are welcome to take a stroll along the boardwalk.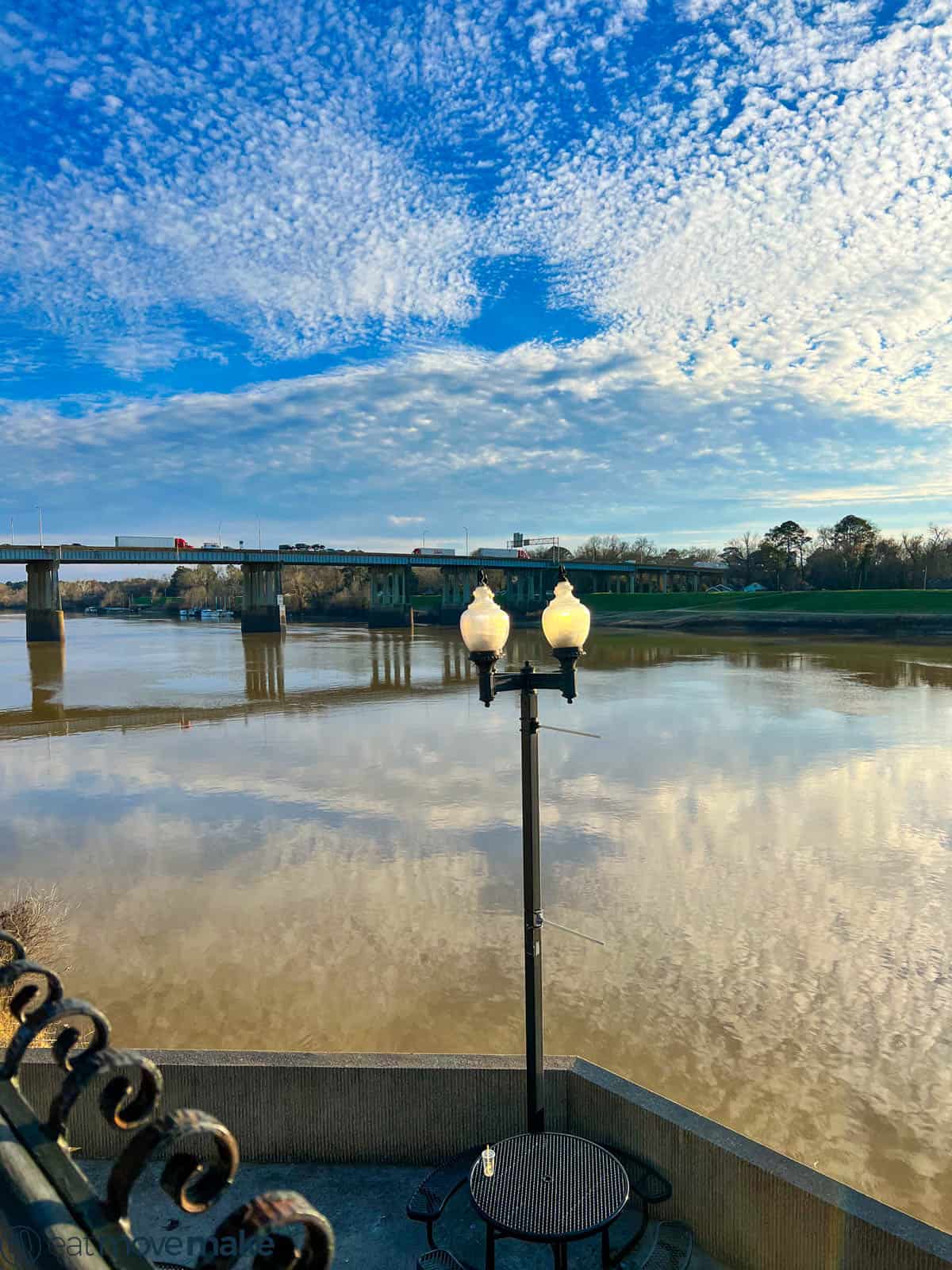 Louisiana Purchase Gardens & Zoo
1405 Bernstein Park Rd., Monroe
Website
Take a boat ride, train ride, or just stroll through the landscaped grounds as you enjoy the many animals and plants, a walk-through greenhouse, and the ZooOasis Splash Pad where kids can get their wiggles out and cool off.
Don't miss visiting the parakeets in the Budgie Walkabout Aviary, an interactive experience you won't soon forget. Visitors can walk into the habitat and feed the birds!
Northeast Louisiana Children's Museum
323 Walnut St., Monroe
Website
Kids' imaginations will soar as they explore this wonderful hands-on, creative space designed just for them. Be a chef, a server, or dishwasher in the cafe, be a doctor, nurse or pharmacist in the hospital or become the president or Secret Service agent in the kid-friendly white house.
Masur Museum of Art
1400 S. Grand St., Monroe
Website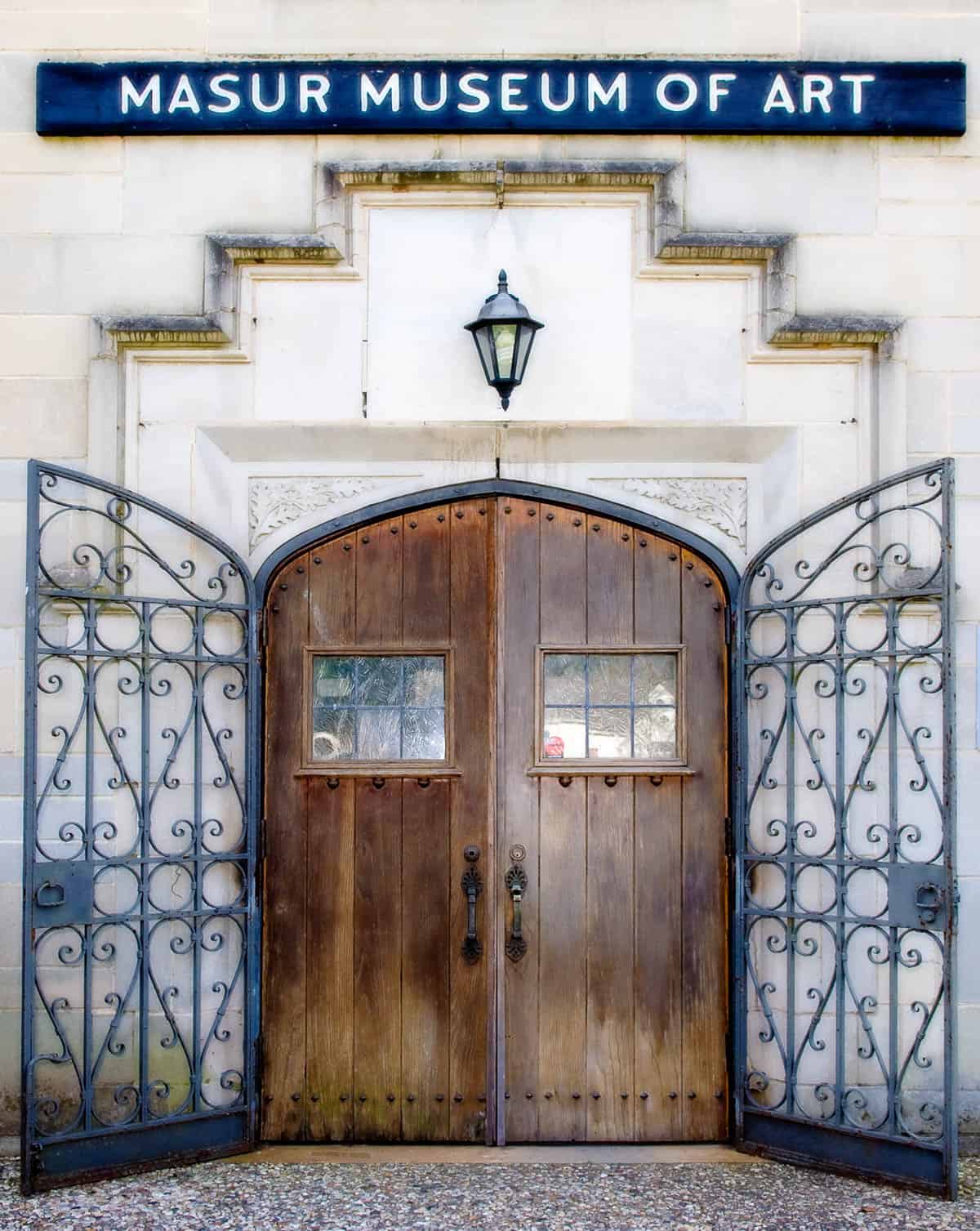 Built as a private residence and listed on the National Historic Registry for its architecture, this FREE museum has a permanent collection of approximately 500 works of art. The collection consists of masterpieces by regional artists, minor works by world-renowned artists, and commissioned bodies of work by individual artists.
Northeast Louisiana Delta African American Heritage Museum
1051 Chennault Park Drive, Monroe
Website
The museum has several art collections from prominent regional black artists, including world-renowned Don Cincone. There are also hundreds of artifacts on display that honor the heritage of black men and women who've impacted history.
Things to Do in West Monroe LA
Antique Alley
Trenton St., West Monroe
Facebook
The antique stores of Antique Alley have been drawing tourists to downtown West Monroe for years. But nowadays, those stores happily co-mingle with boutique and specialty shops in this lively and charming part of town.
I spent a lot of time shopping in West Monroe on Antique Alley and found some really lovely things!
Landry Vineyards
5699 New Natchitoches Rd., West Monroe
Website
Landry Vineyards is a family-owned winery established in 1999 in Folsom, Louisiana. It moved to the rolling hills of West Monroe after Hurricane Katrina. All of their wine is produced on-site from grapes grown in their own vineyard or grapes sent in from other wine-growing regions in the US.
Along with the tasting room and winery, Landry hosts family-friendly outdoor concerts, harvest grape stomps, and 'Grape Escape Getaways,' where guests can book overnight stays at small cottages or RV sites near the vineyards.
Cruise by the "One Mile of Love" Mural
North Trenton Street, West Monroe
You can't help but smile at the "mile" of children's artwork adorning the North Trenton Street floodwall in West Monroe.
ARROW (Artists Radically Reinventing Our World) invited Ouachita Parish schoolchildren to submit drawings related to the community and selected 282 for the project. ARROW transformed the pictures into paint-by-number outlines, and community volunteers pitched in to do the painting.
Duck Commander Tour
117 Kings Lane, West Monroe
Website
The Duck Commander Tour is self-guided and at your own pace. You'll start with a short intro film and then walk through a series of vignettes based on the show and the family history.
At the end of the tour, you'll have the opportunity to put together your own duck call souvenir following a simple tutorial.
Big Duck Dynasty fans will love the tour as there's quite a bit of memorabilia and several fun photo ops. The tour may not mean as much to you if you're not as familiar with the show and its family.
For the biggest Duck Dynasty Fans: Take a self-guided tour of Duck Dynasty film locations throughout the Monroe West-Monroe area.
Things to Do in Monroe AND West Monroe
Hunt for Herons on the Bayou
As you explore the twin cities, you'll inevitably spot dozens of long-legged, long-necked herons proudly showing off their colorfully painted plumage.
There are over 85 herons throughout Monroe and West Monroe. Each heron has been painted by a local artist and placed on display.
I love public art projects like this and have seen creative twists like the Bushy Tail Art Trail in Henry County, GA, but I have a soft spot for these North Louisiana herons. The artwork is absolutely stunning!
Get the map, then flock to the birds! See a few or set out to see them all!
Coca-Cola Murals
If you love Coke memorabilia, you'll want to see the four vintage Coca-Cola murals in town. They've been restored and repainted and are a fun and vibrant addition to the public art scene.
Coca-Cola Mural Locations
corner of Trenton Street and Pine Street in Antique Alley
corner of Trenton Street and Natchitoches Street in Antique Alley
Old Coke bottling building (315 Walnut Street in Monroe)
Mohawk Tavern (704 Louisville Avenue in Monroe)
Restaurants in Monroe LA (Brews & Chews)
Catahoula's Louisiana Kitchen
5321 Desiard St., Monroe
Website
I visited Catahoula's Louisiana Kitchen in search of a good roast beef po'boy, and I sure found it. My slow-roasted beef and gravy po'boy was fall-apart tender and exceptionally delicious. I hadn't had one since my last trip to New Orleans, and my mouth and tummy were so happy.
I was utterly full after my sandwich, but when I saw caramel cheesecake on the menu, I knew I had to order a to-go slice. And good Lord, was it ever good—silky, creamy, and heavenly.
Lunch at 2 Dudes Brew & Que
436 Desiard St., Monroe
Facebook
I come from a state with great BBQ, and I usually don't think of Louisiana as competition for that, but DANG, they're cooking up some great barbeque in Monroe at 2 Dudes Brew and Que.
The smoked BBQ meatloaf is outta this world—it may be the best meatloaf I've ever had. The smokiness of the ground beef and that cheesy melted cheddar on top. SO good. The smoked BBQ pulled pork was absolutely delicious as well, but I've never had smoked meatloaf before, so that's what I remember most.
Not only did I love this restaurant for its down-home comfort food but also for the cute "Dude" who greeted me at the door as I walked in. Now that's the kind of welcome I believe in. (Truth be told, he's behind a barrier in the office area near the front door, but he's the first cute face I saw.)
Not Just Pie (banana caramel pie)
2117 Forsythe Ave., Monroe
Facebook
The banana caramel pie at Not Just Pie is so popular that you'd better get there early to get a slice. But, as the name suggests, the cafe also serves other favorites like po'boys and sandwiches, chicken pot pie, soups, and salads.
Parish
318 N. Second St., Monroe
Website
For an out-of-the-ordinary culinary experience, you can't go wrong with dinner at Parish. The menu includes familiar Southern food with inventive twists and a regional spin.
Not only does the menu reflect regional flavors, but so does the artwork. Local and Louisiana-based works hang on the walls, and it's the kind of art that doesn't take itself too seriously.
I ordered the beef bolognese rigatoni with housemade ricotta cheese and the Mississippi sweet potato hearth bread with cane syrup, butter, and sea salt. I can't even tell you how much I enjoyed that meal.
Lea's of Monroe
319 Louisville Ave., West Monroe
Facebook
Stop in for the famous ham sandwich or a plate lunch with a choice of meat and two or three sides. The baked ham is a house specialty.
The landmark restaurant's original Cheneyville location opened in 1928 and served sandwiches, pie, and popcorn. Fun fact: Bonnie and Clyde were regular customers.
Of course, your trip wouldn't be complete without a slice of the pie. I can certainly vouch for the lemon meringue. It's ultra creamy with the perfect balance of tangy and sweet.
Flying Tiger Brewery
506 N. Second St., Monroe
Website
The brewery is named in honor of General Chennault and the Flying Tigers, and the nose of a P40 Warhawk plane soars over the taproom in homage.
Flagship beers are always on tap or try one of their extremely popular Juiciana (Juicy Louisiana) beers – hazy fruit forward and easy-to-drink ales, hard seltzer, or a barrel-aged brew.
West Monroe LA Restaurants (Brews & Chews)
Trapp's on the River
113 South Riverfront St., West Monroe
Website
What could be better than Cajun cooking and a great view? Start your visit with a plate of seafood nachos at this casual eatery on the banks of the Ouachita River.
I had the Cajun Grilled Chicken Spud for lunch and loved it. They also have boudin, etouffee, cheeseburger, and seafood nacho spuds. (The stuffed taters are made in limited quantities each day, so when they're gone, they're gone).
Flying Heart Brewing
204 Commerce St., West Monroe
Website
Locals will tell you Flying Heart makes some of the best pizza around, and lucky for you, there's some dang good craft beer right there to pair with it.
Flying Heart's six locally crafted flagship beers range from light and crisp to dark and complex, or try one of their seasonal brews. They're always coming up with creative flavors throughout the year.
Visit www.monroe-westmonroe.org/ for more ideas on fun things to do in Monroe and West Monroe.