I recently took the first of what I hope to be many hot air balloon rides; Longview TX does them right!
Longview, Texas plays host to the Great Texas Balloon Race every July, and I had a sneak peek into the festivities when I visited the area as a guest last month.
I took my first ever hot air balloon ride (tethered) with none other than Dr. Bill Bussey, the world record hot air balloon pilot who started the balloon fest in Longview, Texas all those years ago.
It was incredible!
The most surprising thing about the hot air balloon ride was that when the balloon rose into the sky, it was so smooth and gentle that if I hadn't been paying attention, I never would have known we were going up.
There's no climbing sensation at all. And because the hot air balloon travels at the speed of the wind, you don't feel the wind.
It's so serene, calm and completely peaceful as you glide through the sky.
The only pause in the peacefulness is when the burners fire, and that's a fascinating and welcome interlude.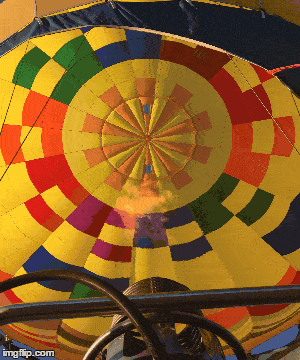 If you've ever considered taking a hot air balloon ride, I highly encourage you to try it. It really wasn't scary at all (to me;) I absolutely loved it!
The next Great Texas Balloon Race Festival takes place June 12-18, 2023, and if you'd like to take a hot air balloon ride, contact Balloon Adventures USA to make a reservation. Rides aren't available during the balloon fest itself (as the crew is racing), but you can book a ride before or after.
Have you ever taken a hot air balloon ride or gone to a hot air balloon festival? 
Related Posts