There's nothing conventional about the Pearl Fryar Topiary Garden in Bishopville, South Carolina. It's a whimsical wonderland you have to see to believe!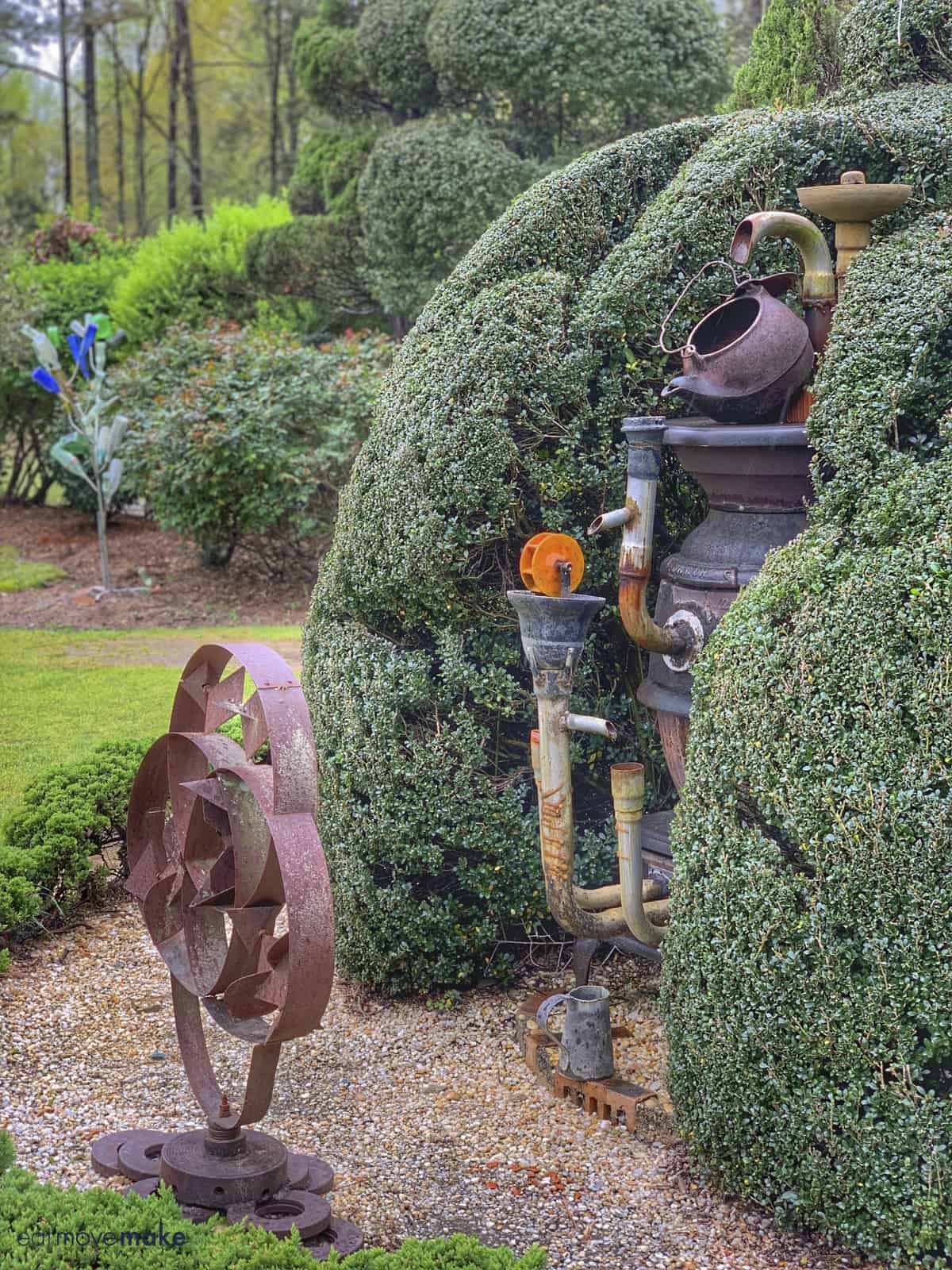 About the Garden
Rather than intricately detailed animal topiaries like those at the annual South Carolina Festival of Flowers in the Old 96 District, this unusual three-acre topiary garden is completely abstract and non-representational. It's full of twirling spirals, sweeping arches, flowing waves and undulating motion to mesmerize visitors daily.
About Pearl Fryar
Pearl began his garden without a lick of horticultural knowledge but with a fierce determination to win "Garden of the Month" —a designation he was told he didn't qualify for due to lack of experience.
Rescuing discarded plants from a local nursery, he slowly began to design and sculpt his 3-acre garden—eventually winning the coveted "Garden of the Month" award.
Pearl's topiary garden is made of abstract topiaries that bend, swirl, twist, and sway in designs that have taken years of trimming to achieve—five years, on average.
Tucked in among the greenery are whimsical metal sculptures made from found treasures—some of which have been turned into working water features.
Love, Peace and Goodwill
The last thing you'll see before leaving Pearl Fryar's garden is a giant "Love, Peace and Goodwill" message. Pearl hopes you feel inspired to reach for your dreams and aspire for the things you want – no matter what.
Visitor Info and Directions to Pearl Fryar Topiary Garden
Address: 145 Broad Acres Rd, Bishopville, SC 29010 (Lee County)
Directions: I-20 exit 116. North on US Hwy 15 one-half mile, then left at Pearl Fryar sign onto Broad Acres Rd. The Garden is on the left side. Park along the road.
Admission is free. (Donations welcome and are used to help maintain the gardens.) Stroll at your leisure.
Bishopville, South Carolina is about a 30-35 minute drive from Florence, SC.
Pearl Fryar Facebook page
Recommended viewing: A Man Named Pearl – an award-winning documentary currently available for streaming free with Amazon Prime.
Related Posts