I recently visited Riverbanks Zoo and Gardens (Columbia, SC) for the first time and it blew my mind! Having recently completed a multi-million dollar expansion, it's quite the place! It's so much more than just animals , and for that I'm grateful, as I'm someone who struggles a bit with the old-school zoo concept. Fortunately, Riverbanks Zoo isn't old-school as you'll soon see.
The newly designed zoo entrance allows crowds of people to visit without feeling crowded. The walkways and viewing areas are spacious, so you don't feel as if you're tripping over people the moment you walk through the gates, and the pedestrian bridge to a new parking lot has cut down on much of the traffic congestion.
Read Next: Congaree National Park: Exploring Its Hidden Treasures
Sea Lion Landing
This is the crown jewel of the renovations, and it's one of the first things you see as you enter the park. The sea lions were off display for a long time while this was in the works, and everyone wanted them back badly!
If the habitat looks familiar, it's because it was modeled after San Francisco's Pier 39. Visitors can view the sea lions from multiple vantage points, including a large underwater observation area. One very cool item to note is that the sea lion tank water is filtered naturally through a man made marsh behind the habitat. It's then returned to the tank, and it saves 3 million gallons of water annually. Sustainability is important to Riverbanks Zoo!
We also had the opportunity to see the sea lions working with the staff behind the scenes. One thing I learned that made me feel good is that nowadays the purpose of training is not for entertainment, but rather so that the trainers build a relationship with the animals in order to monitor their health and diet more carefully. Thank you for that! Behind the scenes tours are available to all zoo visitors at an additional cost and should be arranged in advance.
As you leave the sea lion viewing area, take a look at the sculptures. They've been created from trash found in nearby rivers and waterways (which is really sad), but it serves as a great reminder that we need to be mindful how profoundly our actions affect the environment.
Botanical Gardens
This. This was my favorite part of the visit! Riverbanks Zoo proudly boasts 70 acres of botanical gardens including the new children's area (my next point of discussion). I could easily spend an entire afternoon relaxing in the peace and quiet of the gardens. It's utterly amazing!
Waterfall Junction and Children's Garden
Along with a brand new water splash and play area, kids can run in a large meado, climb in rabbit holes, play in a treehouse, dig for dino bones or enjoy child-sized playhouses with chalk walls for scribbling masterpieces. A snack bar is located in the area as well.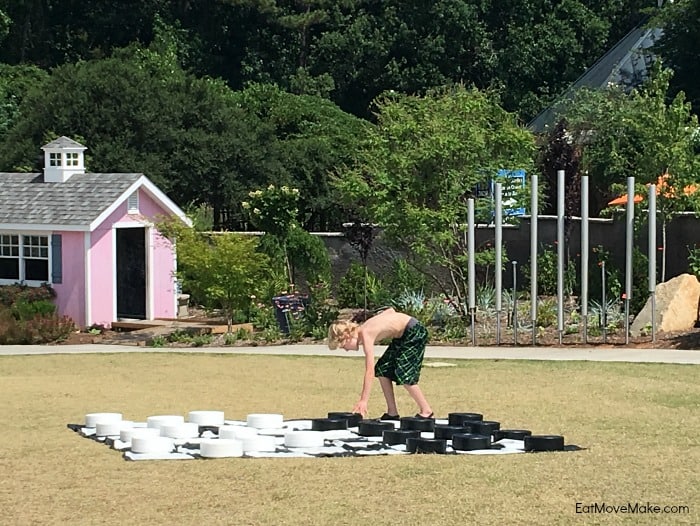 Don't forget the animals!
There are over 2000 animals at Riverbanks Zoo! Be sure to wander through the kangaroo walkabout and enjoy the new Grizzly Ridge and Otter Run exhibits — definite highlights for me.
Admission to Waterfall Junction and the botanical gardens is included with zoo admission, so it doesn't surprise me that zoo memberships have nearly doubled in the last year or two. Riverbanks Zoo is worth a repeat visit and then some.
Visit Riverbanks Zoo and Gardens – Columbia SC
Main Entrance: 500 Wildlife Parkway Columbia, SC 29210
Botanical Gardens Entrance: 1300 Botanical Parkway West Columbia, SC 29169
Hours of Operation (subject to change)
Through October 16, 2016:
9:00am–5:00pm Monday–Friday; 9:00am–6:00pm Saturday–Sunday.
Open daily except for Thanksgiving, Christmas and special closings.
For more information on the Columbia, South Carolina area, visit columbiacvb.com.
Related Posts