If you follow us on Instagram, you might remember my trip to Philadelphia a few weeks ago. I spent a whirlwind weekend there hosted by Marriott in downtown Philly and had a blast!
Although I'd been to the City of Brotherly Love before, I hadn't had a chance to experience much of what the city has to offer, so I made it a point to do so this time.
I was very lucky to stay at the Renaissance Philadelphia Downtown (a Marriott property) because it was right in the middle of all the things I wanted to do. It's a short couple of blocks away from Independence Hall and the Liberty Bell, and if you walk a few more blocks, there are countless museums to choose from! I didn't have to take a cab or use a rideshare app the entire time I was there.
It's extremely easy to book a stay in the city of your choice with Marriott, and you'll save even more when you become a Marriott Bonvoy member. Whether you're traveling with your family, with your pet, on a budget, or are looking for a high-end boutique experience, Marriott has a property that will suit you. In Philadelphia alone, there are 24 Marriott hotels across 11 brands!
The Liberty Bell
The first thing on my to-do list in Philly was to see the Liberty Bell just two blocks from my hotel. I walked over first thing in the morning because I had heard the lines can be long on the weekends (and because it was blazing hot out)! On the way there, I stopped to admire Independence Hall.
Finally seeing the Liberty Bell in person was a little surreal. Admission is free, and before you get to the bell itself, there's a small museum explaining the history of the bell. A great experience overall, and not to be missed if you're in town.
Dinner and Drinks at Aloft Philadelphia Downtown
One of my favorite parts of my weekend in Philly was the hosted dinner I enjoyed at Aloft Philadelphia Downtown, another nearby Marriott property. I loved getting to see a different side of Marriott (and a different part of Philly)!
The downtown Philly Aloft hotel is built in what used to be a bank. I got a short tour and got to see their gym which used to be a vault (!) and this cool seal in the beautiful stone floors: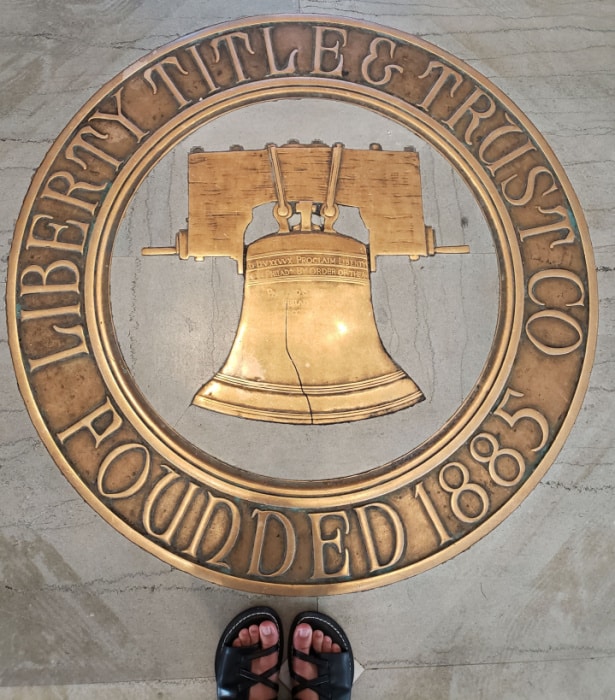 After my tour, I enjoyed several dishes fresh from the Aloft kitchen, such as tuna poke and the chef's special blueberry cobbler.
The Mütter Museum
If you're into creepy-cool stuff like me, you HAVE to visit the Mütter Museum when in Philly. It's a museum full of medical oddities like skulls and skeletons, preserved bodies and body parts, and even a whole collection full of foreign objects surgically removed from human bodies. You're not allowed to take photos inside the museum so you'll just have to go and see it for yourself!
Don't forget to go outside to see the museum's medicinal plant garden, where you are allowed to snap photos! A great place for a spooky selfie or two.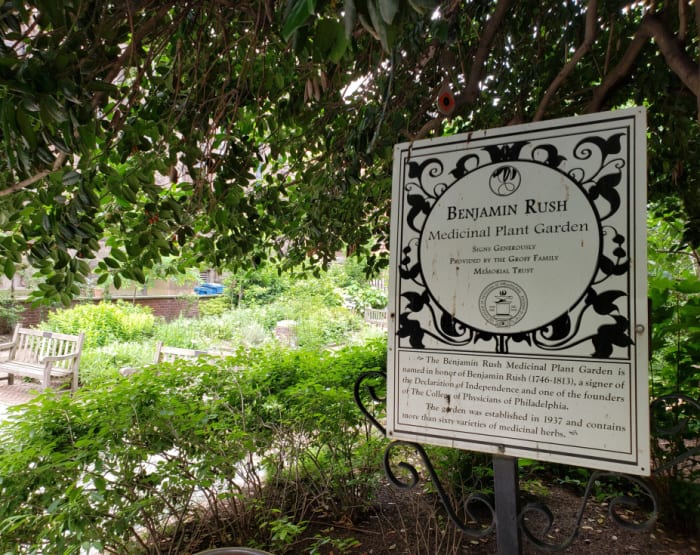 Are you convinced to visit Philly on your next free weekend? Don't forget to book with Marriott Bonvoy to get the best hotel deal!
Related Posts