I always find the best goodies when I shop in small coastal towns, and shopping in Edenton, NC is extra special because there are so many unique boutiques owned by smart and savvy female entrepreneurs.
Fierce women have long been a part of Edenton's history. In fact, one of the country's first organized women's political actions, the Edenton Tea Party was an alliance of 51 women who united against the Tea Act of 1773 and refused to drink any more tea or wear any British clothing.
That feisty female spirit is still alive and well in Edenton today. The number of women entrepreneurs running businesses in downtown Edenton is tremendous. And since women know what women want, the stores of Edenton are stylish, trendy and full of fun finds, unique gift ideas and unexpected treasures. It's definitely a go-to destination for shopping.
Feathers Boutique 
Owner April Layton began selling pre-loved clothes as a hobby in a closet-sized space five years ago never dreaming she'd be where she is today with a booming business. She still sells pre-loved items along with new clothing, accessories and gifts for all ages and body types. Her much larger and newly renovated space is beautiful, light and airy – a dreamy spot for shopping.
She received a grant from Destination Downtown to help with her renovation, and she gives back by rewarding her employees with $25 Destination Downtown dollars for each week they meet sales goals.
Feathers Boutique is a must-visit when shopping in Edenton, NC, but with online shopping available, you can also grab some goodies from home! Oh, and the name Feathers? Not only is it a nod to her heritage, but the many wisps of a feather signify the dual sides of the business (new and pre-loved) coming together to form one feather. Love that!
437 South Broad St. Edenton
Website
Victorians Boutique for Him and Her
Jacqueline-Hardy-Lassiter, a self-proclaimed die-hard Edentonian loves Edenton's southern hospitality and charm and embraces it as part of her personality. She moved back to her hometown to be an asset, and problem-solver and contribute her good to the greater community. 
Her store, which opened in May of 2016 includes her own products, local designers, painters and authors. She also carries African apparel from which part of the proceeds goes to a sponsored African school. Jacqueline is committed to reaching out beyond herself and wants to leave a legacy to inspire other young women. 
Don't miss the Edenton teapot t-shirts!
431 South Broad St. Edenton
Website
Downtown Diva 
Candace Thompson has had a passion for fashion since her early childhood dress-up days, and now she shares her love of style with a boutique full of affordable contemporary and trendy clothing and accessories. Most items are under $40, and she hand selects every product in the store. If you're looking for something modern and unique, you'll find it here!
You can also shop online from home – the online selection is fabulous and everchanging!
210 South Broad St. Edenton
Website
Finders KeepHERS 
Amy Roberson, known as Queen Bee to her friends, or QB (like quarterback) is a creative take-charge force, and her store is chock full of personally curated treasures, old and new. She began by rescuing and reviving old furniture and has gradually added new items to her store's collection – gifts, decor, jewelry, high-end faux florals and more.
Her custom paintwork and furniture refinishing skills are top-notch and have earned her the privilege of being a hand-picked Annie Sloan chalk paint stockist. Amy also teaches classes and workshops and she recently received a small town business of the year award for her efforts in expanding the downtown district, preserving a historic building and helping other start-ups launch their own business ideas by offering them short-term or month-to-month leases on business incubator space in the second floor of her store.
Oh, and the HER in "Finders KeepHERS" signifies her daughter's initials – her greatest inspiration!
100 East Queen St. Edenton
Website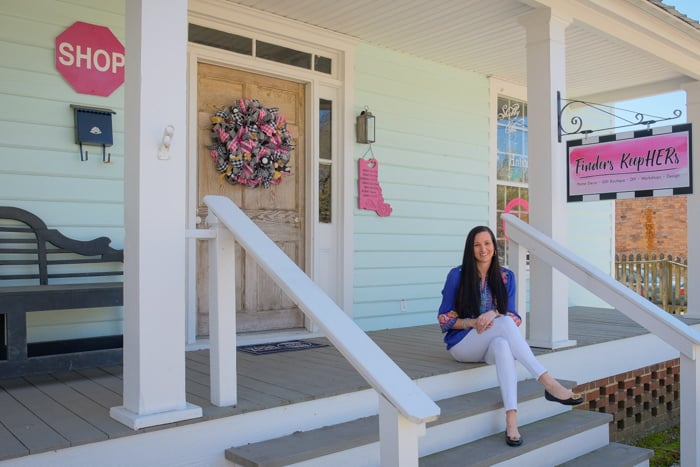 The Polka-Dot Palm 
Walk into The Polka-Dot Palm and you'll find yourself exclaiming, "how cute" to pretty much everything you see. The beachy pastel colors and southern coastal charm of the clothing, accessories, home decor and gift items will prove irresistible.
300 South Broad St. Edenton
Website
Sugar Bears Candy & Gifts
If you love fresh fudge (and who doesn't?), pop into Sugar Bears and try some fudge, truffles, turtles or any of the other delicious handmade chocolate confections. You'll also find a huge selection of candy at kid-friendly piggy bank prices.
Sugar Bears also offers soft-serve ice cream with delectable magic shell topping flavors.
405 South Broad St. Edenton
Website
Sugared Fig Bake Shoppe 
The smell and taste of sweet cinnamon rolls in the morning at Sugared Fig is like nothing else, but you'll also find the most delicious homemade bread, cupcakes and cookies. I can personally vouch for the fresh rosemary bread, oatmeal cookies and oatmeal chocolate chip cookies. Heavenly!
Garden of Readin' 
This used book shop and tea room is a cozy place to tuck in and relax for a while with a cup of organic, free trade certified tea (iced or hot) or locally-roasted coffee, and everything is brewed at the moment you order it. The used book selection changes daily, so no matter how often you visit, you're likely to find yet another book you must have. I left with an armful!
103 East King St. Edenton
Website
Chowan Arts Council and Gallery Shop
Handcrafted items from local artists fill every nook and cranny in this beautiful art gallery and gift shop located just off Edenton's picturesque and historic waterfront. The artwork in the gallery changes frequently and the gift shop sells both decorative and functional art pieces. I have a soft spot (aka addiction) for pottery, so I took home a beautiful trinket dish to add to my collection.
504 South Broad St. Edenton
Website
Between the fierce women running these amazing stores, their beautifully curated merchandise and the idyllic waterfront location of the town itself, Edenton NC shopping is definitely where it's at.
Pin this post!
Related Posts