Celebrate the joy of the holidays with our list of the best Janesville Christmas lights, festive events and fun things to do!
When I heard that the holidays in Janesville, Wisconsin were especially merry, I knew it was the place for me. So 'twas the week before Christmas nearly a year ago when I drove up north to a Wisconsin snowy winter wonderland and sub-zero temperatures. I was delighted about the snow… the arctic air, not so much.
But I had a jam-packed schedule of festive holiday activities to enjoy, so I almost didn't notice the cold. I had such a wonderful time that I thought I'd share my merry reasons to visit Janesville, Wisconsin during the holiday season because y'all should experience the magic too.
I discovered these very merry reasons to visit Janesville, Wisconsin during the holiday season when I visited as a hosted guest. Thank you, Janesville!
See the Holiday Tree Show at the Lincoln-Tallman House

Tours available November 24 through December 30, closed Thanksgiving Day, Christmas Eve and Christmas Day. $10 adults, $9 seniors & students, $6 children 6-17, veterans & members free (Free Parking) More info
The Lincoln-Tallman House is gorgeous at any time of year, but when it's decked out in holiday finery — wow! Every year they do the decorating with a new theme so it would be fun to visit as an annual tradition. When I visited it was the "12 Days of Christmas" so each room of the Lincoln-Tallman House highlighted one day of the classic Christmas song.
You'll hear stories of Christmas past and you'll hear what life was like when the Tallmans lived here.
Last year there were twenty trees that had been decorated by local non-profit organizations, and the clear stunner of the bunch was this gown-shaped tree!
Holiday Light Show at Rotary Botanical Gardens

November 24, 25, 26, 30 and December 1 – 3, 7 – 10, 14 – 23, 26 – 30. More info
I've been to many holiday light shows, but THIS is my favorite to date. It's absolutely magical, and you'd be hard-pressed to find anything like it anywhere. Stroll along illuminated walkways with nearly a half-million twinkling lights, luminaries, decorations, and a spectacular Christmas tree in the middle of a frozen pond. If you didn't have Christmas spirit before you arrived, you'll leave with it tenfold.
Jolly Jingle

December 1-3 More info
Head to downtown Janesville the first weekend in December for three days of family fun! Enjoy a lighted parade and fireworks, ice skating with Santa, live reindeer, a tree lighting, puppet show, musical games and sing-a-longs, Christmas cookie decorating and crafts for the kids, holiday market, snow tubing and more!
Pick out a Painted Poinsettia
Why should you settle for red, pink and white poinsettias when you can have purple, blue, green or striped? K&W Greenery is the best in the biz when it comes to painted poinsettias (which doesn't hurt the plant in the least, by the way). Carefully painted individually by hand, K&W's skillful master painter turns out festive beauties everyone will ooh and aah over.
Try a Wine & Chocolate Pairing
Originally an 1850's wheat warehouse, Northleaf Winery handcrafts all of their small batch wines on site. The tasting room is in the most historic part of the building and it's absolutely gorgeous. The winery is located just down the street from the Milton House so consider hitting both places in a day. Try a wine and chocolate pairing for a fun date night or girls night out.
A Christmas Carol at The Milton House

December 8-10 (Ticket sales and info.)
Hurry and get tickets because seating is limited for this unique performance of the classic Christmas tale. The audience moves through the Milton House as they experience Christmas past, present and future. Fun for the whole family!
The Milton House is also open for tours year-round, and they're incredibly good. The history here is remarkable.
See a Holiday Show at the Janesville Performing Arts Center
North Pole: The Musical – December 2, 3
Rudolph the Red-Nosed Reindeer – December 8-10
The Nutcracker – December 15-17
Enjoy a local community theater performance of The Nutcracker, everyone's favorite holiday ballet production. This year also brings North Pole: A Musical and Rudolph the Red-Nosed Reindeer to the stage!
Shop for Christmas Gifts
Carousel Consignments – This is not your mama's dusty, old antique store. It's based on consignment so there's always something fresh to see when you visit. If something doesn't sell, it moves along and makes space for something else that might. There are two floors of trinkets and treasures at reasonable prices. You'll find the store under a brightly striped awning downtown Janesville.
Raven's Wish Art Gallery – Displaying and selling the work of over 70 regional and national artists at all different price ranges, you're bound to find something you love. I have a weakness for Christmas ornaments, so I left with two of them.
Go Sledding
Try the hill at Palmer Park or one of the many other prime sledding spots in Janesville. (Call Janesville Area Convention & Visitors Bureau for hints on where to go.)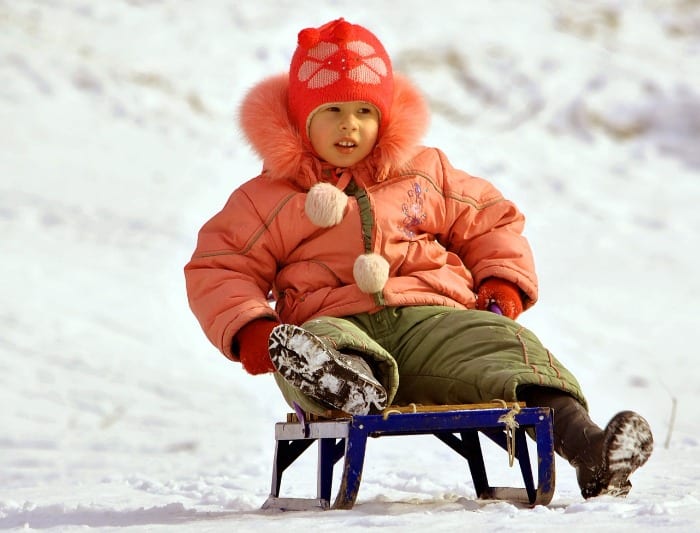 Tour the Wisconsin Wagon Company
Still hand-building classic wagons for lucky little girls and boys everywhere, this very special family-owned company is a treat for all ages. Don't be surprised if you find yourself ordering one!
---
Which of these very merry reasons to visit Janesville, Wisconsin during the holidays is your favorite? Visit the Janesville Convention & Visitors Bureau to help plan a holiday getaway to Janesville!
More Fun in Wisconsin