Have you been to Tallahassee, Florida lately? The city is bustling with energy and has reinvented itself into a fresh, lively hot spot for arts, entertainment, and culinary delights while continuing to showcase its richly historic soul. We've put together a list of things to do in Tallahassee that highlight the newest changes and the can't miss favorites. Spend a couple of days in Florida's Capital City, and you're sure to fall in love with it again (or for the very first time).
Visit Cascades Park 
Cascades Park, 24 acres of green space in the heart of downtown Tallahassee (on what used to be a toxic waste site) is now the social epicenter of a thriving, connected community. There are always kids playing in the fountains and dozens of people strolling, jogging, walking pets or just relaxing here. Cascades Park is also home to a 3,500 seat outdoor amphitheater.
Stop at the Museum of Florida History
This museum begins with Florida's pre-history 12,000 years ago and the giant mastodons that roamed its very un-tropical landscape. Walk through time and an impressive collection of artifacts and exhibits unique to the state and its development.
Explore the Tallahassee Museum
Definitely not a museum in the traditional sense of the word, this 52-acre property brings together wildlife, nature and history in a way the whole family will love. Stroll the boardwalks through native habitats of flora and fauna, explore the past through living history exhibits and marvel at Jim Gary's brightly colored dinosaur displays made from reclaimed auto parts.
Visit the Florida State Capitol Complex
With towering magnolia trees and red and white striped awnings, the 1902 historic Old Capitol Museum has been renovated to its original splendor and is a beauty from the outside, but be sure to go inside and see the art glass dome, the old house and senate chambers and a variety of exhibits about Florida's political history (including one on the "hanging chad" election).
Behind the Old Capitol, you'll find the new Capitol building, and although it's not nearly as picturesque, it's worth taking the elevator to the 22nd-floor observatory and art gallery for a lovely view of Tallahassee.
Explore the All Saints Art District and Railroad Square Art Park
The arts and culture district of Tallahassee is full of galleries, public art, working studios and shops, and there are always events going on including each month's "First Friday Gallery Hop". Proof Brewing Company has a beer garden, live music, outdoor games and a tasting room. A short few blocks separate the art district from Collegetown.
Rediscover the joy of books
The Midtown Reader, a new independent bookstore in you guessed it… Midtown, is full of delicious new reading possibilities. There's something magical about a bookstore, and the staircase leading to the entrance hints at just how special this one is.
Scout Tallahassee's Downtown Market
Every Saturday from March through November, the sound of bagpipes welcomes shoppers to the weekly market where vendors sell fresh produce, handcrafted arts, baked goods and more.
Check out Florida State University and the Unconquered statue
Spend a day at Mission San Luis
This national historic landmark is the only reconstructed 17th-century Spanish mission in Florida. History comes alive through costumed living interpreters, hands-on exhibits, recreated period buildings and archaeological excavations. There's a lot to see and do here, so allow plenty of time!
Tour the Grove Museum – Call-Collins House
First the plantation home of territorial governor Richard Call (who owned the slaves that built the house) and later the home of Governor Leroy Collins (a civil rights activist), it's the cultural transition of its residents that really brings to life the historical significance of the area's oldest antebellum home.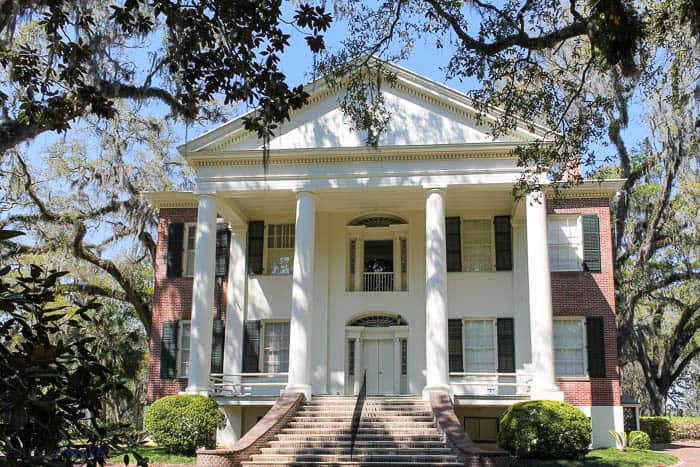 Peek at the Governor's Mansion
Located near the Grove in the midst of gardens and under the shade of live oaks, this beautiful mansion was designed to resemble Andrew Jackson's Home, "The Hermitage". Tours are by appointment only.
Take the 'T'
This free trolley operates Fridays and Saturdays from 4:30 p.m – 1:30 a.m. and connects downtown, Midtown, College Town and Cascades Park. Trolleys visit each stop about every 30 minutes.
Marvel at the Cascades Solar Bridge
Touted as the most eco-friendly pedestrian bridge in the U.S., the solar canopies were designed as a nod to Tallahassee's own canopy roads. Solar energy powers LED lights that shine in themed colors along the walkway connecting the greenway to Cascades Park.
Check out a classic car collection
More than 140 rare vehicles are on display at the Tallahassee Automobile Museum including three Batmobiles and an 1894 Duryea, one of the oldest autos manufactured in the U.S.
Stroll through Maclay Gardens
Miles of hiking and biking trails wind through the more than 1,000 acres of gardens within this state park. The best time for a visit is in late winter through late spring when the gardens are bursting with blooms.
Drive the Canopy Roads
Take a drive through the shade of Spanish moss-laden live oaks, pines, hickory and sweet gum trees on any of Tallahassee's nine official canopy roads. You can download a map of all 78 miles here. Be sure to stop at Bradley's Country Store where you'll step back in time to 1927 when this family-owned business first opened. Listed on the National Register of Historic Places, it's a local treasure, and rumor has it the homemade sausage and country milled grits are everything.
Enjoy cocktails with a view at Hotel Duval's Level 8 Roof Top Lounge
Visit a historic juke joint
Seemingly out in the middle of nowhere, the Bradfordville Blues Club lies at the end of an old dirt road in the middle of the woods, and when you walk into the one-room cinder block building you'll hear some of the best blues being played anywhere.
The club (a stop on the Mississippi Blues Trail) is open on Friday and Saturday nights and hosts different musicians every weekend, but the sound is always deep, gritty and soulful — exactly like old-time blues should be. Put this at the top of your things to do in Tallahassee list. You won't regret it.
As you can see there are tons of fun things to do in Tallahassee! For help in planning a trip, your best resource is VisitTallahassee.com and keep an eye out for more posts from me on Tallahassee including outdoor adventures and the best places to eat.
More US Travel Ideas