When it comes to exploring the aquatic wonders of Panama City, Florida, my recent boat tour with Flippin' Awesome Adventures can't be beat.
Led by a seasoned marine biologist, this tour provides up-close encounters with the fascinating underwater creatures and wildlife that call St. Andrews Bay and Shell Island home. With a blend of hands-on interaction and educational tidbits, this adventure is a must for anyone seeking an unforgettable Panama City experience.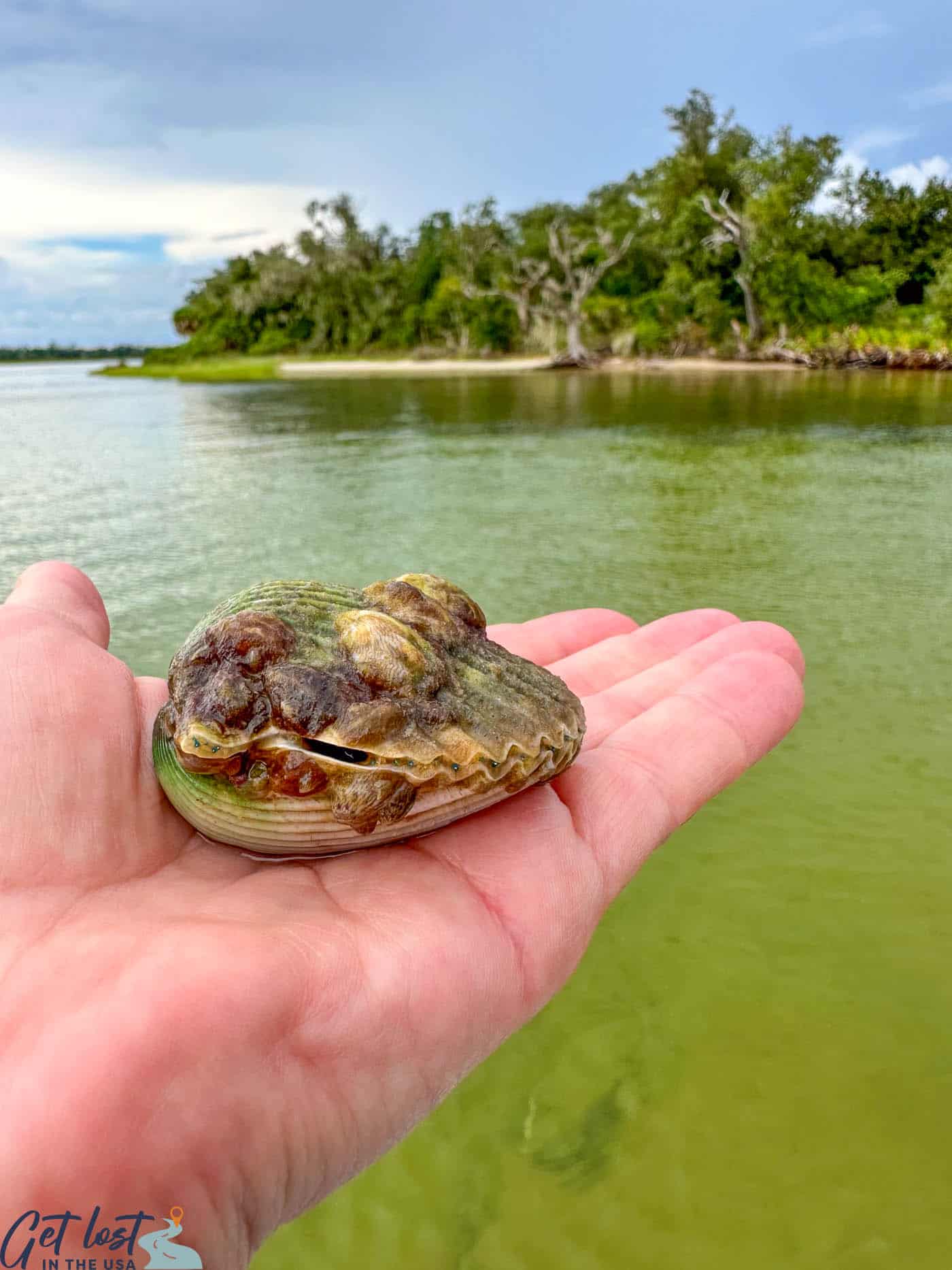 Flippin' Awesome Adventures Expert Guide
Captain Chris is the heart and soul of this extraordinary Panama City boat tour adventure. With an intimate knowledge of the local aquatic life, he guides you through the shallow waters of St. Andrews Bay and Shell Island, sharing his passion and expertise. His enthusiasm is infectious, and you'll quickly be captivated by the underwater world.
From the moment you leave the dock, Chris points out any wildlife he sees, and dolphins can be spotted year-round! As we headed to Shell Island, we saw snowy egrets, a heron, and an Atlantic stingray. And when we reached Shell Island… that's when the real fun began.
Close Encounters
One of the standout features of this tour is Captain Chris's unique approach to showcasing marine life. Armed with snorkel gear and an expert eye, he dives in search of intriguing sea creatures. He gently brings them back to the boat for a closer look, allowing passengers to touch and hold them – a thrilling and educational experience.
We had time to touch and learn about sea stars, hermit crabs, arrowhead sand dollars, and scallops before an approaching storm sent us back to shore. Safety is the priority!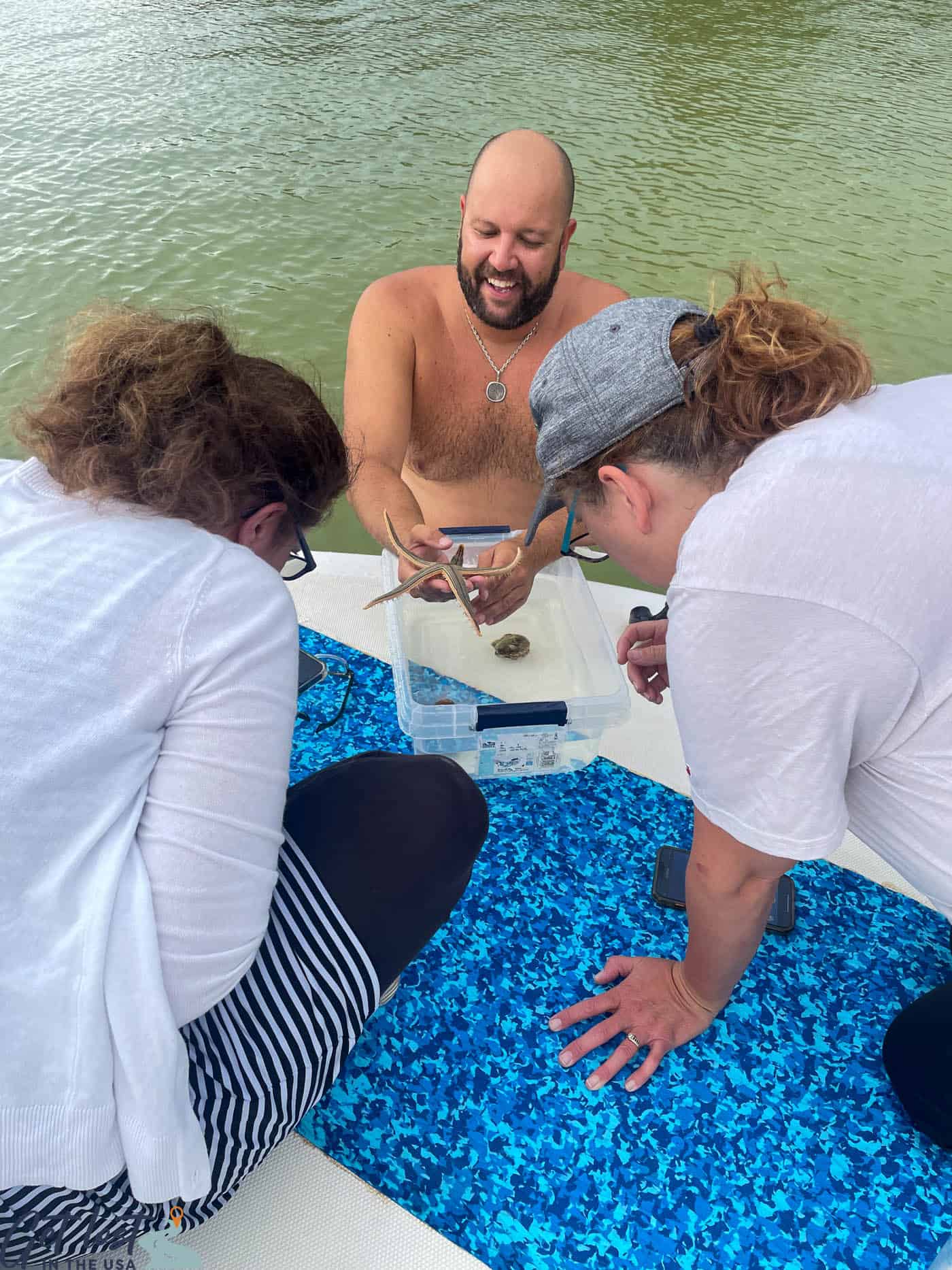 Fascinating Tidbits
As you gaze at these mesmerizing creatures, Captain Chris shares intriguing facts about each species. Did you know that starfish are sea stars? (Despite their commonly known "starfish" name, they're not fish. So from now on, call them sea stars!)
Learning about what you see adds depth to the encounter and fosters a deep appreciation for the area's rich ecosystem.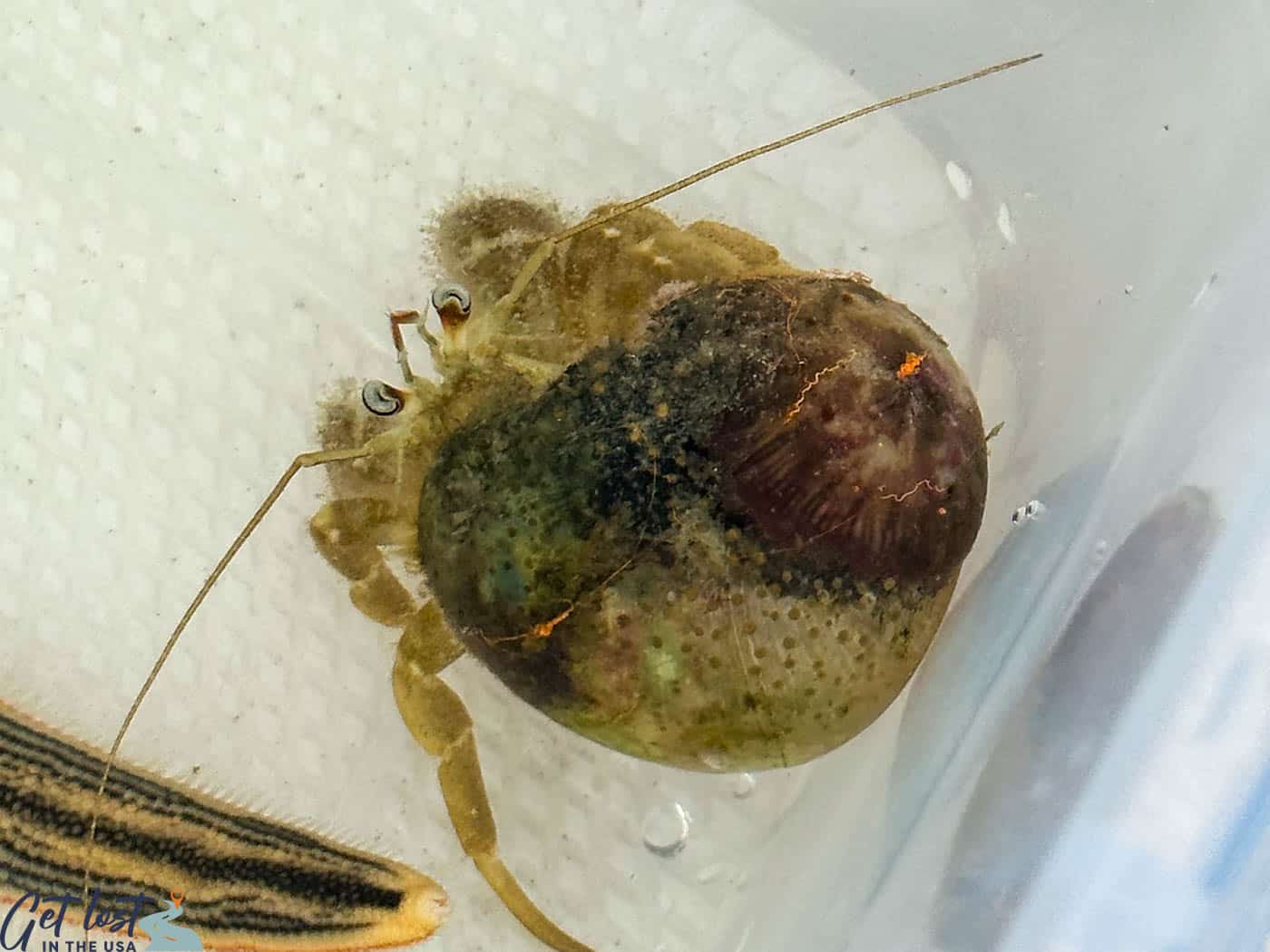 Snorkel and Explore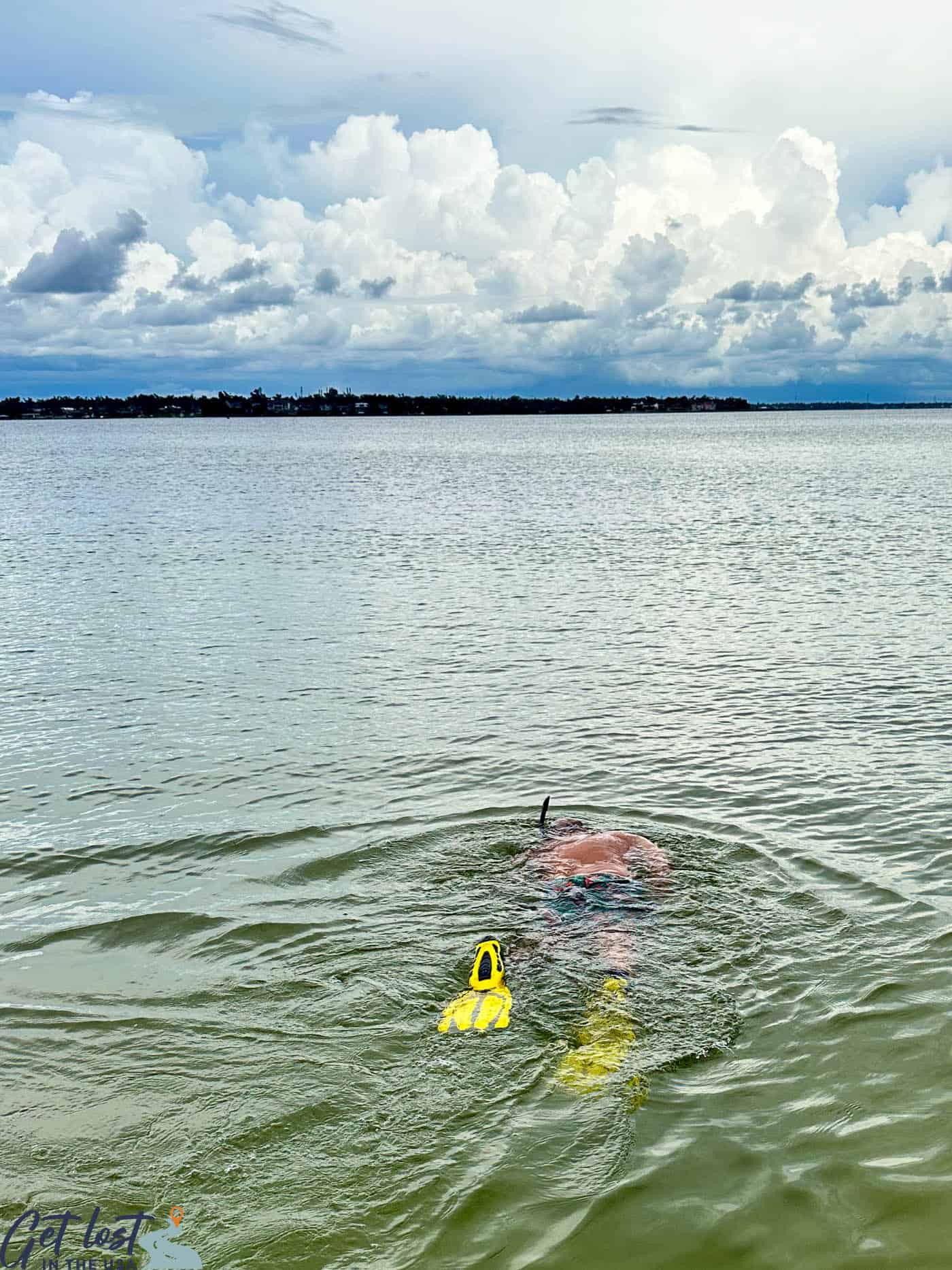 After observing the sea treasures Captain Chris finds, you have the chance to do a bit of snorkeling around Shell Island yourself.
Respect for the Environment
Captain Chris's passion and respect for sea life is evident. Every creature brought aboard is treated with the utmost care, and all are safely returned to their underwater homes after the encounter. This commitment to responsible tourism and sustainability ensures that future generations can also enjoy these natural wonders.
A Three-Hour Journey to Remember
Flippin' Awesome Adventures offers two and three-hour Panama City boat tours. For the ultimate experience, I highly recommend opting for the three-hour tour. It provides ample time to soak in the sights, ask questions, and fully immerse yourself in the adventure.
Overall Thoughts
A Flippin' Awesome Adventures tour is a must-do for anyone visiting Panama City, Florida. Interacting with and learning about marine life leaves you with lasting memories and a newfound appreciation for the incredible world beneath the waves. It's nothing short of flippin' awesome!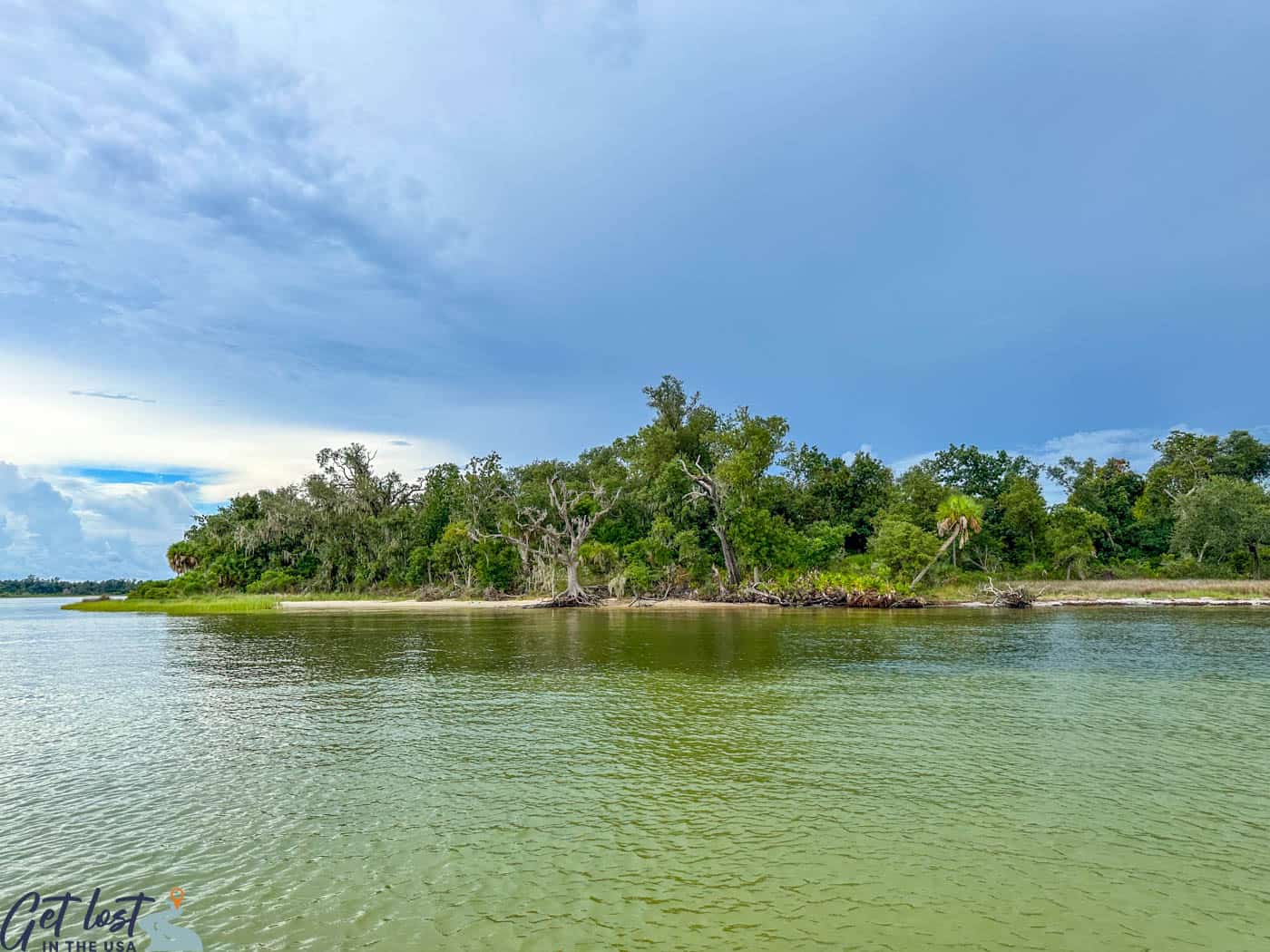 Private Panama City Boat Tours with Flippin' Awesome Adventures
Website
Two or three-hour tours – 3 hours is recommended!
Tours are private: your family/friends only!

More Travel Ideas