As part of my recent Charlottesville girlfriend getaway, I had the chance to soak up some uniquely local flavor by exploring the Monticello Artisan Trail. 
We drove through the beautiful Virginia countryside to visit a selection of one-of-a-kind craft artisan studios, wineries and breweries, eclectic shops, restaurants and historical spots.
The best part of doing a "trail" is that you can completely personalize it to your likes and dislikes, and make as many stops or as few as you want.
Once you decide where to go, print out a driving map for your destinations and hit the road. Keep in mind that some artisans only open their shops by appointment, so make sure you call ahead.
The Barn Swallow
Inside this restored 19th-century barn which oozes with character, you'll find an eclectic mix of Virginia-handmade gifts including pottery, jewelry, stoneware, woodwork and more. It's a really fun store to shop in. Unique finds are at every turn, and there are about 80 different artisans representing. The most popular pieces are the owners' pottery and stoneware , but jewelry and woodwork also do very well. It's definitely worth a stop!
Two Owls Pottery
This is a story of jockey turned potter! It's such an interesting career change, right? Roslynn's artistic eye and Native American heritage come together beautifully in her pottery designs, and we were very fortunate to be able to visit her studio as it's open only by appointment.
I still can't stop thinking about the mini monkey bread pots she had for sale. Why didn't I get one when I could?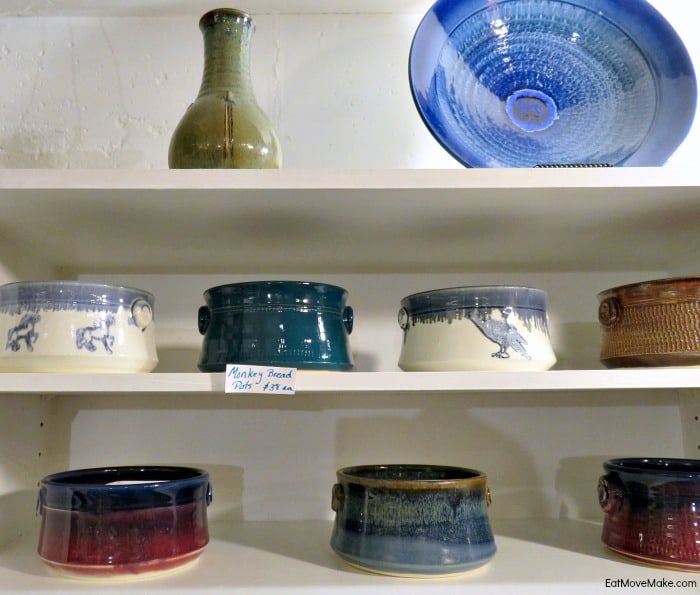 Starr Hill Brewery
Named after the Starr Hill neighborhood where the original brew pub and music club was located, Starr Hill Brewery won me over with the very first beer we tasted,"The Love," a light and fruity brew, perfect for summer. It was the clear favorite of our entire group. (See the one empty glass I have below. ..yeah, that's The Love.)
Stop by for a tasting Wednesday – Sunday, and you're welcome to bring your own food! Free brewery tours are also available on the weekends.
Crozet Artisan Depot
Not only will you find Virginia artisan gifts in this old train depot building, but you might find the artists themselves working away on their latest creations. 
Be sure to take a look at the beautiful quilt behind the counter too. A photograph of the depot was independently quilted into five sections by different crafters and given together as a gift to the artisan depot.
Pinnell Custom Leather
It's no wonder there is such tremendous loyalty for the custom leather work of Chuck Pinnell and his skilled artisans. Whether it's a belt, chaps, a watch band or a hand bag, it's artfully designed and created. The studio is housed in a pre-Civil War train depot, and many visitors pop in just to see the building and find out what's inside.
Chuck's leather work experience was cultivated while working for several years in Colonial Williamsburg, and with his obvious knack and talent, he could begin his own studio.
When we visited the shop, Gene was working on an alligator belt that had been cut from a hornback gator tail. He showed us how the thick and tough hide needed to be sanded in order to be pliable enough to act as a belt.
Lawton was working on an alligator watch band. He showed us how the entire hide is sent from the tannery, and they use virtually every part of it: the tail for belts, the chin for wallets, throat for watch bands, belly for planners and bags, and so forth.
They work mostly with calfskin leather, but they also do exotics like alligator, lizard, ostrich, snake, shark and they even have big game hunters bring their hides in, like elephant. The most frequently ordered items are belts, chaps and cuffs, and typical turnaround is 8-12 weeks, however they're often able to make them in a single day once they start the work.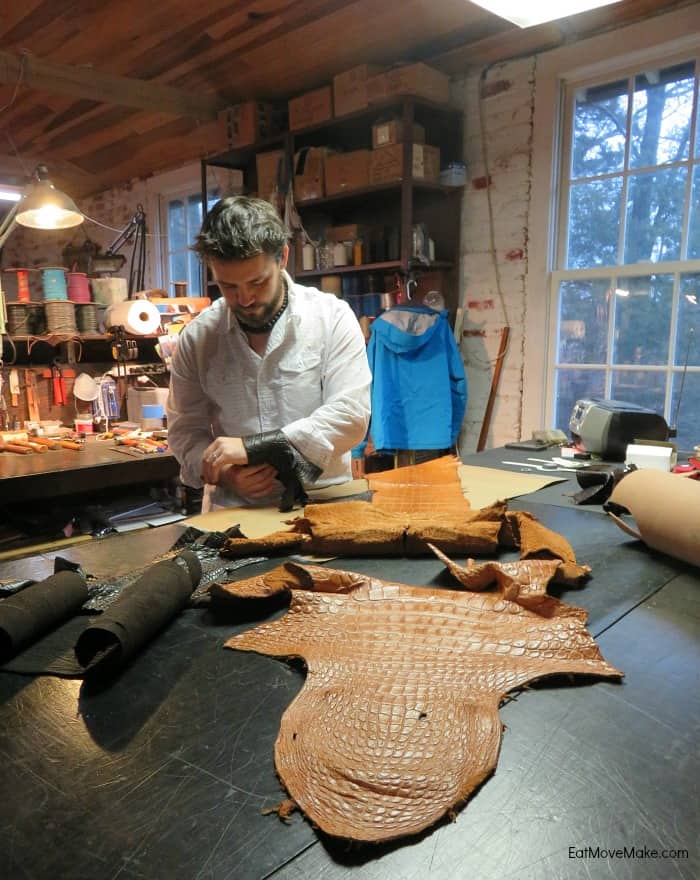 I hope you enjoyed this little peek at the Monticello Artisan Trail. If you visit the Charlottesville, Virginia area, you should definitely stop at a few of the trail sites. Visit the Artisan Center of Virginia website for more details on this trail and on other Virginia trails.
More Virginia Travel