I've got one word for ya: Avalon. Alpharetta. Ok, that's two words, but I had to tell you where Avalon was. It's in Alpharetta, Georgia and it's hap.pen.ing.
Atlanta ain't got nothin' on the suburbs anymore! It's always fun to take a trip into the city, but you don't have to when the best eats, shopping and entertainment can be found out in the 'burbs, and Alpharetta has got it going on. Big time.
Read Next: Fun Things to Do in Henry County, Georgia | 5 Outdoor Adventures in Columbus GA (Rafting, Ziplining & More!)
As part of a press trip, my daughter and I experienced awesome Alpharetta restaurants, shops and fun in Avalon, a sustainably designed upscale neighborhood community infused with shopping, dining and residential living. And it's walkable! There's so much to do there that you could easily spend an entire day or more exploring it. There are also tons of things to do in Dahlonega GA, less than an hour away.
1. Shop!
Avalon offers a diverse collection of 56 premium retailers in an open-air pedestrian-friendly neighborhood. Shop 'til you drop!
2. Have lunch at El Felix
Enjoy Texas-style Tex Mex in a casual roadhouse environment. Everything is made in-house and ingredients are grilled over a mesquite wood fire. So good!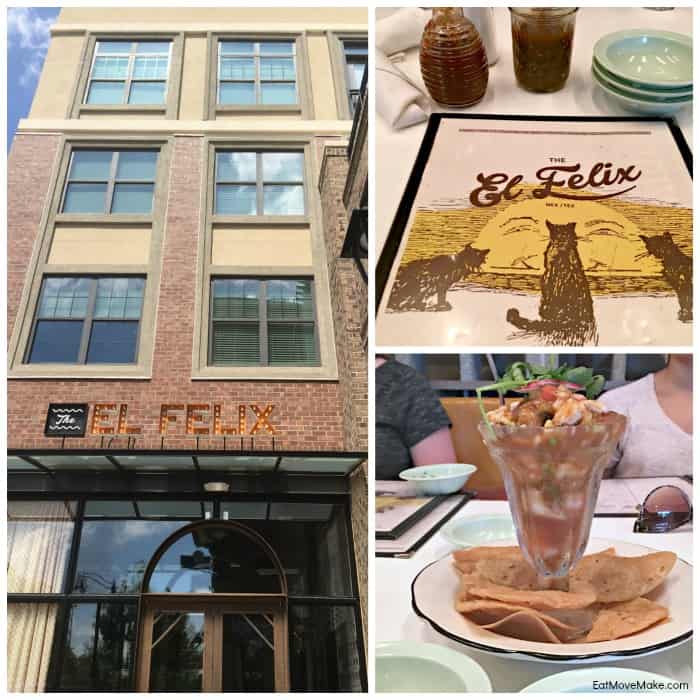 3. Take a train ride
All ages can enjoy a $5 trackless train ride on the Avalon Express down Avalon Boulevard.
4. Treat yourself to gelati at Caffe Antico
This gelateria serves a variety of gelati flavors, all imported from Bologna, Italy.

5. Go on a squirrel treasure hunt
There are 12 squirrels scattered throughout the property, so challenge yourself to find them on your own, or pick up a map at the concierge!
6. Take a cooking class at Salud!
Whether you're a beginner or an expert, you'll have fun, learn a few tricks and eat some amazing food during your cooking class located inside Whole Foods. Register in advance!
7. Design your own jewelry at Kendra Scott
Shop from the displays or make your own piece of jewelry at the Color Bar. Choose a design, metal and stone color, and the experts will put it all together for you to wear immediately or give as a gift later.
8. Enjoy happy hour at Ted's Montana Grill
Grab a seat on the outdoor patio and wash down some bison sliders with Ted's "Newly Fashioned," a modern twist on the classic Old Fashioned.
9. Listen to live music in the plaza
Every Friday night through October, shoppers can enjoy live music in the plaza from 6-8 pm as part of Avalon Nights Live.
10. Have dinner at Oak Steakhouse
Amazingly delicious, classy and traditionally styled steakhouse serving locally sourced beef and Georgia-grown ingredients. This is hard to beat.
11. See a movie
A great way to end your day and rest your shopped-out feet, especially since every seat in each of the twelve theaters fully reclines.
12. Go ice skating
From mid-November to mid-January, the plaza morphs into a Rockefeller Center-sized ice skating rink decorated in holiday lights and decor.
Photo credit: Alpharetta CVB
This list of things to do is not exhaustive, and Avalon continues to grow! If you want to spend a good bit of time, you may want to stay at the 'Hotel at Avalon,' a Marriott Autograph property with 330 guest rooms and suites.
For more information on Avalon, visit the website.
Related Posts