When it comes to hotels in Dubois PA, there are plenty of options, but only one is part of Doolittle Station – an unforgettable roadside attraction right off I-80 and a definite Clearfield County highlight.
Where else could you be greeted by a T-Rex, three hatching "somethings" and a Bigfoot eating an ice cream cone?
Nowhere else, I promise.
At first glance, Doolittle Station is primarily a collection of unique eateries and in fact, it did begin as a cafe and creamery. But nowadays, visitors will also find a bed and breakfast, animatronic dinosaur museum, mini-golf, laser tag, a brewery, model train museum and goats. Yes, goats.
Most of the attractions at Doolittle Station are located inside renovated rail cars and the three with the most fascinating histories (Teddy Roosevelt's campaign train and two cars from the Barnum & Bailey Circus) are part of the Bed and Breakfast.
STAY AT DOOLITTLE STATION
I had the opportunity to stay as a guest in the "Teddy Car" aka the Presidential Suite – a historic 1901 Pullman Car used by Teddy Roosevelt himself during his presidential campaign's northern tour. It's the largest and most lavish of the sleeping car options and the most expensive at $200 a night.
The entry foyer is where guests will find a modern bathroom and shower, mini-fridge and coffeemaker. It's also where breakfast treats will be delivered.
But it's the historical part of the train that makes your stay at Doolittle Station memorable.
Polished woodwork lines the rail car from end to end and the original extravagant furnishings remain. Imagine sitting where Teddy Roosevelt himself sat — such a cool way to experience history.
Since there are several sleeping chambers (some of which are bunk beds) in the Presidential Suite, it would be a great place for a family to stay. It's a very long rail car!
It's especially fun to explore and poke into all the nooks and crannies on the train to see what you can find.
Spoiler alert: In the old restrooms, you'll find flowers that serve as a reminder to use the modern bathroom as the vintage toilets are no longer in service.
Staying in the Presidential suite at Doolittle Station was surreal and a really unique way to step back in time. I highly recommend it!
For a less expensive but no less authentic overnight experience ($100 nightly), choose one of the two cabooses for your stay: a blue Conrail 21165 Caboose or a red New York Central Caboose.
And if you'll be arriving this spring or summer, you'll have the additional option of staying in one of two former Barnum & Bailey circus cars currently undergoing renovation. One was the ringmaster's car and one was for circus workers.
EAT AT DOOLITTLE STATION
Roadside Cafe & Creamery
The original restaurant at Doolittle's is the first thing you see when you drive in and the prices are beyond affordable. It's no wonder they sell over 45,000 hot dogs and 25,000 cheeseburgers a year. You can get an original Baileys dog for $0.49 and a cheeseburger for just $2.75. And if you love Penn State Creamery ice cream, you'll find that here as well!
Railcar Pizza
All scratch-made pizzas are served up in a 9-inch size and cooked in a stone hearth oven. Guests can dine on the pizza train or have it delivered to the brewery next door (like I did). Speaking of the brewery, try the pizza dough made from spent brewery grains – it's delicious!
Box Car Brew Works
This nano-brewery in a train acts as an incubator for small-batch home brewers allowing them to use the equipment and develop the experience needed to potentially launch their own brands down the road.
There's always something new on tap (I loved the blueberry shandy) so it's a fun place to visit again and again. There's a pub-style food menu or you can order a pizza from next door.
The taproom and dining room are housed in two different rail cars and the vibe is pretty darn cool.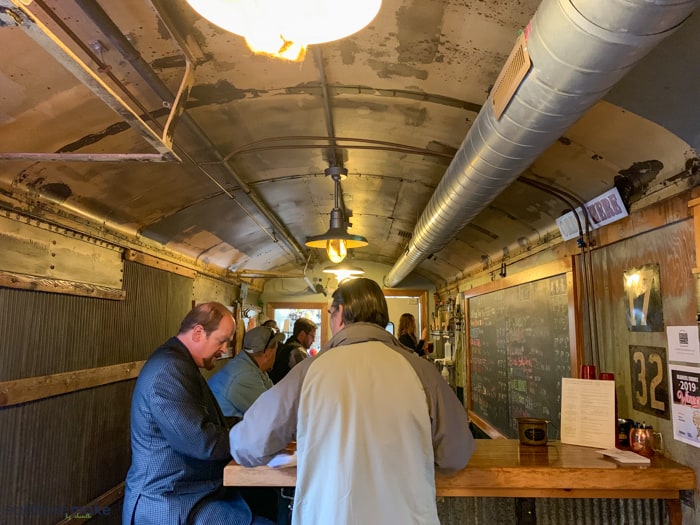 There's a cozy and dog-friendly outdoor seating area overlooking the mini-golf course too.
Diner Car (A 50's experience)
If you love the 'Fifties', head to the Diner Car for dinner! Not only is the decor throwback vintage but the car is a 1950's passenger car. Try the Railroader Burger, the Happy Hobo Platter or the popular Reuben sandwich and wash it all down with a milkshake or rootbeer float.
Parlor Car for Fine Dining
For a more upscale dining experience, the parlor car offers farm-to-table cuisine in a beautifully renovated and very rare 1913 Pullman Car. You can also reserve a private dining room for your extra special occasions. The parlor car is only open Friday and Saturday evenings.
Caring Caboose
For families with special needs, the Caring Caboose offers the experience of dining out in a less stimulating, private environment. Advance reservations are required and special diets can be accommodated.
PLAY AT DOOLITTLE STATION
Doolittle's Dinosaurs Interactive Dinosaur Museum
Several ferocious dinosaurs guard the door to the museum and tease you as to what's inside… more dinos!
You'll get up close and personal with nearly two dozen moving, roaring, "breathing" dinosaurs as you wind your way through the interactive exhibit of creepily lifelike creatures.
Since many of them are motion-sensitive, they'll be ready and waiting for your approach.
Kids and adults alike will love it, and Jurassic Park fans will get a huge kick out of seeing "Blue". She's a knock-off, of course, but a darn good one.
Keep an eye out for the dinosaurs you can ride.
There's also a fun photo op where you can "hatch" from a dinosaur egg and a place where kids can dig for fossils.
Wait, that's not all. There's also a display with skeletons, bones and fossils for kids to explore and a gift shop full of kid-pleasing trinkets.
Did I mention the admission fee to Doolittle's Dinosaurs is a mere $5? Dino-mite!
Mini-Golf
Who wouldn't want to golf with dinosaurs? This 18-hole mini-golf course is open for play at a nominal fee and guests of the B&B can play for free.
The Depot at Doolittle's
This recreation of an 1800's B & O Railroad Depot houses a museum, gift shop and the entrance to two of the Doolittle Station restaurants mentioned above: the Diner Car and the Parlor Car. It's definitely worth your time to go inside and look around.
Model Train Museum
There are nine different track and train layouts some of which have interactive push buttons kids will love.
Also at Doolittle Station but not pictured are goats, laser tag, glow golf and a birthday party room. This entertainment complex has it all and with its location by I-80 and the fact Clearfield County is halfway to everywhere, it's the perfect place to stop while traveling.
For more info on Doolittle Station, head to the main attraction website and visitor information on Clearfield County, head to visitclearfieldcounty.org
Pin this Doolittle Station post to Pinterest for future travel inspo!
If you're staying in the fall, be sure to spend some time viewing the elk!
More Travel Ideas