The restaurants in York PA are so FUN!
I was not expecting such a diverse, interesting collection of eateries when I visited York County last summer for a press trip.
Each restaurant had quirky and unique menu items that stretched my picky palate to new places. I was surprised and delighted with everything I ate and can't wait to go back and try more!
RESTAURANTS IN YORK PA (AND YORK COUNTY) YOU HAVE TO TRY
THE FIRST POST PUBLIC HOUSE
3691 E Market St, York, PA 17402
Website
My first lunch in York was at The First Post and before I even set foot inside, I was intrigued. Its name pays homage to its early days as an inn when many a weary Lincoln Highway traveler would stop here upon entering York.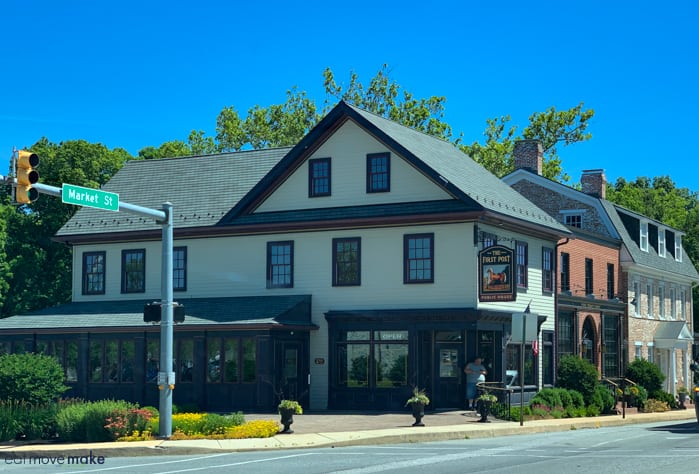 The exterior of The First Post was designed to create the nostalgia of an old-time village street scene and the attention to historic detail continues inside with an early 19th-century bar, pressed tin ceilings, oak woodwork and my favorite feature — wrought iron railings that line the second-floor balcony seating area.
It's a beautiful place!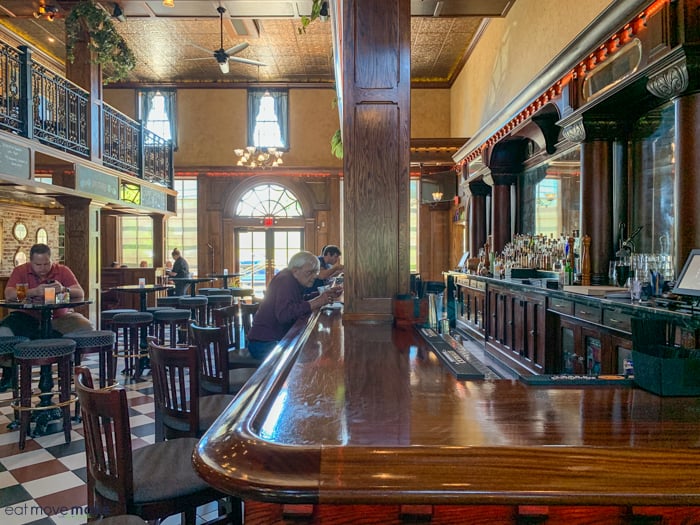 The lunch menu features soup, salad, sandwiches, seafood, pasta and an extremely tempting selection of appetizers including Scotch Eggs, Shrimp Tempura, Burrata and even Charred Octopus. There's something for everyone at The First Post.
I settled on the Jammin' Bacon & Cheese sandwich with smoked gouda, tomato jam and smoked bacon on grilled wheatberry bread. Delicious!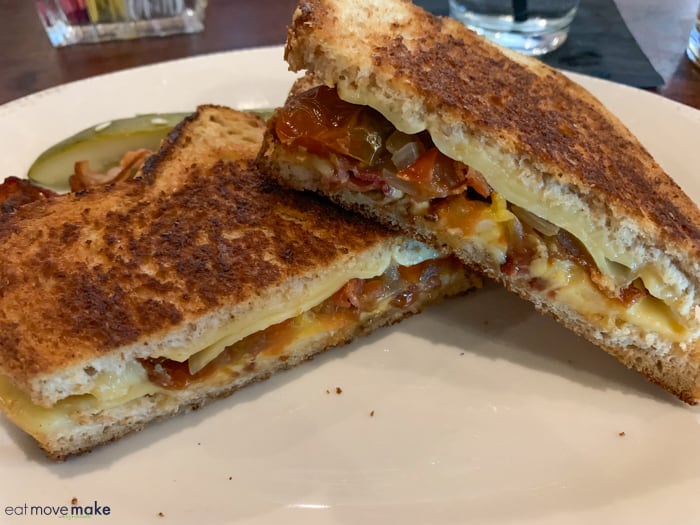 VICTOR'S ITALIAN
554 S Ogontz St. York, PA 17403
Website
Serving up authentic Italian cuisine since 1984, Victor's Italian Restaurant is a hugely popular restaurant in York and it's not just because of its mouthwatering menu. Victor's is located inside an 18th-century church (sans the original bell tower).
A classic example of adaptive reuse, the church building went on to be a grocery store, barber, salon and bar and grill before it became the well-loved Italian trattoria it is today.
Local lore has it that the original owners named the restaurant after the chef they had hired from South Philly to open it. Unfortunately, "Victor" never showed up for work. Ouch! They decided to stick with the name anyhow. No idea if it's true, but it makes for a fun story.
Now about the food…
After enjoying half a loaf of warm artisan bread dipped in house-infused olive oil, my seasonal entree of Radiatore Primavera arrived. The sauce was light and bright and the vegetables were bursting with flavor. I couldn't have loved it more – so fresh and delicious!
ROOST UNCOMMON KITCHEN
35 W. Market St. York, PA 17401
Website
With a self-proclaimed tag of "uncommonly awesome", my expectations were high for this brunch all-day restaurant in downtown York City. And let me tell you… it did not disappoint. The hype is legit.
Guests order their breakfast or lunch items at the counter and then a server brings the food out to your table.
I ordered what's called a 'Garbage Biscuit' – a scratch biscuit with apricot butter, piled high with crispy hash browns, house-cured bacon, house-smoked pulled pork, sausage gravy and queso and it's usually topped with a fried egg but I opted for scrambled.
OMG. How do I even describe the deliciousness of that sinful plate of magic? It's one of the best breakfasts I've ever had while traveling. So naughty but so dang good.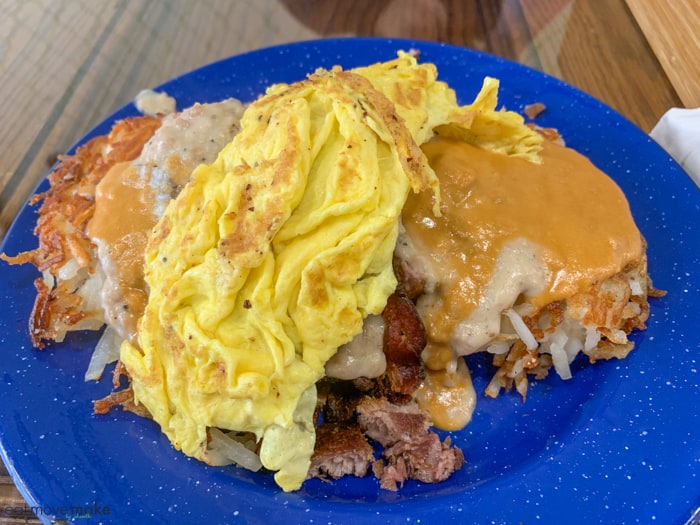 DISTRICT THAI
1057 North George St. York, PA 17404
Website
My first time eating Thai food was at District Thai and I'm so glad I pushed myself to go for it. I loved the modern decor and ambiance of the restaurant, portions were very generous and everything was incredibly fresh and flavorful.
We ordered fried cream cheese wontons for an appetizer and then I tried Drunken Noodles for my entree – stir-fried wide rice noodles with egg, bell pepper, onion, bamboo and bean sprouts with fresh, basil in a special house-made Thai sauce.
Word has it that District Thai serves the best Thai food in York and I believe it. Fantastic experience!
CROSTWATER 
506 Industrial Dr. Lewisberry, PA 17339
Website
The atmosphere of Crostwater Distillery & Tasting Room is really inviting. I loved all the reclaimed 1901 barn wood!
Whether you grab a table for dinner as I did, cozy up to the bar for a spirit tasting or tuck into one of the cozy couch areas, you'll feel at home with friends. The night I went in for dinner was trivia night and people were arriving in droves. It's clearly a popular place.
The menu changes frequently which makes repeat visits all the more fun. I ordered a veggie stir fry (very good!) and we couldn't resist trying the locally made lemon, lavender and honey ice cream for dessert. If it's available, it's a must-try!
By the way, I recommend taking the distillery tour (it's the best one I've ever taken – super interesting) but I'll talk about that and the spirits in another post.
CENTRAL FAMILY RESTAURANT
400 N George St. York, PA 17401
Website
Close to historic downtown, this restaurant in York is the perfect place to fuel up before exploring downtown York City.
From the outside, it doesn't have a lot of curb appeal (it looks like a warehouse) but on the inside, it's a cute and cozy diner filled with historic local memorabilia.
The building was originally home to York Sanitary Milk Company where Purity Ice Cream was sold from a storefront. There's a fantastic photo of an old Purity Ice Cream cart on the dining room wall.
The menu was full of classic favorites like my eggs, bacon and toast breakfast and lots of homestyle specialties, like their award-winning cream of crab soup.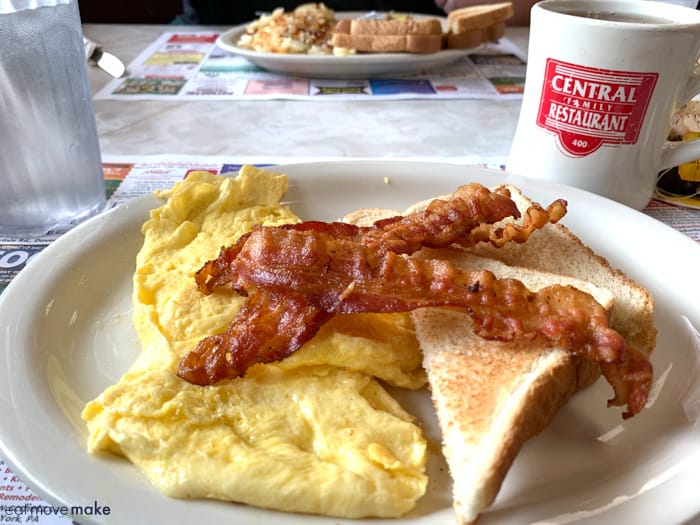 It's not the fanciest of places to eat in York, but it's down-home feel-good food and sometimes that's exactly what the heart wants.
Central Family Restaurant serves breakfast, lunch, dinner and dessert.
CENTRAL MARKET
34 W. Philadelphia St. York, PA 17401
Website
The beautiful red brick market building is listed on the National Register of Historic Places and it takes up nearly an entire block. It truly is the heart of the city.
A fixture in downtown York since 1888, this historic public market has vendors selling everything from fresh meat and seafood, sandwiches, salads and soup to artwork, home decor and adult beverages.
And it was very clear that gathering for coffee and lunch at Central Market is popular. The market was hopping with people!
It was a tough decision but I ended up getting a delicious sandwich from Roburrito's. There was a bit of a wait but it was so worth it.
I hope some of these delicious places to eat in York PA tempt your taste buds. Let me know if you try any of them, and keep an eye out for more from me on York. I had a BLAST there!
Pin these places to eat in York PA to Pinterest.
For more information on the York PA Area visit yorkpa.org and check out what I wrote about neighboring Adams County and an incredible food tour in Gettysburg
Related Posts