When it comes to good eats, Duplin County boasts some pretty incredible options. From classic sandwiches and salads to mouthwatering BBQ to some of the best pastries you'll ever try, there's some dang good dining in Duplin.
All you have to do is show up!
The Filling Station
Right next door to… you guessed it, a filling station, is The Filling Station restaurant – THE place to go for breakfast or lunch.
This hometown favorite touts itself as having the "best burgers in town," and if you're a fan of the snappy red hot dog so popular in Eastern North Carolina, you'll find that here too!
I ate my way through the area as a guest of Duplin County Tourism. My opinions are mine alone.
The menu is full of time-tested classics that'll keep you coming back, but there's always a daily special or two worth checking out. Of course, the throwback prices and the fabulous service don't hurt either.
If you love burgers, flour burgers (and regular burgers) are on the menu and definitely worth a try. In other regions, flour burgers are sometimes called slug burgers or dough burgers.
What's a flour burger, you ask? A flour burger is made with a mixture of ground beef, flour, and onion. It's thought to have been born in the Depression-era when the flour served as a filler to further stretch the beef.
While I didn't order a flour burger (shame on me), I did enjoy one of the best BLT sandwiches I've had in a long time. It had an extremely generous amount of crisp bacon—my favorite part.
Also, a customer favorite on the menu—the roast pork sandwich!
The Filling Station
Hours: 7 am-2 pm Monday-Friday and Tuesday and Thursday evenings for dinner. Sorry, no weekends!
312 N NC 11 Hwy 903
Kenansville, NC 28349
Facebook page
The Country Squire
This popular Duplin County restaurant has been going strong for 59 years. The eclectic decor reads part log cabin, part medieval dungeon, and part Scottish Highlands and the unusual melange makes it all the more interesting.
This popular restaurant has been a community icon for 59 years! Since day one, the Korean Beef has been on the menu, and it's still one of the most popular dishes today, along with the Marinated Turkey and Prime Rib.
I tried the marinated turkey, and let me tell ya; it has earned its reputation. Tender, flavorful chunks of turkey with the most delicious sauce are served with a potato, a roll, and a side salad. Outstanding!
And the veggie tray and Squire's Cheese Spread made with tangy blue cheese are the perfect munchies while you wait for your meal to arrive.
The Country Squire also has a tasting room, so save some time before or after your meal to try a few varietals. While wine at Duplin is primarily sweet, The Country Squire serves up a bevy of sweet and dry wines, several of which I throughly enjoyed.
The Country Squire
Hours: LUNCH Sunday, Wednesday, Thursday & Friday 11:30 am – 2:00 pm DINNER Wednesday – Saturday starting at 5 pm
Tasting Room: Wed – Fri 12 – 7 pm, Sat 12 – 9 pm
748 NC HWY 24B /50
Warsaw, NC 28348
Website
Burney's Sweets and More
Everything at Burney's looks fantastic but it's their famous glazed croissants that draw people to the bakery in droves. The perfectly glazed pastries are crisp and flaky on the outside, soft and fluffy on the inside and some of them come stuffed with the fillings of your dreams.
The maple bacon is their signature flavor—and I can vouch for that since it's what I ordered—but you might as well try a few flavors, right? Maybe white chocolate peppermint, strawberry cream cheese, s'mores, or turtle? I'm pretty sure you can't go wrong with any of them.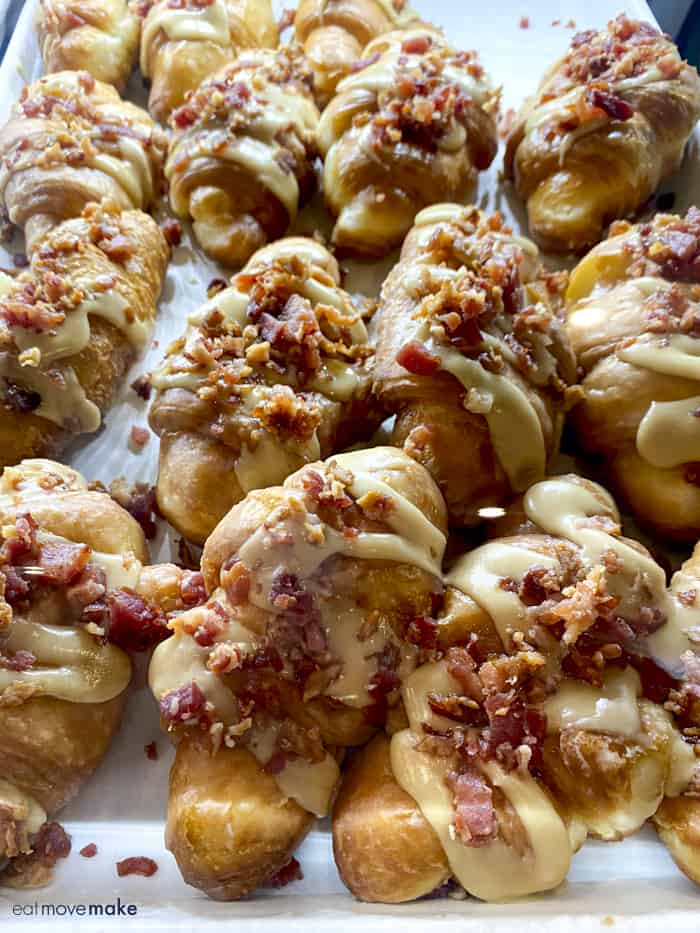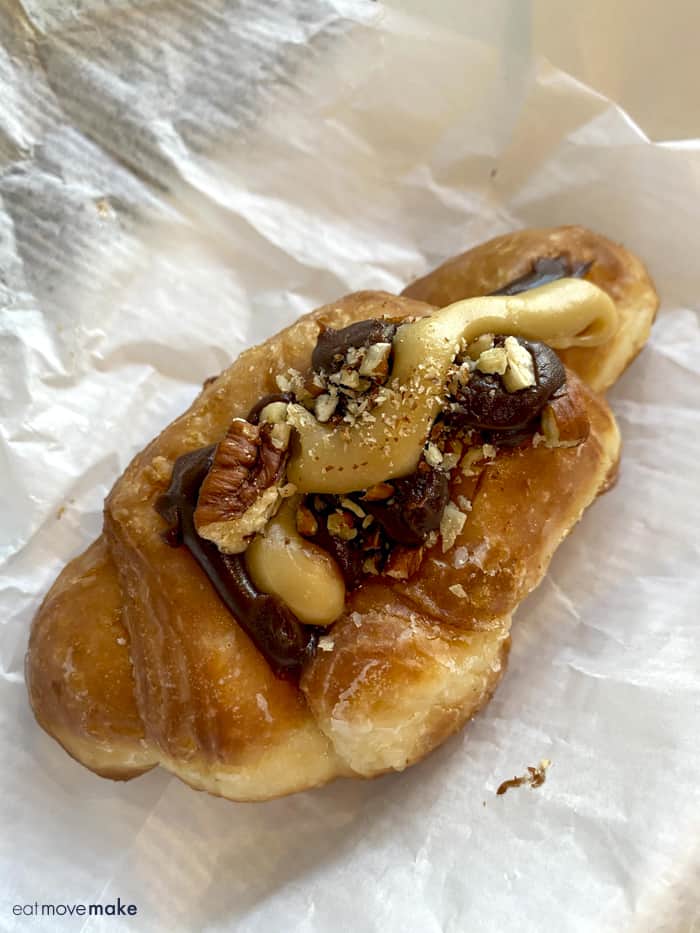 Burney's Sweets & More
Hours: Mon-Fri 7 am – 4 pm, Sat. 8 am-2pm. Closed Sundays.
105 N West Railroad St.
Wallace, NC 28466
Website
Mad Boar
This cozy and casual pub-style restaurant is the perfect place to relax with friends and enjoy a great meal. How can you not love a place where hot wings are called "If Pigs Could Fly"? Along with their exceptional selection of starters, the American-style menu is full of tempting salads, sandwiches and main dishes.
I can never resist a "junk" salad, so I ordered the fall spinach salad, and it was full of baby spinach, tart apples, candied spiced pecans, dried cranberries, cheese and topped with an apple vinaigrette dressing.
The service was incredible, and the atmosphere was cozy and inviting. Really a fun place to eat.
You can grab a seat in the main dining area or head for the pub where the entire bar has been constructed from Italian imports.
And don't miss stopping by the boar fountain on your way in for a fun photo op.
The Mad Boar
Hours: Monday-Sunday 11 am – 4 pm
111 River Village Place
Wallace, NC 28466
Website
Sid's BBQ
Come with cash and come early because when the cue's gone, it's gone. Sid's has been serving up Eastern Carolina-style whole hog BBQ every Saturday starting at 9:30 am. And yes, BBQ for breakfast is a thing (or you make it a thing) because going early might be the only way you're gonna get it.
Every plate comes with a piece of crispy skin, coleslaw, and hush puppies. The pulled pork's hot, salty, smoky BBQ flavor is perfectly complemented by the side of sweet coleslaw and slightly sweet hush puppies.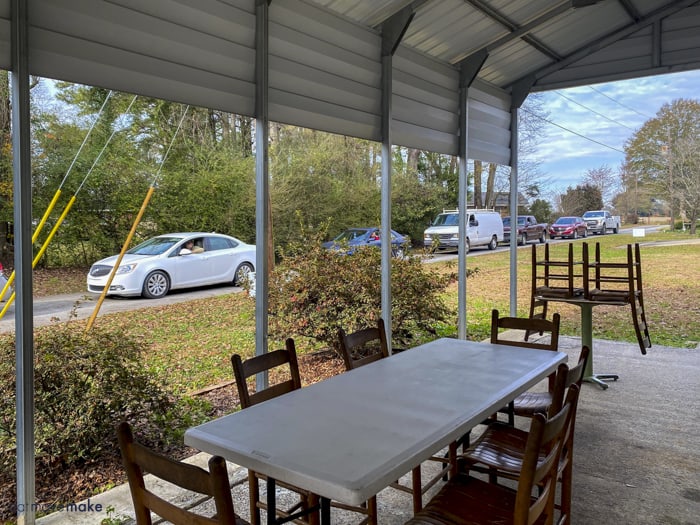 Sid's BBQ
Hours: Saturdays only 9:30 am until it's gone!
455 S Railroad Ave
Beulaville, NC 28518
Facebook page
If these restaurants in Duplin County have you drooling, start making plans for a getaway to this Eastern North Carolina destination. Visit the Duplin County Tourism website for more info.
More Great Foodie Travel Experiences