When you arrive at the Allenberry Resort, you'll instantly feel a sense of peace. This delightful retreat is nestled alongside scenic Yellow Breeches Creek in Boiling Springs, Pennsylvania. With its tranquil ambiance, the Allenberry offers a perfect getaway for nature enthusiasts and relaxation seekers.
Keep reading to see why Allenberry is perfect for a quiet family vacation, a romantic escape, or a weekend with friends—it's an unforgettable place to stay.
The Cumberland Valley Visitors Bureau hosted my visit. My opinions and experiences are my own.
Where is the Allenberry Resort?
Allenberry is located in south-central Pennsylvania's Cumberland Valley in Boiling Springs.
Fun Fact: Allenberry's Roots Trace to Davey Crockett's Family
According to legend, the initial settler in the area where Allenberry Resort stands today was the uncle of renowned American Folk hero Davey Crockett. Back in 1778, as indicated by the county tax records, a man named James Crockett held ownership of a parcel of land on which he built a barn and a house. Remarkably, these structures, built over 200 years ago, still remain in active use at Allenberry.
Allenberry's Location
Without a doubt, Allenberry's natural setting is its most significant selling point. Before I even checked in, I found myself wandering over to Yellow Breeches Creek, a designated Pennsylvania scenic river, to take in the view. With the softly babbling water and the changing colors of the Autumn leaves, it was pure heaven.
Activities at Allenberry
The Allenberry is an Orvis-endorsed flyfishing resort with a one-mile-long catch-and-release section running right through the property. Anglers come from all over to fish in these waters!
Even if you don't wade in yourself, there's something mesmerizing about the artistic sport, and I spent a good deal of time just watching.
Along with enjoying the grand lawn leading down to the creek and waterfall, guests can hike nature trails to secret gardens, rent bikes, play pickleball and bocce or relax by the saltwater pool. There are seasonal drop-in yoga sessions available as well. And for the ultimate in relaxation, the SGC Spa offers cutting-edge health and wellness treatments.
Allenberry will also help set up off-site activities like guided flyfishing, hiking on the Appalachian Trail (or elsewhere), kayaking trips, and sporting clay experiences.
Allenberry Resort Accommodations
There's a range of awesome accommodations at Allenberry! They've got everything from historic homes to modern lodges and cute cottages. My stay at the Stone Lodge's Fireplace Suite was a delight. King bed, gas fireplace, wet bar – it was the coziest setup ever! I totally loved it.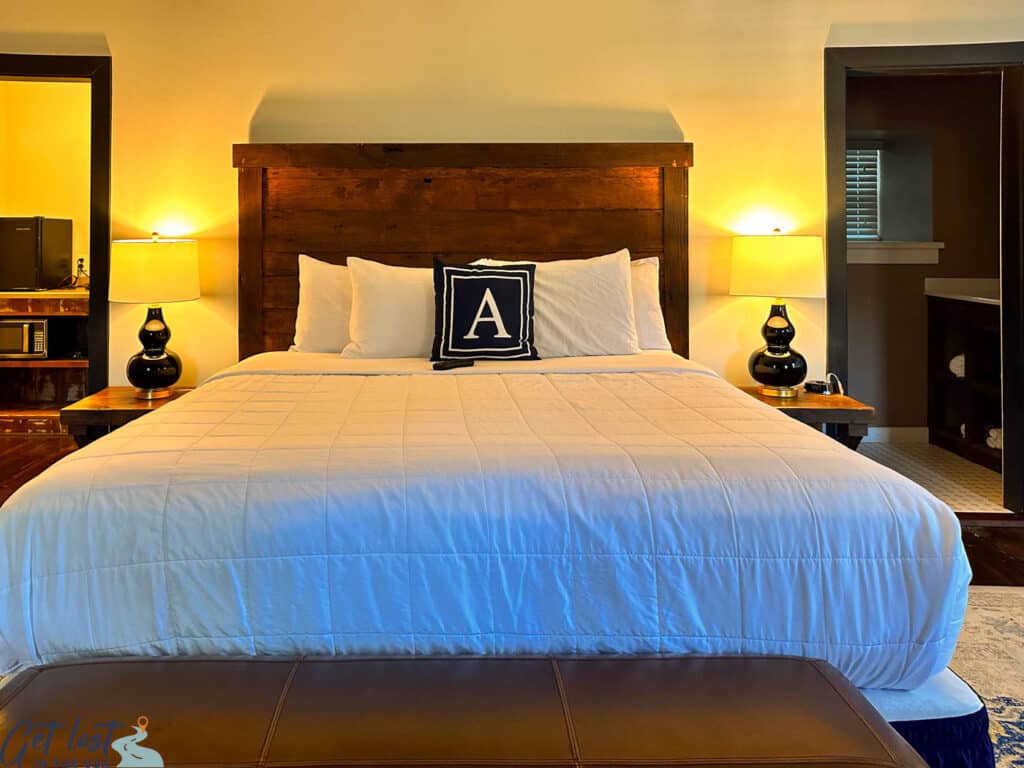 Another perk inside the Stone Lodge was that the lobby had a coffee machine, wet bar, complimentary bottled water, fridge, ice machine, microwave, phone, and comfortable seating areas.
Allenberry Dining Options
The Allenberry Resort offers guests two dining experiences: The Barn Restaurant (full service) and The Breeches Café (counter service).
Planning to dine at Allenberry's charming The Barn Restaurant? Just hop on OpenTable and book your spot. Rustic vibes, stone walls, and farm-fresh goodies await. I missed it this time, but there's always a "next time, " right? (Open Wed-Sun)
I did stop into the Breeches Bakery & Cafe, though. It's open daily from 8 am – 3 pm and offers fresh-made coffee, smoothies, pastries, and breakfast sandwiches to fuel you up for your day. I ordered a blueberry nut smoothie (yum!), but if you're feeling naughty, try one of their famous sticky buns! You can also pick up some Allenberry merch at the market gift shop.
Allenberry Playhouse
The Allenberry Playhouse has been drawing audiences since 1949 for its fabulous line-up of music and theater productions. The year-round theater offers adult and family fare in its intimately sized venue. Check the website for ticket info.
Allenberry Resort – Boiling Springs, PA
1559 Boiling Springs Rd, Boiling Springs, PA 17007
Book a Stay: Check Rates and Dates
More Pennsylvania Travel