Y'all, when getting ready for this Myrtle Beach trip, I was not prepared for the deliciousness that was about to ensue. Not only did we have an amazing and relaxing experience at Sea Watch Resort, but Visit Myrtle Beach also hooked us up with a media pass and several complimentary meals out on the town. Boy, were we grateful, and boy were we stuffed.
Our first culinary adventure was at ART Burgers and Sushi, which serves – you guessed it – burgers and sushi. We were in the mood for sushi when we went, but if WHEN we go back, we'll chow down on some burgers.
They also serve specialty cocktails which are cooled with liquid nitrogen, making them into smooth, frozen treats, kind of like sorbets. We ordered one to share as dessert, but for our first round, we each ordered one of the house's signature cocktails, which we drank with our appetizer of spicy firecracker shrimp.

Then we ordered a crapton of sushi – that's a technical term. And yes, we ate every piece.
We got to meet the manager of ART Burgers and Sushi, who told us about the inspiration behind the restaurant's decor. All of the art is available for purchase and created by local artists, who don't have to pay any rent to show their work there!
Lots of thought went into the smallest details, like the wooden planked ceiling, which is intended to be reminiscent of bamboo mats used to roll sushi. Super neat!
By that night, we'd barely recovered from our sushi feast by dinnertime, but we sucked it up, got dressed in our finest night out attire, and headed to Thoroughbred's. We were "warned" that it would be an amazing meal, but it was even more delectable than we could imagine.
The lighting inside Thoroughbred's is moody and dim; so will my pictures be. I tried and failed to brighten the pictures up so that you could see the entrees better, but decided I would rather it be a little dim and show the romance of the restaurant.
We started with a bottle of Malbec since we both like dry and spicy reds.
Our server adeptly suggested both of our entrees and we were not disappointed, to say the least. I had twin lobster tails with mashed potatoes, and my sweetie ordered the most delicious filet mignon either of us have ever had. Seriously. It was coffee-encrusted but tasted nothing like coffee – instead it had a beautiful nutty crunch on the outside and of course, a moist, juicy inside. We still dream about it. If you go to Thoroughbred's you MUST order it.
We didn't have room for dessert, but you'd better believe we ordered it anyway. We chose a triple layer chocolate dessert and a slice of cheesecake. Look how happy I am about it!
After passing out that night in food comas, we woke up the next morning ready for our next culinary adventures. Our first stop was Wicked Tuna for lunch. It's right along the water and we were lucky enough to be there on a gorgeous, clear day.
The interior is light and beachy, especially the patio, which has a sailboat theme.
We're guilty of ordering sushi again, even though we'd had it for lunch the day prior. This time I branched out and ordered a surf and turf roll, which had steak on top. Not as scary as it sounds!
Our server was nice enough to take our picture in front of the beautiful water. He sarcastically remarked, "Jeez, maybe you guys should hit the gym sometime." Ha!
After our meal, we were treated to a special behind-the-scenes tour of the fish preparation cooler area. Chef Dylan told us all about the boats that catch fish especially for the Wicked Tuna and its family of restaurants.
The ice they use is a special kind of ice pellet that is softer and melts in a way that doesn't damage the flesh of the fish like other ice cubes would.
Our last dinner in Myrtle Beach (such a sad occasion!) was at the delightful bistro called Croissant's. As you might be able to guess from the name, their fare is French-inspired, and their slogan is bonjour, y'all!
We made the excellent decision to order the brie en croute for a starter. The baked brie came with hearty whole wheat crispbreads, warm berry compote, and toasted slivered almonds.
Our server also recommended the shrimp 'n' grits, so we also ordered that along with our entrees: meatloaf for my honey and bleu cheese filet with horseradish mashed potatoes for me.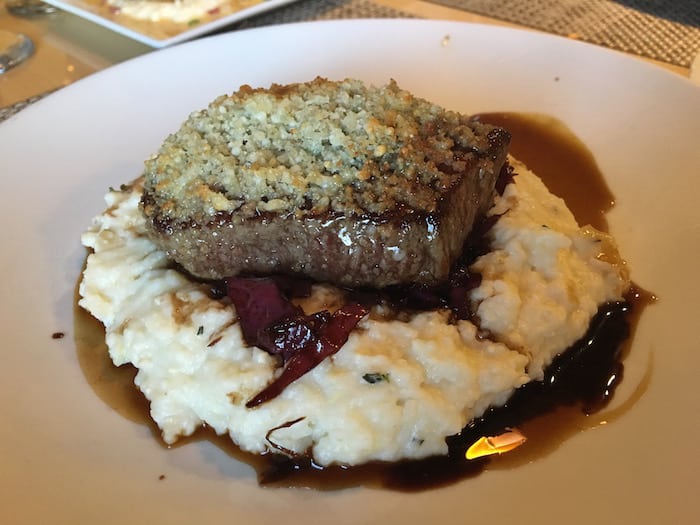 Much to our surprise and delight, the manager treated us to a sampler plate of three handpicked desserts from their robust dessert selection. A raspberry macaron, a chocolate mousse dessert, and key lime pie.
Can you believe all this food we ate?! Thank you so much Visit Myrtle Beach for treating us to these wonderful meals.
If you are visiting Myrtle and looking for something fabulous to eat, we recommend any of these four Myrtle Beach restaurants, especially Thoroughbred's Chophouse. Order the coffee-rubbed filet and thank me later!
Related Posts