Craving food and fun in Southwest Virginia? These memorable Wytheville VA restaurants serve great eats, and two of them come with an experience you'll never forget.
My visit was hosted by Visit Wytheville, but my opinions are my own.
1776 Log House Restaurant
520 East Main St. Wytheville, VA 24382
Facebook
At first glance, you'll know this restaurant is anything but ordinary, and it's not just because it's an enormous log cabin on Main Street (although let's be honest, that is a big part of it).
But there's so much more to the popular destination. Along with a seemingly endless maze of rooms, nooks and crannies where people can eat dinner, there are gardens with rabbits and doves, multiple gift shops and a bar.
It's part restaurant, part entertainment.
The building was originally constructed in 1776 as a two-room tenant house by a man known only as "Will". Unfortunately, he never had the chance to live there as he left to fight in the Revolutionary War and never returned.
The building was later lived in by cabinetmaker apprentices and finally sold to a man named Joseph Chadwell. He and Benjamin Steptoe, a freed slave lived in the cabin until they went to fight in the Civil War together.
The two-room log cabin has since expanded into a massive restaurant/gift shop complex with a hodgepodge of eclectic decor, all of which is for sale.
Of course, without great food, there would be no point, right? In my case, the Southern-style menu did not disappoint.
We began with corn fritters served alongside bowls of fresh honey. Make sure you order them- they're fantastic!
I chose the Chicken Verde Pecan for my entree- a chicken breast stuffed with spinach and cheese and topped with pecan sauce.
For my sides, I chose green beans and the highly recommended stuffed squash.
Every bite a delight.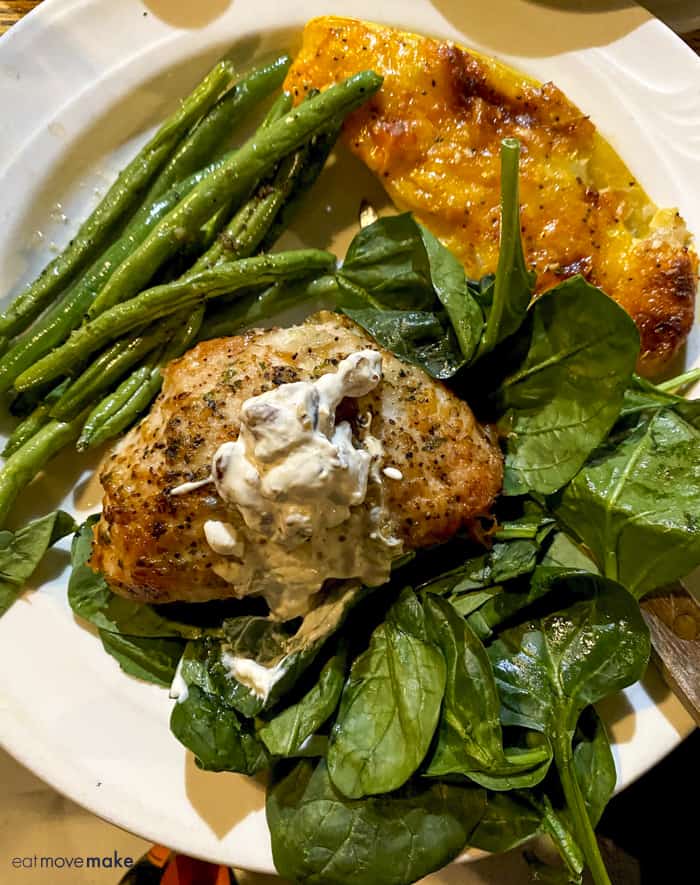 Wohlfahrt Dinner Haus
170 Malin Dr. Wytheville, VA
Website
This German-inspired restaurant, beer garden and dinner show experience is right up there with 1776 Log House as being one of the most unique Wytheville VA restaurants and is the only all-musical theatre in the state of Virginia.
I still can't believe this little Southwest Virginia town can support a dinner theatre but people come from all over. I met one couple from North Carolina who told me they've been coming for 15 years and haven't missed a show yet.
The Matterhorn Restaurant and Biergarden are open for lunch and dinner Tuesday-Saturday and the menu includes German and American favorites.
The dinner shows run Thursday-Sunday and you'll need to make reservations, especially since capacity is limited right now due to Covid. Guests are seated at tables facing the stage but dinner is served prior to the musical.
The menu changes when the shows change but the very popular pita bread chips and cheese dip appetizer is a mainstay.
For dinner we had Italian crusted chicken, roasted potatoes, broccoli and carrots, and a berry cobbler dessert was served at intermission.
We saw the gospel show How Sweet the Sound and loved it. My favorite part was when they performed a funny little medley of childhood Sunday School songs. When's the last time you heard "Father Abraham Has Many Sons", "Zaccheaus" or "Deep and Wide". We were cracking up!
The theater presents six musicals a year and past shows have included Annie, Forever Plaid, Arsenic and Old Lace and Steel Magnolias as well as themed musical revues. During the holiday season, there's always a Christmas revue.
7 Dogs Brew Pub
360 W Spring St, Wytheville, VA 24382
Facebook Page
How can you not love a brewery when the name is based on the owners' pets?! Their seven dogs and one cat are featured on the logo and prominently displayed in artwork throughout the brewery.
They had me at cat, of course, but I loved seeing the pups too.
The lunch menu included a mouthwatering selection of burgers, sandwiches, soups, salads, tacos, ribs and appetizers.
All condiments are served on the side and as a mayo-hater, I most definitely appreciate that.
I opted for a classic BLT, but one of my colleagues ordered the impressive Mac 'N Cheese Burger and a side of onion rings. Have you ever had order envy? I kid, I kid; my BLT was perfection.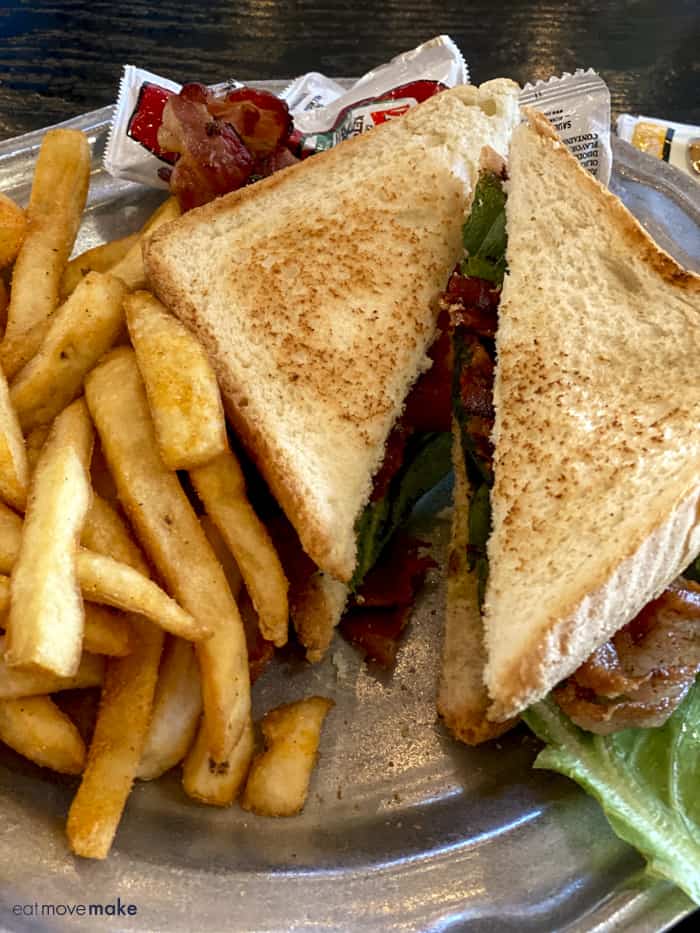 Grayson Restaurant
100 Grayson Rd. Wytheville, VA 24382
Facebook page
This small-town diner is nothing fancy, but it's home-cooked food and it's well-loved by the locals—always a good sign. We stopped in for breakfast and I ordered the "Masterpiece" with two eggs, bacon, grits, and a biscuit.
Their bacon was some of the best I've had anywhere. It looks like regular bacon but it's definitely a cut above.
Grayson is also very affordably priced.
Have you tried any of these restaurants in Wytheville VA? Which is your fave?
For help in planning a trip to the area, visit www.visitwytheville.com and check out my list of 21 fun things to do in Wytheville, VA.
More Fun in Virginia