Looking for fun and exciting things to do in Goldsboro, NC? From immersing yourself in the area's outdoor adventures and cultural heritage to exploring the vibrant downtown with its colorful public art, this area offers a unique blend of experiences that will leave a lasting impression.
So, keep reading and get ready to discover the best things to do in Goldsboro, NC, and Wayne County!
Where is Goldsboro, NC?
Goldsboro is in Wayne County in eastern North Carolina (between Raleigh and the Atlantic Coast). The nearest regional airports are in Greenville (PGV) and New Bern (EWN), and the closest major airport is in Raleigh (RDU).
Where to Stay
We recommend the Hampton Inn Goldsboro. Check Availability and Rates.
Major Festivals and Seasonal Events
NC Pickle Festival (April) – It's a pickle paradise for pickle lovers! Celebrate the humble cucumber's transformation into a sour, crunchy treat with pickle-eating contests, live music, a pickle bike tour, recipe contests, pickle-infused snacks, and more.,
Pig in the Park Barbecue Festival (May) – From tender pulled pork to finger-lickin' good ribs, the aroma of savory barbecue fills the air when pitmasters compete in the whole hog BBQ cook-off. Grab your bib and head to the festival for food, live music, and even a "Kiss the Pig" fundraiser. It's a hog-wild event!
Wings Over Wayne (2025—every other odd-numbered year). It's North Carolina's largest FREE air show! The high-flying stunt show is filled with thrilling demonstrations and aerobatic stunts that will leave you breathless. (The Blue Angels make an appearance!)
Mt. Olive Pickle Drop (New Year's Eve) – Mount Olive's twist on the Times Square ball drop is when an 8-foot illuminated pickle descends to celebrate the new year. There's live music and plenty of pickles!
Fun Things to Do in Goldsboro NC (and Wayne County) Year Round
Explore Cliffs of the Neuse State Park
240 Park Entrance Rd, Seven Springs, NC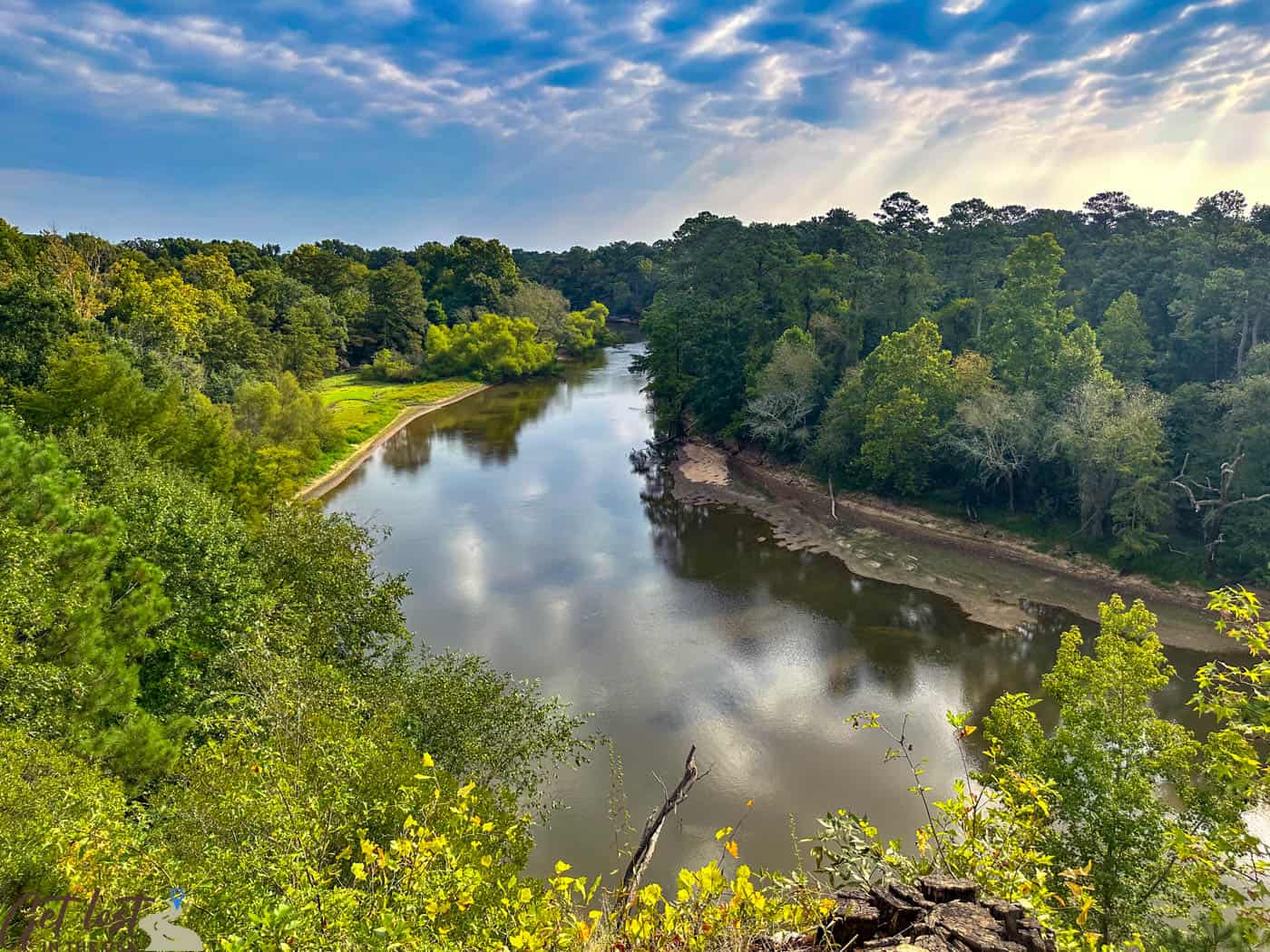 This gorgeous state park in Seven Springs, about 20 minutes from downtown Goldsboro, is great for the adventurous and those seeking tranquility. Hikers can explore the scenic trails that wind through dense forests, leading to the dramatic 90-foot cliffs that lend the park its name.
These towering formations are made of sand, clay, seashells, shale, and gravel, offering breathtaking vistas of the winding river below. Water enthusiasts may paddle the Neuse River or relax, swim, and kayak on the tranquil waters of the swim lake.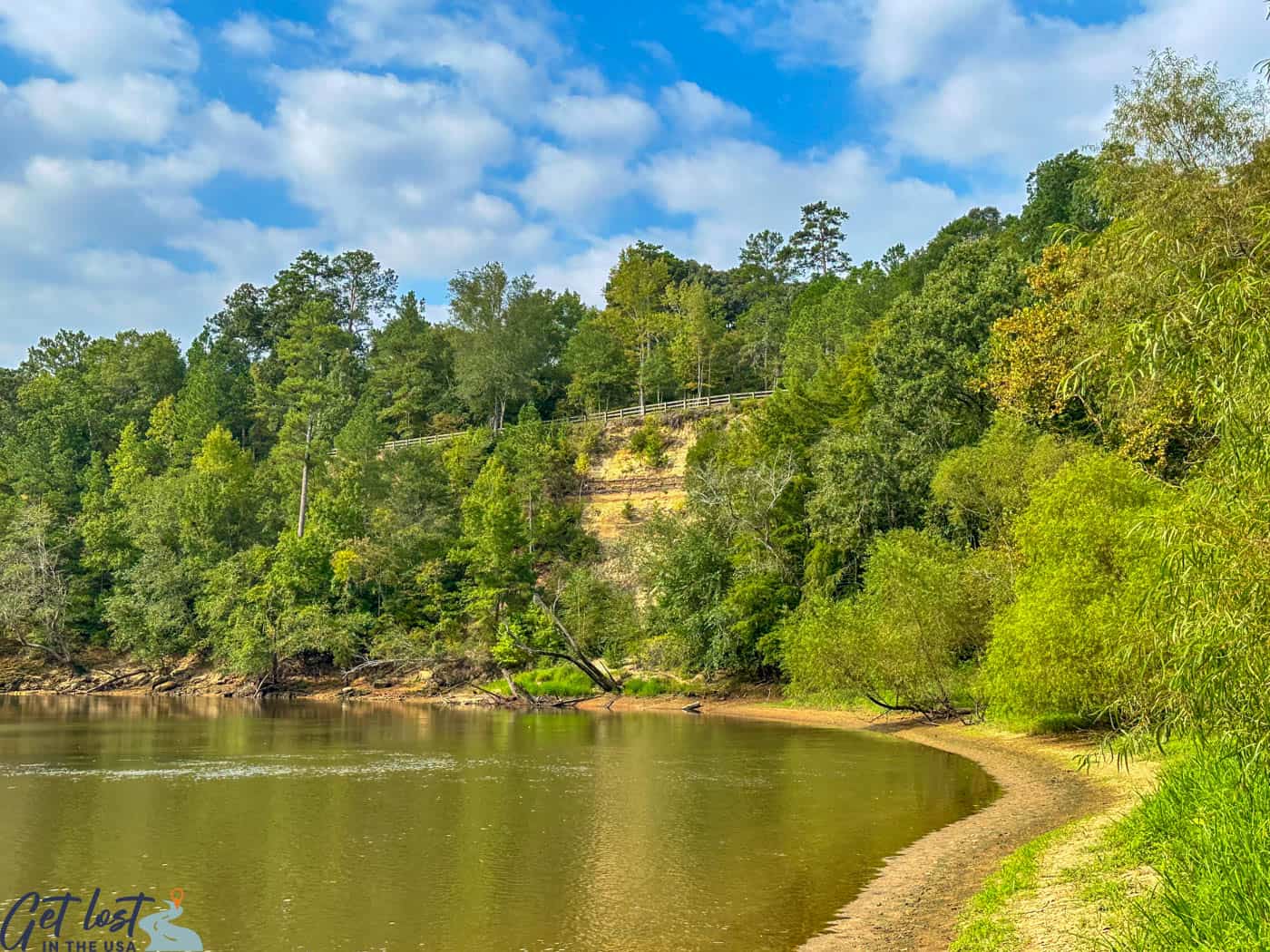 Tour Seymour Johnson Air Force Base
This is one of the coolest things to do in Goldsboro, NC, but you must plan ahead. Three-hour tours of Seymour Johnson Air Force Base happen on the last Thursday of every other month, and you need to register and provide identification beforehand. It's an easy process, but it's not a last-minute process. Book your tour through Totally Fly Tours.
Each tour will be slightly different, but you'll hear the fascinating story of Seymour Johnson AFB and visit an F-15 hangar for a close-up of the jets. If you're lucky, you may see some jets taking off and landing on the runway outside the hangar.
Explore Downtown Goldsboro's Streetscapes
Whimsical sculptures are scattered throughout downtown Goldsboro on street corners, the median, and roundabouts. Besides the Cityscape fountain sculpture, the roundabout art is temporary and changes each fall!
Go on a Critter Crawl Scavenger Hunt
Here's one for the littles! There are 20 critters scattered along Center Street (from Elm Street to Spruce Street), and kids will love searching for them. Download the checklist, and if you find them all, visit the DGDC Office (116 N Center St.) and collect a prize!
Shop Small in Downtown Goldsboro
Downtown Goldsboro is lined with fun mom-and-pop businesses that are so fun to explore. Whether you're looking for clothing, jewelry, home decor, or gifts, you can find it in one of the cute boutiques. One of my favorite stores is the Cry Freedom Missions Shoppe, where all proceeds help survivors of human trafficking. They sell fabulous survivor-made jewelry, handbags, and gifts. They also have a cafe!
Marvel at the Murals
I'm a self-professed mural junkie, so when I find one, I always stop. Many are in downtown Goldsboro (and some in downtown Mount Olive). Poke around the side streets and see what you can find. Here are a few of my favorites.
This patriotic mural is a tribute to flight, freedom, and Seymour Johnson AFB, with five F-15Es led by a KC-135. It's located on the side of Goldsboro Brew Works.
Admire the Architecture
This gorgeous Victorian home, listed on the National Register of Historic Places, was the home of Henry Weil and his daughter, Gertrude Weil. Gertrude was a tireless advocate for women's rights and social reform. Fun fact: Henry's brother, Solomon, built an identical home right next door, and it's featured on the Goldsboro Ghost Tour.
If you wander through the historic downtown, you'll encounter interesting architecture in both commercial buildings and private residences. Have fun exploring!
Catch a Show at the Paramount Theatre
When it was built in 1882, this gorgeous structure was the tallest building in town. In the 1920s, with the addition of a marquee and stage, it became the Mason Theatre with vaudeville shows and films. It was renamed the Paramount Theatre and became Wayne County's main movie theater until it closed in the 80s.
It reopened as a center for the performing arts in the 90s until it was destroyed by a fire in 2005. Fortunately, the community rallied, and it was rebuilt from the ground up in 2008. The Paramount Theatre now screens classic films and is home to a performance art series.
Explore the Trails
This amazing mural is a stop on the African-American Music Trails of North Carolina. The Arts Council of Wayne County also hosts musical events that pay tribute to trail legends.
For a deeper dive into the African-American Music Trails of Eastern North Carolina, you may want a copy of this travel guide. It takes you to interesting music venues, events, and museums that not only showcase the lives of talented musicians but also uncover the incredible bond between music and the community. The book includes a CD with recordings, maps, and travel info.
Goldsboro is also on the Mountains to Sea Trail, which stretches all the way from Clingmans Dome in Great Smoky Mountains National Park to the picturesque Jockey's Ridge in the Outer Banks. Paddling the Neuse River is the primary route through Wayne County—the land portion is not fully connected yet—but keep an eye out for the MST markers lining Center Street that will lead you three miles east to Stoney Creek Park.
Dive into History at the Wayne County Museum
116 N William St, Goldsboro
Discover a rich collection of artifacts, exhibits, and stories that vividly depict the cultural heritage and evolution of this vibrant community. Exhibits include the Wayne County History Gallery, Medical Gallery, and Military Gallery.
Shop Local at the Heritage Farms General Store
2519 E Ash St, Goldsboro, NC
Not only is this the place to get all things pork, but the store sells all kinds of North Carolina-made goodies and gifts. They also scoop ice cream and create fantastic gourmet milkshakes!
Search for Hidden Treasures
Goldsboro Antique Mall – 3306 E. Ash Street, Goldsboro
The Shoppes at Royall Marketplace – 2805 Royall Ave, Goldsboro
If you have plenty of time to wander, you can't miss Goldsboro Antique Mall. It's huge, and there's a lot to look through. If you have just a few minutes, pop into the Shoppes at Royall Marketplace. Or do both, like I did. When I go antiquing, I'm usually on the hunt for something in particular. Unfortunately, for my wallet, I almost always find it!
Take a Ghost Tour
I highly recommend taking a Goldsboro ghost tour. There are two tours: one in downtown Goldsboro and one at the historic battlefield, and they're spooky as all heck. So much fun!
Read my featured article about it for all the details: Take a Goldsboro Ghost Tour (Eerie Secrets and Terrifying Tales)
Visit the Mt. Olive Pickle Gift Shop
One Cucumber Blvd., Mount Olive, NC
Mount Olive, North Carolina, is home to Mt. Olive Pickles, and you can stock up on your favorites at their gift shop. Not only will you find pickles, peppers, and relish, but you'll also find t-shirts, pickle ornaments, and all kinds of silly picklephernalia.
Visit Holly Grove Farms
1183 Grantham School Road, Mount Olive, NC
There's fun for the whole family at Holly Grove Farms goat farm. Tours are available by appointment only, but the gift shop is open every Saturday. Sample the farm-fresh creamy and spreadable goat chevre, or shop for goat's milk soaps, lotions, local honey, and unique handmade gifts.
Explore More of North Carolina