Last summer my daughter and I visited two Northeastern North Carolina farms with our friends from Got to Be NC. Not only did we get to see where goodness grows, we saw how it's harvested, sorted, packed and sold.
And I learned that we consumers are ridiculously picky!
Take cucumbers, for instance.
We visited AJ Smith and Sons Farm in Edenton, NC and went from the fields where the cucumbers were being harvested to where the cukes are sorted and boxed inside – a pretty cool experience.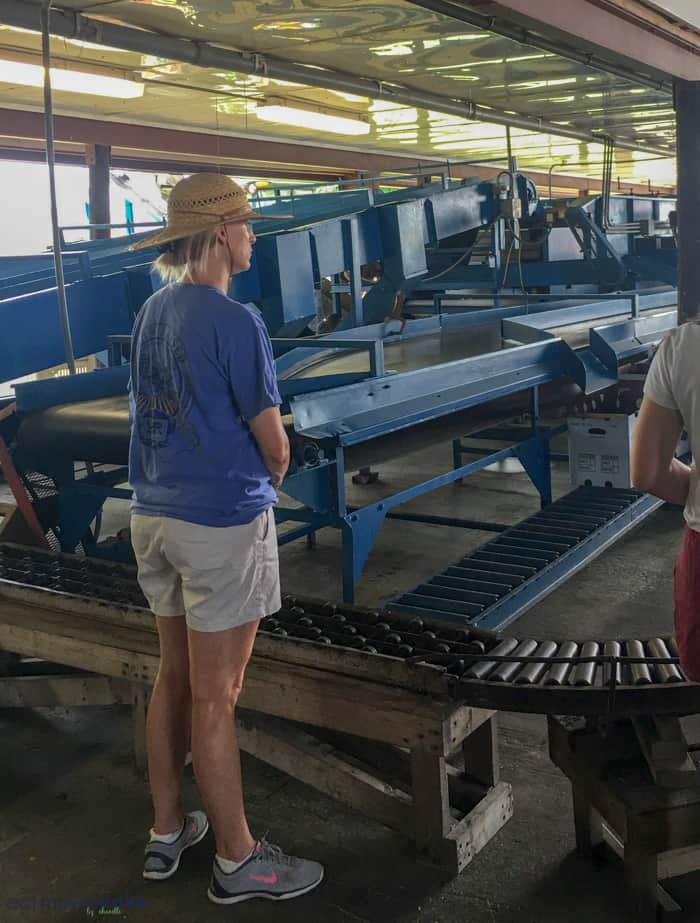 But it was shocking to hear that there's a huge price difference between curved and straight cucumbers. Can you guess which one consumers want?
If you guessed straight, you were right! A box of curvy cucumbers sells for half the price of straight cucumbers. It's cucumber craziness!
We also peered into the world of potatoes, corn and soybeans at John E. Ferebee Farms in Camden, NC, a 7th-generation farm focused on growing and packing red, white and yellow flesh potatoes.
We were given the grand tour by Martha Ferebee who started at the history wall where one of the original Fort Raleigh burlap bags (their personal brand) is on display. She remembers that pickers would stake off an area in the field, pick the 2 1/2 baskets of potatoes it took to fill the bag and then wait right there in the field until they were paid. Then they'd stake off a new section and start the picking process all over again.
Nowadays, bags have moved to paper and polypropylene, and picking is done by large machines called diggers, and we had the chance to see one harvesting in the field.
Potatoes are harvested on a three-year rotation so as not to wear out the soil and its nutrients, so after the current potato crop is harvested, soybeans will be planted, then corn, soybeans, corn and finally back to potatoes again. Each of the three varieties of potatoes also requires a different soil type.
Farming is very much a science!
But for consumers… it's more of a beauty pageant. We want our potatoes to look a certain way and we simply don't buy them if they don't match up.
Aesthetics is everything, and farming practices have to accommodate it.
Martha told us consumers want smooth-skinned potatoes even though she says there are other "uglier" varieties that taste better. It's all about the skin and appearance, not the taste apparently.
She explained that USDA standards for size, shape, firmness and cleanliness determine how potatoes are sorted and graded. Of course, they need to be disease-free as well, and each load of potatoes from North Carolina farms is inspected to ensure compliance.
Because of the heat, all North Carolina potatoes are sold for a limited time and not stored, and once they're bagged, they're cooled down. This helps remove any remaining field heat which could cause softness and decay.
No. 1 potatoes are the "best looking" and No. 2's have some sort of defect – a little green, ugly or misshapen and they're sold at a 40% discount.
Fun fact: The green spots on potatoes come from sunlight. If it rains and some of the dirt washes off in the field, the exposed skin turns green.
Another fun fact: Did you know that potato plants are killed before the potatoes are harvested? This allows the skin time to toughen up. If the plants were still living, the skin would slide right off of them. Fascinating!
It sure makes you appreciate everything farmers do when you realize what all goes into it!
And one last piece of advice about storing potatoes at home. For the longest, freshest shelf life, Martha says, "Keep 'em cool, dark and dirty."
Related Posts