I can't think of a better way to sample the best of Gettysburg's food scene than to have the experience curated for you on one of the Savor Gettysburg Food Tours, and the newest of the available tours is a field to fork agritourism experience you'll never forget.
Last September, I spent a beautiful fall day on the Field to Fork Tour as a guest of Adams County and Savor Gettysburg Food Tours, and I can't begin to tell you how much I enjoyed it. Not only did I love what I ate and drank, but I loved what I learned from the farmers I met on each of our five tour stops.
Savor Gettysburg Food Tours – From Field to Fork Experience
Caprine Delight Goat Farm
Who doesn't love baby goats? As soon we arrived at our first stop, the kids friskily clambered over their outdoor playground equipment to reach our eager fingers poking through the fence. Did you know goats are herd animals and could die of loneliness without friends? How sad is that?
Caprine Delight Goat Farm was started by Candy and Randy Walker when their son had eczema and couldn't have cow's milk, but it has since grown into a business and now they produce milk and cheese on their farm. The milk is sold in area stores, but the cheese is sold right on the farm.
After we saw the kids, we wandered out to see the adults out in pasture, but the males were emitting a smelly tar scent only a female goat could love, so we opted not to get too close to them. Apparently, the scent takes days to dissipate… no thanks.
The Walkers do everything right by their goats including feeding them a personalized grain mixture recipe made with whole grains, sunflower seeds, oats, barley, corn, molasses and a mineral dust with probiotics and yeast.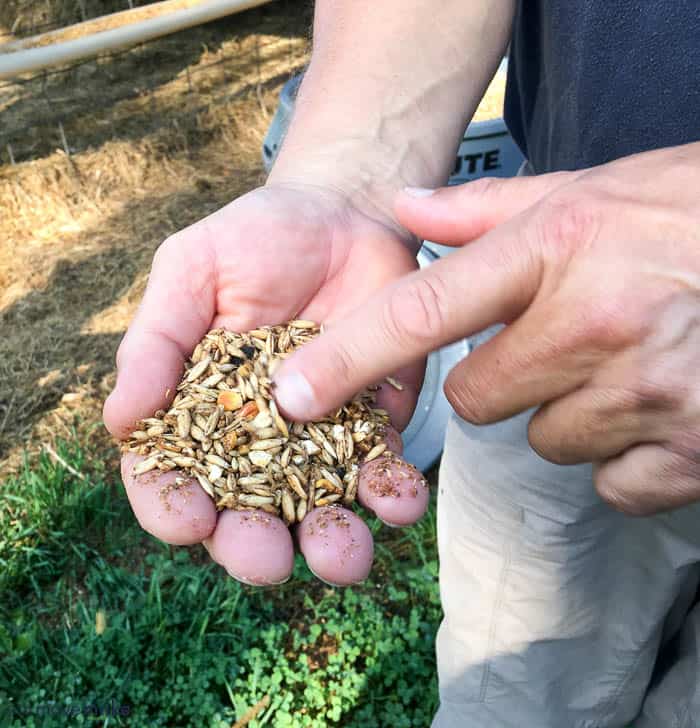 Candy also showed us their milking parlor which utilizes a pipeline system ensuring the milk is never open to the air or to the animals. It's chilled immediately and is sold as raw milk (legal and tested in Pennsylvania).
Before we left, we had the chance to taste the artisan goat cheese made and sold on the farm. I thought I hated all goat cheese (and I still don't like feta), but I really liked the Leaning Tower which is similar to Parmesan cheese, General's Choice and the General's hot and spicy cheese!
Now goat's milk on the other hand… I'm not ready for that, but we did take some with us for our lunch finale.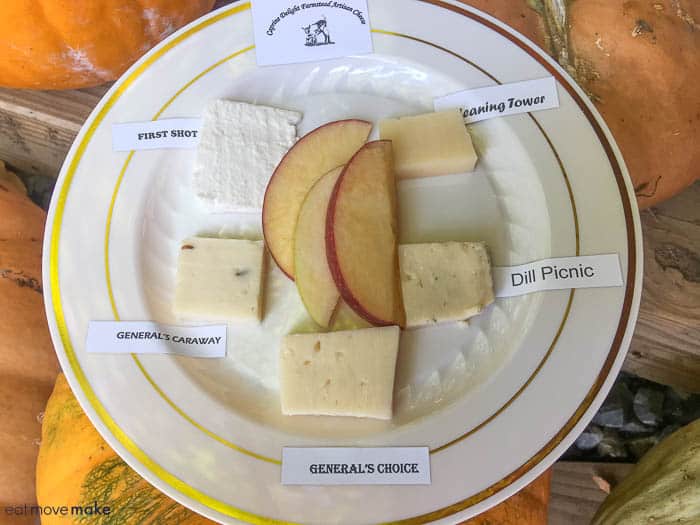 Rambling River Pastured Farm
This small family farm has been raising chickens, turkeys, pigs and goats since 2011. Meredith and her family have a goal of farming sustainably and keeping their animals as happy and healthy as possible. The whole family pitches in to help with the chickens, turkeys, pigs and goats.
Rambling River's goats are of the Nubian variety, and as she demonstrated how the goats use her simple milking stand, we discovered Nubian goats are quite noisy! Rambling River makes goat cheese, ice cream and milk on the farm, but they use all the milk themselves. None for YOU.
Meredith is committed to pasture-raising and is quick to point out that terms like "free range" are merely legal definitions and misrepresented by large producers, which certainly didn't come as a shock to me.
Even though chickens are by far the most difficult animals to raise and care for properly, she and her family steadfastly do everything they can to give them the best possible life. This includes ensuring the chicken tractors are moved to fresh grassy areas twice daily and when the sun goes down at night, the chickens sleep.
The chickens (and turkeys) are guarded by five Great Pyrenees, and from what I could see with the turkeys, they thoroughly enjoy the work. Besides, they only work when there are animals. The rest of the year, they relax.
When we arrived at the pig pen, Meredith counted six of them with relief. The little stinkers had dug their way to freedom the week prior! On this day though, they were happily wallowing in the mud inside the pen to keep cool.
It was wonderful to see what goes into running a sustainable farm, and if I lived closer, I'd pre-order a turkey for Thanksgiving. As it was, we took some bacon with us for our farm feast later that day
Boyer Nurseries
This fifth-generation farm has been in business since 1900 and they grow apples for commercial processing as well as for their farmer's market and u-picking.
If you've never picked apples fresh from the orchard, make a point of doing so. They taste infinitely better fresh from the tree! We each picked a mixed bag of Red Delicious, Jonathan and Golden Delicious.
We learned a few tips for picking apples too!
When you get to the u-pick fields, look to see where the sun is hitting the tree most. That's where you'll find the more ready-to-pick apples. They may also be a little sweeter than those on the shaded north side.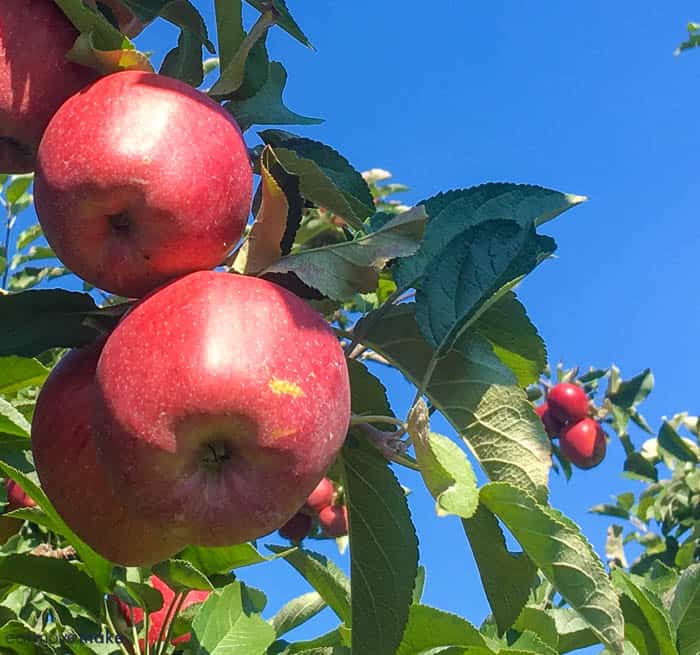 To pick apples, twist and pull, and try not to get the leaves.
After our u-picking experience, we went into the farm market and the new tasting room for some wine, cheese and fruit samples.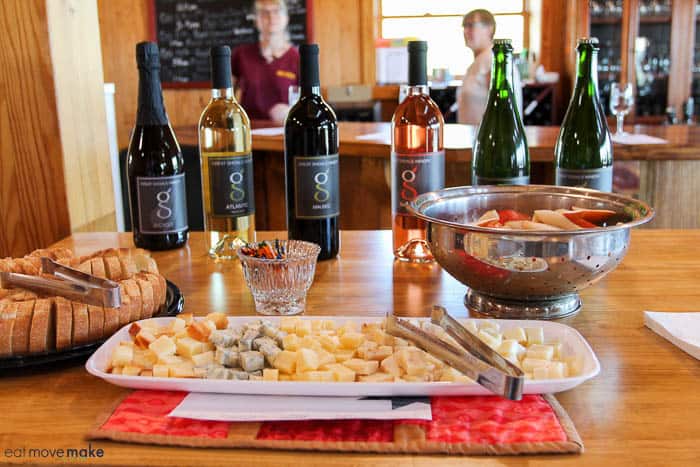 What did we take from Boyer Nurseries for our meal later? Those delicious pears!
Halbrendt Winery
It's not uncommon to see wineries emerge from simple hobbies and such was the case for John Halbrendt who began growing wine grapes to sell and now keeps those grapes himself and makes wine on a full 4 1/2 acres of land. Almost everything is done by John and his wife, and they harvest the grapes with the help of volunteers.
It was nearly harvest time when we visited and we had the chance to taste the grapes right off the vine!
In order to combat soil pathogens, most of the grapes grown in this area are either hybrid or grafted. Halbrendt vineyards grow Traminette, Cabernet Franc, Vidal Blanc and Chambourcin grapes.
This wonderful boutique winery has already won several awards and now has a small tasting room.
My wine pick: Chambourcin Rosé
Beech Springs Farm
Our final spot for the day was the exquisitely beautiful Beech Springs Farm where we met the farm's owner, Jayne Shord along with Fabio Carello, a local chef and caterer who would take our fresh bounty and turn it into one of the most amazing farm to table meals I've ever had.
First, we spent some time admiring Jayne's gorgeous gardens and we peeked inside the farmhouse wedding venue.
Jayne had already harvested the fresh veggies we would need before we arrived, but Chef put us to work gathering fresh herbs: basil, thyme, garlic chives and rosemary.
We sipped sangria and helped (mostly watched) Chef Fabio prepare our meal. The smells emanating from the kitchen were so enticing!
Fortunately, we had fresh veggies (and flowers) to munch on while we waited.
And just look at the setting for our meal! We dined in the shade of a giant maple tree surrounded with lush garden loveliness.
We feasted on bacon-wrapped dates stuffed with goat cheese, artisan bread with an herb dipping oil, tomato salad, herb-rubbed pork tenderloin with roasted veggies and for dessert – red wine poached pears with anise star and cinnamon.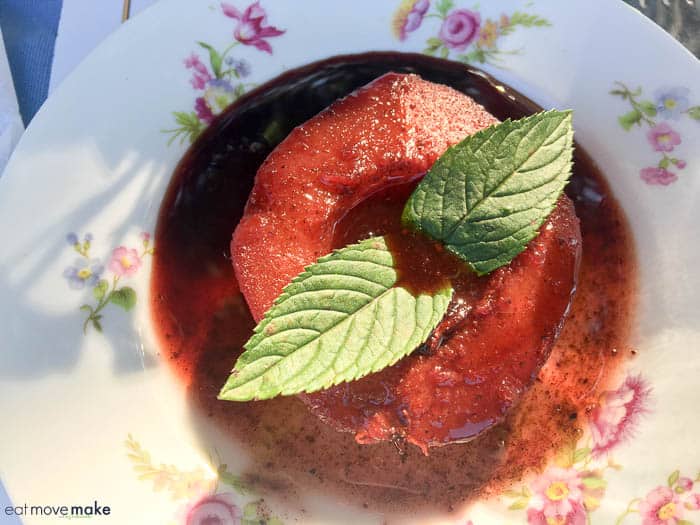 It was the perfect ending to a most wonderful day with Savor Gettysburg Food Tours. If you've never tasted farm to fork, there's a definite difference in flavor and freshness, and taking an agri-tourism food tour is a fabulous way to open your eyes to what food can and should be.
The feast was the ultimate culmination, but the best part of the experience was meeting the people on the farms and really seeing what's behind the food we bring to our tables.
Pin this post for travel inspiration!
And please contact Destination Gettysburg for help in planning your trip to the area.
Related Posts