The best-kept secret in Harrisburg just might be the Pennsylvania National Fire Museum where you can immerse yourself in the world of firefighting history for an unforgettable experience.
Even if you have no background or interest in firefighting, you'll get caught up in the excitement. The restored 1889 G.W. Reily Fire Station No. 10 houses such a cool museum.
WITNESS A FIRE CALL
The first thing visitors will experience at the Harrisburg fire museum is a life-size diorama-style reenactment of an old-time fire call in action. I got chills as volunteer firemen yelled, alarm bells clanged and horses ran through the streets. The urgency and tension were palpable.
Look at the men pulling the carriage: a storekeeper, blacksmith, carpenter and railroad worker. In the early days of firefighting when the alarm sounded, a variety of men abandoned their regular jobs and headed straight to the firehouse to help.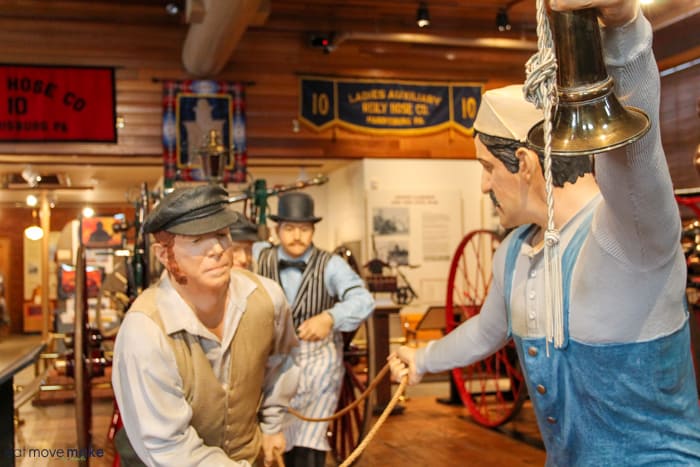 JUMPERS, SPIDERS AND CRABS, OH MY! (HOSE CARRIAGES YOU HAVE TO SEE)
The collection of vintage fire apparatus in the Pennsylvania National Fire Museum is impressive and includes the oldest working fire apparatus known anywhere – a 1792 hand pumper. It could discharge about 150 gallons of water per minute, but the water had to be dumped into the wooden box by buckets or come from another hose.
Incredibly, it's still in its original condition.
Early fire extinguishment began with human bucket brigades stretching from the water source to the fire or the hand pumper, and the water buckets and hoses were made out of leather.
As you can tell from the photo above, those leather hoses were really stiff and didn't bend easily, so fire hose carriages with big wheels around which to wrap the hoses came into use and there are several examples of them in the museum. I love how intricately designed they were.
They were called jumpers, spiders, crabs and several other names. This Cinderella-style carriage was known as a spider carriage.
Finally, steam engines came into use with their massive boilers.
The one inside the Pennsylvania National Fire Museum is a work of art with stunning and detailed embellishments.
FIREFIGHTER ORNAMENTATION
Don't miss the museum's impressive collection of parade hats and helmets. Parade helmets were a huge part of a volunteer firefighter's life and a great source of pride. Lavish and colorful parades marked events like the opening of the Erie Canal, the nation's Centennial and George Washington's birthday celebration.
In the pre-civil war years, firefighters would don their finest headgear – intricately hand-painted and varnished felt stovepipe hats and the crowds absolutely loved it!
The collection of parade hats and helmets is vast and unique – definitely one of the highlights of a visit to the museum. You won't find a collection like this anywhere else.

Before the advent of radios, a fire chief would use speakers to communicate with his crew. It was the only way he could be heard above the din. Nowadays, the beautiful speakers are largely ceremonial and quite a few are on display in the museum.

SEE AND HEAR A WORKING GAMEWELL ALARM SYSTEM IN USE
The alarm room is absolutely fascinating and volunteers will activate the Gamewell alarm system for you. Gamewell made alarm systems for big cities and the unit on display at the Pennsylvania National Fire Museum came from Johnstown, PA. Made of slate, brass, copper and tile, the system weighs several tons and operates on weights and chains!
There were alarm boxes at major street corners or important locations like hospitals and each box had a unique number, in this case "31".
When someone would hold down the alarm, it would send a morse-like code to the main panel, bells would clang to indicate the box number (ding, ding, ding, pause, ding indicated 31) and a machine would punch out the box number on paper.
Once the initial alarm had been pulled, the bell signal would be sent to all the first alarm firehouses for that box.
Also on display are other panels and systems including an old fire panel from downtown Harrisburg that handled all the 3 Mile Island alarms.
343
Every state has a specially trained rescue team for high hazard events and the Pennsylvania FEMA team was based in Harrisburg. They were the first team other than FDNY to arrive on the scene at the World Trade Center and there's a moving display with some of the gear worn and twisted steel from the fallen buildings.
Three hundred forty-three firefighters died that day.
There's so much more to explore in the Harrisburg fire museum, so make time to visit the city and see it!
It's impossible to leave the Pennsylvania National Fire Museum without an appreciation and respect for the legacy of these everyday heroes. There's no other occupation where unpaid volunteers are willing to go through the exact same training and work the same intense hours as paid firefighters.
Their fierce sense of pride, attention to detail and discipline are evident in everything they do which is why you'll never see a rig that's not perfectly clean, shiny and beautiful.
Firefighters are amazing.
Pin this post to Pinterest!
Pennsylvania National Fire Museum
Website
1820 North 4th Street, Harrisburg, Pennsylvania
Admission: Adults $7, Seniors & Students $6
Hours: Tuesday – Saturday 10am – 4pm, Sundays 1pm – 4pm, Closed Mondays and holidays
While in Harrisburg, don't miss visiting the stunningly beautiful state capitol building and check out the Visit Hershey & Harrisburg website for a visitors guide and more info on the area.
More Fun in the USA