Virginia Beach, you certainly know how to feed a girl. There are some really good eats worth sharing, so I compiled a list of Virginia Beach restaurants you need to try!
I've done my best to group all of these places to eat in Virginia Beach geographically. I know when I'm planning what to do in Virginia Beach, restaurants are top of mind. I hope this list helps!
BEST PLACES TO EAT IN VIRGINIA BEACH (ViBe Creative District)
The restaurants in the ViBe district were my favorite of the bunch. They're on top of current food trends with clean eating and locally sourced fresh ingredients, and the food is superb!
Commune
501 Virginia Beach Blvd., Virginia Beach
(Website)
Virginia Beach's first farmer-owned eatery uses sustainable, seasonal, and local ingredients (many from the on-site garden) to make unbelievably delicious and memorable food.
Surprising ingredient combinations result in unexpected flavors, so be prepared to fall in love with Commune at first bite.
Staying true to its name, seating is community-style with tables and counters, but it's a fairly small place, so go early if you're on a time crunch, or just grab something from the bakery.
The Stockpot
700 19th St., Unit 106 Virginia Beach
(Website)

It's all about healthy comfort food, and yes… soup at The Stockpot, and this unique little eatery doesn't disappoint.
Everything is made from scratch with locally sourced ingredients whenever possible, and the food is outstanding. The full menu is available all day, so you can order breakfast, lunch or dinner.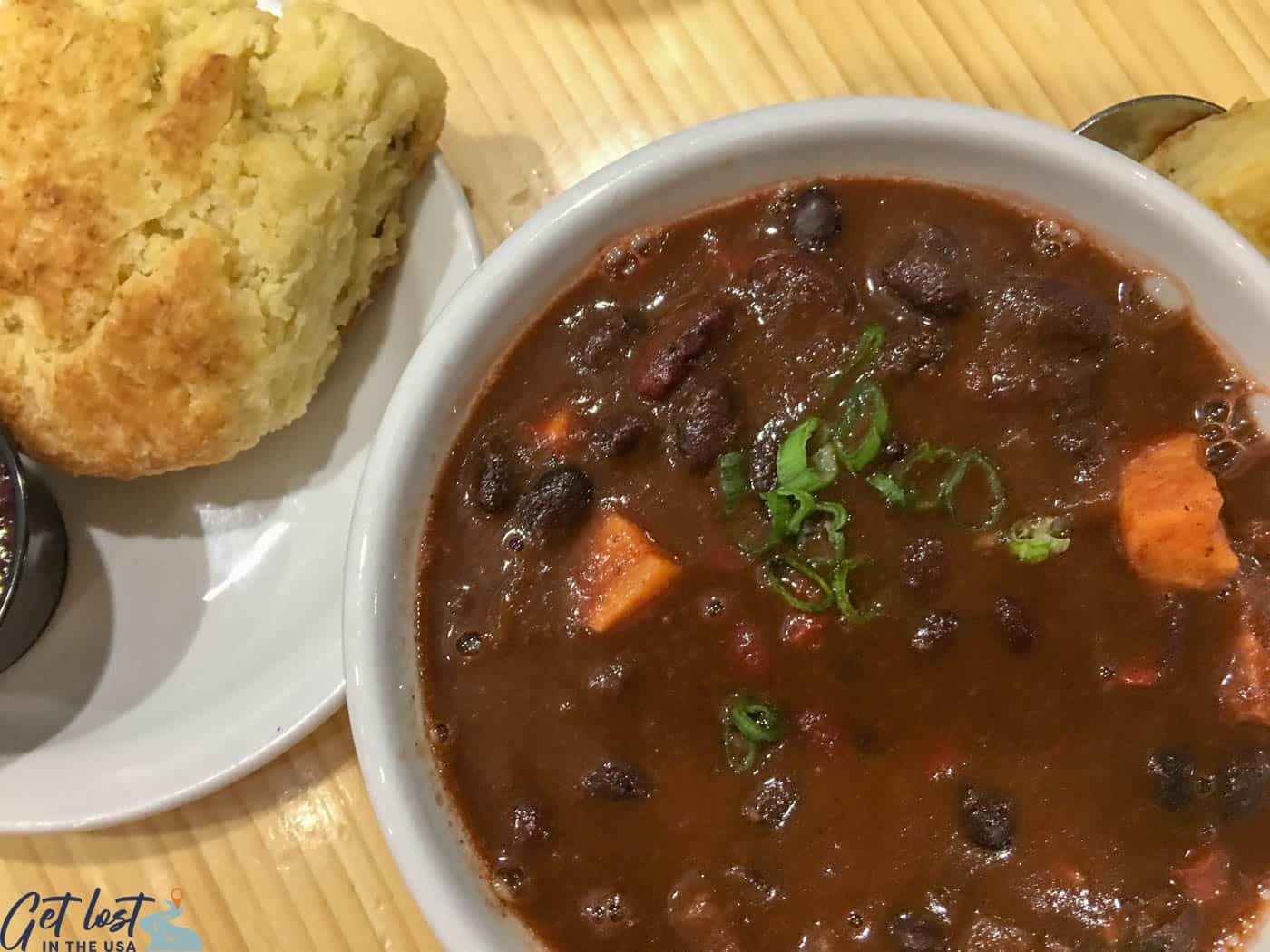 Soups are served with tasty little rosemary biscuits for dipping, sopping, or popping — your choice.
Esoteric
501 Virginia Beach Blvd. Virginia Beach
(Website)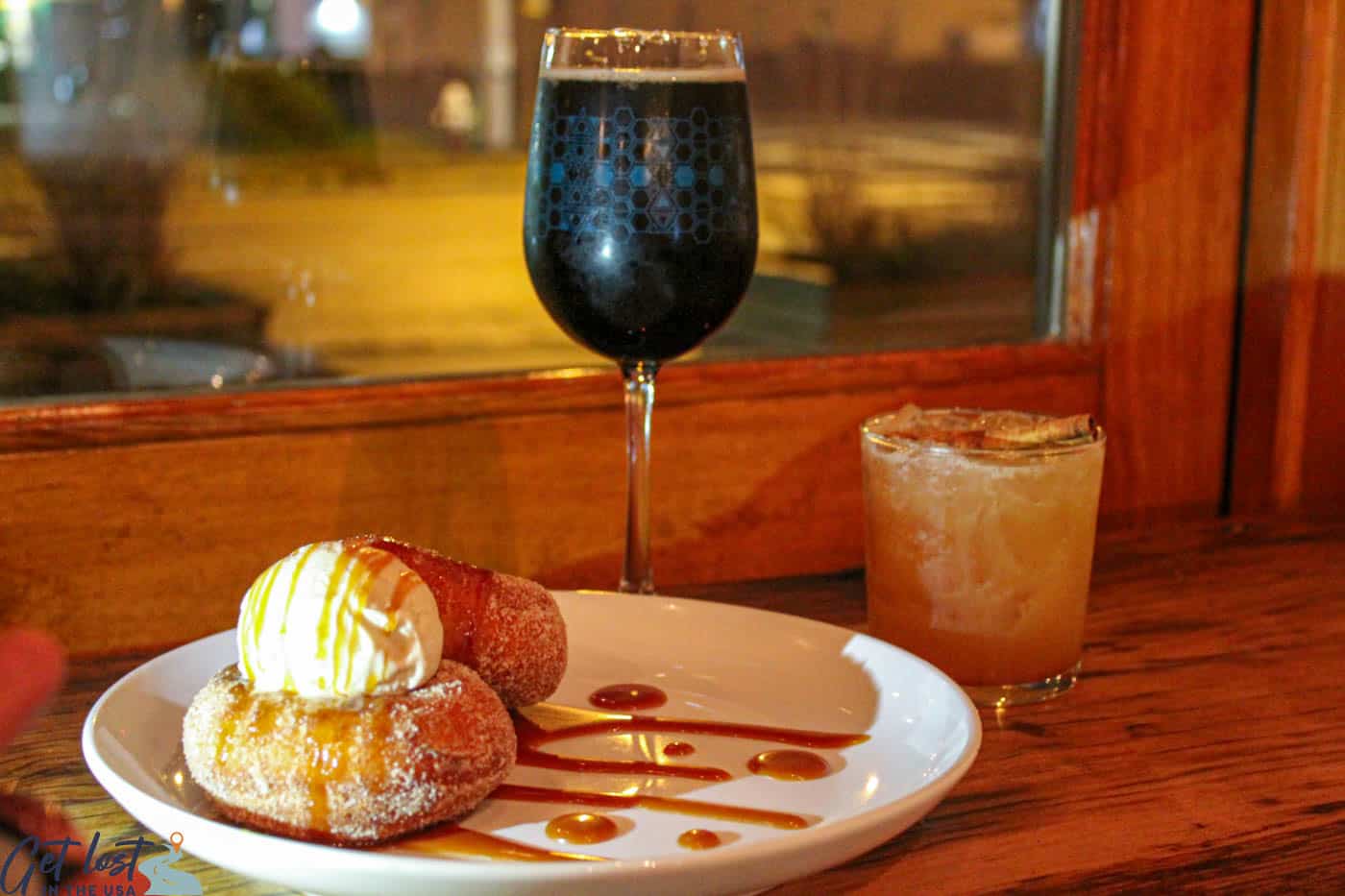 Esoteric is where you'll find the best craft beer selection in Virginia Beach, along with a diverse and carefully curated menu.
The restaurant shares a garden with Commune, so many of the ingredients used are sourced right from their own backyard. I ordered one of their amazing cocktails – the Boozy Apple, and we shared an order of their award-winning cinnamon sugar sweet potato donuts. Fantastic!
We'll definitely be back to sample the full menu, though.
Hearth Wood-Fired Cuisine
605 Virginia Beach Blvd., Virginia Beach
Open Tues-Sun. Reservations Recommended
(Website)
If you've got a craving for a great wood-fired pizza, Hearth (which originated as a food truck) is the place to go.
The restaurant's rustic decor and fireplace add a cozy warmth, and the staff is very friendly. If you like cocktails, the signature "Hearth Mule" is excellent!
Tip: Dine during Pizza Happy Hour from 5-6 p.m. when pizzas are just $13!
PLACES TO EAT IN VIRGINIA BEACH (Boardwalk Area)
Doc Taylor's
207 23rd St., Virginia Beach
(Website)
The locals must be keeping this gem of a restaurant plenty busy on their own because there's no big flashy sign outside beckoning tourists to visit. Thankfully, I heard about it and stopped in for lunch.
The restaurant used to be a doctor's office in the late '30s, and now it's serving up breakfast and lunch open kitchen-style. Really neat place, with friendly staff and feel-good sandwiches.
Waterman's Surfside Grille
415 Atlantic Ave., Virginia Beach
(Website)
I couldn't resist trying the famous Waterman's Orange Crush cocktail, so we made it the last stop of the evening and sat on the heated outdoor patio with a beautiful view of the ocean as we sipped.
There are lots of "crush" cocktails available, but the bartender highly recommended getting the original Orange Crush if we hadn't tried it before.
We really enjoyed them and almost ordered another round, but we were driving, so responsibility won out. We'll be back for another Orange Crush and a meal next time!
VIRGINIA BEACH RESTAURANTS (Chesapeake Bay Beach Area)
Bubba's Seafood Restaurant & Crabhouse
3323 Shore Drive Virginia Beach
(Website)
This longstanding Chesapeake Bay restaurant serving fresh, locally caught seafood really draws in the crowds, and it's no wonder.
The food is delicious, and the dining room has a beautiful sweeping view of Lynnhaven Inlet. We had a seat right next to the window, and watching the birds and boats come and go was really fun. Great lunch spot!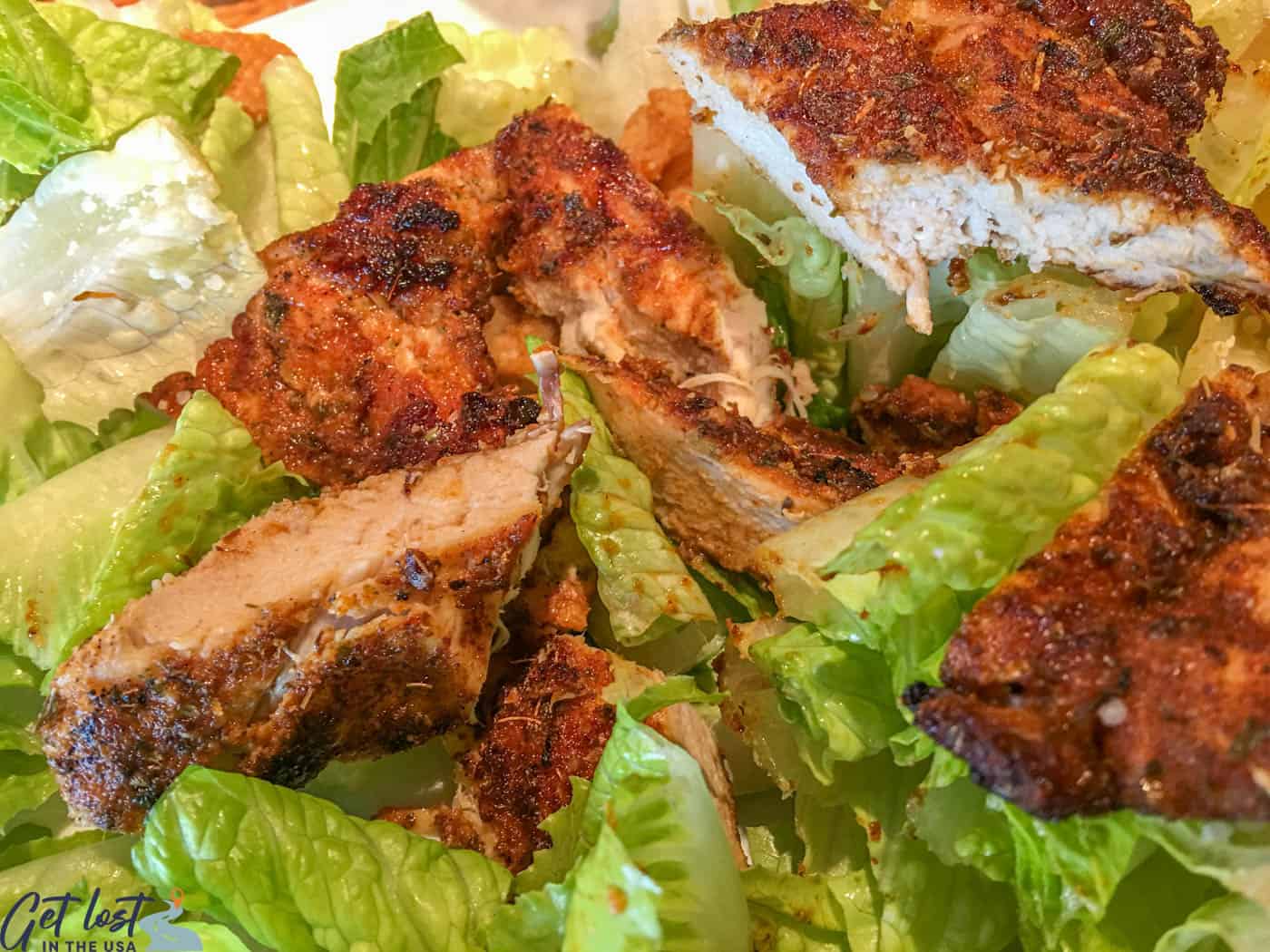 DESSERT RESTAURANTS IN VIRGINIA BEACH (Downtown)
The Royal Chocolate
164 Central Park Avenue
Open Tuesday-Sunday
(Website)
Escape from the beaches for a while and head to Town Center for the popular Chocolate Fondue dessert at The Royal Chocolate.
Choose from three different types of chocolate and four dipping items, or choose the package that includes a drink and three pieces of chocolate.
We ordered the full package with frozen hot chocolate drinks, and everything was sensational!
The servers were super friendly and helpful, making the experience even better. Highly recommended!
As you can see, I ate a lot on my recent trip to Virginia Beach, and not a bad meal was had. I received complimentary gift certificates to use for my meals at Commune and Bubba's and the remainder of the meals I paid for myself. I'm really impressed with the culinary offerings in the area, especially with what's happening in the ViBe district, and I'm looking forward to seeing what else pops up there over time.
Psssst… Don't miss my post on things to do in Virginia Beach—I highly recommend visiting the Virginia Beach lighthouses!
Where are your favorite restaurants in Virginia Beach? Have you tried any of the restaurants I mentioned? Let me know your recommendations so I can try them next time!
Explore More of the Area