Exploring Dover, Delaware, one of Kent County's quaint villages and Delaware's capital city, should be on everyone's must-do list when visiting the Mid-Atlantic region.
Dover exudes old-time charm and offers a surprising variety of attractions the whole family will enjoy, including a handful of top-notch tours well worth taking.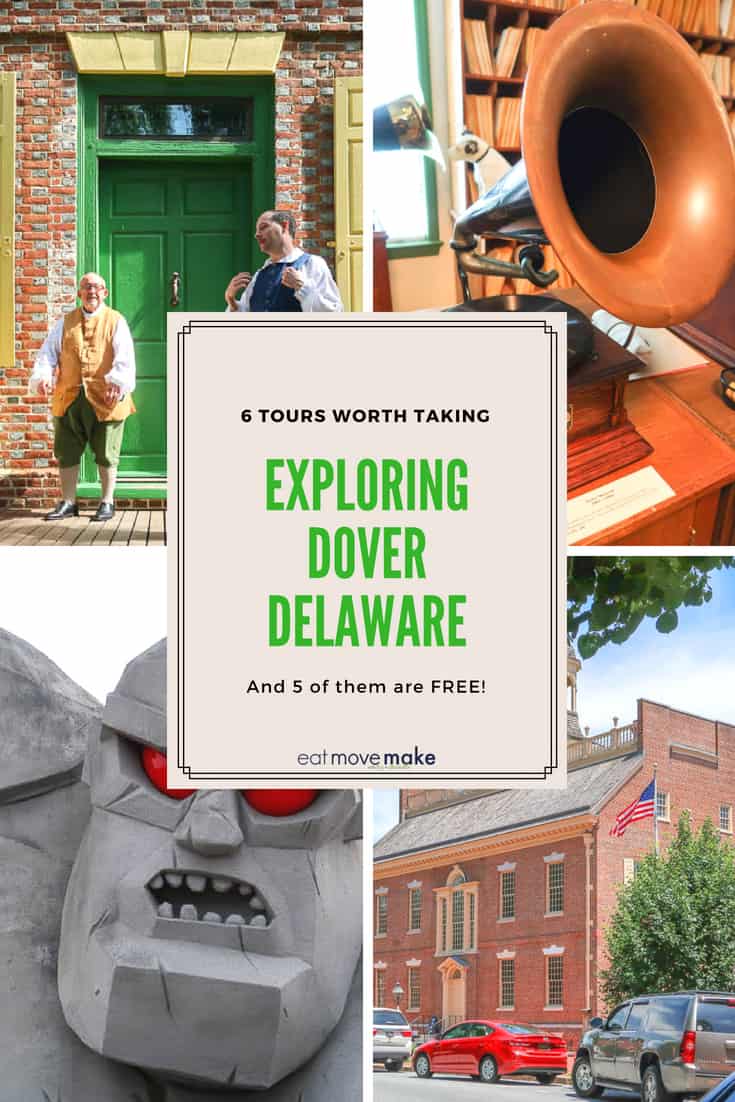 Johnson Victrola Museum (FREE)
Did you know the first talking machines required winding the entire time you were listening to them? It was Eldridge R. Johnson who changed all that with the invention of the Victrola, and this hidden gem of a museum in Dover lets you experience the magic of those early recorded sounds.
Fun fact: There was no volume control on the Victrola and it was loudest wherever the horn pointed, but if you "put a sock in it" you could quiet the sound down substantially. Later models had doors and if you "put a lid on it", you could minimize the sound. Don't you love finding out where those old sayings came from?
Our tour guide wound up a couple of the machines and played some old records for us. There's just nothing like that old sound!
Upstairs, you'll find an artsy display of Victrola horns hanging from the center of the room.

There's also a large exhibit devoted to Nipper whom you probably recognize from the iconic His Master's Voice image.
And if you love a good photo opp, be sure to snap a selfie next to the giant papier-mache Nipper.
The Johnson Victrola Museum is a small museum, but it's truly a treat. Don't miss it!
Plan Your Visit
Hours: Wed-Sat 9-4:30 pm and most holidays
Address:75 S New St, Dover, DE 19901
Website
Air Mobility Command Museum (FREE)
While plenty of museums are devoted to all things military, the Air Mobility Command Museum is the only one devoted to military cargo and refueling aircraft. The unvarnished reality: without all the supplies those planes carried, there would have been no way to win a war.
Open cockpit day is the third Saturday of every month, so that's the ultimate day to visit but the museum is open daily and volunteers (many of whom are retired servicemen) are more than happy to show you around and share fascinating facts about the aircraft and equipment.
For instance, there was a bomber plane with a Sperry Ball Turret and we were told the gunner's biggest problem (other than being hit) was getting frostbite on his hands and face from the minus 40 degree temperatures. He could wear a bombing suit to keep him warm, but those often caught on fire. As if body heat wasn't enough of a problem, he also dealt with being cramped into the fetal position for countless hours at a time.
Thank you for your service.
We also had the chance to walk inside the plane that gave the museum its start in 1986 – a C-47. This plane flew men to Normandy on D-Day; if that's not sobering, I don't know what.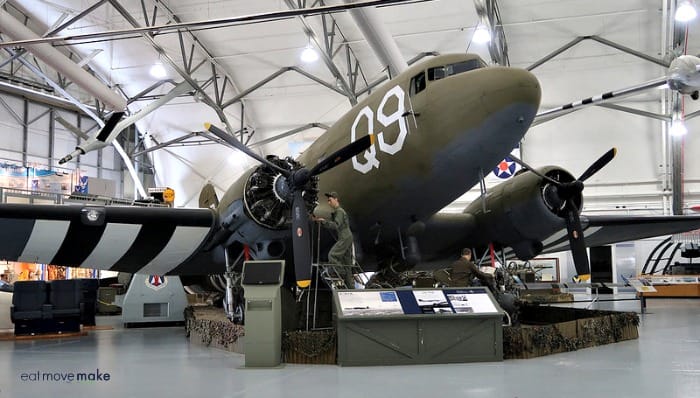 It's not obvious in the below photo, but the cargo board of the C-47 is extremely steep since it's a tail dragger. Also, there's no insulation, so it would have felt like flying in a tin can.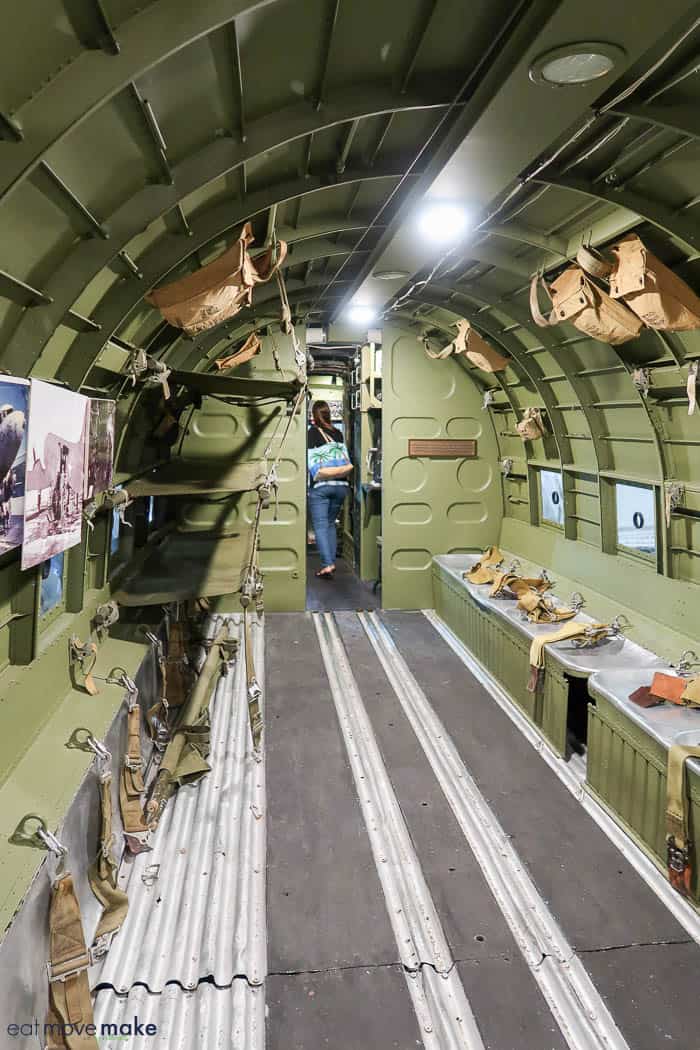 Outside there were two planes open for touring the day I was there. One of them was an Air Force Two plane (now decommissioned). It was obviously built for comfort.
But, did you know Air Force Two is only a call sign? This particular plane has been Air Force One four times over the years.
Also outside was the massive C5 (the largest American cargo plane ever built). It's as long as a football field and eight stories high! The C5 was the only plane large enough to carry and launch an intercontinental ballistic missile while in flight.
Each time you visit the museum, you'll likely learn something new, since each volunteer has their own personal spin and stories to tell. The Air Mobility Command Museum makes a great family activity or rainy day outing.
Plan Your Visit
Hours: Tues – Sun 9am-4pm
Address: 1301 Heritage Rd, Dover AFB, DE 19902
Website
John Dickinson Plantation (FREE)
If you haven't heard of John Dickinson, he was one of the United States' founding fathers, a signer of the Constitution, and "Penman of the Revolution." He was kind of a big deal in the Del Mar, and the bright paint colors used inside and outside the home are good indications of the family's wealth.
Costumed interpreters guide you through the mansion pointing out interesting artifacts (some original and some period pieces) and demonstrating what daily and seasonal life must have been like. For instance, since the oversized front and back doors were usually open for cross-ventilation, during the harvest season, furniture would be covered to help keep it clean. In the summer months, mosquito netting surrounded each of the beds.
To help keep mice and bugs out of their drawers, they would make potpourri with things like peppermint, spearmint, dried orange peel and lavender, and we had the chance to make our own sachets.
Peppermint has menthol so they would use it to repel mice. They used spearmint for jams and jellies and to take the itch out of bug bites. When used in tea, it also soothed upset stomachs. Dried orange peel was used for flavoring and repelled insects and mice. Rose water and rose oil made a great astringent for skin. Lavender on sheets helped with relaxation and also acted as a moth repellent.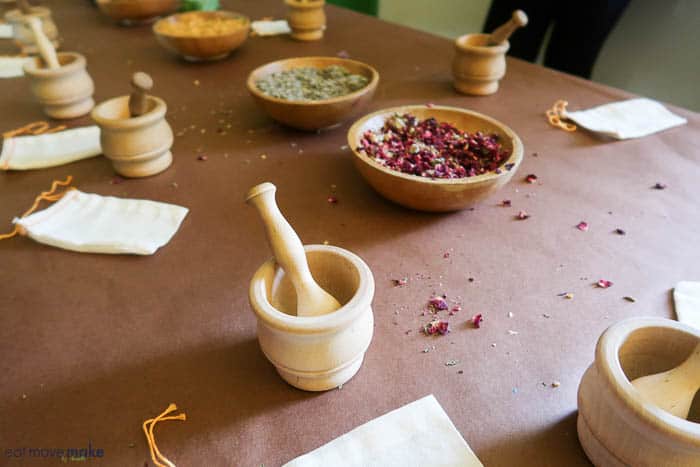 Plan Your Visit
Hours: Tues – Sat 10-4:30pm, Apr-Sept Sundays 1-4:30pm
Address: 340 Kitts Hummock Road Dover, DE 19901
Website
Old State House (FREE)
Delaware's first capitol building had its courtroom on the main floor and both legislative chambers on the second floor. It's hard to imagine so much going on in a single building!
Interpretive guides do a fabulous job of bringing Delaware's early history to life and showing what an important role the state played in the American Revolution. In fact, we had the chance to see a copy of the ratifying signatures of the U.S. Constitution which made Delaware the first state.
Plan Your Visit
Hours: Monday-Saturday 9 a.m.- 4:30 p.m., Sunday 1:30 p.m.-4:30 p.m Closed Thanksgiving Day, Christmas Day, New Year's Day and Easter.
Address: 25 The Green Dover, DE 19901
Website
First State Heritage Park (FREE)
Outdoor walking tours of the historic city square (outlined by William Penn) begin at the John Bell House, the oldest wooden structure on The Green. Costumed interpreters in period dress share interesting facts, fascinating tales (ask about the chocolate murder) and point out important historic sites (like the Golden Fleece Tavern where the Constitution and Bill of Rights were ratified and signed).
Plan Your Visit
Hours: Monday through Saturday: 9:00a.m.- 4:30p.m. Sunday: 1:30p.m.- 4:30p.m. Closed on Delaware state holidays
Address: 25 The Green Dover, DE 19901
Website
Dover International Speedway ($10)
Go inside the speedway for an up-close look at the country's only auto racing and horse racing facility! You'll experience the grade of the track itself, Monster Bridge, Pit Road, Victory Lane and see the famous Monster Monument up close. It's a very cool experience!
Plan Your Visit
Public Tours: Thursdays 2 pm, other times can be arranged. (The $7 fee is taken off any future ticket purchase.)
Address: 1131 North Dupont Highway Dover, DE 19901
Website
Where to Eat when Exploring Dover Delaware:
In the heart of historic downtown, you'll find the Grey Fox Grille, a renovated and restored 1881 home serving delicious and affordable American fare.
If you're in the mood for a cup of coffee and fresh pastries, stop in at the House of Coffi.
Two other great dining options outside of the historic area include Restaurant 55 where you'll find great burgers and beer or enjoy some casual, down-home cooking at Countrie Eatery.
Where to Stay in Dover, Delaware
If you enjoy a taste of luxury and like having everything you need under one roof, Dover Downs Hotel & Casino offers premium accommodations, restaurants and entertainment. This is where I stayed during my visit and loved it.
For more moderate accommodations while exploring Dover Delaware, there's a nearby Holiday Inn Express  or Hampton Inn. For more assistance planning a trip to Delaware's Quaint Villages, reach out to the Kent County Tourism Corporation.
Pin for travel inspiration!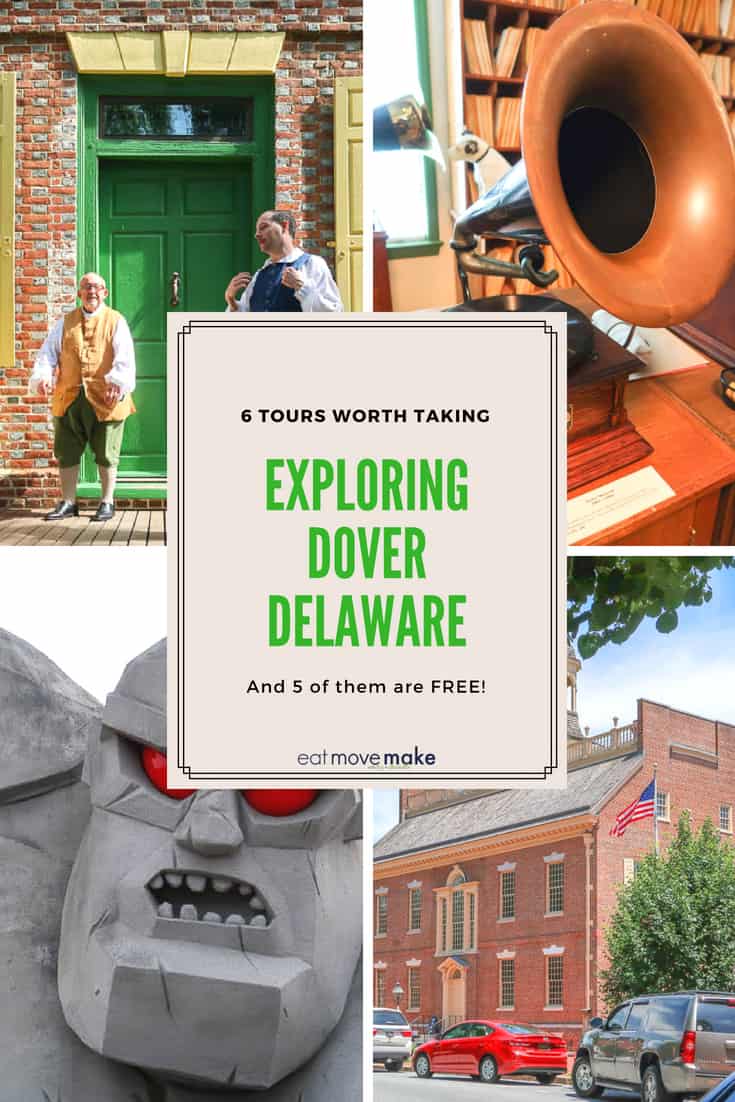 There's More U.S.A To Explore