Texican Court, a brand new luxury boutique hotel in Las Colinas offers an experience! The exterior has the fun retro appearance of an old-time motor court with a bright neon sign and three floors of rooms flanking a courtyard and pool.
When I pulled in, I felt like I'd stepped back in time to a bygone era when road trip adventures were a way of life.
But while nostalgia reigns supreme in theme, the Texican Court hotel is jam-packed with all the luxury, conveniences and modern amenities most of us can't do without.
My stay at Texican Court was part of a hosted Visit Irving experience.

Guests begin the experience in the lobby where the decor is distinctly Tex-Mex with a modern twist. The design is stunning, but what else would you expect from a Valencia property?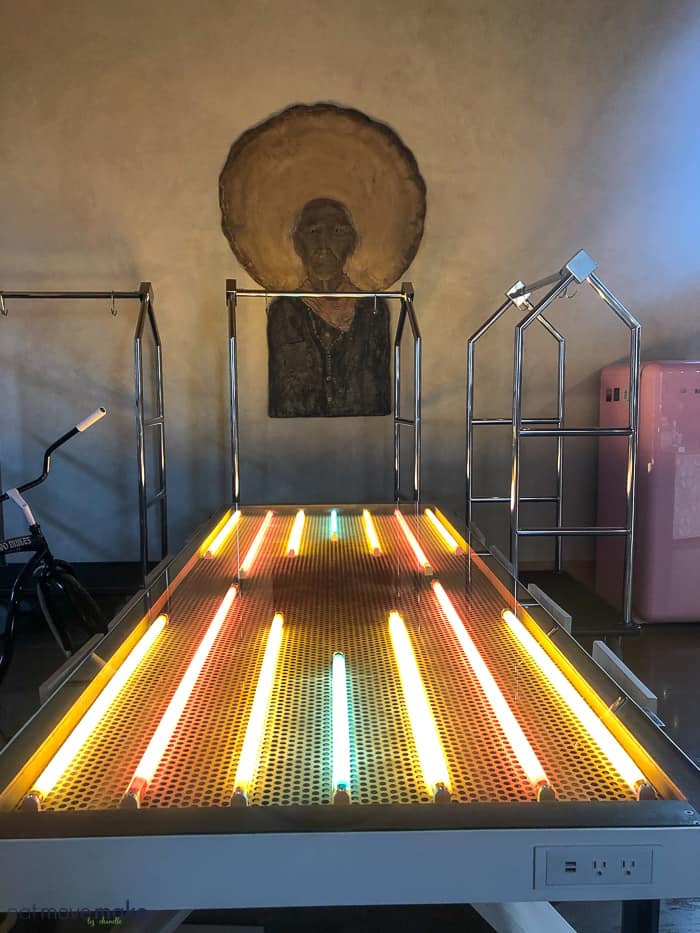 I secured my key and wandered off in search of my guest room. Each of the 152 rooms at Texican Court faces either a courtyard or the pool, and there are rocking chairs for a cozy place to sit back, relax and watch those beautiful Texas skies – day or night.
Texican Court Hotel Rooms
It's the best of the Old West inside the vintage-inspired guest rooms and the warm earthy Mexican-style fabrics and colors tie everything together perfectly.
My favorite part of the room, and the thing I noticed first, was the collection of cowboy photos over the couch. I could practically hear the guitar, whip cracks and whistles of old spaghetti westerns in my ear.
One of the most unique touches in the room was the large 50's style flaming orange SMEG refrigerator loaded with a huge variety of drink options for purchase. A great selection of snacks on the coffee table tempted me as well.
I loved the attention to detail in the furnishings. Even the wastebaskets were full of personality.
And the bed sheets were embroidered. Who does that? Texican Court does!
The robes were unlike anything I've ever seen before – wildly colorful and incredibly fun.
I haven't seen this kind of detail in years. Texican Court thought of everything!
At this point you may never want to leave your room, especially since it has a 50″ interactive TV, free WiFi and all the charging ports and plugs you could ever need.
But, I encourage you to leave your room and take advantage of all the other hotel amenities. Tequila, anyone?
Texican Court Tequila Bar
As if the guest room experience itself wasn't enough, there's also a tequila bar on site (right across from the lobby). I highly recommend the Texican Margarita – a spicy jalapeno kicked-up version of the classic favorite.
There's a small number of seats inside, but there are plenty of spots to cozy up outside and you can wander to the pool, the firepit or the courtyards.
Two Mules Cantina – the Texican Court Restaurant
There's also a phenomenal restaurant on property, Two Mules Cantina, which serves a free continental breakfast for guests each morning.
Two Mules Cantina also serves breakfast, lunch and dinner from a menu. I had dinner there the night I arrived and it was absolutely incredible.
Pro tip: Order the cochinita pibil.
The hours and energy needed to make cochinita pibil, a Mexican slow-roasted pork dish, is too much for a time-crunched home cook like me, so seeing it on the menu was thrilling!
I would order it every single time — unbelievably tender and flavorful. It was far and away my favorite meal while visiting Irving, TX.
Also on my win list were the succotash, chips and queso and sopapillas. Delicious!
Pro tip #2: Bring your stretchy pants.
Other Texican Court Amenities
It wasn't quite warm enough when I visited to jump in the pool, but it sure was inviting and I can imagine this will be a hot spot (or should I say cool spot) most of the year.
If you'd like to get in a little exercise, visit the decked out fitness center or grab one of the bikes available for guests and go for a spin!
And at night, the outdoor fire pits are the perfect place to gather with friends, make s'mores or share a bottle of wine.
Texican Court Location
Located across the street from the Irving Convention Center and Toyota Music Factory, Texican Court is smack in the heart of Las Colinas' entertainment district. With nearly two dozen dining and entertainment options within walking distance (and more on the way), you may never need to move your car (which is free to park, by the way.)
Or you can hop on the DART Rail's Orange Line at DFW Airport and leave your car behind completely since the station is within walking distance from Texican Court.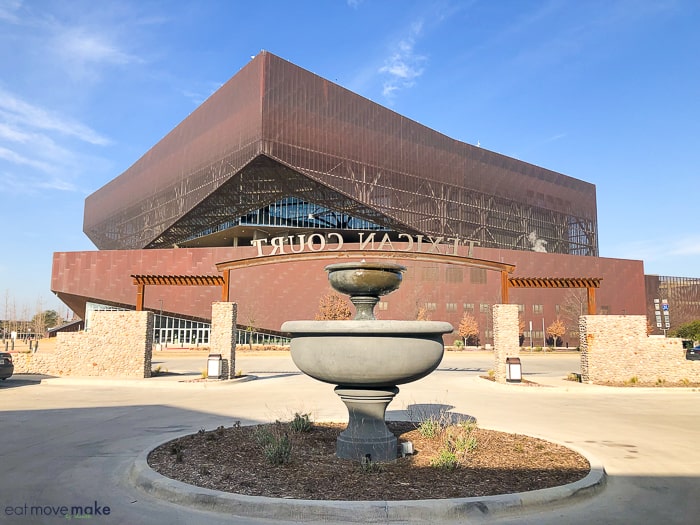 If you're looking for hotels in Las Colinas that offer an experience and a stay, you'll find all that and more at Texican Court.
For ideas on things to do in Irving and Las Colinas, check out the Irving Convention & Visitors Bureau website to plan your next visit.
Pin this Texican Court post for travel inspiration!
Related Posts