Are you hunting for a picturesque western North Carolina town to explore and wondering about things to do in Flat Rock, NC? Nestled in the heart of the Blue Ridge Mountains, Flat Rock makes a perfect day trip as it's just south of Hendersonville and 40 minutes from Asheville.
The village is small, but there are more than a few things to do in Flat Rock, NC. From cultural landmarks and scenic outdoor adventures to phenomenal restaurants, theater, and shopping, there's something for everyone. So, keep reading to see what makes Flat Rock a popular western North Carolina destination and why you must make it a day trip or spend an entire weekend there.
Read Next: 3 Fantastic Apple Orchards Hendersonville NC + the #1 Reason to Visit Each of Them
Where to Stay: We love the Waverly Inn in neighboring historic Hendersonville!
BEST THINGS TO DO IN FLAT ROCK, NC (ITINERARY)
A Very Brief History of Flat Rock NC
The area was originally the home and hunting grounds for the Cherokee Nation. Early pioneers constructed a 75-mile roadway from South Carolina through North Carolina into Tennessee. Initially called the Drovers' Road, it was later improved and renamed the Buncombe Turnpike. Farmers would round up their livestock (cattle, horses, mules, ducks, turkeys, and hogs) and make the month-long journey over the dusty roads to market. A small turnpike section is still visible today and has a historic marker.
Flat Rock became known as the "Little Charleston of the Mountains" when wealthy Charlestonians began building summer homes to escape the heat and humidity of the South Carolina Lowcountry.
See the Great Flat Rock
You can't go to Flat Rock without seeing "the flat rock." At least I couldn't. The village is named for the massive granite outcrop around which it was built.
Most of the rock is flat, and although much of it is underneath the streets and vegetation, a large area of granite is exposed on the grounds of the Flat Rock Playhouse, so that's where I recommend going to get a good perspective of how immense the flat rock was/is.
Visit the Carl Sandburg Home National Historic Site
81 Carl Sandburg Lane
Website
The Carl Sandburg Home National Historic Site preserves the legacy of Carl Sandburg, a prominent American poet, Lincoln biographer, journalist, and editor. He won three Pulitzer prizes, one for his biography of Abraham Lincoln and two for his poetry. He also wrote Rootabaga Stories, a fairy tale series written for children.
The National Park Service site includes his former home, Connemara Farm (and goats!), and surrounding property. Sandburg lived there in his later life, and visitors can tour the house and farm and enjoy five miles of hiking trails.
Explore Little Rainbow Row
Little Rainbow Row, the colorful shops and eateries in the heart of Flat Rock (nicknamed as a nod to Charleston) include favorites like The Wrinkled Egg, a darling gift shop full of southern folk art, toys, clothing, and vintage treasures, and Dogwood Gallery where you'll find jams, soaps, honey, items for the home and locally crafted goods.
Pop into the Firefly Craft Gallery and The Gallery at Flat Rock for contemporary and finely crafted artisan gifts. And to satisfy your sweet tooth, pick up one of the fresh-baked treats from Flat Rock Village Bakery.
Tip: Hubba Hubba Smokehouse is in the back of Rainbow Row, so it's a great place to fuel up before or after shopping!
Get Your BBQ Fix at Hubba Hubba Smokehouse
2724 Greenville Highway
If you love BBQ, don't miss eating at Hubba Hubba Smokehouse. First, order at the window, then pick a place to sit in the lush garden courtyard. (It's all outdoor seating.)
Hubba Hubba cooks their 'cue low-and-slow over red oak, white oak, and hickory wood resulting in a deep smoky flavor that will blow your mind.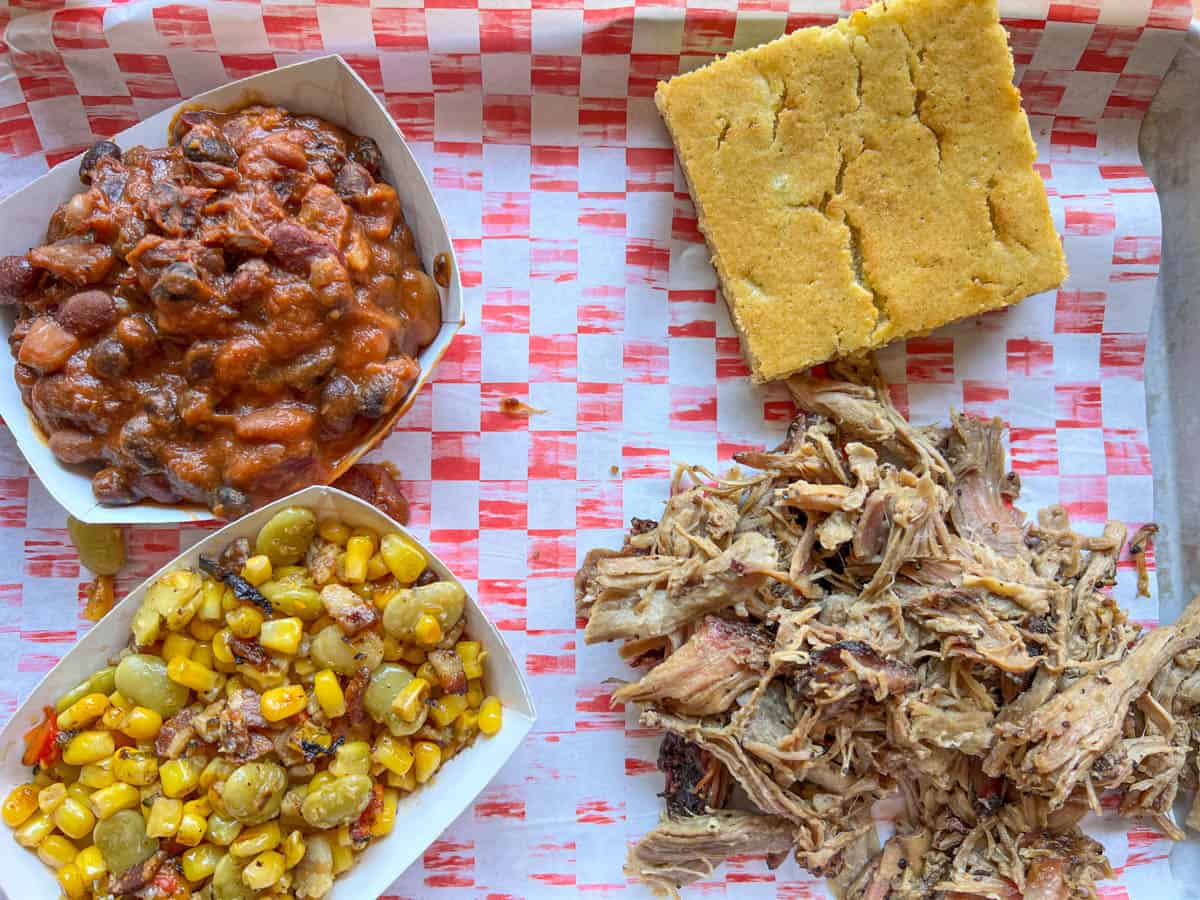 It's probably the best BBQ I've had in years! The meat is tender and juicy with crisp seasoned bark edges. Perfection.
Guests may choose one of the scratch-made sauces to top their 'cue of choice, and Hubba Hubba has a sauce to please every palate.
Visit St. John in the Wilderness Episcopal Church and Graveyard
1895 Greenville Highway
This church was built by a wealthy Charleston couple, Charles and Susan Baring, as their private chapel near their summer home, Mountain Lodge. The church mainly held services during the summer months when Charleston families were in the area.
The initial structure was wood—need I say more? After burning down, it was rebuilt poorly and torn down; the third iteration is what we see today.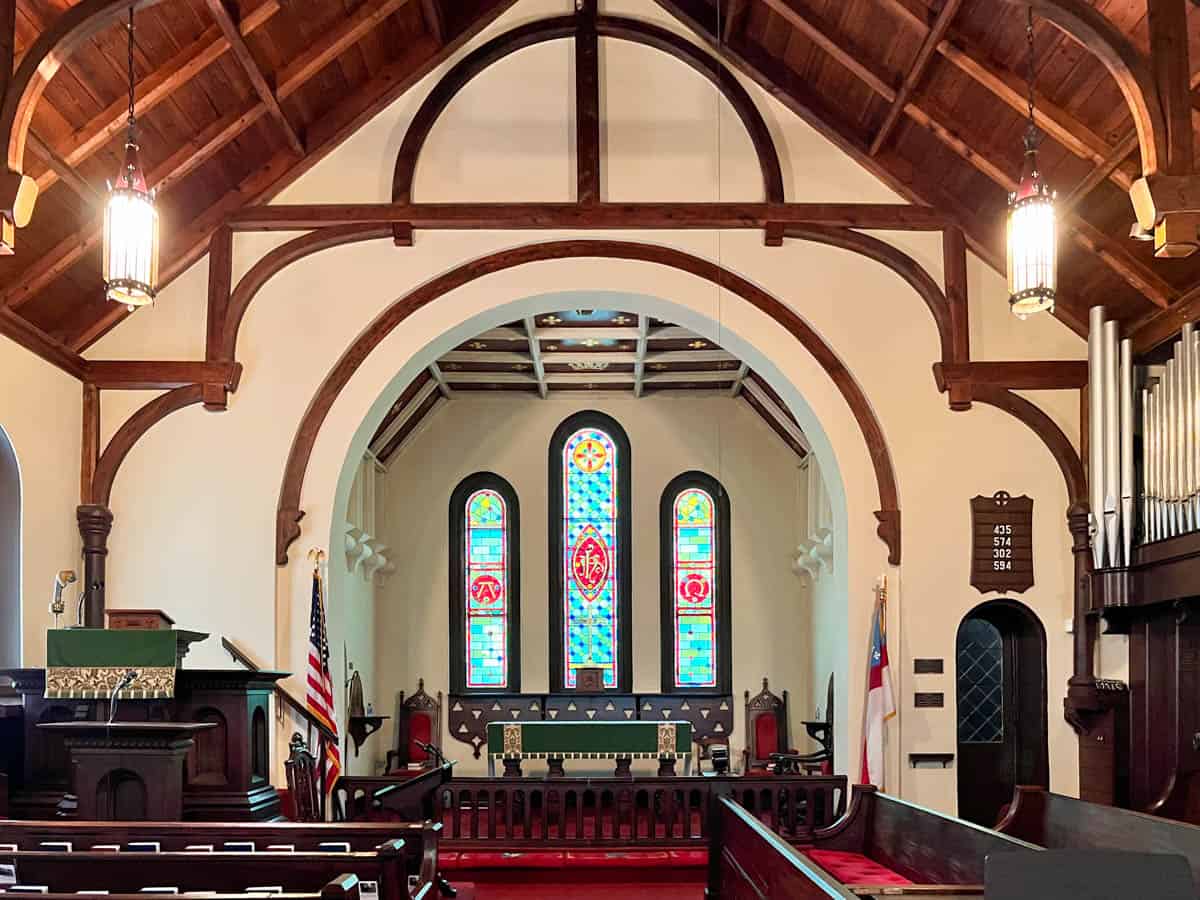 Of particular interest is the churchyard cemetery. Look for the separate burial area to honor approximately one hundred African-American enslaved, freed servants and their children who worshipped at St. John in the Wilderness Episcopal Church in its early days.
The original field stone markers now bear new crosses. But, sadly, they still have no names on them.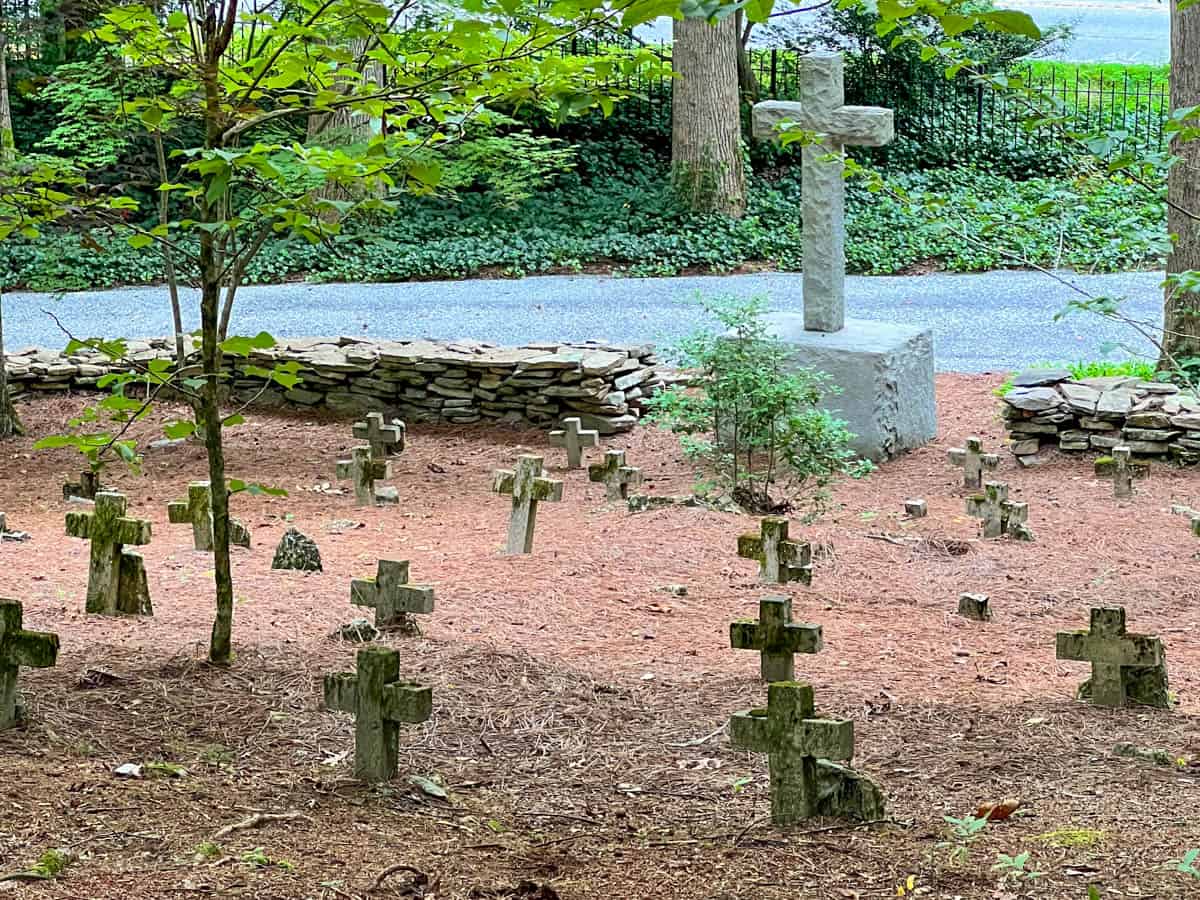 Pick Apples at Sky Top Orchard (Seasonal)
1193 Pinnacle Mountain Road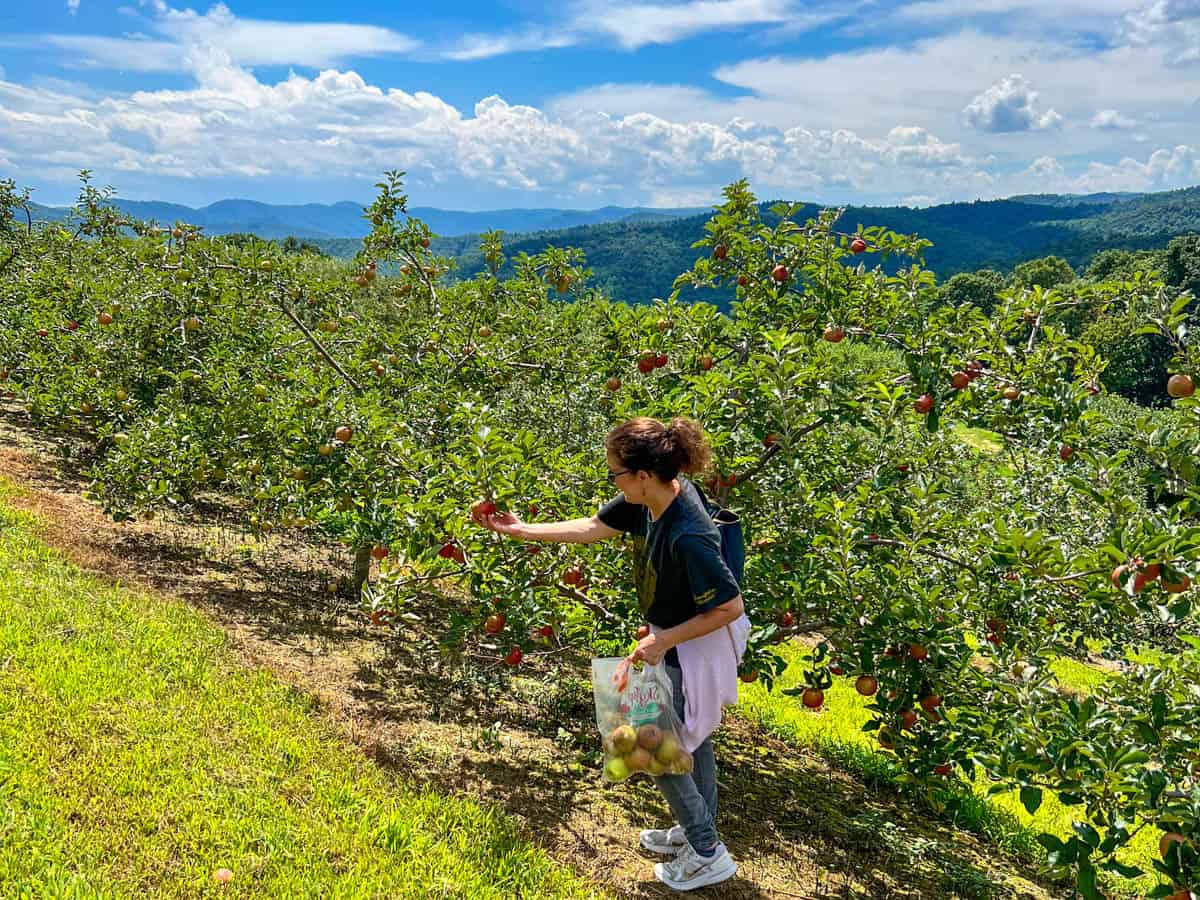 This can't-miss apple orchard has stunning views. Along with apples, you'll find the most amazing apple cider donuts and treats. It's one of the best places for apple picking in North Carolina.
See the Historic Heidelberg House at Bonclarken
The Heidelberg House is just one of the many buildings in the Bonclarken Conference Center. But, it was the first structure, and its stick-style Queen Anne architecture is well worth a drive-by.
It was built as a private residence by Arthur Rose Guérard, one of the many wealthy Charlestonians who summered in the area, for his German-born wife, Eugenie. Its style was created to resemble the European homes she was accustomed to seeing, and they named it Heidelberg House in honor of her German heritage.
Many additions were made throughout the years, including the bell towers, verandas, and a music room increasing the home's size to its current 25,000 square feet.
Indulge in Farm-to-Table at Season's at Highland Lake
86 Lilypad Lane
As its name suggests, the fine dining menu changes seasonally based on fresh and locally sourced ingredients, including herbs, veggies, and edible flowers from the restaurant's organic garden. And the presentation is exceptional—the plates burst with colorful ingredients and fresh flavors to make your taste buds sing.
Our pick: Peach Caprese Salad!
Catch a Show at Flat Rock Playhouse
2661 Greenville Highway
Website
The perfect way to cap the list of things to do in Flat Rock, NC, is with a live theater performance at The Flat Rock Playhouse, North Carolina's State Theater. The playhouse features top-notch productions from mid-April through mid-October (along with a holiday show).
Its roots go back to 1940 when the Vagabond Players, an acting troupe from New York, made their way to the area and began performing the first summer theater productions in North Carolina. The current barn-like theater design is a nod to those humble beginnings, but the state-of-the-art lighting and sound systems are anything but modest.
So far, I've seen two performances at Flat Rock Playhouse: Joseph and the Amazing Technicolor Dreamcoat and, most recently, From Mozart to Pop Chart. They were both exceptional!
For a travel guide and help in planning a trip to the area, check out https://visithendersonvillenc.org/
More Travel Ideas