Eating out is one of the best parts of traveling, and as part of our recent girlfriend getaway media trip, my friends and I enjoyed some pretty tasty meals at several Charlottesville restaurants.
I always appreciate word of mouth when it comes to food, so I thought I'd share my dining experiences with you, and to make it easier, I've tried to group all the restaurants in Charlottesville by general location.
Charlottesville Restaurants
Charlottesville Downtown Mall
The Whiskey Jar
I loved the fun vibe of this casual restaurant serving Southern style food. With the name being 'The Whiskey Jar," you'd think I would have had a sample, but it was only lunchtime, too early for me. What I did try was their toasted interpretation of a pulled pork sandwich along with the house made potato chips, and we shared some incredibly delicious bourbon sauce bread pudding for dessert.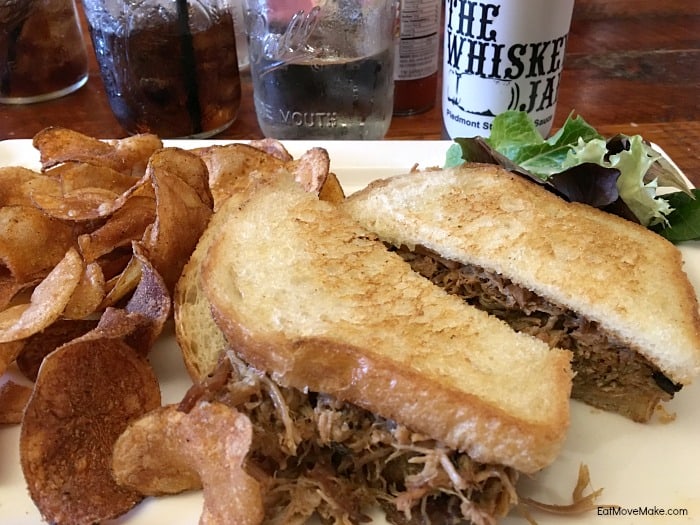 Commonwealth Restaurant & Skybar
We walked over here for dinner after a fun evening of painting at Wine & Design. The restaurant has a big city look but a relaxed and quiet atmosphere, so it was great for conversation. I enjoyed the vegetable gratin with acorn squash puree and asparagus for dinner.
There's a rooftop skybar which overlooks the downtown mall area, and I wish we'd have at least snuck a peek at it, but I didn't think of it at the time. What I did remember to do was have dessert. We shared a white chocolate cheesecake and sticky toffee pudding, and we cleaned the plates!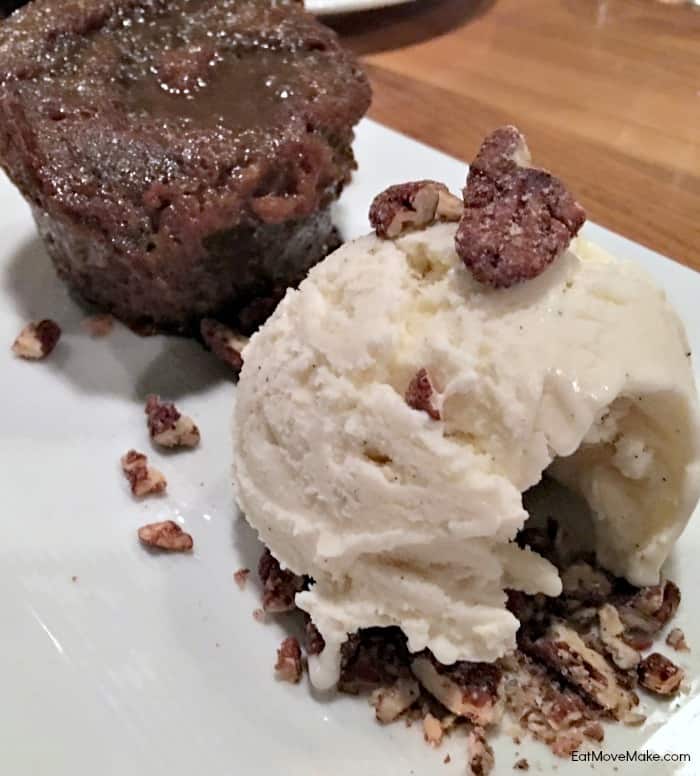 Red Pump Kitchen
This slightly upscale and trendy bistro has an open kitchen and a really cool looking bar. We started with specially made and beautifully plated appetizers. I was especially fond of the roasted brussel sprouts, and for dinner I went simple with the classic Margherita pizza cooked in the their wood-fired oven. For dessert, try the strawberry ricotta cake!
Crozet
Green House Coffee – Crozet
We ordered to-go lunches from Green House Coffee to eat while at Starr Hill Brewery, and my grown-up style grilled cheese with Swiss, Cheddar & Provolone cheeses, tomato & basil pesto on Goodwin Creek ciabattini with bacon was perfection.
Restaurants near the Shops at Stonefield
Travinia Italian Kitchen
I typically avoid chain restaurants when I travel, but I'm so glad I stopped here. The food was superb, and the service was outstanding! (Ask for Michael; he was super fun and full of personality.) We started with roasted brussels sprouts with balsamic glaze and some amazing mac and cheese. For entrees, you need to try the Pasta Mia Nonna, one of the most popular items on the menu.
For dessert, it was highly suggested we try the Apple Crostada, and I'm so glad we did. Fabulous. The entire experience was excellent, and I'd go back in a heartbeat.
Restaurants Near Monticello and the Presidential Estates
Michie Tavern
Step back in time to the 18th century when you enter this rustic, historic tavern where you'll eat one of the best traditional southern buffet meals you'll likely ever have. Grab a tray and a metal plate and cup, and servers wearing period attire will heap your plate with anything you desire. Once you're seated, they'll bring you refills of your favorites, and you can order dessert as well. Make sure you try the amazing fried chicken and peach cobbler. Michie Tavern is a must visit!
BBQ Exchange
After hearing several locals talk about how great this restaurant was, we decided to sneak in a visit before heading to the airport for our flight home, and I'm so glad we did. They serve hickory smoked pork, beef and chicken, and I had the best pulled pork BBQ sandwich I've had in years! They also have a great selection of BBQ sauces to choose from so you can sauce it your way. The dining room consists of picnic tables and it's a really cozy place. I loved it!
The Clifton Inn
This was our first dinner in Charlottesville, and what a wow way to start a vacation! We ordered from the bistro menu and sat at the Chef's Counter which was such a treat. Everything from start to finish was exquisitely prepared, starting with a heavenly cheese and fruit plate and an incredibly delicious wonton with white truffle foam. My entree was chicken fettuccine alfredo with house made pasta and some sticky toffee pudding with Earl Grey ice cream. Delectable all the way around. It's one of the pricier restaurants in the area, but oh my gosh, it's worth the splurge!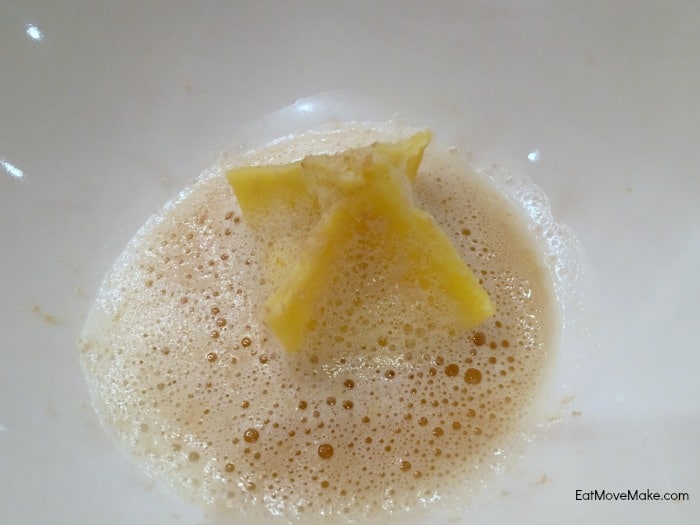 Which one of these restaurants in Charlottesville is calling your name?
For more information on the Charlottesville VA area, check out VisitCharlottesville.org
More USA Fun