If you've traveled along I-95 or I-40 on your way to and from Carolina beaches or outlet centers, you may have passed through Johnston County without realizing it, and now there's a good reason for you to stop over – the Beer, Wine & Shine Trail. 
Johnston County, NC (affectionately known as JoCo) is the only place I know of to combine beer, wine and shine into a single trail, because they're lucky enough to have all three being produced within county lines.
And that's something to celebrate… with some sippin'.
I hopped the Beer, Wine and Shine Trail as a guest of Johnston County.
Beer
Deep River Brewing Company (Clayton) – Johnston County's first legal brewery sits inside a historic cotton mill. It's cozy and inviting, and I loved it the moment I walked in. The taproom is absolutely beautiful! The bar and wall behind it are made with reclaimed wood from an old tobacco shed, and the brewery vibe is very family-friendly. Deep River patrons can enjoy weekly live music and food trucks.

Double Barley Brewing (Smithfield) – Owner Cheryl Lane gave her husband, Larry, a beer brewing kit for his 40th birthday, not knowing it would result in their opening a brewery just two years later! The taproom decor is modern meets rustic with plenty of reclaimed wood, and the brewery boasts a cozy beer garden as well.
The majority of Double Barley beers are "big beers" meaning high APVs, so they also serve eight different menu items for patrons to enjoy along with their brewski. The most popular beers on tap right now are the Revelation Pale Ale and the Abby's Amber.
Wine
It's all about the muscadine grape in North Carolina, and admittedly, it's a grape I don't much care for. It produces a sweet wine, and I like dry wines. That being said, it's always fun to taste, and every winery manages to surprise me with at least one wine I enjoy within the varietal.
Hinnant Family Vineyards and Winery (Pine Level, NC) – The vineyard began in 1971 to plant vines and sell grapes to market, but 14 years ago the family decided to start the winery, and the vineyards have since grown from the original 16 acres to 100 acres. It's the largest muscadine winery in North Carolina, but they do grow a hybrid blanc du bois grape as well.
Having just visited the Ava Gardner Museum, it was fun to see the three wines celebrating the Hollywood legend: Barefoot Beauty, Santa Baby and Ava's Allure.
Gregory Vineyards (Angier) – Owners Lane and Teresa Gregory are about the sweetest couple you'll ever meet. Lane started out tobacco farming, and when that industry changed, he opened a restaurant. Twice he leased it out over the years, but it never thrived when not under his care, so he finally took it back for good.
When they started doing weddings, Lane planted vineyards for a beautiful backdrop, and a couple years later he opened a tasting room and began making muscadine wine as a hobby. It went over so well that they've expanded by 20 or 30 acres, and Gregory Vineyards is now producing 67,000 bottles per acre. All of the wine they sell comes from their own vineyard.
Shine
Broadslab Distillery (Benson) – Jeremy Norris, owner and master distiller, grew up in a moonshine-making family. His granddaddy had his own still by age 13, and the extremely smooth "shine" Jeremy distills today is a direct result of five generations of whiskey distilling expertise. It's an ultra-smooth moonshine aged in oak with no artificial colors or sweeteners.
Jeremy is a one-man moonshine show too. He does it all from dirt to bottle: growing the corn, harvesting, graining, mashing, distilling, bottling… and he's fastidious about every single step of the process because "you can taste the difference." Let me tell you, this is as craft as it gets, and it's good stuff.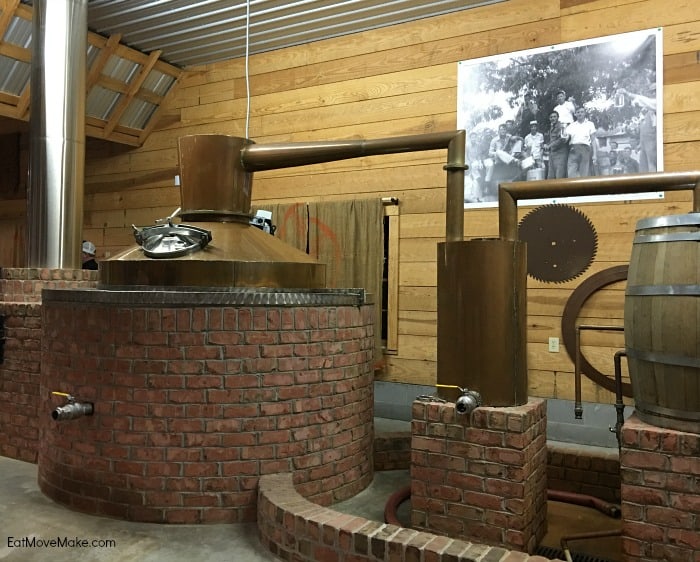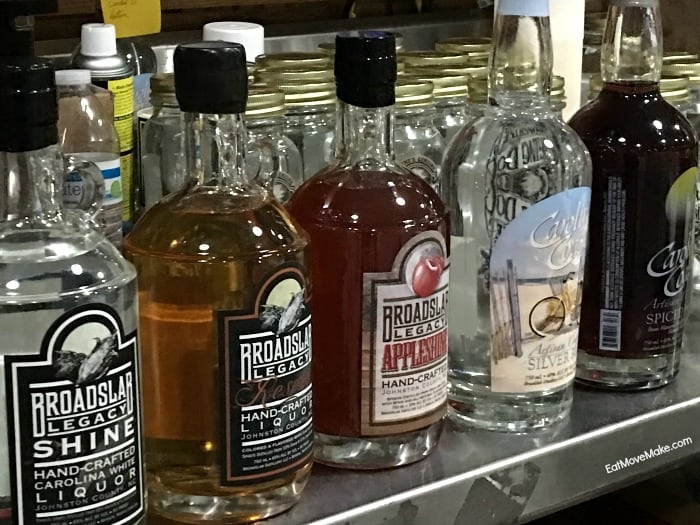 For more information on the Beer, Wine & Shine Trail – Johnston County, NC, visit www.beerwineshinetrail.com
What's your favorite for sippin' – beer, wine or shine?
Related Posts