It was by pure happenstance that I was able to take this trip to Burke County. In fact, my mom was supposed to be the one to go, but she had to take her new tiny baby kitten to be spayed. Her loss, my gain! (Sorry, mom.)
I've already written about most of the food and drink I partook in while in Burke County, and now I'm sharing more about the other activities the area has to offer. Whether you're looking for something adventurous, kid-friendly, or date-worthy, you'll find it all in Burke County! Here are some highlights of my favorite Burke County activities:
The Waldensian Trail of Faith
I'm really glad the Trail of Faith in Valdese, North Carolina was part of my Burke County experience because it was fascinating and something I never would have chosen to do on my own. It's a full-scale recreation of the journey that the Waldenses followed as they emigrated from Italy to America in search of religious freedom.
The trail is serenely nestled in the North Carolina mountains, which lends a real authenticity to the experience, as the Waldenses came from the Alpine Valleys of Italy.
Because the Waldenses' beliefs differed from the predominant religion in Italy, Catholicism, they were persecuted and had to practice their faith in hiding. The below cave is a full-scale replica of one such hiding place. Inside, there is even a pulpit made of stone, lit by a hole in the cave ceiling. Very neat!
The stark and modern-looking church below is an example of the way the Waldenses built their houses of worship. They did not include crosses in the design because they believed that the symbol might distract church-goers from the word of God.
Our last stop along the Trail of Faith was at the outdoor brick oven, which would have been used by the Waldenses as a communal oven. We even got to try a freshly-baked sourdough loaf from an old Waldensian family recipe!
If you're interested in history, especially religious history, you'll enjoy walking on the Trail of Faith in the shoes of the Waldenses of Italy. I'd recommend requesting Timothy Tron as your tour guide, as his family were Waldenses and you can tell the Trail of Faith is very near to his heart. You can find more information about the Waldensian Trail of Faith at their website.
Thermal Valley Hang Gliding
This experience needs no introduction. I. WENT. HANG GLIDING. It was absolutely amazing and so, so fun. I'd do it again in a heartbeat, and if you have the chance, you should do it too!
The view of the Blue Ridge Mountains was phenomenal, and it was a surreal feeling to be flying in the air suspended by nothing but air.Before we flew, we received a lesson in what to expect from take-off to landing, and then while in the air, the instructor gives a brief lesson on controlling the aircraft using the metal bars.
Right before we began to descend, my instructor asked me if I like rollercoasters. I said yes, and he steered us in a rapid spiral all the way down!
Hang gliding was an experience I'll never forget. Book your Thermal Valley hang gliding experience right here!
South Mountains State Park
We had the fortune to be led by Ranger Leigh Ann Fox in a two mile hike up to and back from a gorgeous waterfall in South Mountains State Park. On the way she pointed out some of the local wildlife…
…including poison ivy. Some of us city slickers didn't even know what it looked like! Below, Ranger Leigh Ann is teaching us "leaves of three, let them be".
After quite an athletic uphill hike, we reached the waterfall vista. Why is it that waterfalls always lose some of their grandeur in photographs? *sigh*
State of Origin Beer Festival
Now this. THIS was the pinnacle of my trip to Burke County, NC. If you don't already know, I love beer and wine, so any opportunity I get to try a new one, I take. The State of Origin Beer Festival was begun by Fonta Flora Brewery, the creators of the "A Very Merry Un-Birthday to You" beer that I raved about in this post.
In order to have a booth at the festival, a brewery must bring at least one beer that includes an ingredient that is grown locally in North Carolina, whether it be hops, honey, or even jalapeños.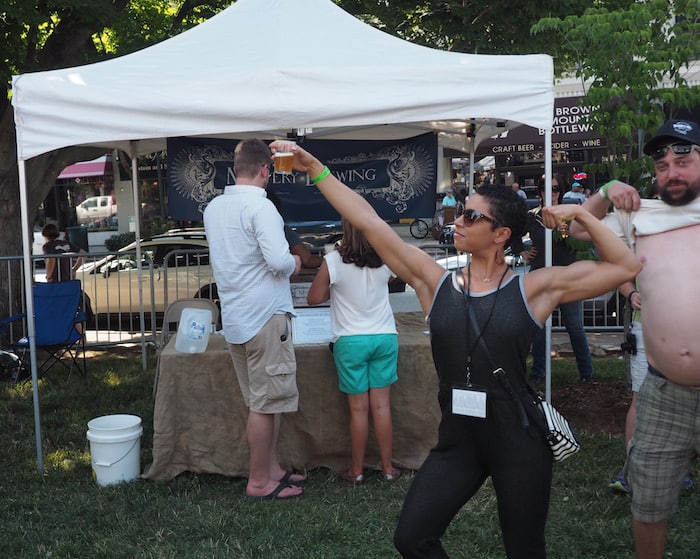 Along with lots and lots of delicious beer (and very generous pours of it, at that), there was live music during the whole event.
In my opinion, it's worth making a trip to Burke County, NC for the State of Origin Beer Festival alone. In fact, while writing this post, I texted my beer-loving-est friends to see if they would want to make a vacation out of it next June! For more information, check out Fonta Flora Brewery's website here.
Related Posts